Ditch Witch SK755 review
---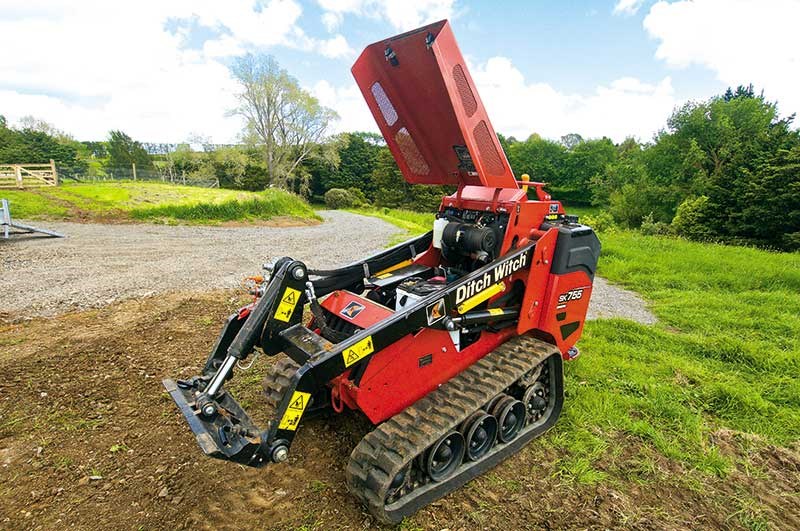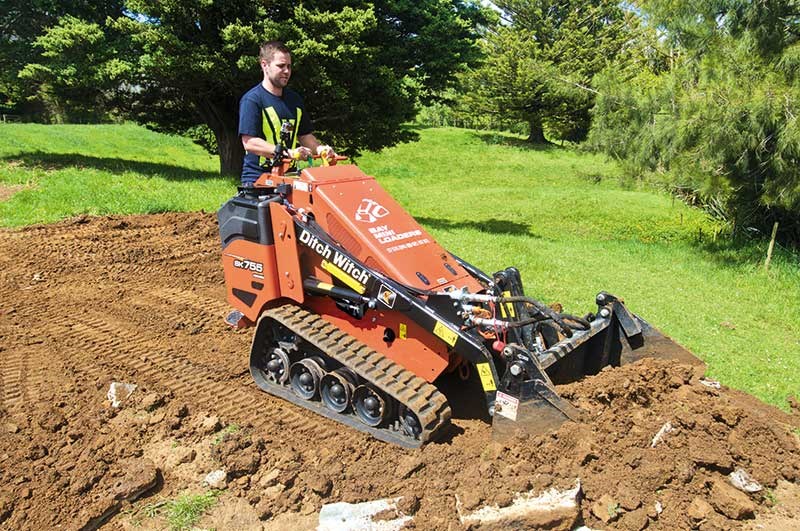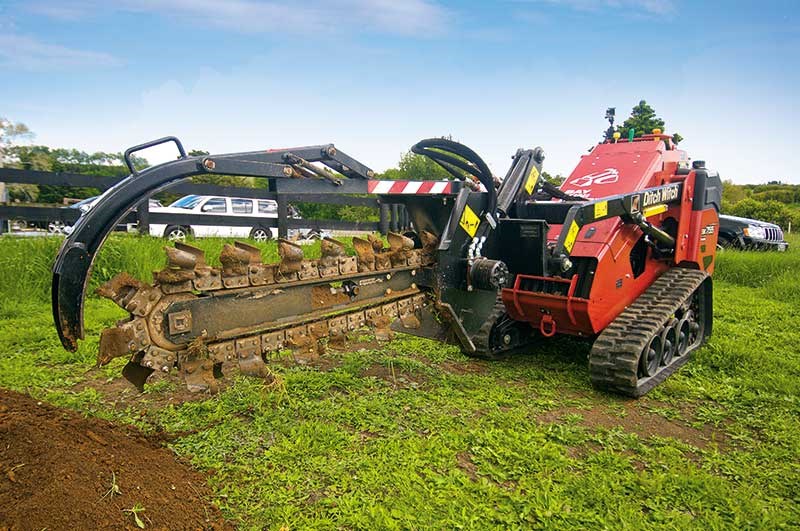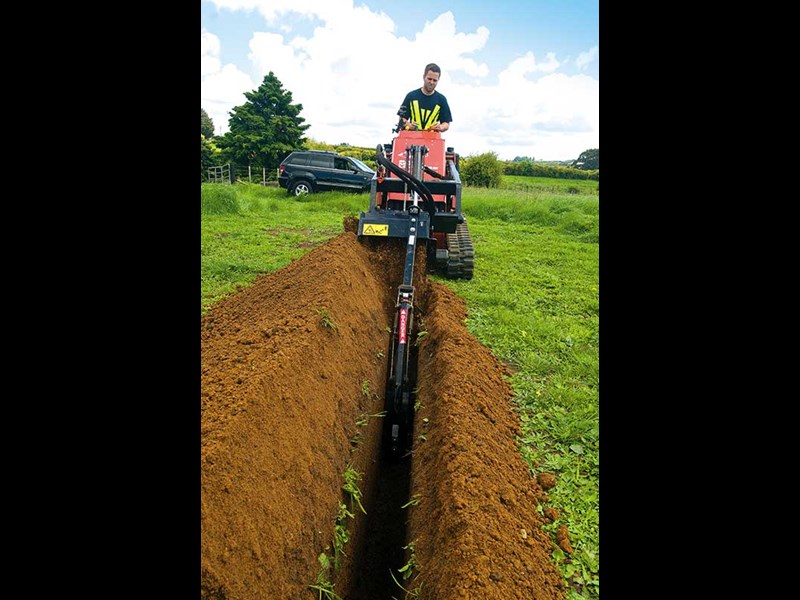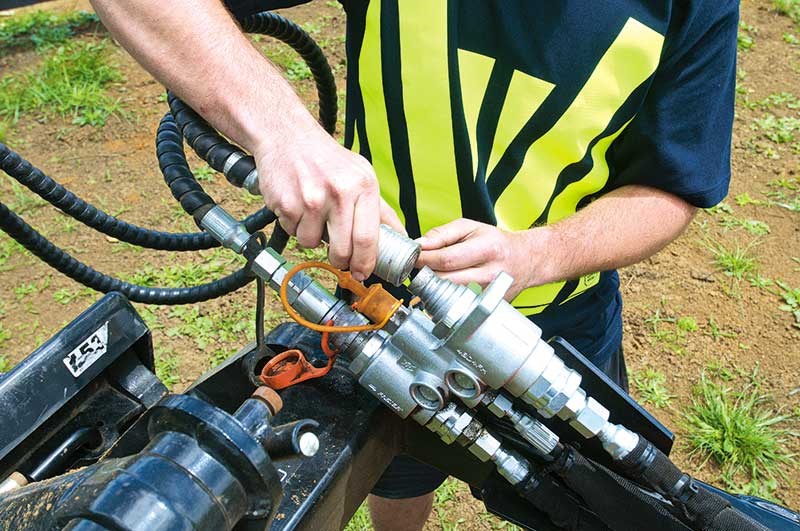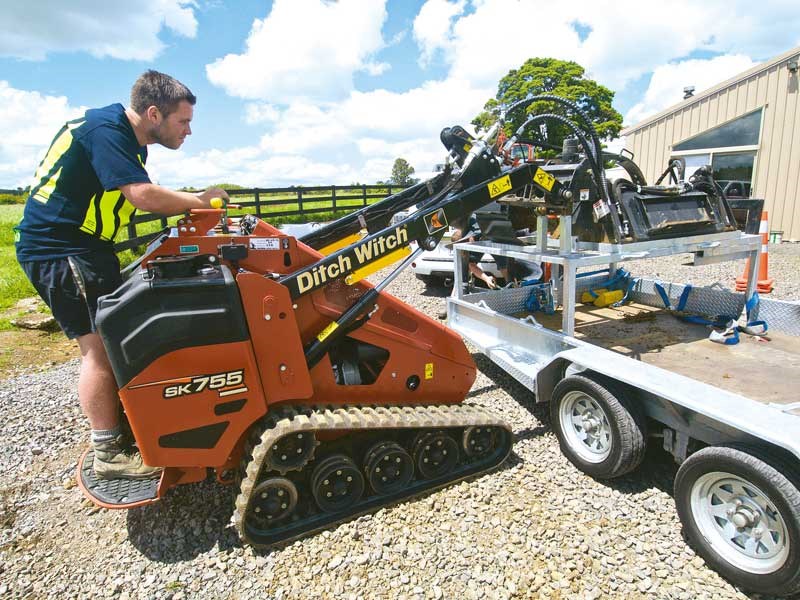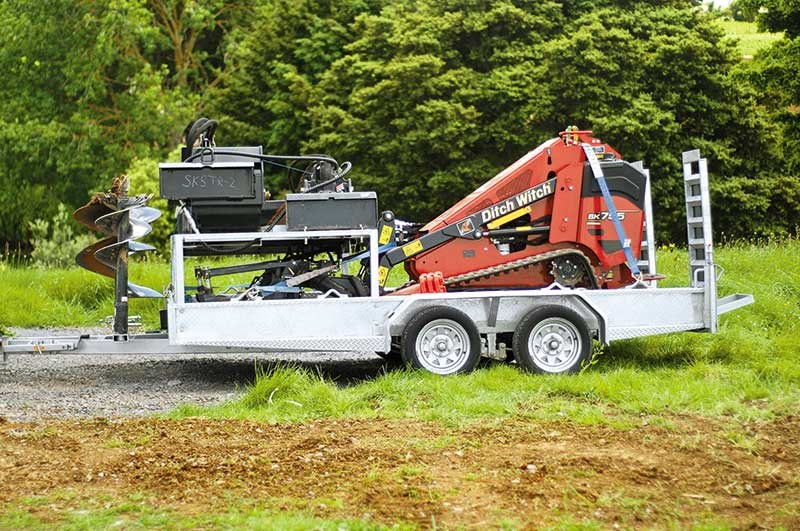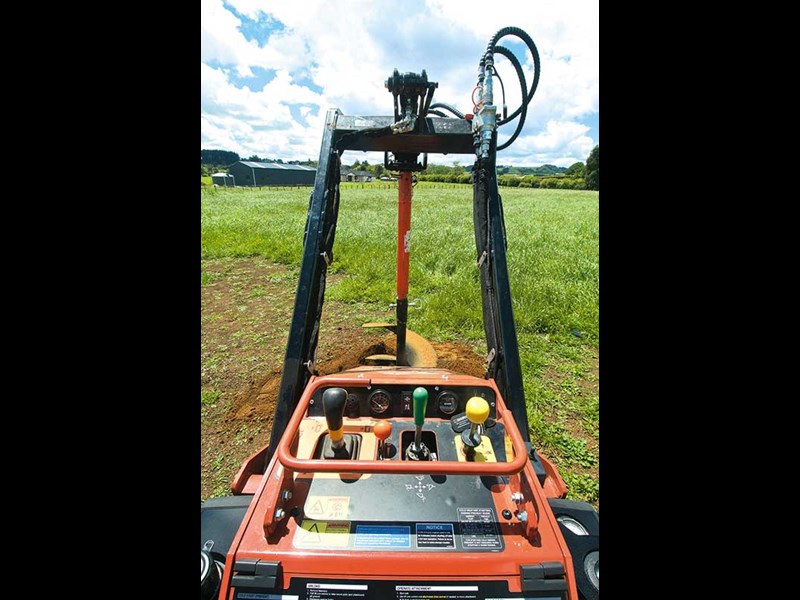 Check out this review of the Ditch Witch SK755 from the latest issue (#229) of Farm Trader magazine.
Our test today was to take place just South of Auckland on a small rural block. After being told that we were going to have a number of attachments to 'play with', I was expecting a transporter truck to turn up when, lo and behold, a single ute and trailer came powering up the relatively steep gravel driveway driven by John Grant, Ditch Witch NZ general manager, who was to give us the low-down on this nifty compact machine.
The attachments on this set up consisted of 4-in-1 bucket, Auger drill unit, Harley rake and chain trencher. All these attachments were all placed to be easily accessible when on the trailer for ease and efficiency when swapping attachments on a job.
SK755 features
After taking the machine off the trailer, which was a straightforward process as one would expect, I started off with the usual walk around to see what features stood out.
Firstly was the wide tracks, which were accompanied by matching wide track rollers – a good combination for lower ground pressure and stability. I also noticed that the sprockets are bolt-on which would be of great benefit when doing maintenance, full cleaning or the eventual replacing.
There also appeared to be a fair amount of ground clearance on the machine, which was reinforced after looking at the specs to see 226mm through the centre. Stepping up onto the operator platform, it was good to see that there is adequate space to plant your feet, which didn't make you feel like you were standing on your toes. The front operating space had also been lined with support cushioning, which I'm sure would be a saviour after a full work day.
Moving up to the controls, everything seems to be ergonomically placed and they are surrounded by a steel bracket which makes for a good place to rest your arms on while operating. There is also a cupholder moulded into the plastic hydraulic tank, which is always a good thing.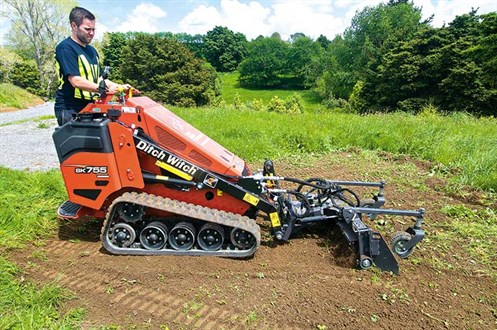 Servicing and engine
Unclipping and lifting the bonnet uncovers a tidy, set-out, engine bay with everything in easy-to-reach areas for routine servicing and checking. The battery also has an isolating switch for added security which is nice to see. A back compartment also opens up which gives you access to the air filter and other components.
While looking at the engine – which I should point out is a Kubota Tier four-liter engine, boasting a power rating of 32.8hp/24.5kw – it is proven once again about the thought process that has gone into this machine. The exhaust system has been designed to exit the side of the machine while at the same time directed away from the operator – big plus in my mind.
Putting it to the test
Starting the machine up, I headed towards a pile of spoil to put the 4-in-1 bucket through its paces. I noticed straight away that I didn't feel like I was being thrown around, nor was I having to hold on for dear life as I travelled across the uneven ground at the top speed of 7.6km/h, which is a change when compared to other mini loaders I have operated in the past.
Next up on the list was the Harley rake, which was swapped over with ease due to the connect pressure manifold. To put in simple form, this relieves any pressure on the auxiliary lines when connecting a new attachment, even when the machine is running at full power. The 52L/min flow rate of the hydraulics handled the Harley rake with ease and partnered with the float section on the lift arm, let it follow the natural ground contour, making a first time Harley rake user like me look like a seasoned pro.
Next up was the auger drill unit which was accompanied with a 600mm drill and one-metre extension. This turned out to be no match for the mini loader and can see this machine being a great unit for landscaping and fence contractors.
The verdict
After being on the machine for a considerable amount of time, it was evident that Ditch Witch has spent some long sessions at the drawing board, which in turn has resulted in an efficient and practical piece of equipment which proved it can tackle anything task thrown at it.
Read the full test in the latest issue of Farm Trader magazine. Subscribe here.
Keep up to date in the industry by signing up to Farm Trader's free newsletter or liking us on Facebook