Mitsubishi Triton GLX-R review
---
Introducing the new Mitsubishi Triton GLX-R ute, which is as well suited for hauling firewood as it is for a run to the local supermarket. Check out this review.
You could be forgiven for noting the price of the Mitsubishi Triton GLX-R ($31,990 plus ORCs) and assuming this'll be a bargain basement piece of nastiness, completely devoid of things that matter, like air conditioning, Bluetooth and… well, doors. Thankfully, though, Mitsubishi New Zealand has pulled off a good trick here; it's actually a healthily specified double cab ute that certainly doesn't scrimp on the good stuff.
Okay, first things first; the Triton GLX-R is a two-wheel drive model. But if – like many Kiwis these days – this is a ute meant as much for use on the school run as in the house paddock, then it'll keep you on the straight and narrow.
So if that sits well with you, then about the biggest compromise you have to get your head around with this one is its six-speed manual transmission. A six-speed what? Yes, they're becoming as rare as an online news story that isn't just a series of copy-and-pasted Twitter posts, but it's actually rather refreshing to step into a good old fashioned manual these days.
What's more, the things many people generally don't like about manual 'boxes – bitey clutches, roll-back on inclines, over-stimulated first gear ratios – are banished here.
The manual transmission in the Triton GLX-R is a smooth affair, nicely geared and with six ratios to choose from, there's no chance of over-stressing things.
The ute even features Hill Start Assist as standard; software that momentarily brakes the ute when starting off on a hill, which helps make everything that much more elegant with a load on the towball. I'll admit that it has been a while since I towed anything with a manual transmission ute, so this sort of aid was a nice bonus.
Additionally this special offer model (it's only around in this particular state of dress until June so get cracking if it appeals) features standard hands-free Bluetooth phone and audio streaming connectivity accessed either via the buttons on the leather-clad steering wheel or through the six-inch touchscreen display in the centre console (which is also the colour monitor for the standard reversing camera).
The Triton GLX-R also boasts keyless entry, tinted privacy glass, running boards and sporty 17-inch alloy wheels.
It also features Mitsubishi's Reinforced Impact Safety Evolution (RISE) body design, which ensures the cabin area of the ute maintains its shape in the event of a crash, transferring energy away from the passenger cell. This added stiffness helps make for a more settled, compliant on-road experience too, regardless of what's in the tray or being towed behind.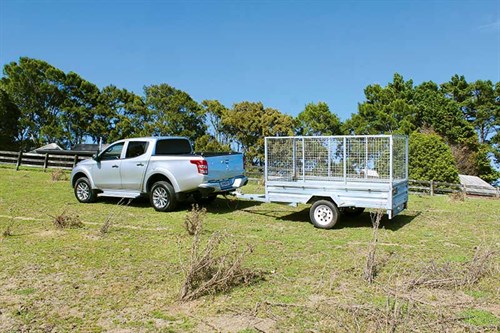 And what was being towed behind? Okay, nothing monumentally difficult; we'll save the occupied horse float or dual axle mini water tanker for another occasion. Instead we borrowed a caged trailer for a jaunt into some relatively steep terrain. With its three-tonne (braked) tow rating, the Triton wasn't going to have any issues with this on the back, but with many properties having a caged trailer in the back of the implement shed, it's a familiar scenario worth visiting.
For a start, backing around a tight corner and up to the trailer's drawbar was straightforward thanks to the Triton GLX-R's standard reversing camera. A judicious eye on both mirrors is a hard-to-break habit, but having the extra failsafe of a view of the drawbar is something that would be hard to give up once you've got it.
Our loan trailer was awaiting us in the corner of a confined yard, the approach angles to which demanded I keep a careful eye on… well, everything. It's this exact scenario that reversing cameras are designed to help in though and the Triton's definitely came in handy before we'd even got the trailer on the towball.
Actually as an aside, it's great to see manufacturers finally adding reversing cameras to wellside tray-fitted utes. As machines like the Triton grow in size generationally – and as the way they're commonly used as a hybrid of both work- and family-transport increases – proximity sensors and reversing cameras have become welcome necessary items.
The Triton's wellside tray has interior dimensions of 1520mm long x 1470mm wide, meaning that it's a fair size; great for carting bulky gear, but something to be considered for a host of other reasons when reversing out of that busy A&P showgrounds parking spot. That all new Tritons fitted with wellside trays feature a reversing camera is admirable.
Other standard safety kit on the 5-star ANCAP safety-rated Triton GLX-R includes a suite of seven airbags, ABS and Electronic Brake Distribution and three-point retractable seatbelts in all five seating positions.
Also of particular note is Trailer Stability Assist. This clever system applies brakeforce to the appropriate wheel and adjusts engine power in order to stabilise any sway motion; something that would provide a degree of reassurance for those longer trips into town.
Cruising the back roads with our trailer, there was no shunt or push from the rear and the Triton's turbo diesel offered up spades of torque from low in the rev range (maximum torque is a meaty 437Nm, although this doesn't come fully on-song until further up the dial at about 2500rpm). Smooth take-offs and a distinct lack of needing to switch to lower gears were the order of the day.
I came away from our time with the Mitsubishi Triton GLX-R with the distinct impression that ease-of-use was a big part of the engineer's remit.
This well-priced truck proves to be a powerful front-driver, with just the right mix of do-it-yourself simplicity and superior modern technology onboard to make it an impressively packaged workhorse and a worthy tow vehicle too.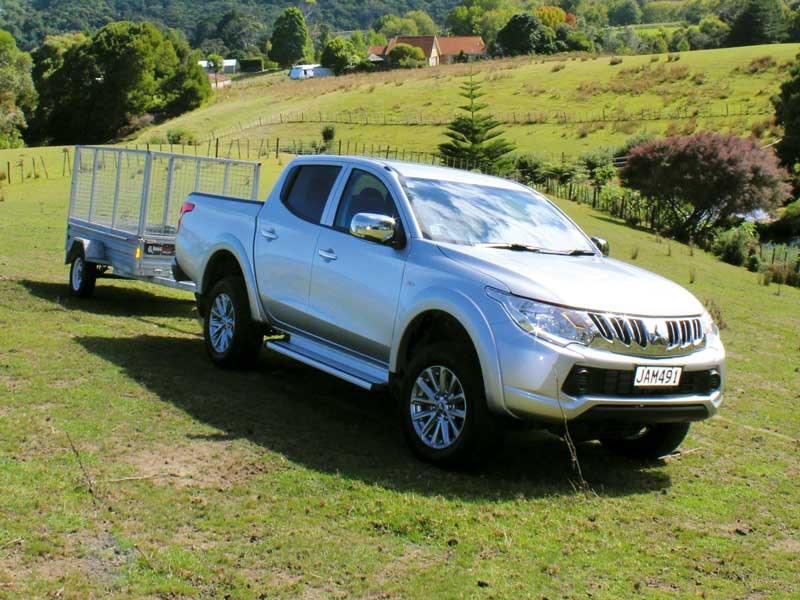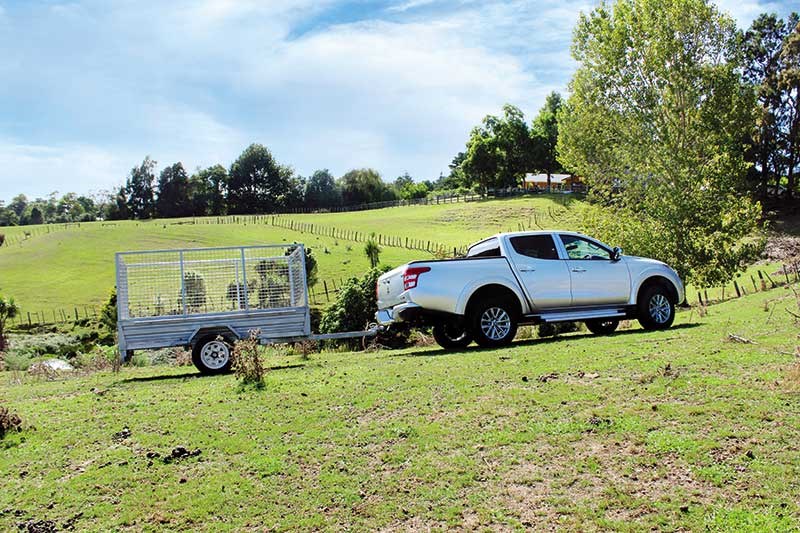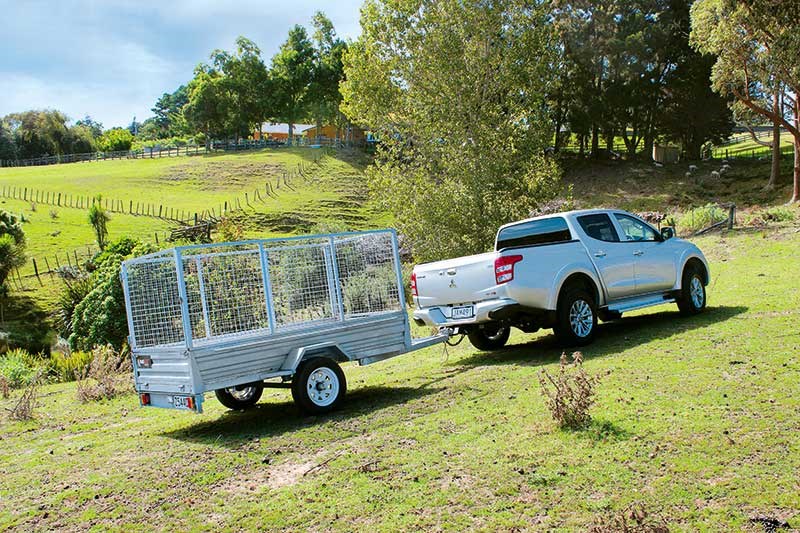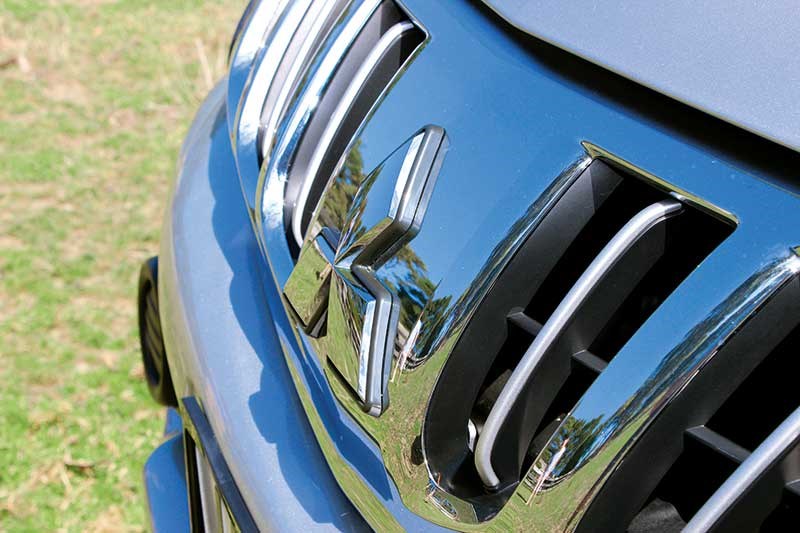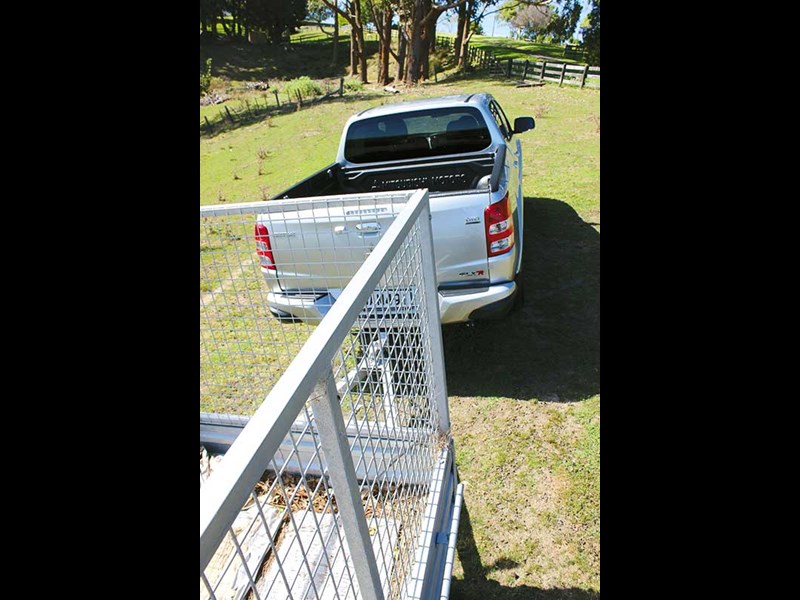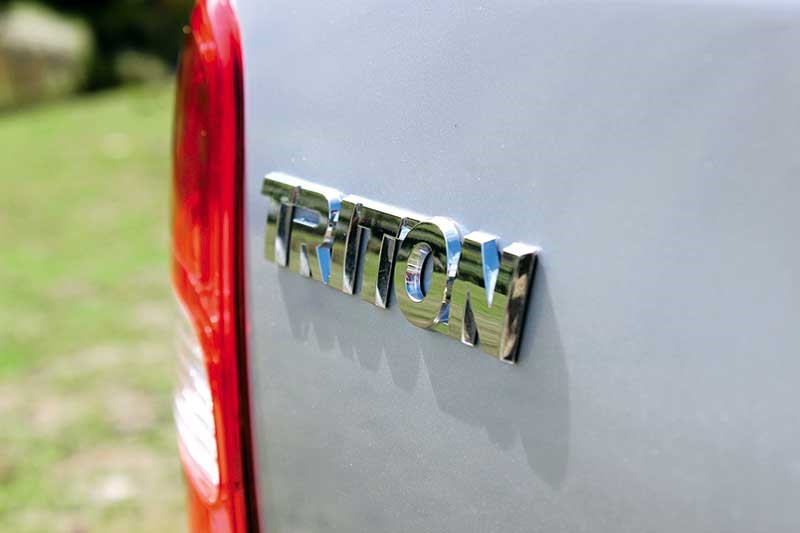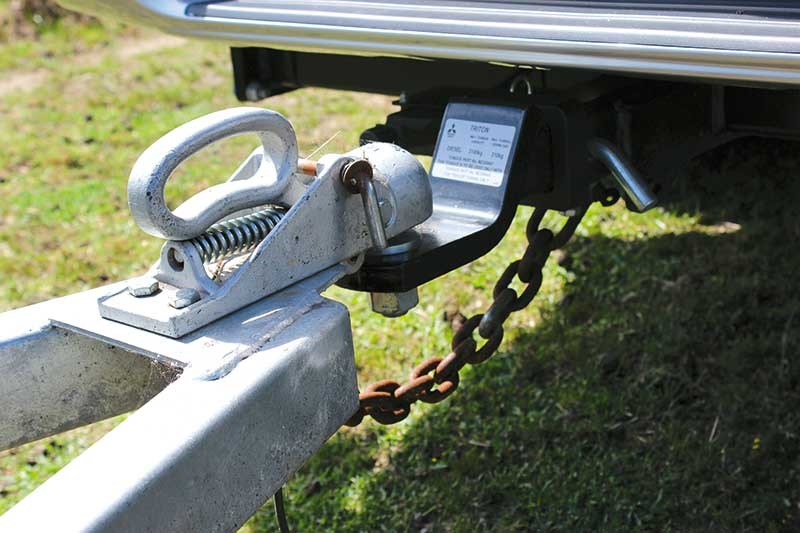 Keep up to date in the industry by signing up to Farm Trader's free newsletter or liking us on Facebook