Honda Foreman TRX 500FM6 review
---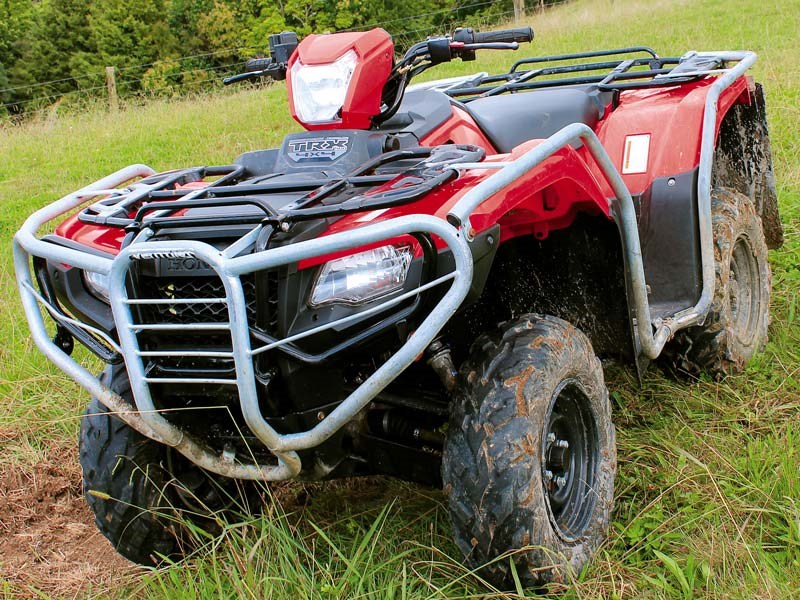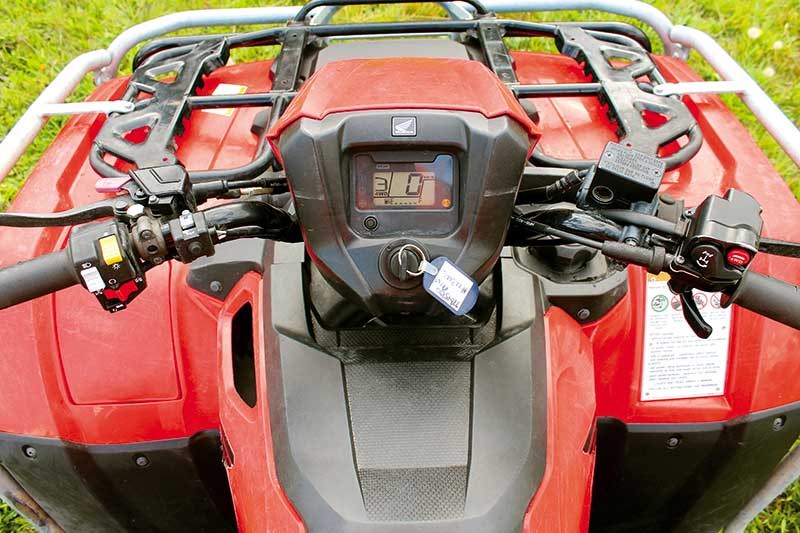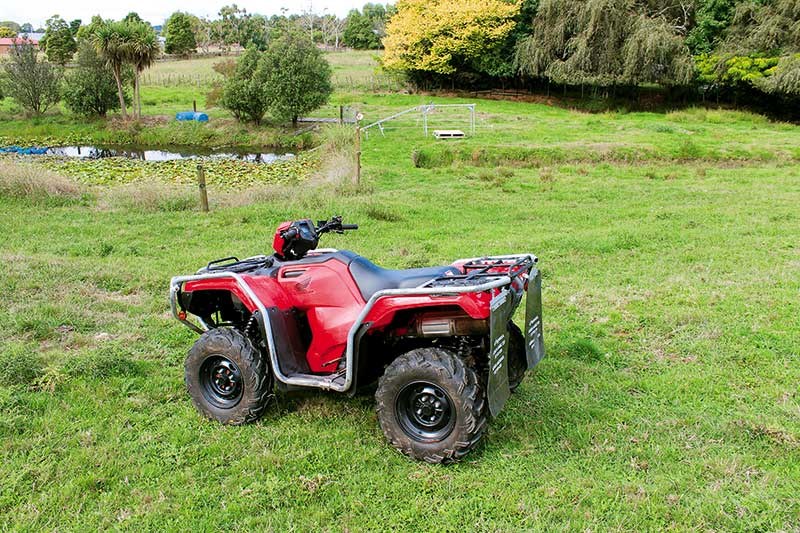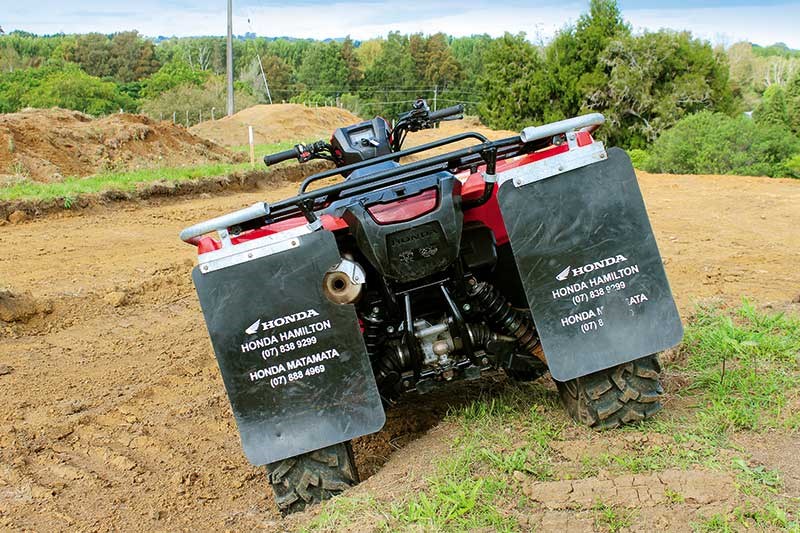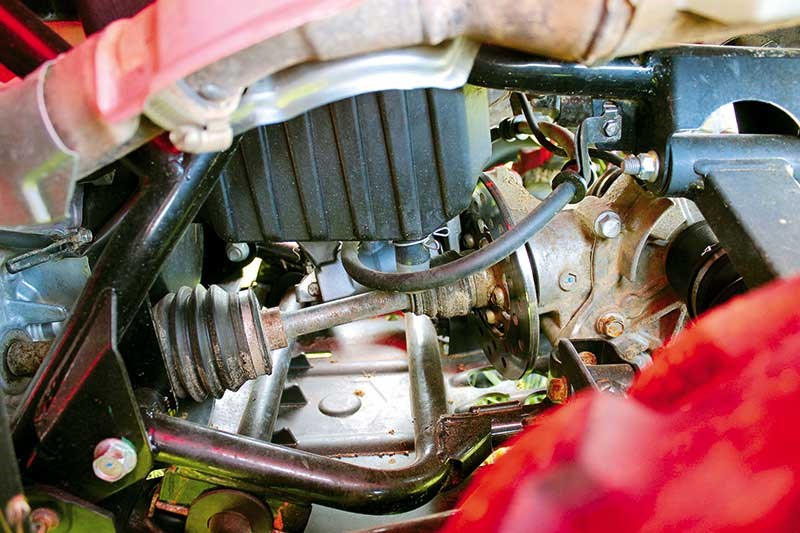 Honda's 2016 range of quads allow you to have your cake and eat it too. The addition of the 500cc bikes with independent suspension ensures there is a model to suit all requirements – on farm or off.
The TRX 500FM6, the manual transmission version of this new model bike which I had the use of this month, was provided by Vaughan Glidden at Honda Hamilton. This model was released in 2015, and filled a gap in the Honda range, offering independent suspension in the bigger 500cc working Honda quad. Loaded up, I headed out west to a small block of land at Te Pahu, where I had a few hills, some boggy swamp and loose dirt and newly carved-out digger tracks to keep me amused and test out the new Honda's capabilities.
Engine/transmission
No new surprises here, Honda has used the same single-cylinder 475cc unit as in the TRX FM2 which has the five-speed gearbox. Manual foot change, with super low first gear, centrifugal clutch gear ratios are good without requiring a low range box. The one difference is the reverse selection.
Doing away with the little red push button to select reverse whilst activating the rear hand brake, you now only have to pull the red brake lock lever with the back brake lever, which is much easier in practice than trying to explain in words! The longitudinally, rubber-mounted engine provides power directly to shaft drives to the front and rear.
Instrumentation
A central LCD display shows all the functions of the bike trip meters, kilometres travelled, hour meter, gear selection FWD and clock etc. You do need to toggle through the functions to see some of the different functions. These Honda bikes are fitted with digital fuel gauges now, which flash at you when nearly empty.
With no reserve tank, you need to pay attention to how much you have left of your 15.5-litre tank of fuel before heading out.
Suspension
Honda has been alone for some time offering only a solid rear axle in its 500cc model quads. All the other brands have offered independent suspension all round for quite some time. Honda has models with independent suspension available on the smaller 420 bikes and bigger 680 quads, as well as the Honda Pioneer range of side-by-side machines which all have independent rear suspension.
With the addition of this new 500 to the range, Honda now offers the greatest range in the 500 category, with the solid rear axle still available, which is best suited to operators planning on using their bike for towing heavy loads. Transmission options of the five-speed manual or dual clutch option with auto- or manual-electric shift.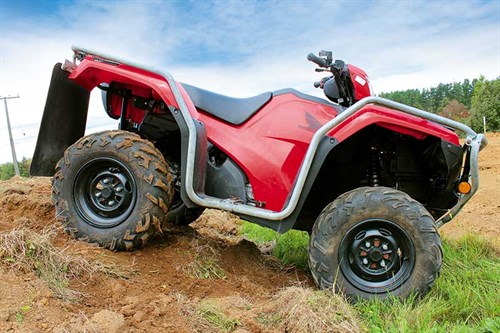 Construction
Honda is known for the reliability and build quality of its equipment, which certainly is apparent with the new 500FM6. If anything, it may be a little stronger than previous models with the strengthened carriers and heavier suspension setup at the back, giving it a slightly heavier overall weight. The addition of either galvanised or black powder coated bars like the test bike will further protect your investment from potential damage.
Servicing
The radiator overflow tank is mounted under the front left mudguard for quick inspection. A quick easy removal panel allows access to check the oil filler/dipstick level. The air filter has a high intake to the large air filter mounted under the seat. Honda bikes require a 50-hour initial service/check up with servicing at 100 hours from then on, pretty standard across the industry.
The verdict
Currently these FM6 500 Honda bikes, with manual transmission and independent suspension, are on special, making them cheaper than their solid axle brothers. It is well worth a look with its stronger carriers and greater loading and towing capacities, as well as a smoother ride across rougher paddocks with the new suspension setup. If this model is not what you are after, I'm sure the Honda range will offer something to suit the needs of your farm.
Pros
The addition of a model with independent rear suspension to the Honda 500 range is excellent.
Beefed up front and rear rack carrying capacity as well as greater towing capacity.
New easier reverse selection, although this does take away from the safety feature of the old system.
Increased ground clearance and suspension travel for rough terrain.
Cons
No reserve on the fuel tank, electronic fuel gauge to monitor fuel level.
Read the full test in issue #230 of Farm Trader magazine. Subscribe here.
Keep up to date in the industry by signing up to Farm Trader's free newsletter or liking us on Facebook