Review: Mitsubishi Outlander SUV
---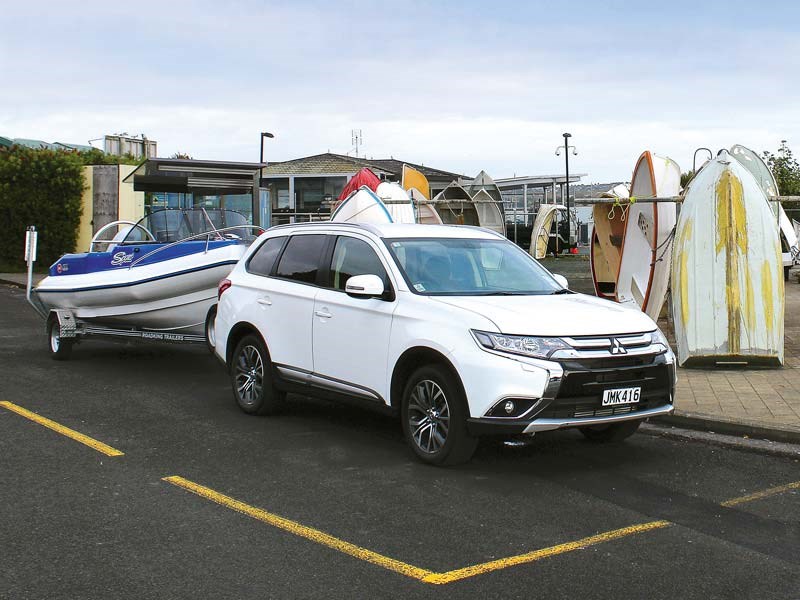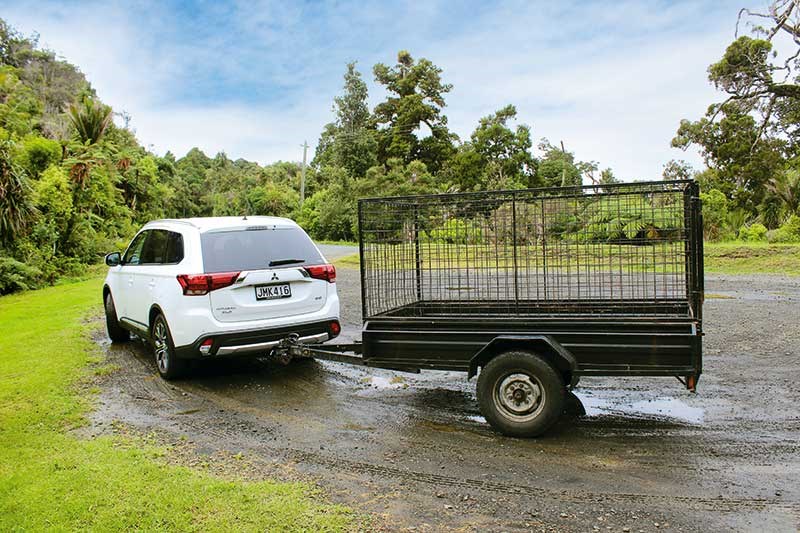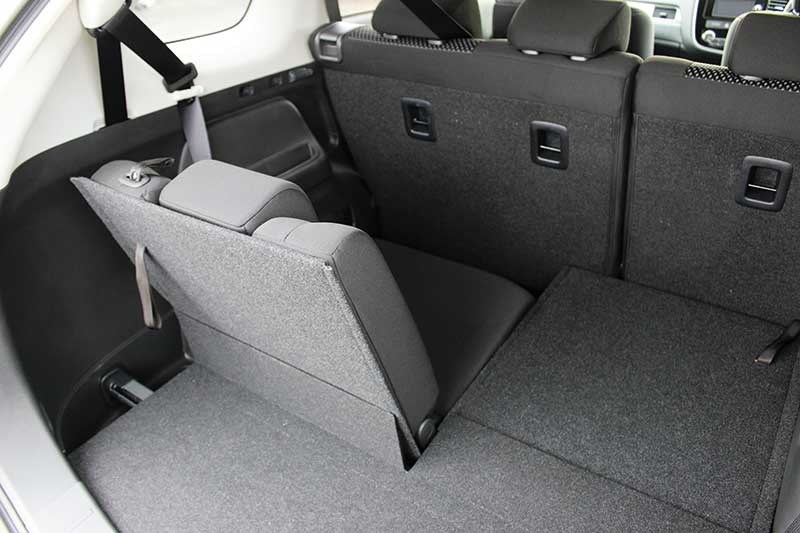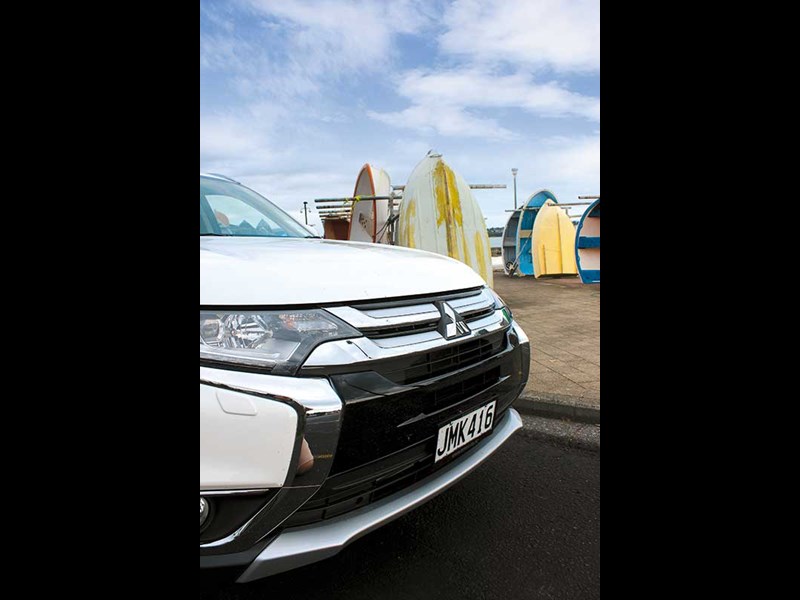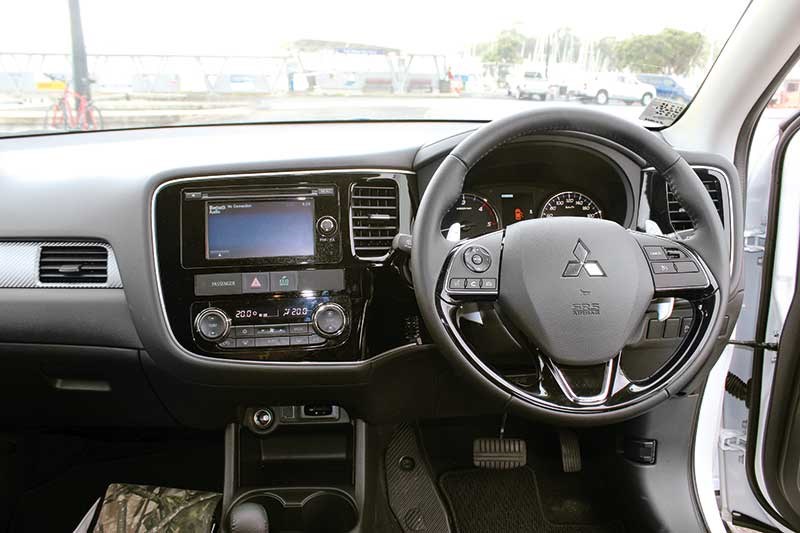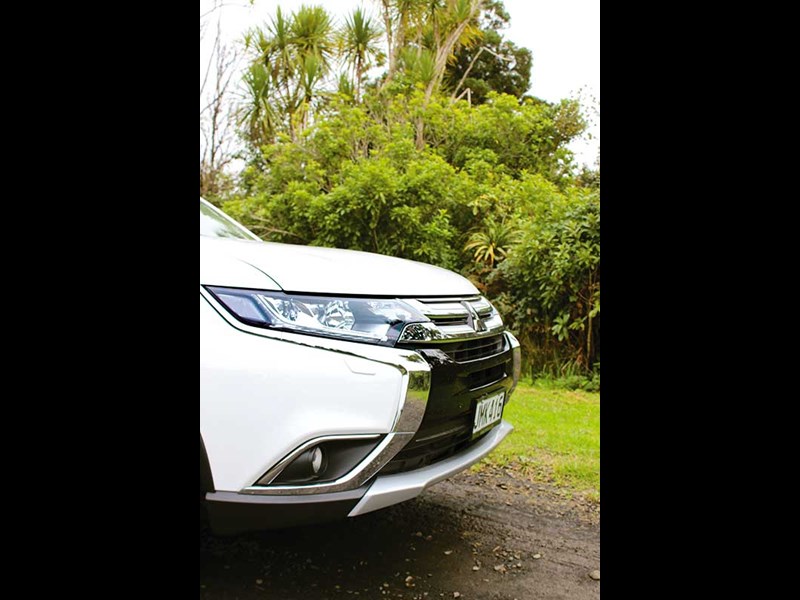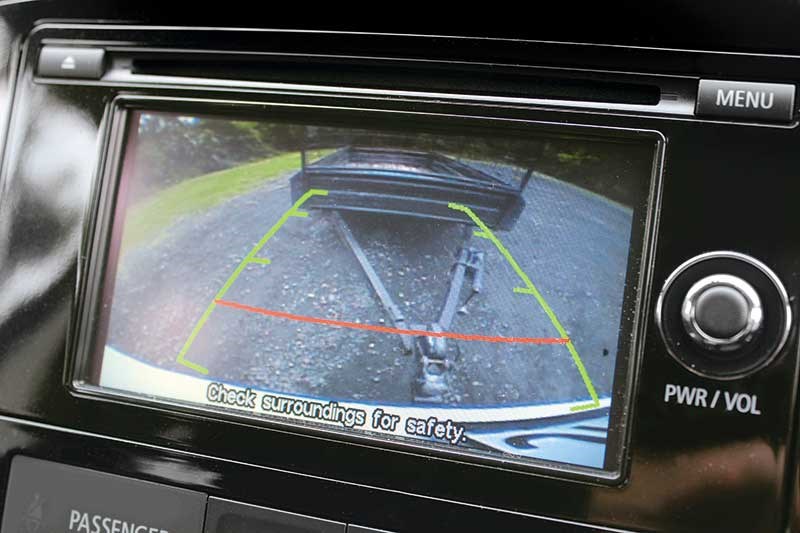 This Mitsubishi SUV is as much an all-rounder as it is an Outlander.
It's the most commonly seen member of Mitsubishi's SUV family and there's a reason for that. Now in its third iteration, the Outlander has been a rock solid component of the carmaker's range for years now. And right from the off, Mitsubishi got the recipe right with this one.
I've been lucky enough to spend a fair bit of time with Mitsubishi's mid-size Outlander SUV over the years, right from its successful debut back in 2005.
A hundred years ago I happened to work on a motoring title that ran long term test cars regularly. As a result I found myself the custodian for six months of not only a first generation Outlander VRX, but the second face-lifted version (the one with what commonly became known as the 'EVO grille') when that arrived on the market as well. Good times.
Even as far back as 2010 – and having been privileged to have many cars of different shapes and sizes on the family driveway for long stretches of time – I regarded the Outlander as one of the most versatile SUVs I'd ever come across. I still do.
I was always impressed with its passenger space, its level of standard equipment, the simple way you can switch between front- and four-wheel drive and the exterior styling (I said at the time that each grade looked like it should cost $10,000 more than it did).
Today the model has gone even more upmarket, with a thoroughly revised exterior look (introduced in 2012), a still-impressive array of standard comfort and convenience items in the cabin, and a significant addition to the overall model line-up in the headline-grabbing Outlander PHEV; still by some measure the most usable and practical plug-in hybrid electric vehicle on sale in New Zealand today.
There remains another frugal fuel user in the range though; the Outlander turbo diesel. Available in both XLS and VRX trim, the turbo diesel version records a combined fuel consumption figure of just 6.2-litres/100km; pretty impressive for an SUV which features so much space and cargo capacity.
Mitsubishi's gutsy 2.2-litre D4 four cylinder turbo diesel also records maximum torque of 366Nm from a low rev range of 1500 to 2750rpm. This means that even with a reasonable load on the tow ball, the Outlander will pull away smoothly and give you every Newton Metre worth of towing oomph right up to your cruising speed.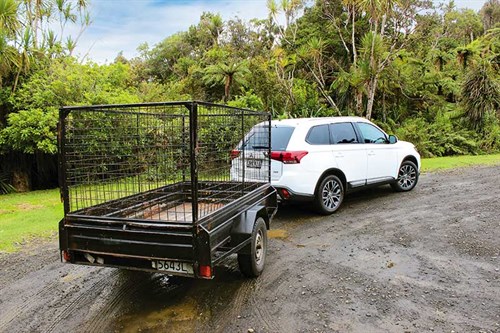 There's no fuss and certainly no aural hysterics from the engine under load with a trailer on the tow ball; although Mitsubishi's sound-dampening front windscreen and inner-body soundproofing efforts mean the cabin is generally a very quiet place to be anyway.
In fact rather than engine noise, it was the swish of exceptionally wet roads that proved our soundtrack wherever we ventured with our test trailer on the back during our time with the car. It was a particularly miserable day to be on the move, but the Outlander provided for a fair bit of reassurance with its suite of safety spec ensuring we remained on the straight-and-narrow.
I never felt the need to switch into 4H on loose metal, even when the caged trailer you see here was filled with a couple of large benches I needed to shift. On the greasy coarse chip I was very aware of other driver assistance programs working away underneath me though.
For one, Hill Start Assist – which prevents the vehicle from rolling backwards when starting off on a slope – is a great failsafe measure, especially when you have all that mass behind you in the trailer and especially when the ground under the wheels is pretty soggy.
Mitsubishi's other standard safety systems include Active Traction Control, which automatically controls the engine's power output so driving wheels aren't spinning on loose surfaces and Active Stability Control which helps you keep control through corners by applying braking to individual wheels in order to prevent over- or under-steer.
There's a heck of a lot that you can't see packed into the Outlander.
There's also a lot that you can; much like the previous generation car, there are some real surprise and delight features here, not least the SUV's ability to swallow cargo. It pulls off the neat trick of feeling reasonably compact around town, but still boasts plenty of room inside for load-lugging.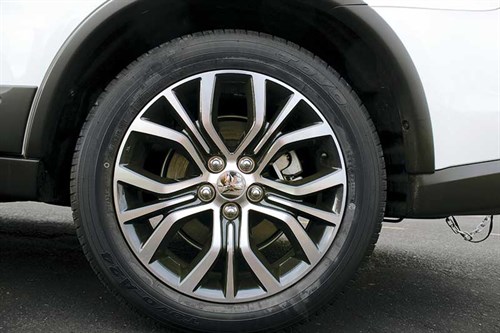 Our test Outlander XLS comes with seven seats. The third row is generous with two seat-back positions and fold-down headrests which make the chairs fit more snugly in the boot floor when they're not required. Access to the third row is pretty straight forward and, if you have a particularly long load to carry, the second row seats fold forward and flat too, meaning that all up the Outlander gives you up to 1685mm of cargo area length.
Even though this isn't the top trim Outlander (a VRX grade sits above XLS), the amount of standard technology onboard our tester is really impressive. Among other items, the Outlander features dual zone air conditioning, a great Bluetooth-enabled stereo system accessed through an intuitive 6.1" touchscreen, paddle shifters, push-button start and lots of nice premium-feel trim accents throughout the cabin.
Outside the XLS features sporty-looking 18" alloy wheels, a stylish chrome-framed nose, LED headlights, taillights and Daytime Running Lights, roof rails and privacy glass for the rear passenger area (which is as useful in hot weather as it is an extra security measure to keep your belongings away from prying eyes).
Once again of special note here is the Outlander's standard reversing camera system, which really comes into its own when backing up to the trailer to hook it on. No more guess work and hand signals are required because the driver can place the car exactly where it's needed. There are even guidelines on the screen to help with your aim, so regardless of the terrain you can see exactly where you are.
Back in the day, the nature of the long-term test scenario meant we used our two previous Outlanders for school runs, shopping and sports over a number of months and through a variety of seasons. And they performed brilliantly too. We even moved house during our time with the second Outlander, so it spent a couple of days hauling a hire trailer filled with garden furniture, pot plants and a hefty barbeque: I could vouch for the comfortable way this car tows a load even back then.
Nothing has changed in that regard. While the Outlander XLS turbo diesel we used to complete this story was only on my driveway for a matter of days, it's easy to see that the model still encompasses all the attributes I loved about the popular Outlander in its previous iterations, with even more of a premium feel front and centre today.
Keep up to date in the industry by signing up to Farm Trader's free newsletter or liking us on Facebook