Case IH Optum CVT 300 tractor review
---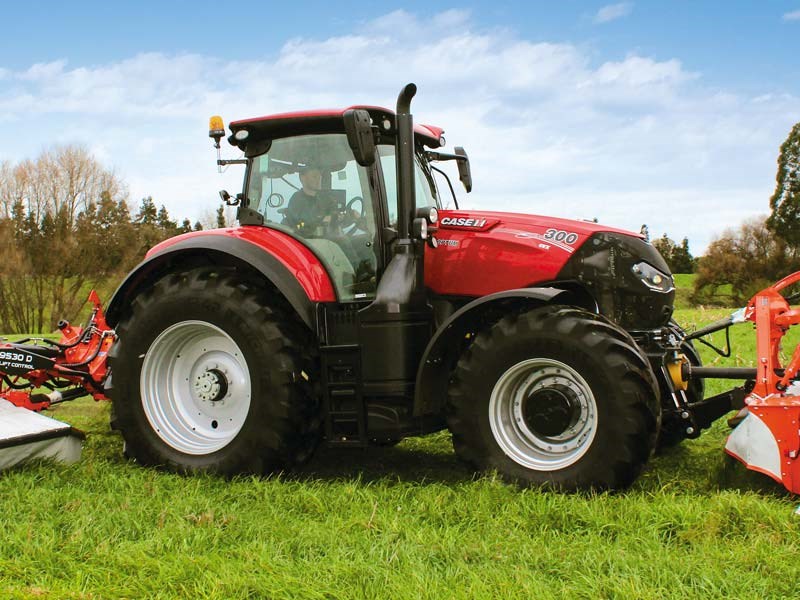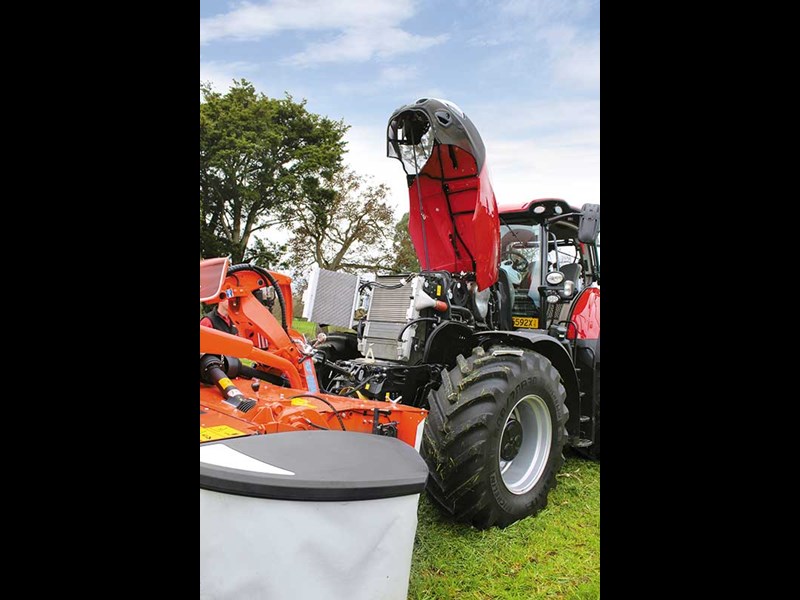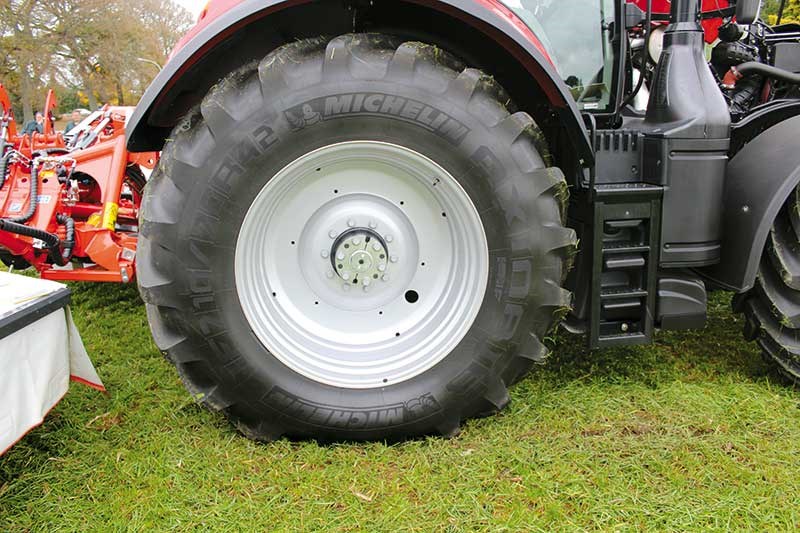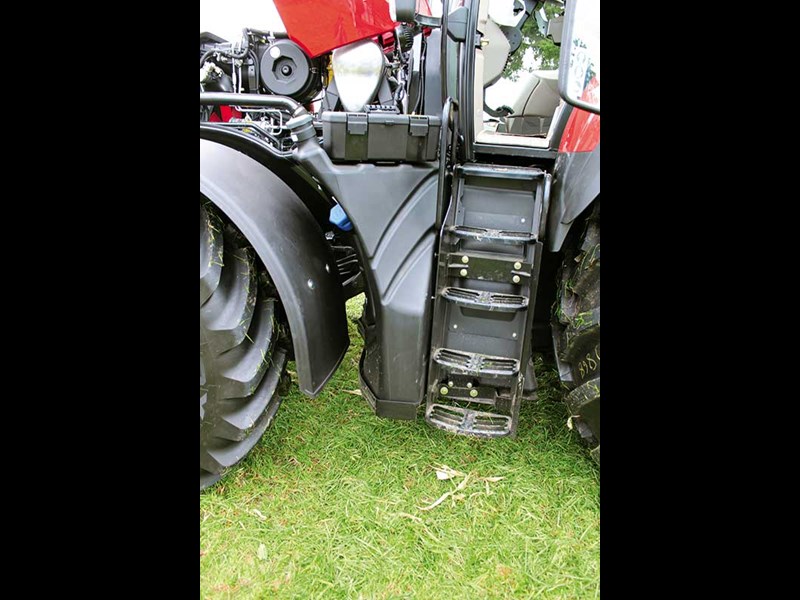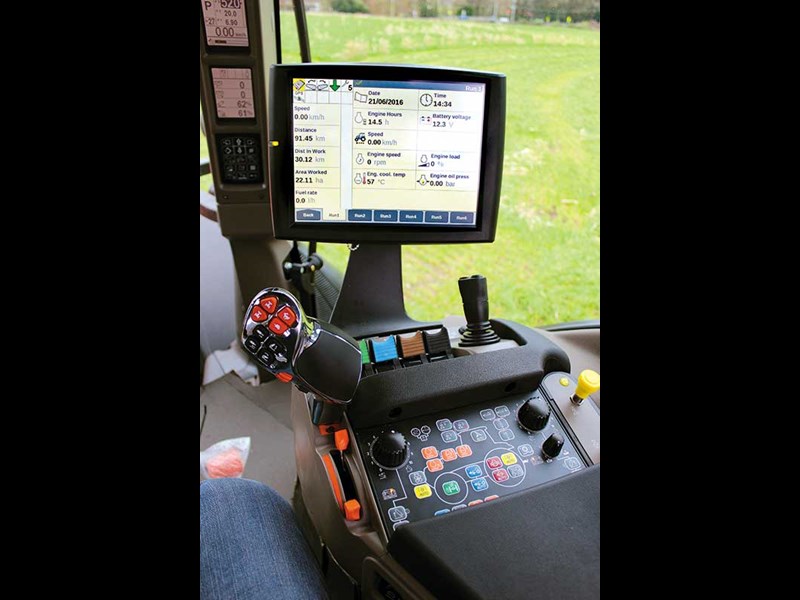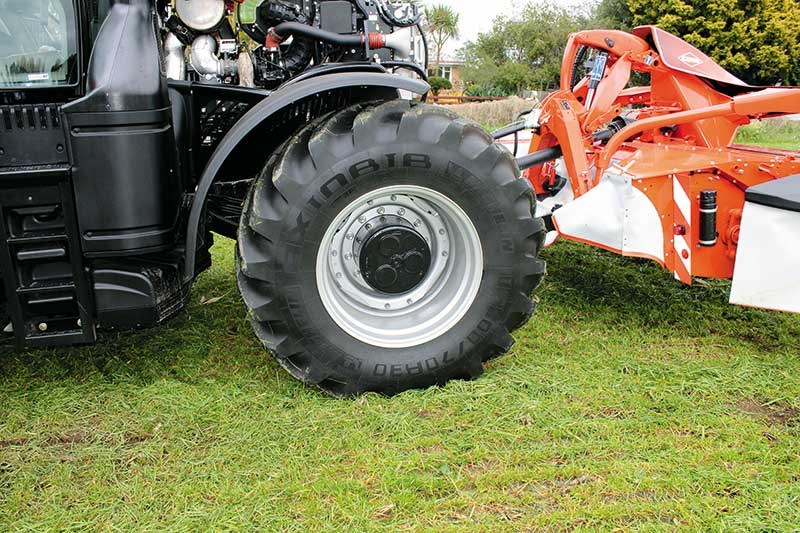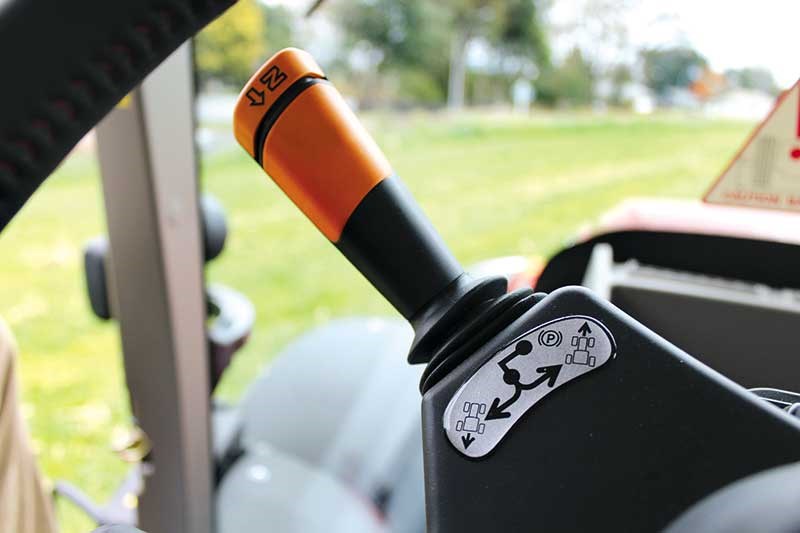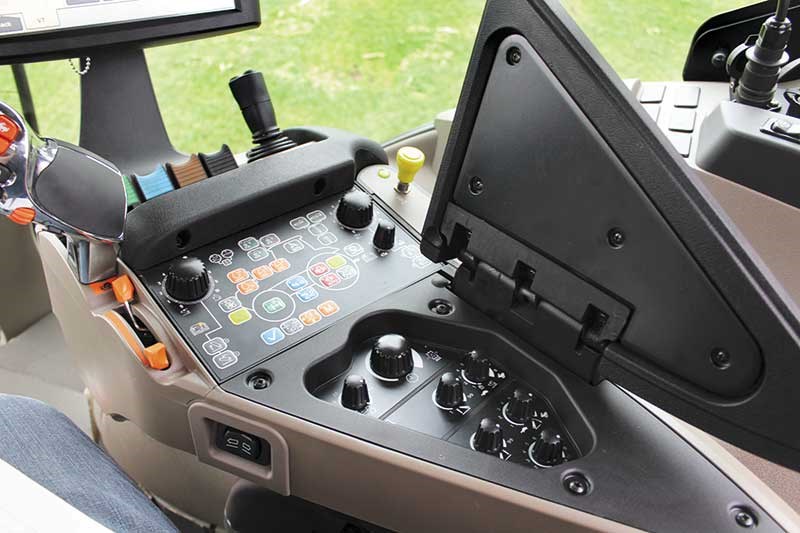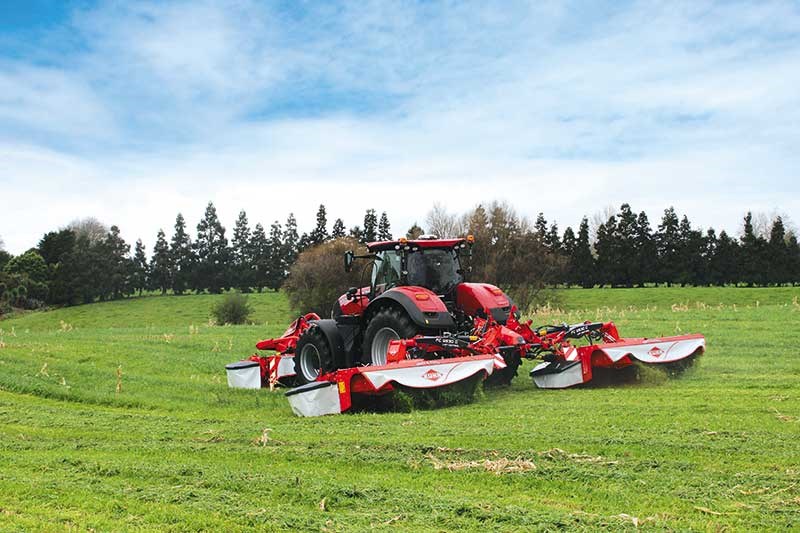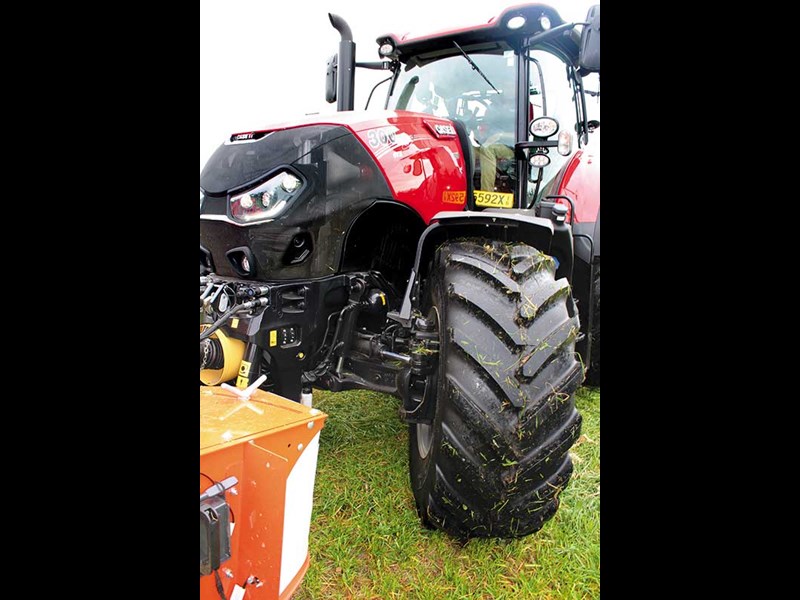 Farm Trader tractor reviewer Brent Lilley puts the Case IH Optum CVT 300 to the test.
While many would say that Case IH already has a healthy stable of tractors, the company recently identified an area where it believes there was a gap. This led to the development of a higher horsepower, yet relatively compact tractor and the newly launched Case IH Optum CVT range to target this area of the market.
At this stage there are two new models at 270 and 300hp. These fit in above the Puma range and below the legendary higher horsepower Magnums. The Case IH Optum was launched at the New Zealand National Agricultural Fieldays and I managed to catch up with them a couple of days later in the Waikato to suss out just what this new range offers.
Engine
Despite the appearance of a very high nose on the tractor, once the stylish single-piece bonnet is opened, the engine is actually mounted quite low. This is good for weight distribution and easy servicing. Up front, the radiator pack opens out as you would expect for easy servicing.
Impressively, when fitted with a front linkage, a reversible fan comes standard which is controlled from the cab to blow debris back out. Providing the grunt is a 6.7-litre six-cylinder FPT engine, already well proven and found in many other Case IH models. Interestingly, any power boost has been done away with, preferring to have the horsepower on tap at all times. The Optum 300 tops out at a maximum 313 horsepower.
Although most engines seem to be getting more complicated to meet increasing emissions standards, Case IH has managed achieve the required tier 4 final standard just through the use of SCR (AdBlue) and a DOC (diesel oxidation catalyst); a well proven and relatively trouble-free setup with no future servicing requirements or burn cycles. The only disadvantage I can see is that AdBlue usage has gone up and sits at around eight litres per 100 litres of diesel.
Some clever features have been incorporated to improve performance while reducing fuel consumption. A variable geometry turbo adjusts electronically to produce maximum torque across a wider range – from 1300 to 1600rpm – and an exhaust flap restricts flow to ensure the engine runs at the optimum temperature.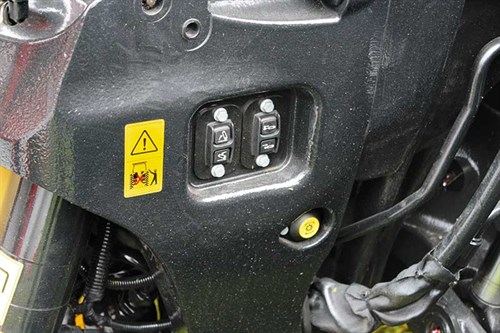 Transmission
The Optum uses the same CVT transmission found in the Case IH LWB Puma range, although as you would imagine, it has been suitably strengthened to handle the increased horsepower and deliver it to the ground.
It gives a smooth, stepless, variable-speed drive from 0-52kph. The active stop feature of the transmission will hold the tractor stationary even if stopped on a slope when the drive pedal or Multicontroller are pulled back. In the case of PTO work, when the brake pedal is pressed, drive is disengaged and the tractor will move off when the brake is released. For safety, a hydraulically released park brake is controlled on the left-hand shuttle.
Descent control is something else I was particularly impressed to see. This is basically a form of engine braking which prevents the tractor from gaining speed downhill to give greater control over the machine. To drive this transmission is a simple smooth experience. Three working speed ranges give excellent control in all situations, and they are adjustable and can be changed on the fly.
PTO
At the rear is a four-speed PTO which gives 540 and 1000 rpm with an Eco option in both. Interestingly at the front is what I'm led to believe is an industry first; in the form of a two speed front PTO which gives a choice of 1000 or 1000 eco – yet another clever feature to lower running costs.
Both front and rear PTO speeds are electronically engaged and changed with the speed selected on dials in the right rear-hand corner of the cab. Both also feature a soft start and a brake to prevent damage to implements.
Hydraulics
As standard the Optum has a high flow system with a hydraulic output of a whopping 220 litres/min. This runs a closed circuit system which uses a variable displacement pump which is load sensing to deliver oil as required at low engine speeds. Also as standard are five electronic remotes and an ISO power beyond coupling on the rear. These are all adjustable and programmable as to how they are controlled on the cab monitor, along with a load sensing valve.
One minor thing which always bugs me is that rear remotes are numbered backwards in my opinion; from the right to left, but they are labelled. The heavy-duty rear linkage has a whopping 11-tonne lift capacity at the cat three hook ends. A hydraulic top link and right hand lift rod make setup and adjusting implements easy. They are both plumbed into the hydraulics independently of the remotes and controlled with separate buttons in the cab.
As you would expect, hydraulic and air trailer brake couplings are provided at the rear. Up the front there are a further three mid mount valves used for the front linkage, and two sets of remotes. Again they are all adjustable and programmable.
Cab
The cab on the Optum has been directly transplanted from smaller models in the range and many will be familiar with it. While it is perfectly adequate, I'm sure some would expect a larger updated cab on a tractor this size. As a four post cab, access is easy through the large single piece doors and visibility is good in all directions.
Once up in the cab, there is a large top of the line active motion deluxe Grammar air seat for the operator and a large comfortable jump seat for any co-pilots. Both are clad in leather, as is the steering wheel which gives a pleasing finish. Air conditioning controls have been upgraded and are found in the roof on the right hand side, as is the radio and a convenient extra slot for a CB radio or handy extra storage.
On the outside of the cab, there is space for up to 20 LED lights to literally turn night into day. Another great feature is the large two-piece electrically adjustable mirrors which give wide angle views; especially handy in tight gateways.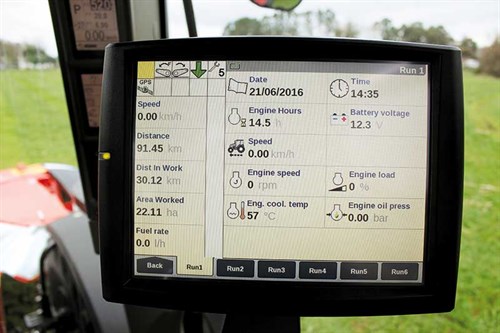 Controls
Like the cab, the controls are the same as those on the Case IH range from Maxxum CVT to Quadtrac. At the heart of the controls is the Multicontroller, featuring raised buttons to change travel direction and work speed ranges. A scroll wheel on the underside can adjust the maximum speed of each working speed range with a further four buttons giving control of both the linkages and a hydraulic remote valve.
The Multicontroller controls the forward speed of the tractor by pushing it forward. A split Ecodrive slider behind the Multicontroller makes it easy for operators to set the minimum and maximum engine speed. Almost all other controls are on the right hand armrest of the seat which is easily adjusted into just the right spot.
The star of the Optum sits at the front of the armrest – the large touchscreen AFS Pro 700 monitor. This provides a wealth of information to the driver, with run screens that are completely customisable to show exactly what is required.
The verdict
I was immediately impressed with the Case IH Optum 300. The sleek aggressive styling definitely looks the part, but more importantly it packs in the goods to deliver impressive performance as well.
Clever features such as the variable geometry turbo with exhaust flap and a reduced idle speed ensure the engine is operating at optimum to produce the horsepower required while reducing fuel consumption.
Up in the cab, controls are pleasantly familiar from other Case IH models and are easy to use, as is the large touch screen AFS monitor. The manoeuvrability is impressive and it is quite easy to forget that you are actually driving 300 horsepower tractor.
It's a well-rounded tractor which complements the existing Case IH line up and I believe it will find favour with contractors here in New Zealand.
Pros
Proven reliable 6.7-litre FPT engine
Simple emissions setup using SCR(AdBlue) to meet tier 4 final standards
Electronic variable geometry turbo and exhaust flap to insure optimum engine output
Decreased engine RPM at idle to save fuel
Longest engine service intervals of any brand
4-speed rear PTO, and industry first 2 speed front PTO
Impressive lift capacity on front and rear hitches
Smooth and easy to operate 52km/hr CVT transmission
Large touch screen AFS monitor with improved headland management software
Cons
Hydraulic remotes arranged backwards, although clearly labelled
AdBlue use has increased although fuel usage is said to be down
Some would expect a larger cab on a tractor of this size
Read the full test in issue #233 of Farm Trader magazine. Subscribe here.
Keep up to date in the industry by signing up to Farm Trader's free newsletter or liking us on Facebook