Top tractor 2016: Kioti PX1052
---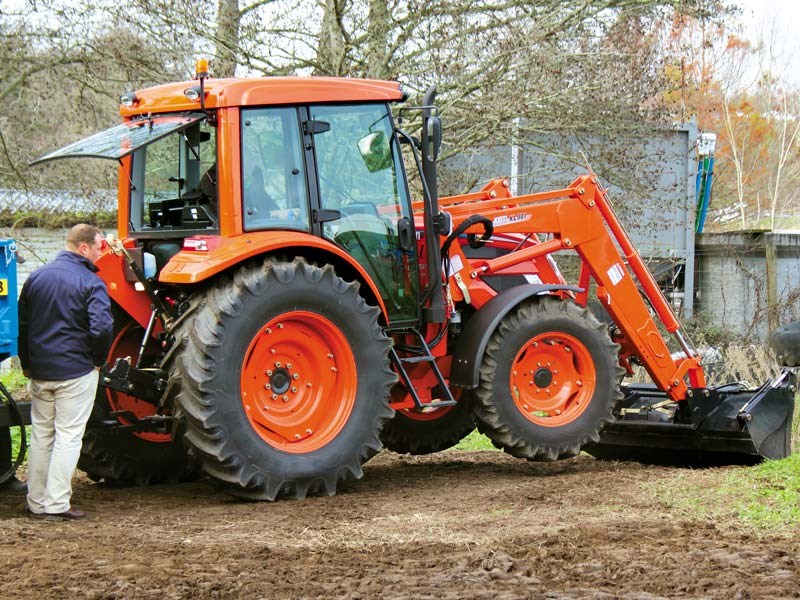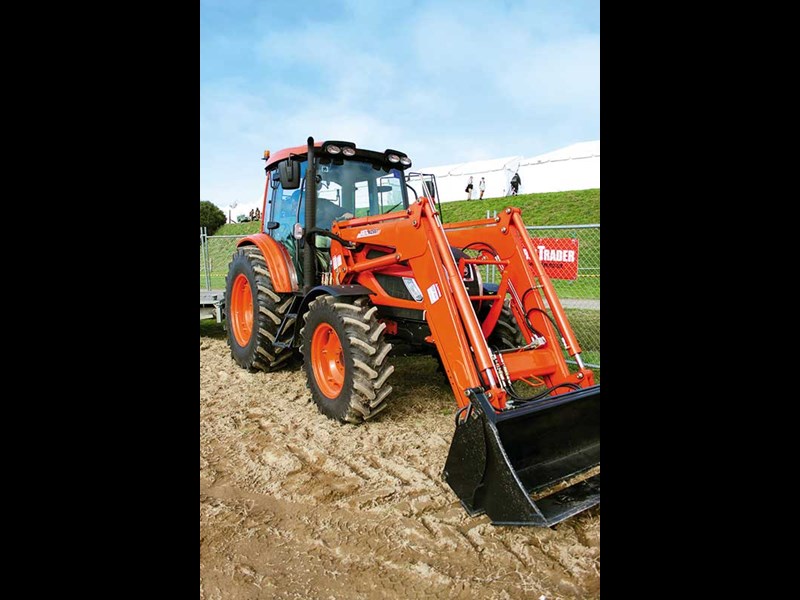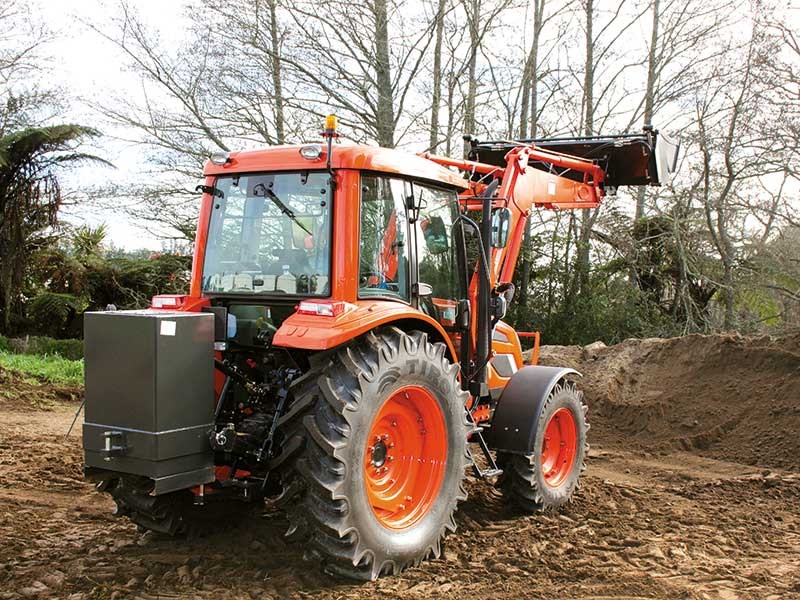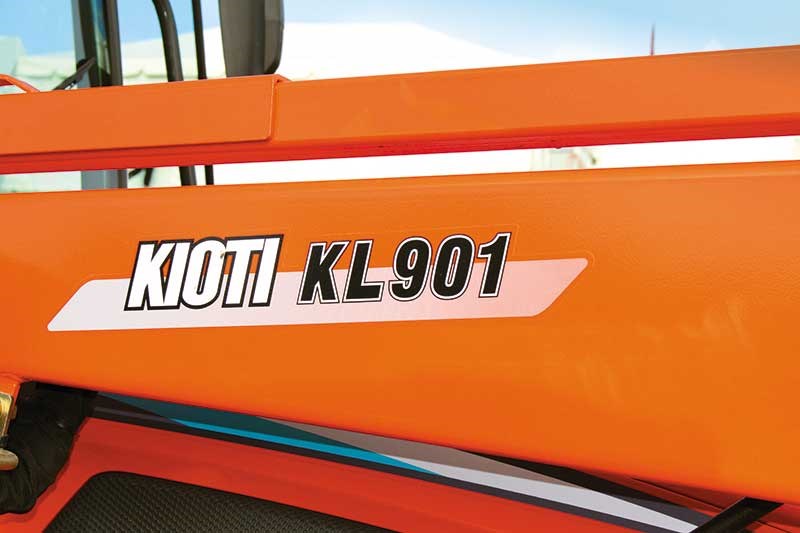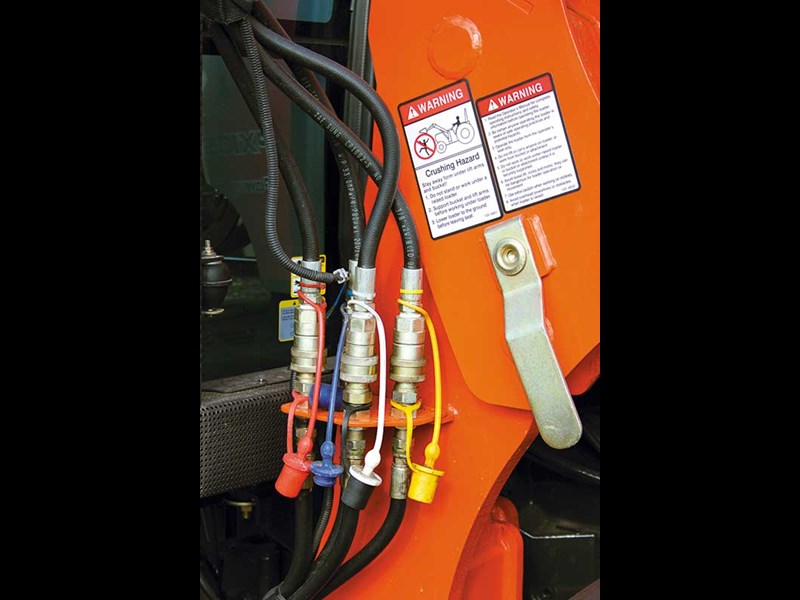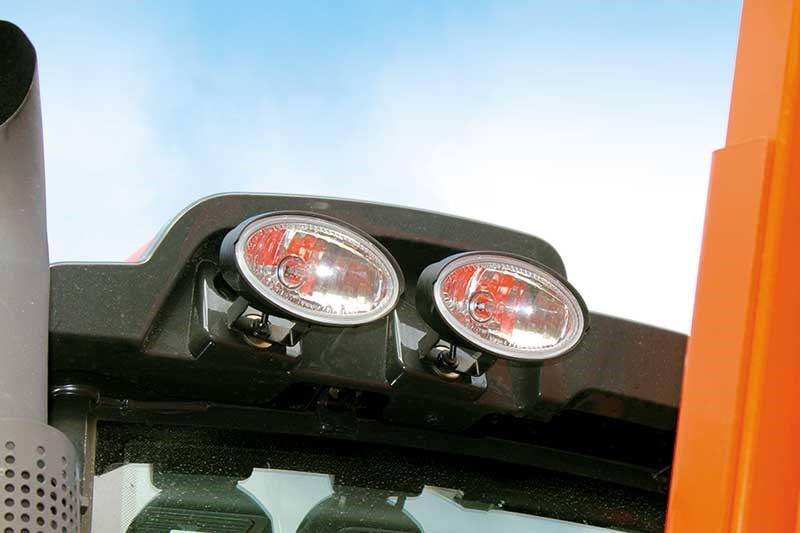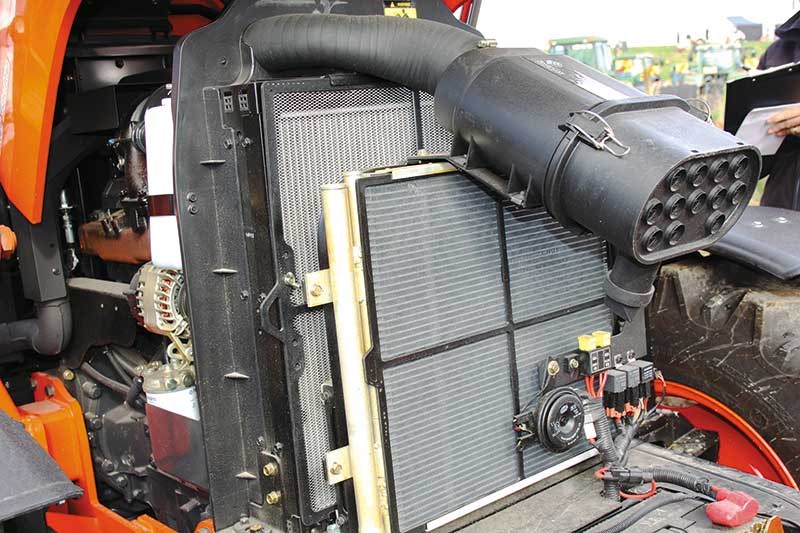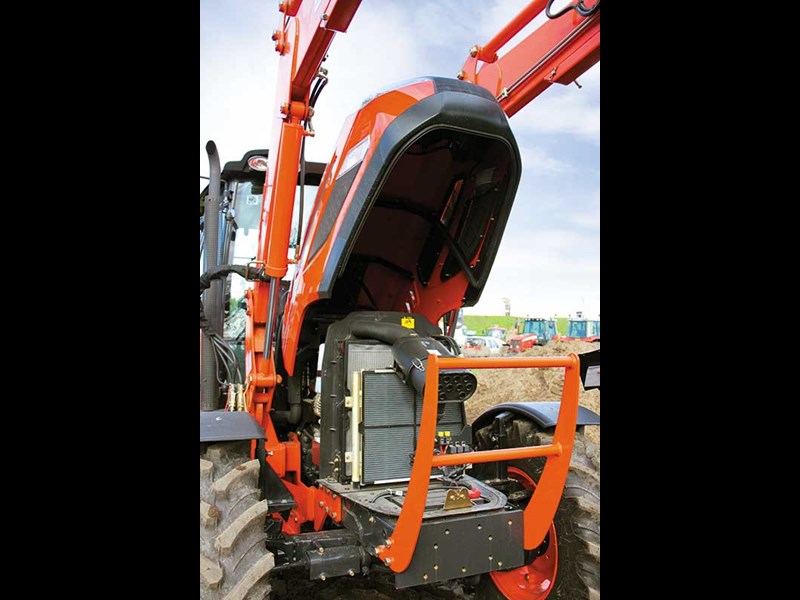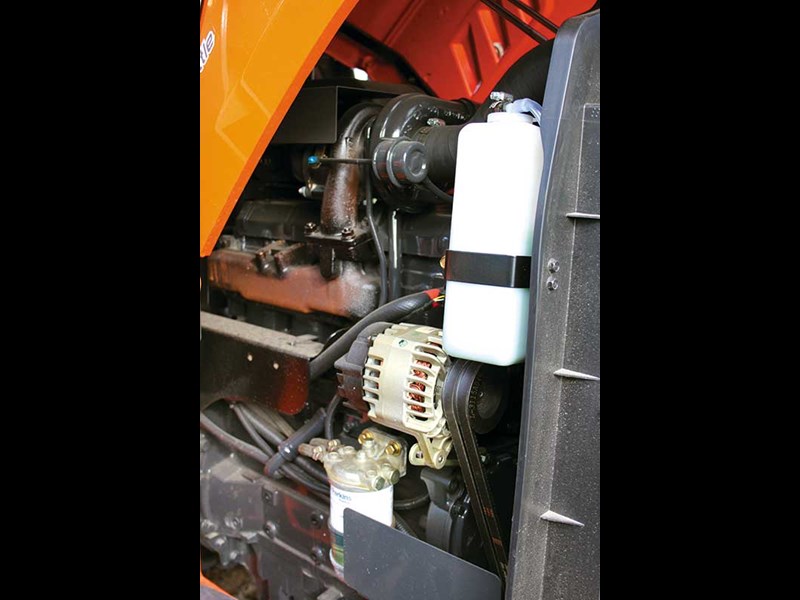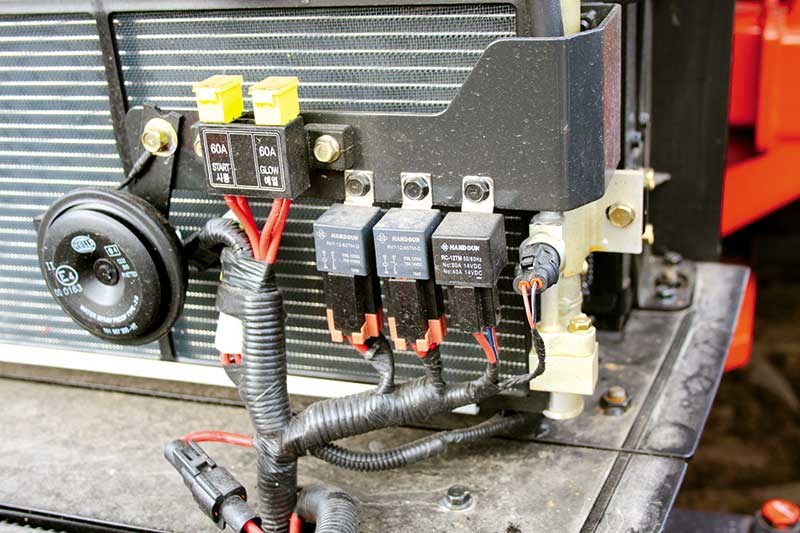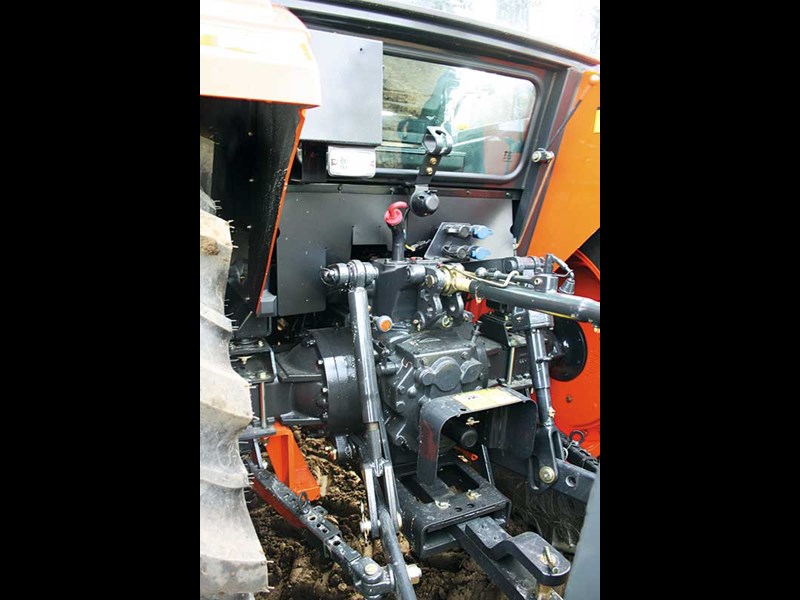 I can honestly tell you I had a real ball driving the Kioti in Farm Trader's Top Tractor Showcase. There is something refreshing about driving a mechanical tractor where you get back to basics.
I say "back to basics", but the Kioti felt like it was built up with the most spec they could possibly offer. While it doesn't have the quality feel of a high end tractor brand, it also doesn't have a high end tractor price which is something that needs to be front of mind.
Engine
While the Kioti PX1052 CP might not mean a lot to many people, the fact it has a 105hp Perkins engine under the hood will give comfort as these engines have had a long history of reliability. In terms of engine spec, it is a straight Tier 2 4.4L water-cooled engine with none of the hoopla that goes with emissions regulations and standard with a 120L fuel tank.
Access is easy via the high lift one-piece bonnet and once underneath, the radiators are easy to keep clean with removable mesh pre filters. The 250-hour service intervals are not by any stretch market leading, but most manufacturers recommend this even if they claim 500 hour service intervals, so I don't think you are missing out.
Transmission
The wet clutch, clutchless shuttle on the Kioti has been designed in Europe and whatever the Europeans have done has worked well, as the direction changes are very smooth, particularly noticeable during the loader work.
There are plenty of gears to choose from with a 32 x 32 speed transmission with a speed range from 170 metres per hour to 40 km per hour. You have four ranges: creep, low, medium and hi with four gears on the stick and a splitter.
Hydraulics/linkage and PTO
The Kioti comes standard with a two-speed PTO (540/1000) although you can get three speeds (540/540E/1000) as an option if you indent order from the factory, ground speed PTO is also available through indent.
Standard is two remote valves, both are double acting while only one has the float feature. A third remote can be retro fitted here in New Zealand which gives plenty of flexibility. For the KL901 loader, there is a mid-mount double acting valve and a single lever joystick (which could be mounted slightly forward for those of us with longer than normal arms). The Kioti comes standard with category II hooks on the rear linkage which is a nice bonus in this price bracket.
Operating environment
Kioti has dubbed its new cab as the 'luxury cabin'. I will be honest – even the most enthusiastic smooth talking salesman will have his work cut out convincing the masses it is luxury - but it is very comfortable. The only thing you really miss out on is an air seat, although a fully adjustable suspension seat with right hand armrest is more than adequate. The large dash is easy to read and the instruments are easy to navigate your way around.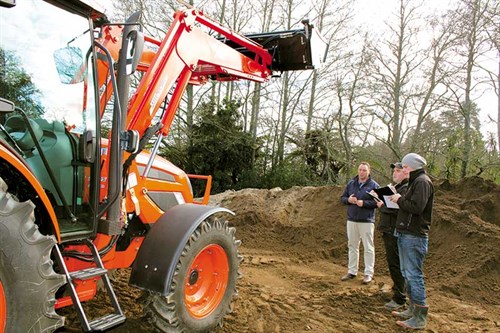 Air conditioning, a sun roof and a radio with USB make for a comfortable day, while the flat floor, wide door and adjustable steering wheel column make it easy to get in and out of. Large mirrors allow good visibility of rear implements without whacking your head on them on the way in the door – trust me it happens more than you think.
Driving impression
The 4 ton Kioti handled the loader work well, with 46kg rear wheel weights each side fitted as standard, as well as a 650kg weight blocks included in the price. The KL901 self-levelling loader has a 1.1-tonne lift capacity and comes with a 4 in 1 bucket standard which is a handy addition, although I would probably opt for a normal but larger capacity bucket.
The bevel gear front axle with a 58 degree steering angle was excellent for manoeuvrability around the tight loading area. The radial tyres (18.4 R34 on the rear and 13.6 are 24 on the front) as well as four top cab lights on the front with two at the rear are not market leading, but along with the four year power train warranty and a full two year warranty for everything else, given the price I reckon the Kioti is a comfortable smooth little tractor which represents excellent value for money.
The verdict
As mentioned this is a well-built tractor, complete with a good warranty at a good price. This doesn't mean that the Kioti was a plain Jane tractor; with four on the floor and a hand throttle, there are plenty of mod cons to keep you out of the elements and tackle head on those farm jobs. Given the payout and the modest Kioti price tag, it could be a hell of a combination.
My final thoughts are that I'm pleased to report this Kioto was the only tractor in the pack of eight tractors we tested to come equipped with a pie warmer which doubles as a cool box – happy days people, truly happy days.
Pros
Perky engine which performed very well on the dyno
Very manoeuvrable
Shuttle was very smooth
De-clutch button was also very smooth
Rear weight (650kg) and 4 in 1 bucket included in the price
Four-year warranty (two-year full, further two covers anything covered in oil)
Cons
Tyres were inferior when compared to the others
No speed reading in the cab
Only one spool had float and couldn't be released under pressure
Check out the full review in issue #234 of Farm Trader magazine – plus more of our Top Tractor Showcase in future issues!
Keep up to date in the industry by signing up to Farm Trader's free newsletter or liking us on Facebook