Top tractor 2016: Kubota M9540
---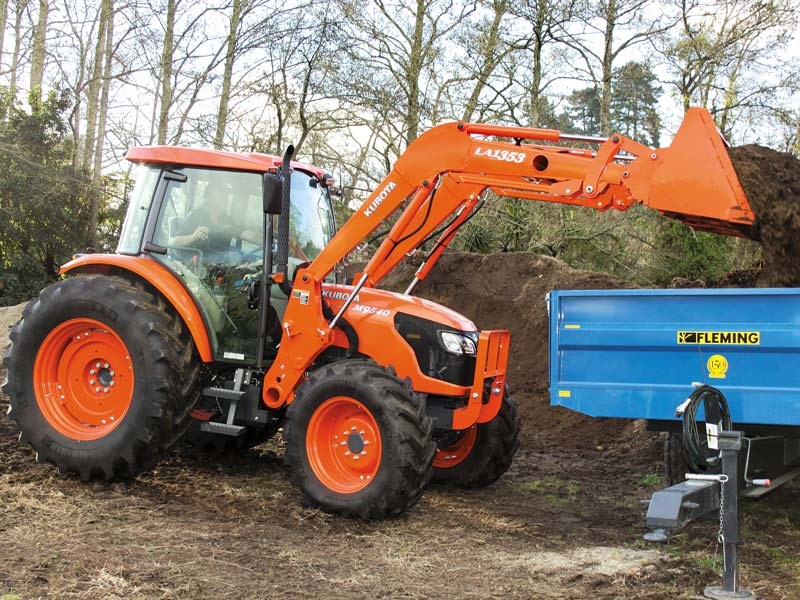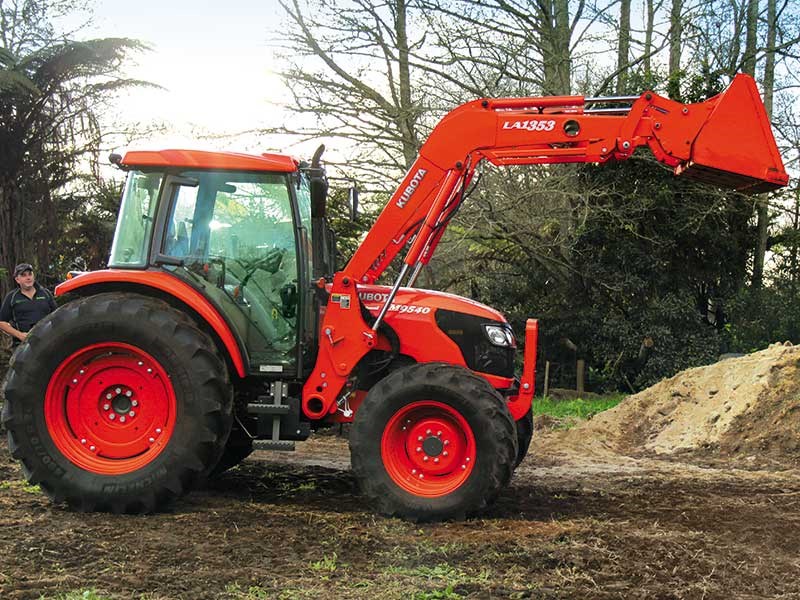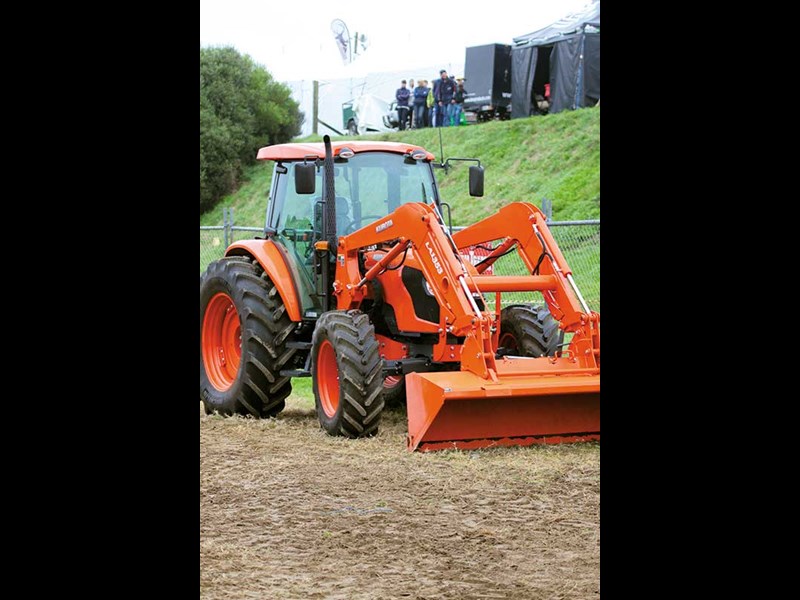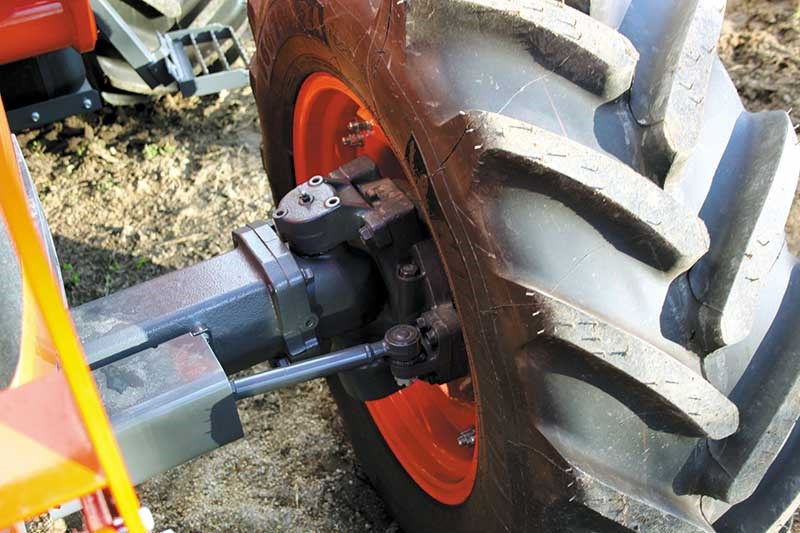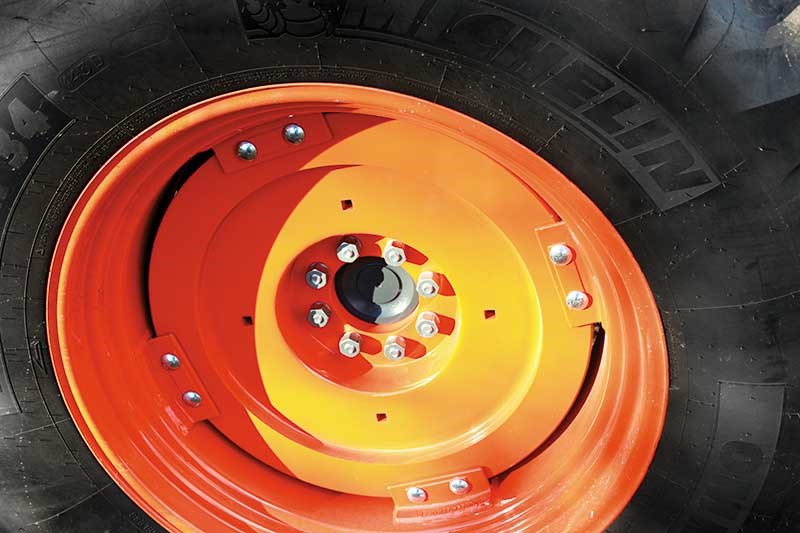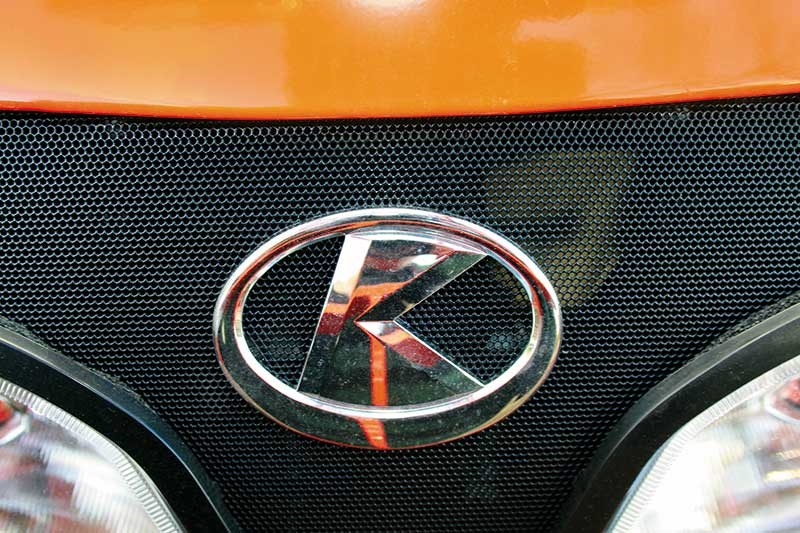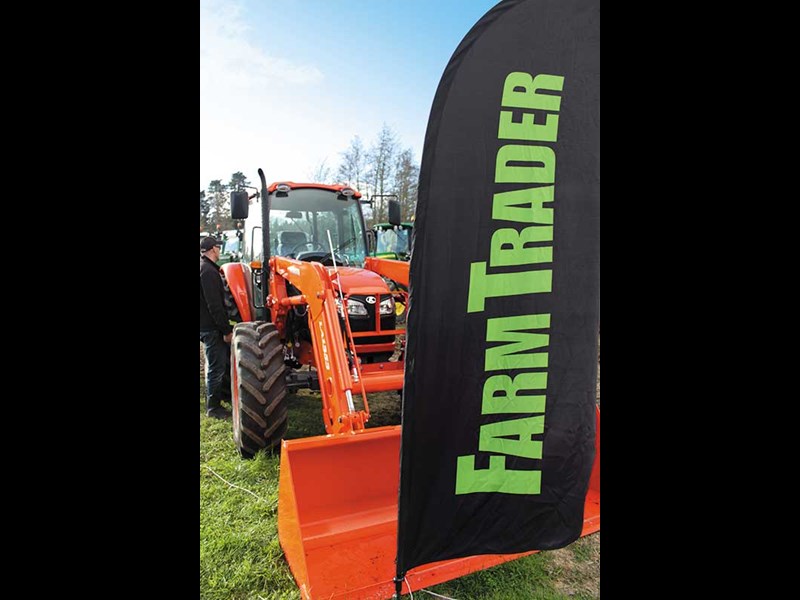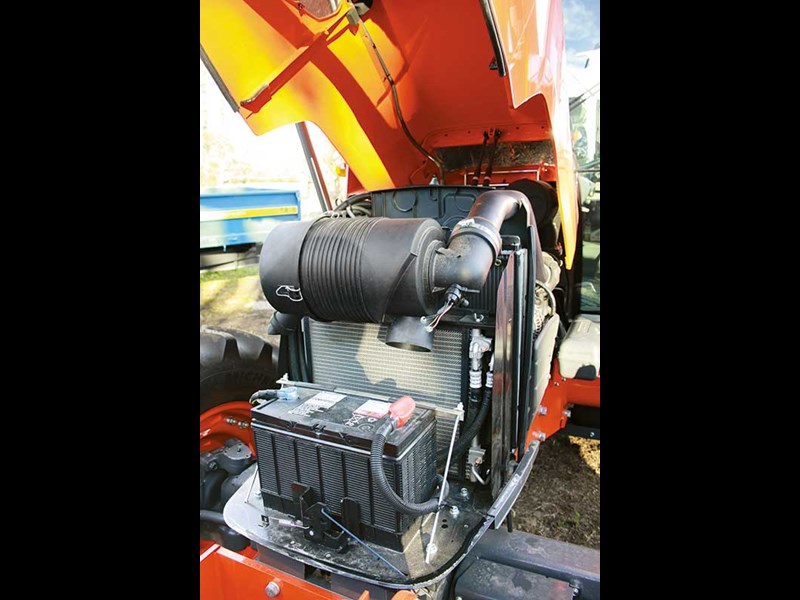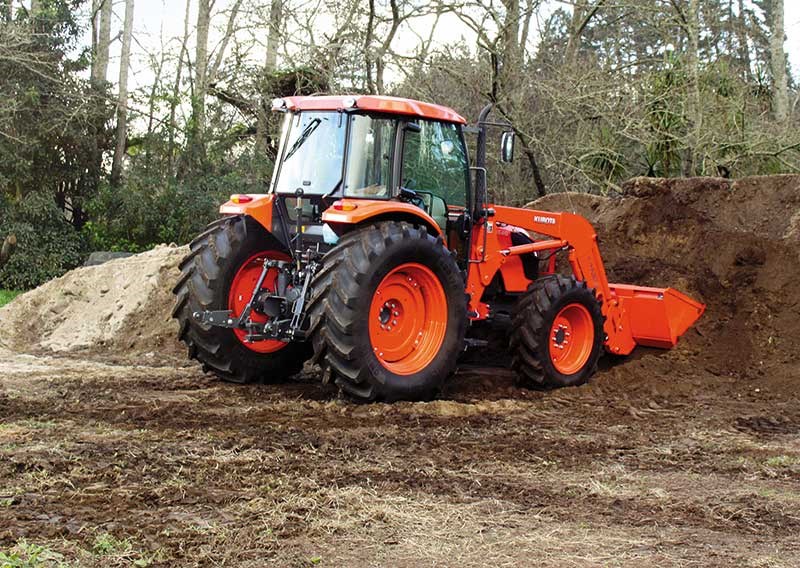 In the first review in our Top Tractor Showcase we climb behind the wheel of the impressive Kubota M9540…
In this year's Farm Trader Top Tractor Showcase event held at Fieldays, we set out to test drive tractors for the best value for money we could find for under $100,000. With this in mind, the company put forward its M9540 tractor equipped with its own in-house built loader.
Engine
Kubota has a good track record building reliable, responsive engines, especially in the sub 100hp category where it is one of the largest engine manufactures in the world. The M9540 gets its power from the company's V3800 engine which is a perky 3.8-litre turbocharged four-cylinder engine and meets Tier 3 emissions standards. This has been well proven in Kubota's own tractors as well as many other manufacturers' machines.
Although this was the lowest hp tractor in our line-up, rated at 95 horsepower, it still met expectations reasonably well. Our independent dyno tests by Diesel Performance Solutions showed there was 82hp available at the shaft, which is in line with what you would expect and the manufacturers claims of 84hp.
The fuel tank capacity sits at 110 litres which is more than ample on a tractor of this size. The engine is easily accessed when the single-piece bonnet is opened and everything can be reached from ground level. Service intervals are fairly standard at a recommended 300 hours although some manufacturers are pushing their machines out longer.
The cooling pack at the front is fairly uncluttered and easily cleaned with pull-out mesh screens to keep debris out.
Transmission
The transmission is a fairly straightforward setup which uses a six-speed main gear box. This can be used in three ranges including a creeper. On the side of the gear shift, is a dual speed button which gives you a further hydraulic hi/low split in each gear. This setup along with a hydraulic shuttle used for forward/reverse, gives an impressive 36 x 36 gears delivered though a reliable multiple disc wet clutch.
In practice, the six gears are easy to navigate through. Using the clutch and the splitter is a nice touch which gives a clutchless change. A range change does require the tractor to be stationary, although as high range effectively gives you 12 gears, it is suitable for almost all situations with a top speed of 40km/hr.
Interestingly, the Kubota has a park lock on the transmission. This is engaged with a separate lever beside the main gear shift and gives piece of mind when stopping on hills. It is good to see a regular handbrake as well. Four wheel drive uses electric over hydraulic for smooth engagement, there is diff lock for the rear and a limited slip diff in the front.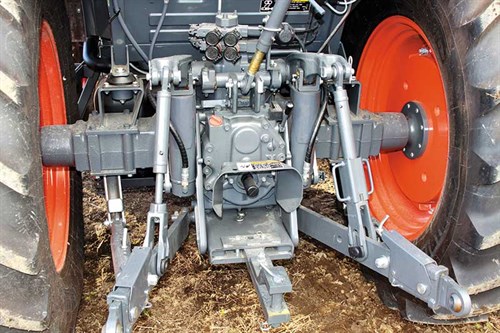 Hydraulics/linkage and PTO
There is a choice of two speeds on the PTO – 540 and 540E. This is probably all you are ever going require on a tractor this size, but there is an option of a third speed of a 1000 from the factory. The lever to change the speed is located around the back just above the PTO spline, although I guess this is something which is really only changed when hitching up an implement anyway.
As standard, the tractor is equipped with two sets of remote valves, but there is an option for a third. Both are double acting, but neither has float or flow control. They are stacked vertically in pairs above and to the left of the top link, which makes coupling hoses very easy. Mechanically controlled from conveniently placed levers on the right-hand side of the operator, I do feel labelling at the back which corresponds to the levers would be a help.
The loader is run from a separate mid-mount valve and is controlled with a mechanical linkage joystick where the third service can be electronically turned on/off for safety and controlled by two thumb-operated buttons on the joystick. Hydraulic output sits at 64 litres/min, which in my opinion is fairly decent for a tractor this size.
The three-point linkage, mechanically controlled with slide levers beside the seat for height and draft control, is simple and reliable. There is a lever at the back for external linkage control which is good to see, although not operator-friendly. Lift capacity is 3300kg which is reasonably good. The lower link arms use telescopic fixed category II ball ends which makes hitching implements just that little bit trickier, although simple pin and hole adjustable stabilisers are easy to set.
Operating environment
Although the cab has a compact appearance from the outside, wide doors give easy access and once in the driver's seat, it is reasonably spacious. Even though it is a six-post cab, there is good all-round visibility thanks to a slim pillar design and curved glass on the rear corners. The curved nature of the front windscreen and an arched top also give just that little bit more visibility required when the loader is lifted to full height.
The operator gets a smooth ride, a fully adjustable air seat, and the steering column tilts for optimum driving position. A simple uncluttered dash uses gauges to show the RPM, fuel level and engine temperature, while a small screen shows ground speed and PTO rpm (when in use). The left-hand direction shuttle is well placed and easily used while steering and using the loader.
All controls except the 4WD are arranged neatly on a console on the right-hand side. The gear shifters, park lock and hand throttle levers are colour coded orange and grouped together. Hydraulic and linkage control levers are well laid out and easy to use.
A row of toggle switches with pictorial diagrams control most other required functions and the push button PTO is coloured yellow to clearly identify it.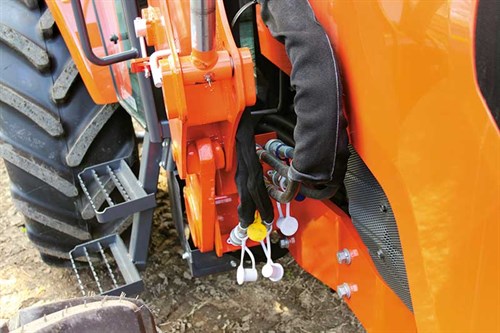 Driving impression
A point of difference to a lot of other tractors definitely worth mentioning is just how tight the turning circle for the Kubota is. This is because of the bevel gear front axle which allows the wheels to turn to an impressive 55-degree angle. This was particularly great when using the loader.
And speaking of the loader, it is equally impressive; well-built and well-thought-out. The LA1353 loader is built in-house by Kubota for these tractors and therefore fits like a glove without hampering visibility.
Auto self-levelling is incorporated in the hydraulic rams so there are no extra mechanical linkages to block visibility and the self-levelling can be turned off with a switch under the joystick in the cab when it's not required.
The Kubota was the only tractor tested in our Top Tractor Showcase with the ability to do this. It can reach almost 3.5 metres from ground level and the stated lift capacity is over 1.3 tonnes. Luckily rear-wheel weights are included in the package to ensure the back wheels stay firmly on the ground.
The 360/70R24 tyres on the front and 480/70R30 on the rear give the tractor a good foot print while still maintaining a nimble and graceful appearance, although a lack of front mud guards will be an issue for those who like to keep the machines clean and tidy.
The verdict
I was impressed with what the Kubota had to offer for under $75,000, which was a lot cheaper than the others. It proved itself very nimble and yet still stable, making it great for loader work. The 'keep it simple' idea has been adhered to here without loads of electronics and complicated workings to go wrong and this is what Kubota does well. It has a proven history of producing reliable equipment.
Pros
Excellent turning circle
Good range and spread of gears
Lightweight tractor at only 2500kg
Reliable mechanical linkages
Excellent loader that fits the tractor very well
Hydraulic self-levelling loader that can be turned on/off
Five-year warranty
Cons
No front mudguards
No float position or flow control for the hydraulics
Fixed ball ends on three-point linkage
Stay tuned for more from Farm Trader's Top Tractor Showcase in coming weeks and months!
Keep up to date in the industry by signing up to Farm Trader's free newsletter or liking us on Facebook