Test: Bredal F8 Precision Spreader
---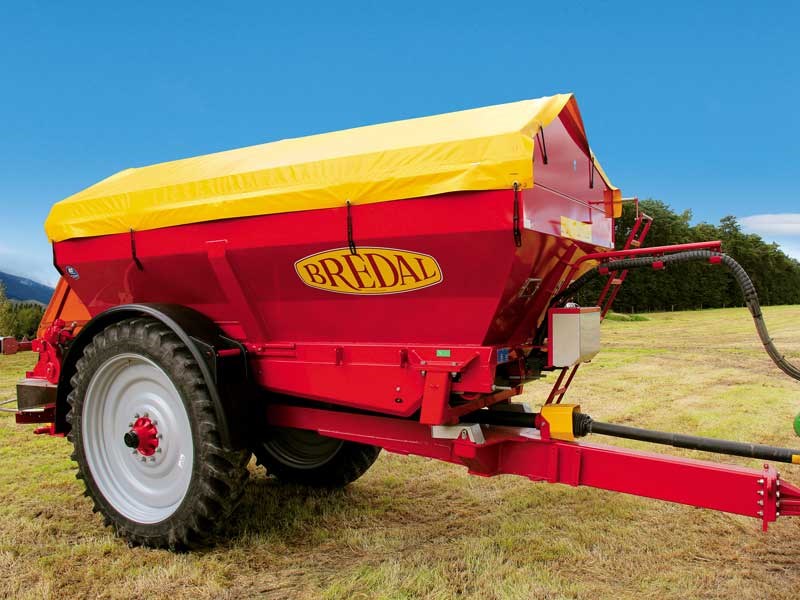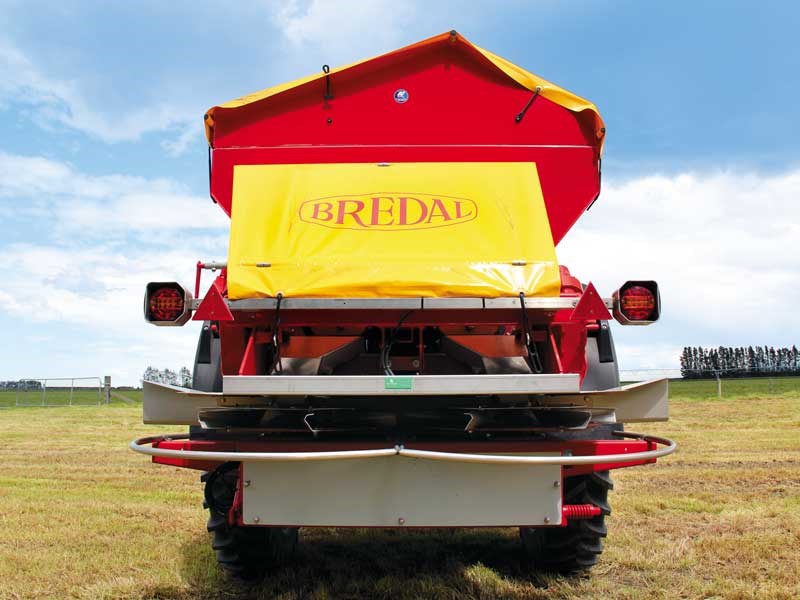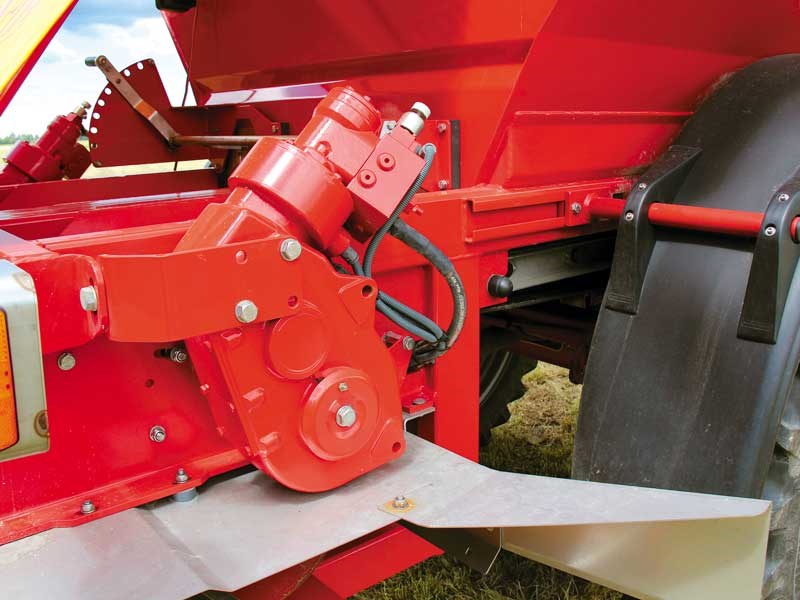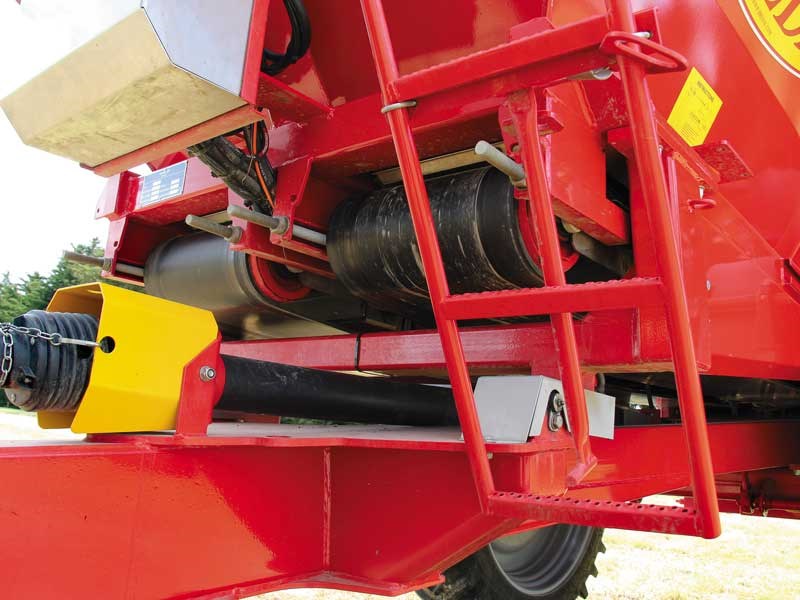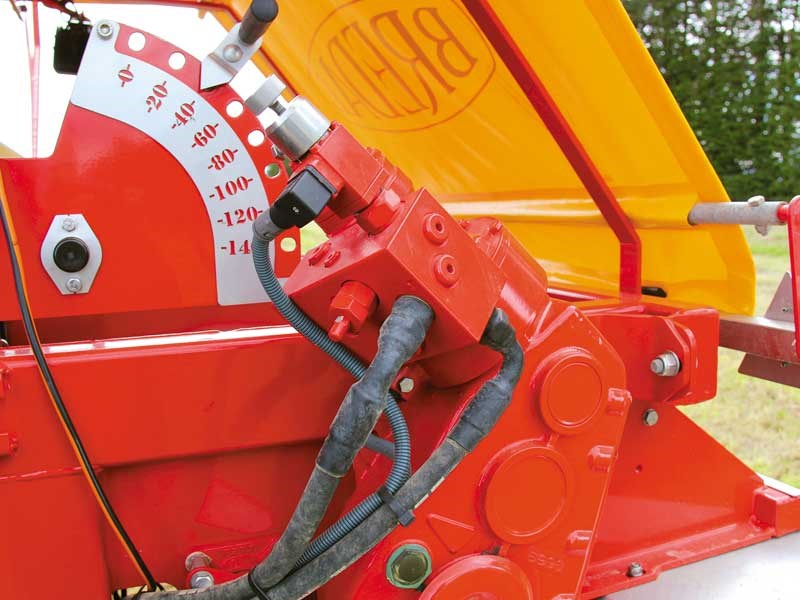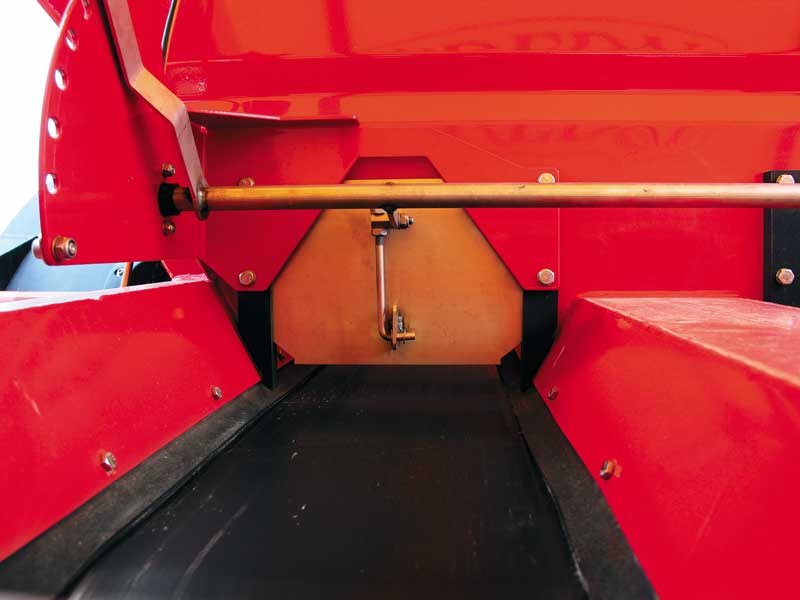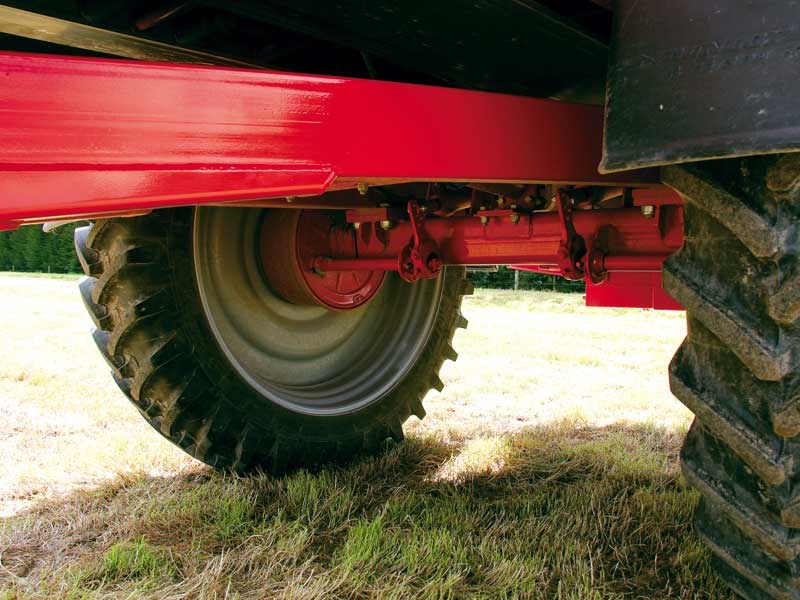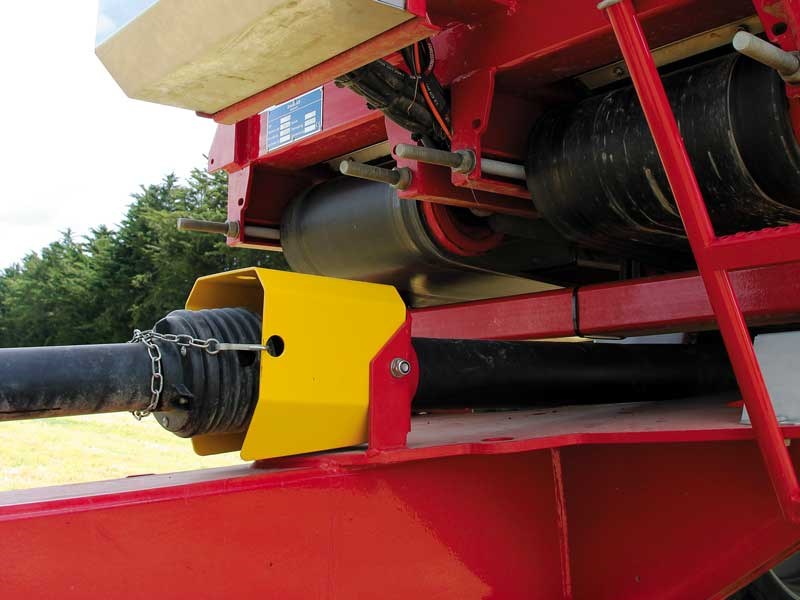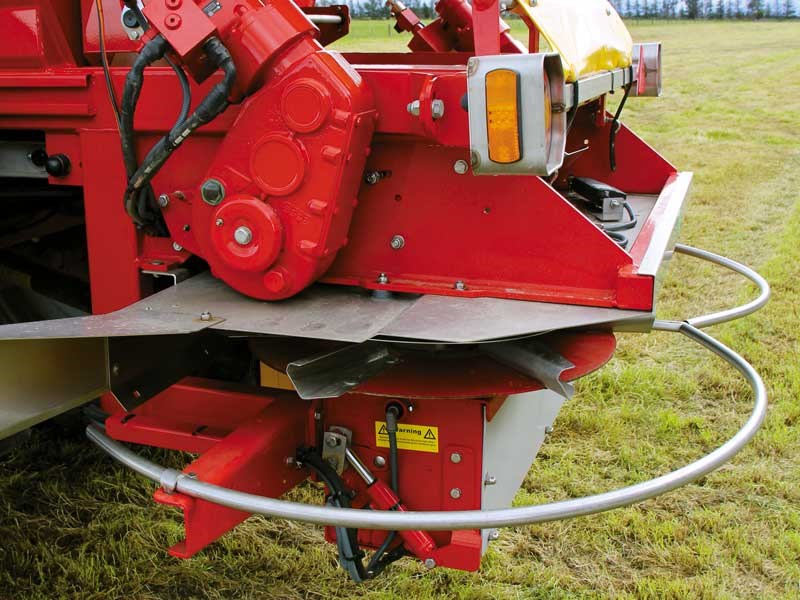 Farm Trader checks out the Bredal F8 Precision Spreader kitted with the Topcon X30 GPS system and crop spec nitrogen sensors
Despite being from a generation that has grown up with technology as part of farm machinery, I am still staggered by the amount of useable information available from today's technology packages. Particularly when I discover technology that not only increases the efficiency of a machine but also of the whole operation it is an integral part of.
My recent trip to Canterbury allowed me to catch up with some of the latest technology through EuroAgri and Topcon. I spent the day checking out the Bredal F8 precision spreader, kitted out with Topcon's X30 GPS system and nitrogen sensors.
The machine is being used by farm manager Mark McCully, who is responsible for more than 1000ha of arable land. He is passionate about utilising this level of technology to take advantage of the yield potential of each paddock on the farm. This is achieved with tramlines, starting with eight-metre cultivation and planting through to 30m spreading and spraying, all full RTK GPS, with +/- 2.5cm accuracy. Combined with yield mapping and full paddock nitrogen reports, this gives a massive amount of information to ensure the best return on investment from the land.
Mark's knowledge on how to make the most of the information he is provided with is also impressive. You can have all the information and technology in the world, but unless you have people who know how to decipher the relevant data, it is wasted money.
Company history
Bredal is a Danish company that has been producing high-quality agricultural spreaders for more than 50 years. It also produces salt and sand spreaders for harsh European winters. Put it this way – if a company makes spreaders for some of the most corrosive and abrasive material to work in harsh freezing conditions, no doubt it will last almost a lifetime on your farm in New Zealand. This is the only complaint from the New Zealand importer and distributor EuroAgri – the fact they are selling a product, which will almost never need replacing. Some may say this is career limiting, while others may say it is a stress-free way of selling gear, as it is unlikely to cause the dealer any grief. Either way you look at it, these Bredal spreaders certainly look like a good bit of kit.
Hopper
This trailed spreader will give you highly accurate spreading but also a large 5700-litre capacity, with the bin lifted onto a four piece (10 tonne) weigh cell incorporated chassis. This operating system also has an integrated tilt sensor. This is particularly handy everywhere else in New Zealand apart from where I tested the machine – on the Canterbury Plains.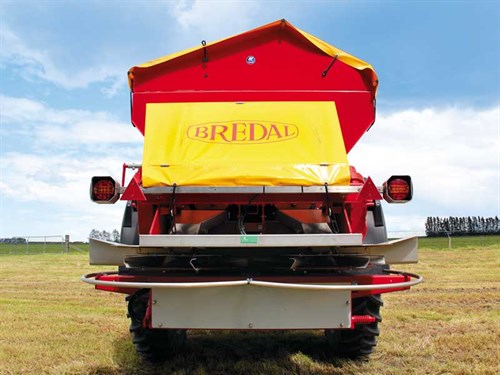 The nifty feature here is the real time weighing even on hilly terrain. Either up or down hills or along the side if you are game enough, these sensors will ensure the correct amount is being dosed out both the left- and right-side belt.
Spreading
This is where all the tricks come out of the Bredal hat. Each side of the spreader uses a separate belt to deliver the correct amount of fertiliser whether it is on a field border (using the border control), a triangle (using the section control), or simply turning a corner. The door height adjustment is made in 20mm increments and as long as the ISOBUS controller knows this, it uses the belt speed (either faster or slower) to deliver the correct dose. The rear of the machine is mostly stainless or plastic. It is ideal, given the corrosive nature of the job. 
Once it comes out of the belt, the material is sent down the electronically controlled chutes, which drop the product at the exact point on the disc. The chute is operated by electric actuators via the ISOBUS controller. Once the spreading width is chosen, the chutes are adjusted automatically as well as individually, on both the right and left sides. The same applies to headland spreading.
Built into the chutes software is automatic flow correction, which self-adjusts to the current output amount. This is particularly handy with the variable rate used in conjunction with the real-time nitrogen sensors, which I will explain later. Back from software to hardware – the drive to the spreading discs is PTO to two v-belts at the rear under the spinners. This is spec'd as such because it is ideally suited for 24–36 meter spread widths.
Also fitted to our test machine is the optional H-discs for spreading fertiliser types such as urea, potash, and ammonium sulphate with widths more than 24 meters.
University accredited accuracy
I guess it is easy to take things as gospel these days, as clever marketing boffins will have you believe from their flashy brochures that anything is possible and their machine could work effortlessly on the moon. However, back here on earth, all Bredal spreaders are regularly tested over a wide range of fertiliser types at the independent spreader test facility at Bygholm (part of Aarhus University) in Denmark.
Some spreaders get their spreading data from computer modelling, and given the spec level of these machines, you could be tricked into thinking this is also the case. Bredal are believers in the practical infield method of testing by accurately weighing the actual quantity collected in each tray. This is something Mark also does with the Bredal calibration kit supplied, which consists of seven test trays, seven separators, with seven measuring tubes, a granule strength tester, a funnel, and a sieve box to check the granule sizes.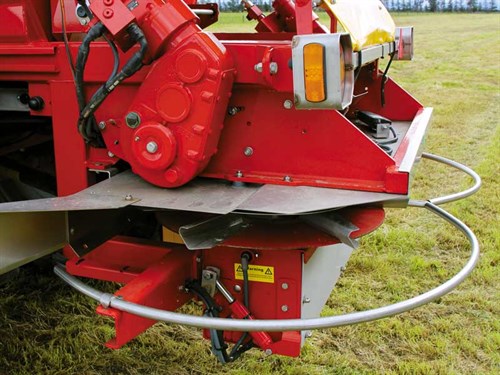 This practical method of testing has shown inconsistencies between each batch of fertilisers from both leading suppliers in New Zealand. Most people wouldn't realise but this inconsistent product and specific wind speed have a curving effect on the spread pattern. This becomes significantly worse the further you throw something, so spreading at 24m is 25km/hr. You need to take your forward speed off this, let's say 14km/hr. So 25km/hr–14km/hr forward speed=11km/hr wind speed – something that is not often achieved in Canterbury, hence when the wind is clamest in early morning or everning, most spreading takes place. This is where the GPS comes in particularly handy for operating in the dark.
Other features worth mentioning
Spring-loaded tightening of belts provides for their correct fixing way
The spreader is as standard with wide angle PTO
BPW axle is a powerful 10-tonne axle and is equipped with hydraulic brakes
Manual roll top cover although hydraulic option is available
Clearance under the spreader and discs is one meter
The entire machine is either heat treated with a two-pack paint or in high corrosion areas; stainless or plastic for long service life
Controller
The spreader controller on our test machine was run through the Topcon X30 display through ISOBUS with the additional CropSpec sensors. A standalone Bredal controller or ISOBUS is also available, combined with EuroAgri's Ag Leader GPS solutions, which are also available with N sensing technology.
This X30, 12.1" full colour touchscreen is an impressive set-up, with drag-and-drop info windows. The user-definable dashboard can simultaneously display five different functions on-screen and in real time. The large colour touchscreen is easy to navigate, as the picture icons allow you to drag up or close down particular screens. For those running a number of different machines on each tractor, the X30 can run real time variable rate control for up to eight products and up to 30-section auto section controller for sprayers, planters, or spreaders such as this F8 Bredal.
CropSpec N sensors
CropSpec consists of two sensor units mounted on top of the cab. Using infra red beams, which meansure on the red edge scale, these measure plant reflection to determine chlorophyll content, which is closely related to the nitrogen concentration in the leaf. In essence, there are three modes in which you can use that data available from the sensors:
Read and Record: Exactly as the name suggests, you record data from scanning the crop, which creates a map indicating nitrogen levels. This will show nitrogen-rich and deficient areas. This info can then be used to create a variable rate application.
User Determined Rate:" This allows you to set high and low points and then perform the application using field averaging. The target rate can be set by the operator to say 200kg/ha top and 100kg/ha bottom, meaning the field average will be 150kg/ha.
Real-Time Variable Rate Application: Again, as the name suggests, when using the Topcon CropSpec and VRC software together (which our test machine had), the driver can set the machine up to variable rate spread as the nitrogen levels are determined in real time. This is the ideal one pass solution.
I was impressed by the nitrogen sensors. The reason for this is that with the variable rate and section control capabilities of the spreader, if the average over the paddock needs to be 150kg/ha, the poorer performing parts will get 200kg/ha and the more fertile parts will get 100kg/ha.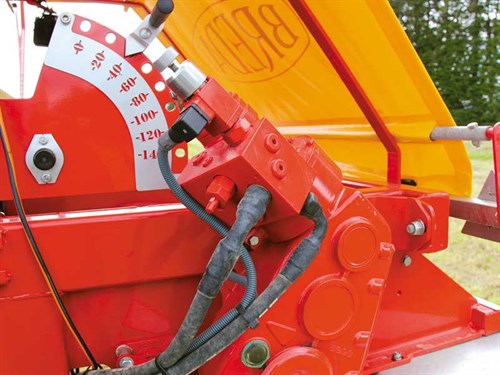 This is all done in real time via the CropSpec sensors. Yield mapping in the combines has shown this is a simple way of increasing total paddock yield – all from exactly the same amount of fertiliser as conventional spreading techniques.
Verdict
Fertiliser can be hit and miss. Often in one load, the granules are too soft and break into powder, while in the next load the granules stay complete until they hit the ground. Over a 30m spreading width, this inconsistent product has a massive variation on spread pattern and also requires continuous calibration.
This highlights the importance of quality machinery and technology, such as the combination of the Bredal F8 precision spreader and Topcon's X30 GPS system, to ensure you get every ounce of accuracy possible, and that is money well spent.
Keep up to date in the industry by signing up to Farm Trader's free newsletter or liking us on Facebook