Test: Honda TRX500FA6
---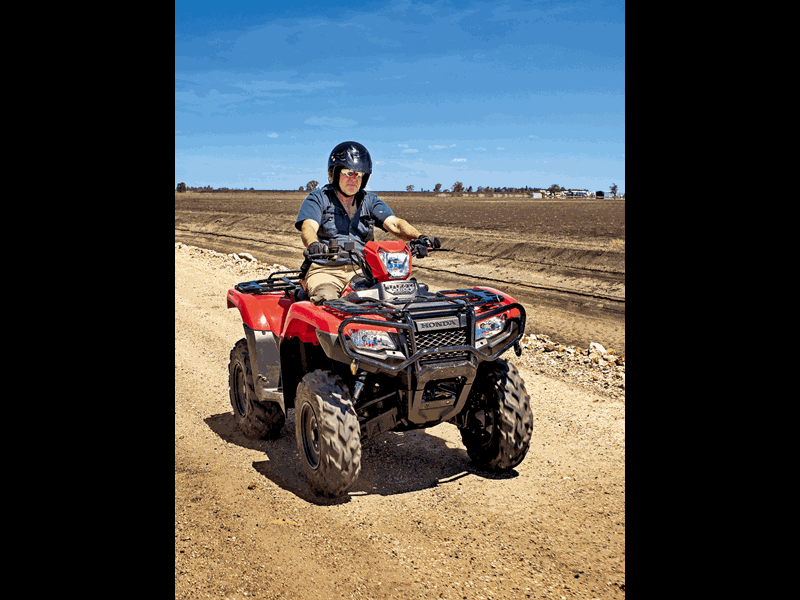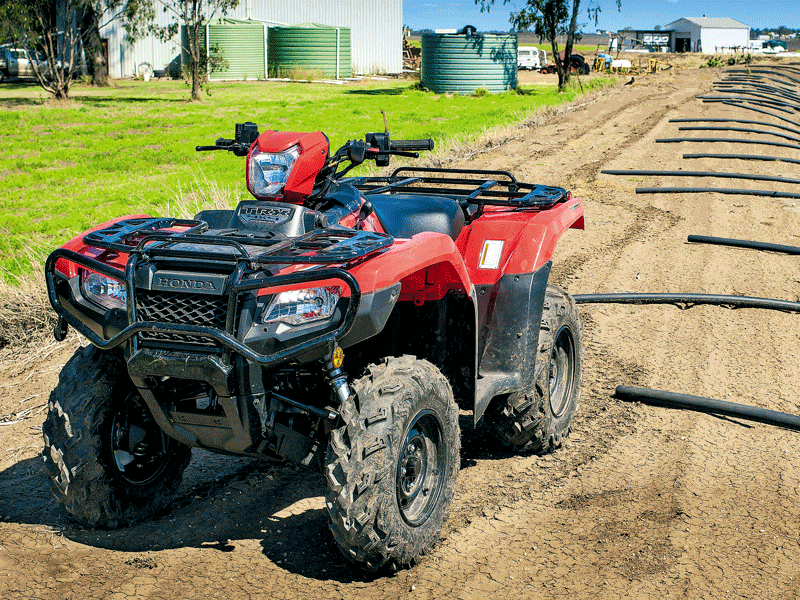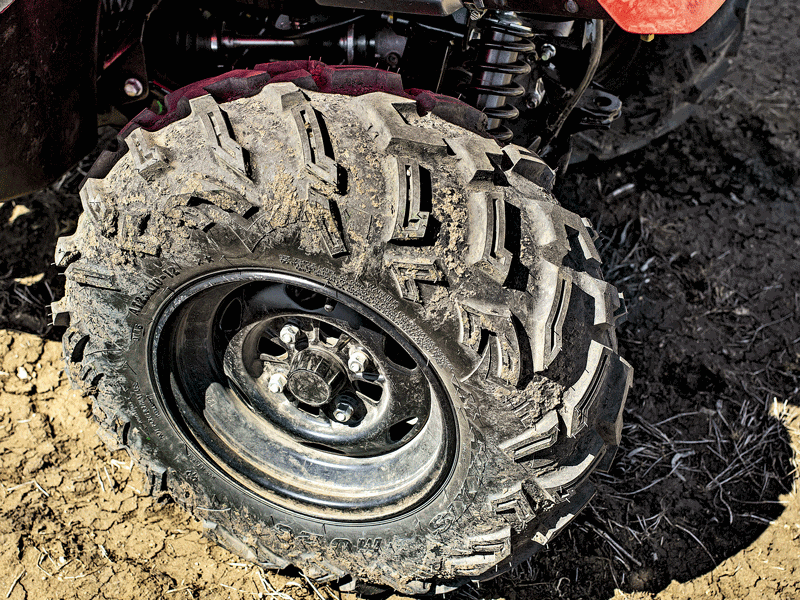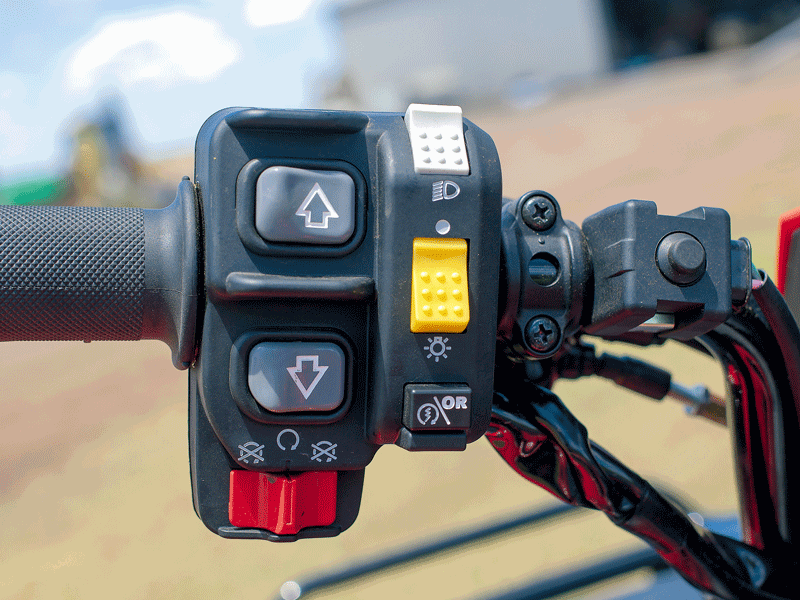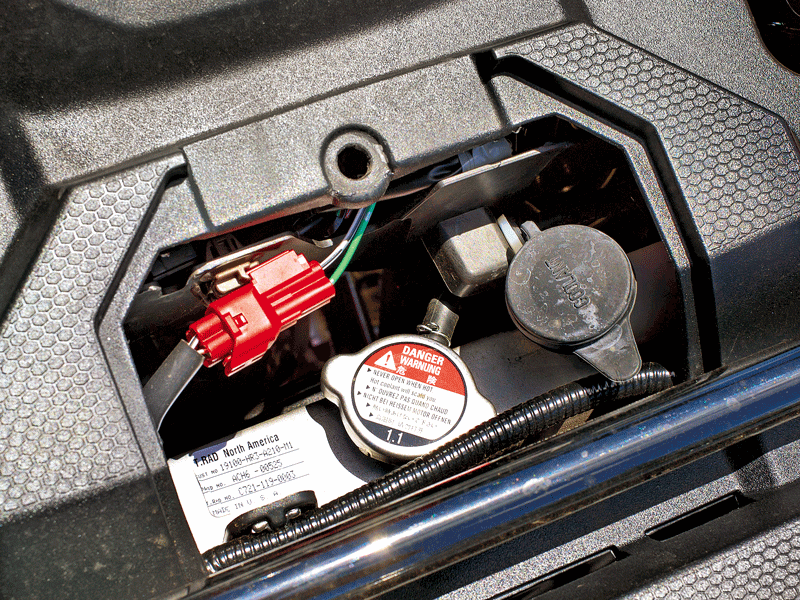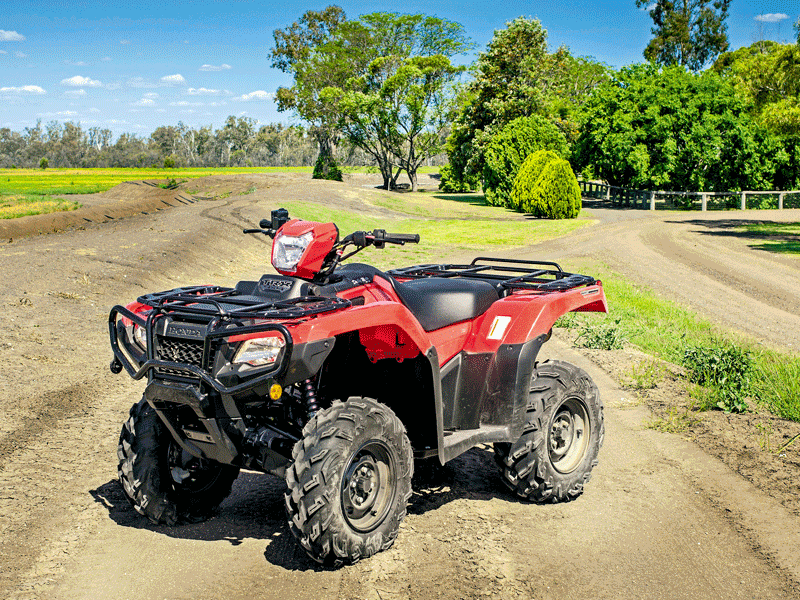 Honda's TRX500 FA6 is a popular choice for farmers in New Zealand and Australia, Farm Trader took it for a test
It has been some time since I have tested a Honda ATV, but thanks to Dalby Honda (Aus) dealer Craig Hartley, we had a full day with the machine on Ian Hayllor's irrigation property in Western Downs. Ian's been a Honda fan for years and was generous in giving us access to this remarkable family enterprise.
The day began and ended well thanks to the contribution from both gentlemen. When our tech expert Reg Grant and I pulled up, Craig had already loaded his flat-top truck with a Honda FM6 and FA6, plus a Yamaha Wolverine and Honda's 1000 Pioneer side-by-side, "Just to give you an idea of what these other machines are like."     
Craig drew us a mud map of how to get to Ian's property, Kensington Park, then we jumped in the truck and took off. For someone like me who hasn't seen a 4000-hectare irrigation property, Kensington Park was a hell of a thing. Chick peas, wheat, barley, and cotton are grown here on a scale that to me seemed vast.
The black soil of the Western Downs is one of the most productive in the country. It's also the reason farmers like Ian Hayllor prefer small, light work vehicles.
When the famous soil here is wet, it'll "stick your boots for a week". Trapped in it, a heavy vehicle sinks to its axles. Ian told us he was thinking of trying a side-by-side by way of an experiment, and because he believes UTVs are safer, so it'll be interesting to see if a side-by-side can do the job as reliably as a lighter vehicle in this adhesive environment.
We're not doing that!
Honda has resisted the temptation to make its farm quads in any way recreational. Okay, so the FA6 has current styling, damn near perfect ergonomics, a trick transmission and fuel injection, but it's an agricultural worker and doesn't aspire to be anything more.    
Yet it's unorthodox. The transmission is not belt driven, as is the practice with most ATVs, but a sealed hydrostatic unit with a dual-clutch setup. In other words, you can drive it as a full auto or as a push-button manual with five ratios. The benefit of a hydrostatic tranny is that it has no belts to break or slip and needs no servicing. So they say.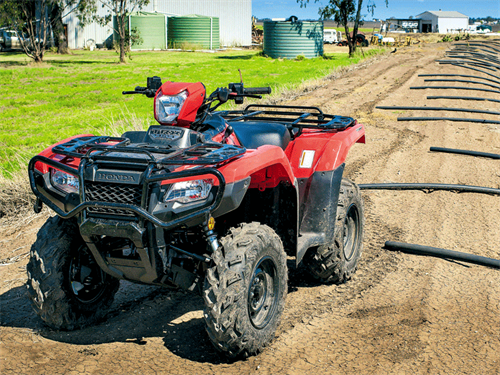 The tranny also features what Honda calls a dual-shift mapping program that automatically chooses between two transmission shifting modes – Cruise or Sport. Honda says that "during aggressive use, Sport mode kicks in and holds the transmission in gear longer".
During more casual operation, Cruise mode allows the transmission to shift up sooner for less aggressive performance and better fuel consumption".
So that's how it works. But is it a big deal? We're not sure. We asked Ian Hayllor how he uses the Honda, and he said: "I stick in auto and leave it there." Having received that pearl of wisdom from the man himself, we're inclined to believe that most farmers and their employees would do the same.
When you're towing heavy and/or awkward gear around a rigidly symmetrical property where life is lived between thousands of laser-straight furrows, lined up with what looks like religious devotion to symmetry, you're interested only in getting the equipment where it has to go, not in which gear you might be doing it.
If the measure of a transmission is how unobtrusive it is, the Honda tranny works well enough but familiarisation is necessary. This is not your average stick shift. Honda is determined that the brakes should be applied when the operator engages the transmission, a reasonable safety precaution in our opinion, but this means that nothing happens gear-wise until you pull in the brake lever.
You then push a button on the left-hand switchblock and the transmission engages. To engage low or drive, you push/pull a stubby lever on the left side of the vehicle into the L or D position.
That's straightforward enough, but getting the Honda into reverse entails a finger fight that some will find too fiddly for words. You pull in the same lever again, along with the smaller lever attached to it, then hit the lower of two transmission switches to actually engage reverse. This procedure requires two hands, and anyone lacking strong fingers will almost certainly have difficulty with it. The best that can be said for it is that it works as a safety precaution. The second best is that it's old fashioned and more complicated than simply moving a stick shift through the high-low-neutral-reverse pattern found on most modern 4x4 ATVs.
Out and about
Honda revamped the medium-size FA6 in 2015 with new styling, a new chassis, and the dual-clutch transmission.
The machine has independent suspension front and rear, 239mm of ground clearance, power steering, a locking front differential, a cushy new 'gripper' seat, and build quality better than anyone else's . Everything on this machine is well made and fits perfectly. Even the paint job is terrific and the ergonomics exactly what you'd expect from Honda.
Tyres are rugged-looking Maxxis units – MU26 10-inchers on the rear and MU25 8-inchers up front. The tyres must perform well in sticky situations, or they wouldn't be welcome at Kensington Park. The racks looked solid enough for farm work and were built in a manner providing ample tie-down points.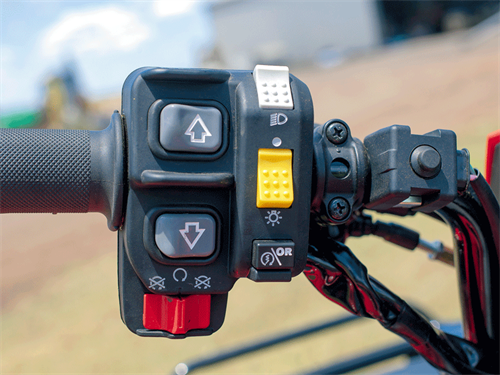 The 475cc single-cylinder engine gives this TRX500 a top speed of 76km/h, or it did on the brand-new machine we had. This is pretty much par for the 500cc course, and we see no reason why you'd need more speed on a property like the one we were on.
You might need more power if you were continually towing heavy equipment, but that's another topic altogether.
The bits we like
You could say there's no such thing as a hard-riding quad any more, though they do differ in the way they handle.
The FA6 has a reasonable turning circle even with the diff lock engaged. The power steering is slightly lighter than we're used to, but still well calibrated for the varied tasks this machine will undertake. The distinctive footwells have very deep recessions. Maybe they drain better like that. Craig Hartley says he believes the design gives better grip for boot than a flat footboard that typically would be covered in mud.
Outright performance feels the same regardless of the transmission mode. This engine has good working torque, is responsive, gets to its top speed quickly, and runs quietly.
We wouldn't say shifting is the smoothest we've come across but, then again, the odd clunk doesn't justify withering criticism from us. Lots of things go clunk, and lots of them are on ATVs.
In any event, we're told that once the oil has been changed for the first time, and once hot, shifting becomes smoother.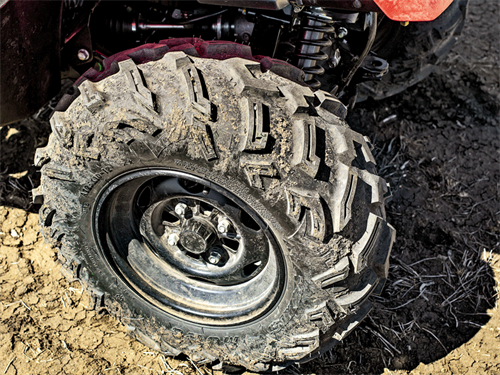 The machine has a disc brake on each front wheel and a disc on the rear driveshaft. The setup doesn't always work well but does on the TRX. We thought braking was firm with plenty of feel. We liked it.
So what exactly makes this machine a best seller? It's a Honda, and farmers trust Hondas.
For those with little knowledge of ATVs, the safe bet seems to be if in doubt, buy a Honda. And no wonder; the product has a great track record in Australia and New Zealand and an unmatched reputation for longevity. Ergonomics are first rate, so the TRX is comfortable and easy to live with if you're on it all day. 
Apart from the quirky transmission controls and that fiddly reverse thing, it's simple to operate, feels smaller than it is, and comes across as non-intimidating.
Women will find that the power steering inspires confidence. The same can be said for the steering in general. This is not an ATV that wanders all over the place when nailed on a gravel road, or coughs in its rompers at the sight of black mud. If farming is in the genes, this one was born to work.
Keep up to date in the industry by signing up to Farm Trader's free newsletter or liking us on Facebook