Test: Claas Disco Triple Mower Combo
---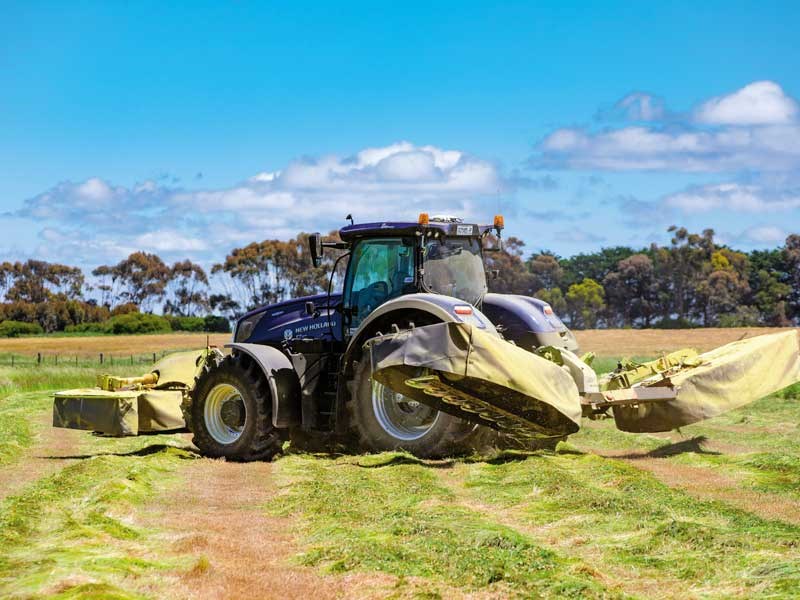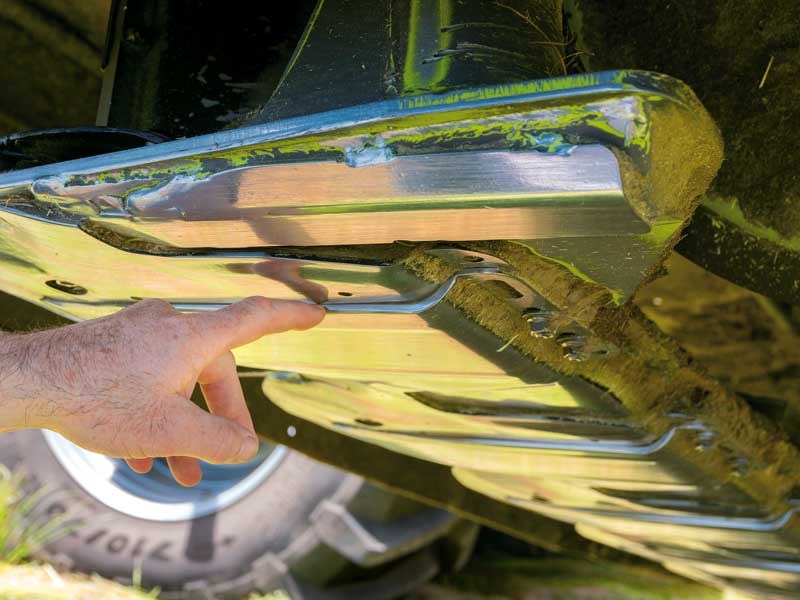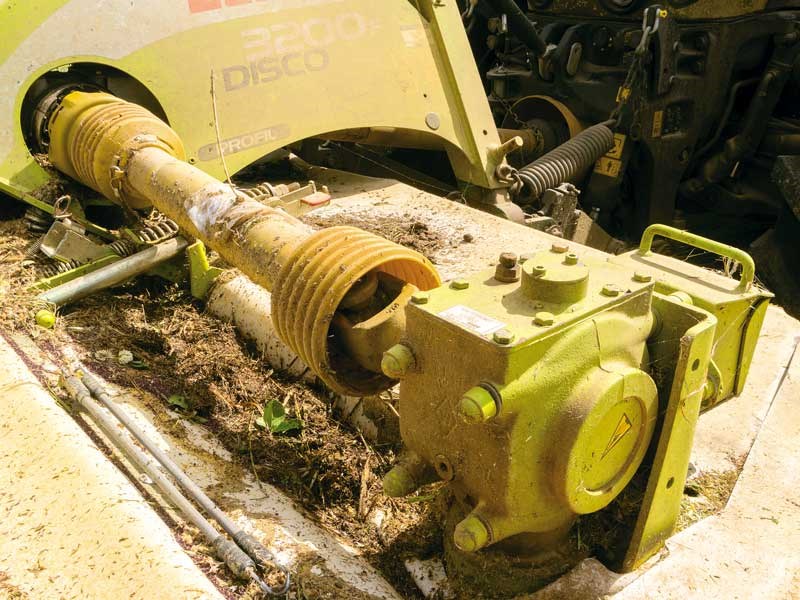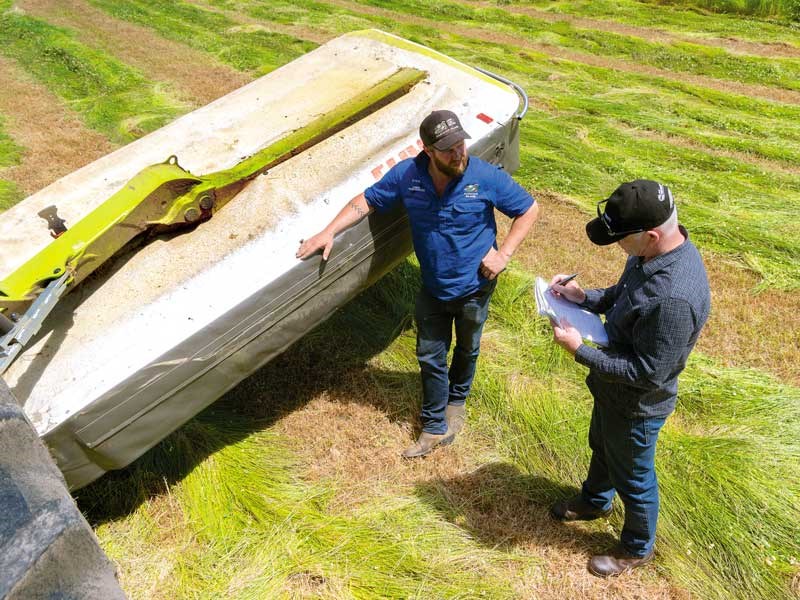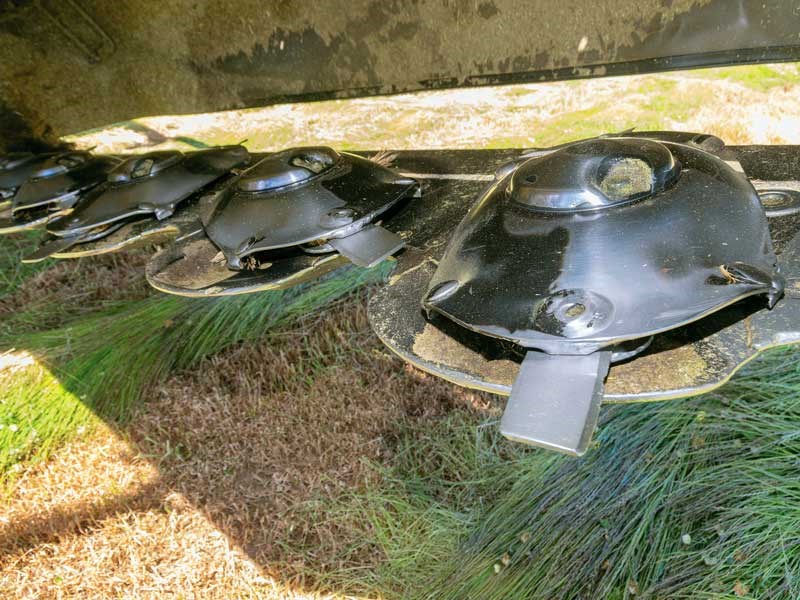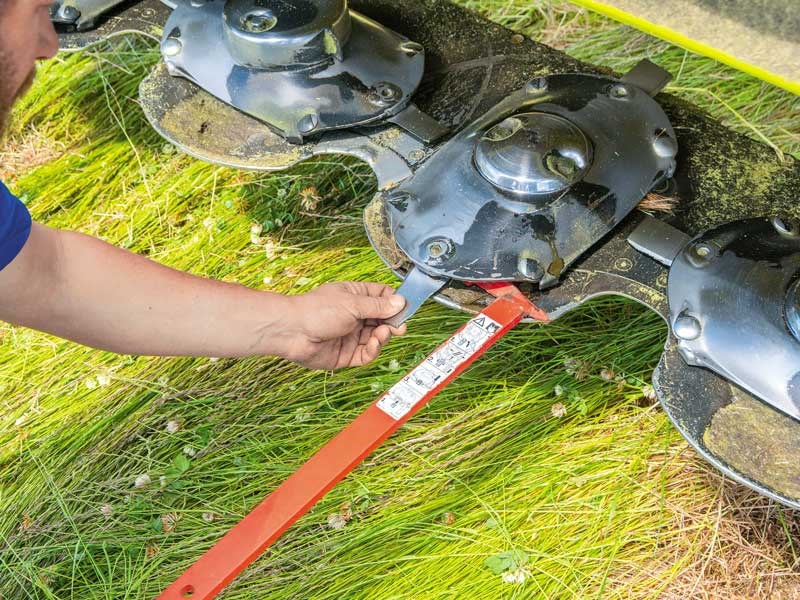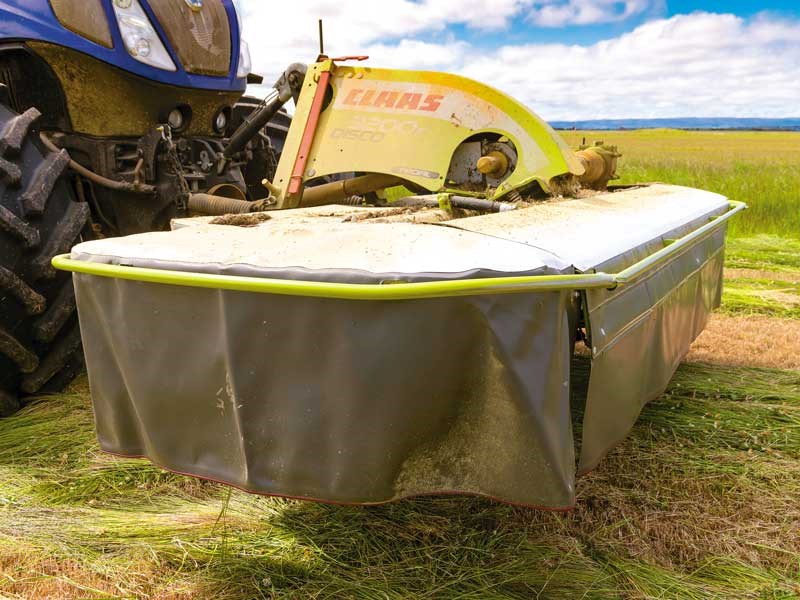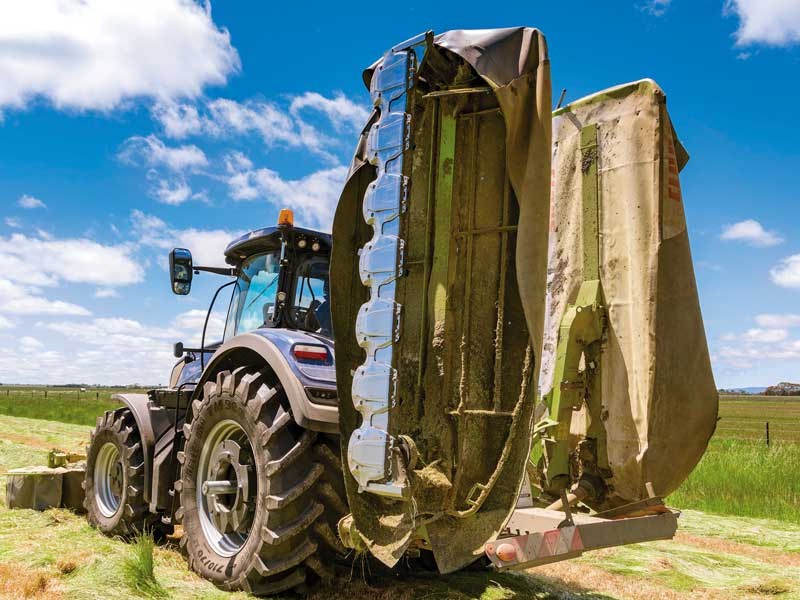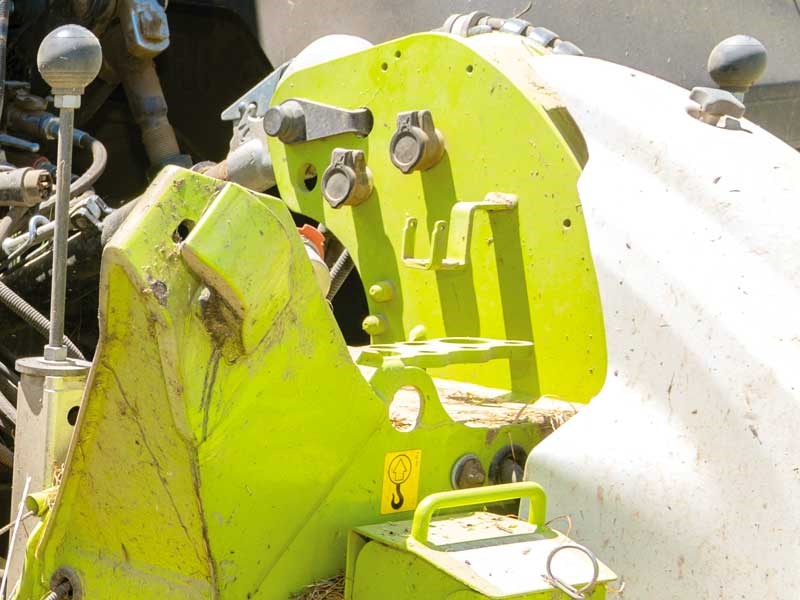 Farm trader checks out the Claas Disco Triple Mower Combo
It's a farming tradition: If you want to get the job done faster you get a bigger machine, and too big is never big enough.
Steve Lewer of Lewer Contracting previously used one rear mower, but one mower just won't keep up with a busy contractor's workload anymore.
He thought about taking on a front mower to double his output, but hey, if you're going to get bigger you may as well go really big. So he lashed out and bought a Claas butterfly mower to triple his productivity while reducing his outgoing costs at the same time.
The Claas triple mower combination consists of a Disco 8500 Contour butterfly mower on the rear, coupled with a front-mounting Disco 3200F Profil mower.
The working width of the 8500 Contour rear mower ranges from 8.1m to 8.3m, and its transport width is 2.95m. It uses category 3 attachments, carries seven discs per cutterbar, uses a quick attaching blade assembly, and has an active float suspension that applies just the right amount of suspension to suit the conditions.
The Disco 3200F Profil mower mounted at the front has an operating and transport width of three meters, has category 2 linkage attachment, and operates at 1000rpm PTO speed. Like its rear partner, it has seven discs on the cutterbar, each with two quick-change blades. 
Keep it simple
The Disco mowing combo more than makes the cut when you put it up against any of the other quality mowers on the market. In fact, it's a pure cutting machine – it is just a mower and nothing more.
It doesn't have a conditioner for speeding up the curing process, and there are no fancy conveyors on the rear to create a windrow in a single pass. Claas does offer a package that includes a conditioner and conveyors if required. When it comes to cutting, though, it is a master in its class and breezes through even the toughest of crops. It doesn't require a heap of horsepower or maintenance and is a simple piece of equipment to operate.
When the ISOBUS-compatible mower combination is coupled to an auto-steer tractor, there is not a lot left for the operator to do except turn it round at corners and change the odd blade or two.
On the job
Lewer says he bought this mower combo, minus the conditioner because it can be driven at a much faster speed and uses less horsepower.
"Many of my customers just want their crop cut quickly to take maximum advantage of short periods of fine weather," he says. "There is a hell of a lot of pit silage being produced these days, and most of it is chopped by the forage harvester so there is no real need for me to condition it. "If we need to speed up the curing process, we can run a tedder over it. Conditioning is a costly exercise, which in many cases, is not always necessary.
"Getting the job done a bit cheaper always goes down well with my clients."
Before hopping into the cab for a turn behind the wheel, I stood in the paddock just to see and hear how it performed. It's not what I saw and it's certainly not what I heard that impressed me the most, though, it was what I didn't hear.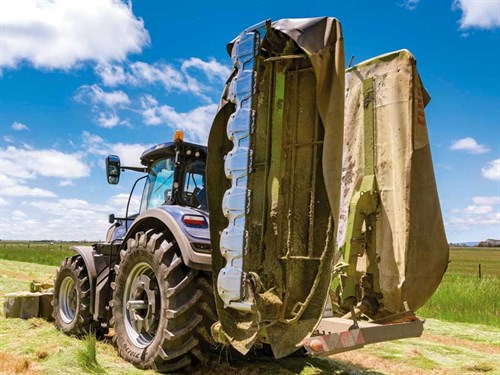 There were no blades clashing, rattles or vibrations that would indicate an unbalanced machine. In fact, quite the opposite.
This particular mower setup has completed about 2500 hectares over two seasons and it is still humming along beautifully like brand new.
Once in the driver's seat, I just lowered the rear linkage to place the headstock down to its correct operating height, unlocked the hydraulic activated locking device, then lowered both rear mowers into their working position. Lowering the front linkage puts the Disco 3200F into the ready-to-work position.
This little exercise reveals that you don't ever have to get out of the cabin when transitioning from transport to work mode.
When putting the mowers back into the transport position, the safety-locking device automatically engages, eliminating accidents that a forgetful operator can cause.
Both mowers operate at a 1000 PTO speed. If the blades are in a good condition, you could get away with running PTO in 1000 economy mode. That's what we were doing using a 295hp New Holland T7.315, but a lower horsepower tractor could easily drive it because it weighs just under two tonnes and it doesn't have a conditioner fitted.
In the right conditions, the mowers are designed to operate at 850 PTO revs to save a bit on fuel without compromising their performance.
The Disco 3200F Profil front mower uses a manually adjusting spring mechanism for suspension, whereas the Disco 8500 Contour has a much more sophisticated hydraulic float suspension known as Active Float. This hydro pneumatic suspension system can be adjusted on the go from the driver's seat and read from the in-cab pressure gauge. We were in a pretty smooth paddock for the test, so Lewers had the suspension level at a higher pressure to have the mowers just skimming the surface.
In a situation where the paddock surface is a bit uneven, he says he would reduce the suspension to allow the mowers to sit firmer on the ground to reduce bouncing.
Time for a change
Claas has adopted the quick-change blade mechanism to eliminate what was once a labour-intensive and time-consuming task and turned it into a job that can be done in a matter of minutes. 
The blade-changing lever is placed around the blade bolt then. By pushing downwards on the blade spring to open up the gap, the old blade can be removed and replaced with a new one.
A blade box is attached to each mower with two separate compartments for right- and left-handed blades. Each box can be removed from the mower and carried with you during a blade change and for taking the old blades back to the workshop for re-sharpening. I have noticed in recent times that many operators don't sharpen blades anymore, but in my experience, I found that if
I maintained a sharp cutting edge on the blade,
I could improve the cut, improve my tractor's fuel consumption considerably, and reduce the back pressure put on the whole driveline of the mowers.
Damage prevention
There are four very important damage-prevention measures built into the design.
Firstly, the mechanical breakout allows each rear mower to swing back in the event of it hitting an obstacle. As it swings back, its angled pivoting point forces the mower to rise up and over the obstacle.
The safety breakout is held in the engaged position by a rubber block. Only under load will the rubber compress and release the breakaway from its locked position. Once the obstacle is cleared, the breakaway can be re-engaged by reversing the tractor.
A more effective way of swinging the mowers forward and locking the breakaway back into place is to lift the mowers while driving forward and then hitting the brakes. It is a bit more aggressive but achieves the desired result.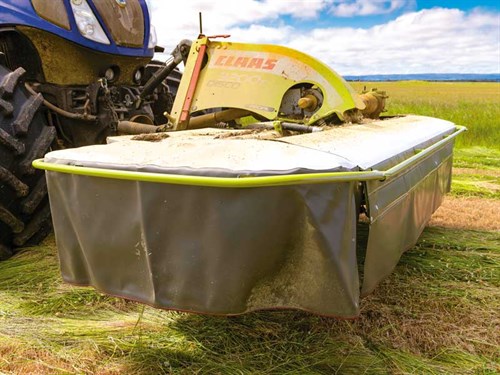 An optional heavy-duty skid plate is available to reduce wear and impact damage to the base of the actual skid plate. It adds to the initial cost but is a lot less expensive than replacing the original base. The high-cut skid plate can increase the height of the cut by up to 30mm.
The front edge of each of the blade holding discs is given a tungsten carbide coating to reduce the effects of constant wear.
Finally, each disc drive has a built-in shear pin that cuts drive immediately to prevent further damage when an obstacle is hit. 
All these safety design features will help keep you in the paddock, making money instead of wasting time in the workshop.
The bottom line
This combo is purely a mower, and as a mower, it does a fantastic job. It leaves a well-cut smooth stubble, is well protected in the inevitable event of impacts, and is easily serviced and maintained. When folded for transport, its width is 2.95m and height is less than four meters.
It will make a great mower for contractors and farmers wanting to get in and get the job done quickly. In the absence of a conditioner, it requires less horsepower to operate, which equates to cost savings all-round.
Don't forget that to get the most out of this style of mower, you will need a tractor with auto-steer to keep you on track.
My gut feeling is that this Claas combo is a good mower. With proper maintenance, I see no reason why it wouldn't perform well for a long while. I liked it.
Keep up to date in the industry by signing up to Farm Trader's free newsletter or liking us on Facebook