Test: Merlo TF 35.7 CS-120 Telehandler
---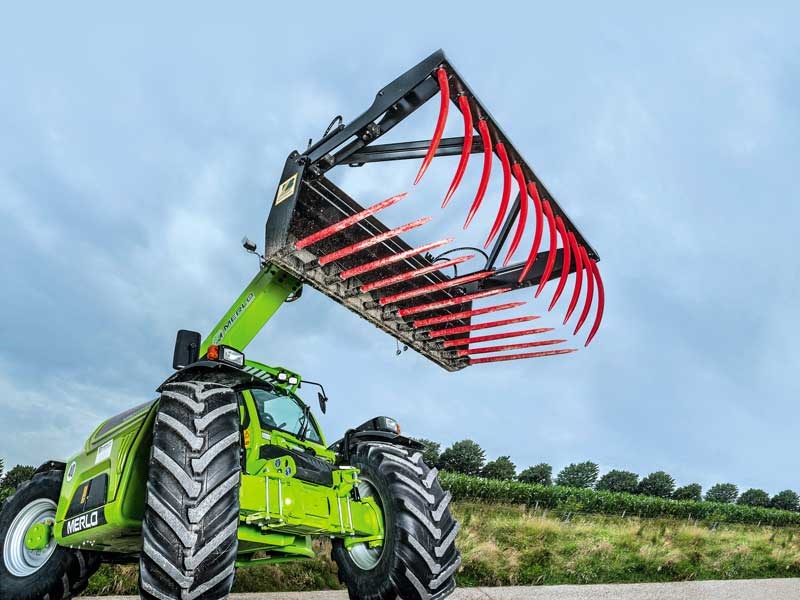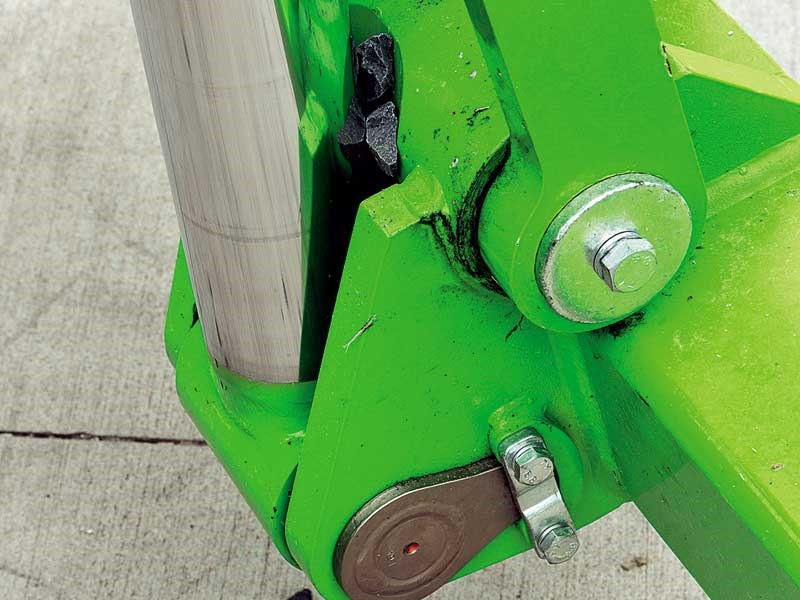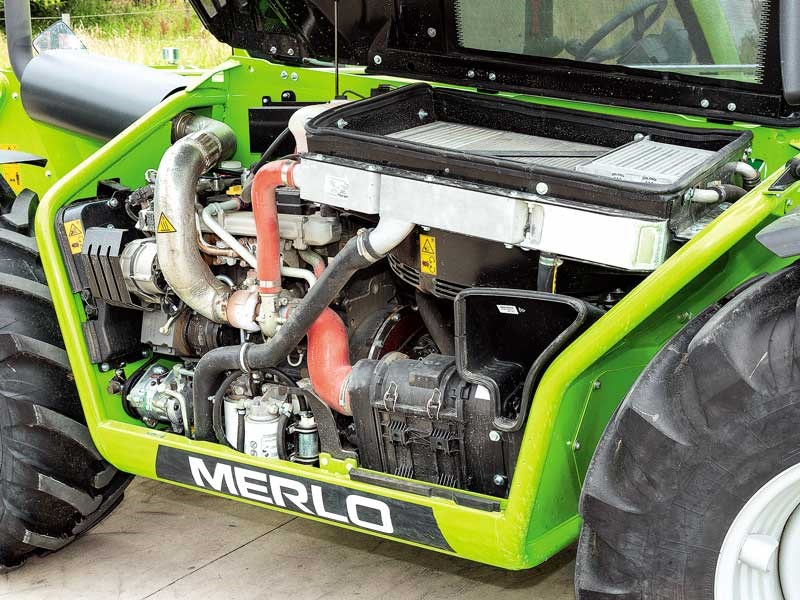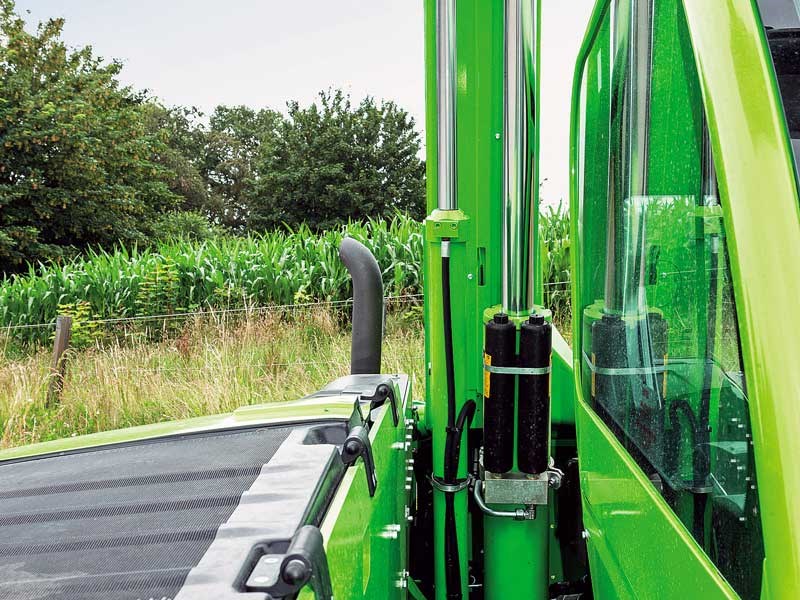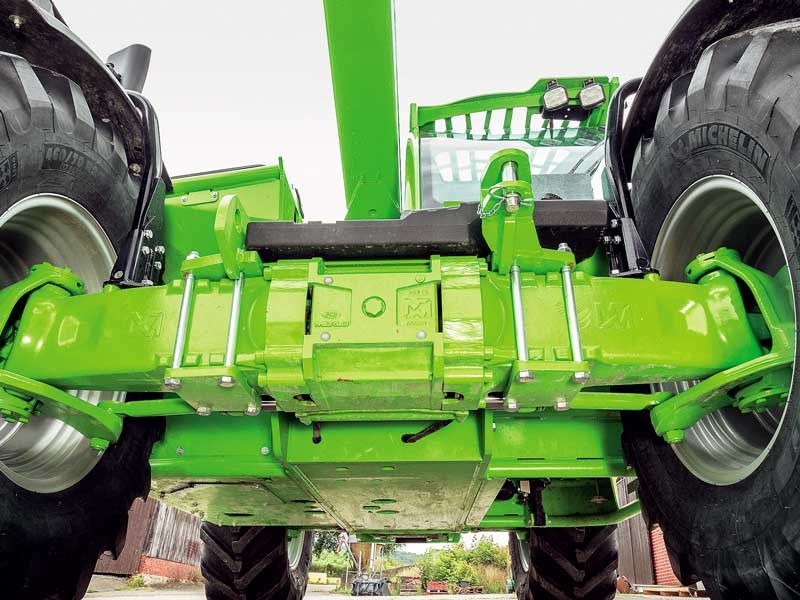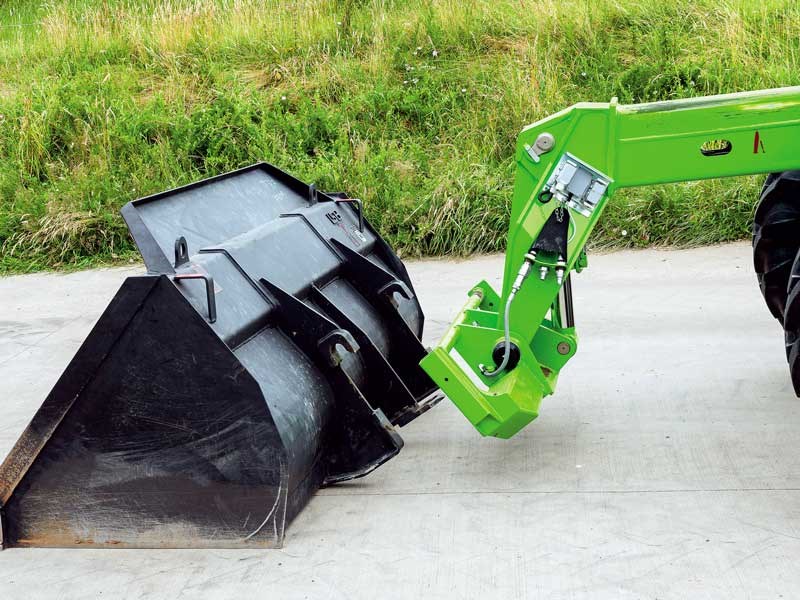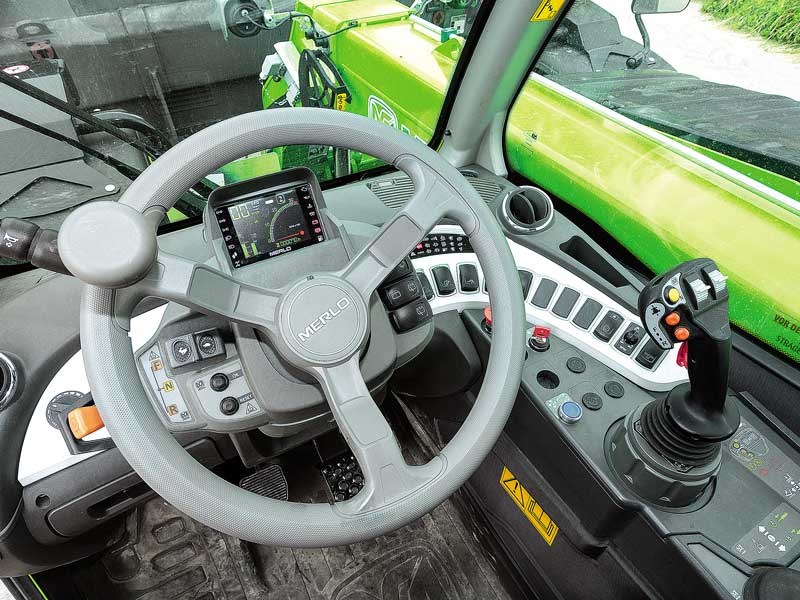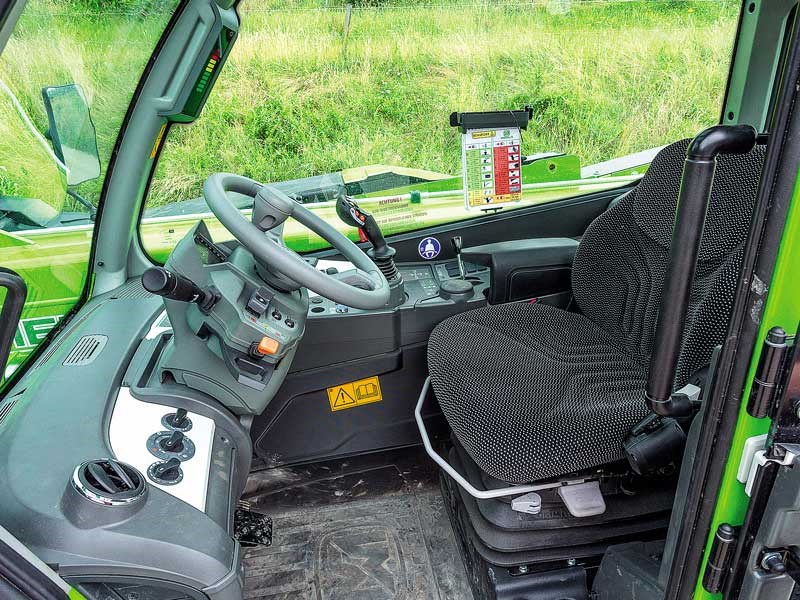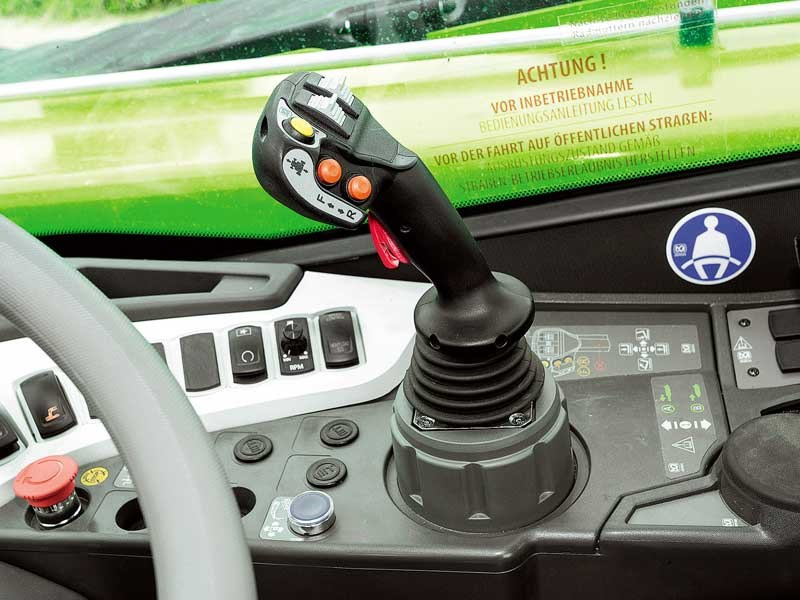 Farm Trader checks out the Merlo TF 35.7 CS-120 Telehandler
The 'ring of steel' used to be the hallmark of Merlo telehandlers – a bar running right round the perimeter of the machine. While it did the job of taking knocks, it wasn't the most elegant of designs. Current Turbofarmer models appear a lot sharper, though a smart suit is no guarantee of performance; for proof look no further than bankers as a species.
The maker's stats put this 6.9-tonne Merlo in the middle ground on performance. As usual, the model name is the clue – a 3.5 tonne max lift and the ability to lift 1.35 tonne to 6.7m. Initial measurements backed this up: at full reach, the attachment pivot pin is just under 7.0m off the ground. Maximum dump height of the supplied 1.5m3 bucket was a tad over 6.0m, thanks to a very conservative max dump angle of just 24°. That's not enough to clear sticky material without shaking. At ground level, the max crowd angle is much better at 44°, and this – along with only small carriage angle changes during lift – means that what's in the bucket or on the forks tends to stay there without driver intervention.
Lift and breakout capacities look good, too. At ground level, more lift is on offer than is claimed, and there is enough hydraulic force to restart a 4.1-tonne load. Backing these capabilities is a crowd ram delivering 5.4 tonne of break-out capacity. Main hydraulic options are a gear pump or the load-sensing swashplate unit carried by the test machine. Merlo says maximum pump capacities are 125 litres/min flow and 210 bar pressure; we measured 90 litres/min both at the carriage's third service and at the rear outlet, a reasonable figure. Given the specification, we looked forward to fast boom cycle times but measured only average rates. Still (and probably more importantly for most TF operators), the machine's effective flow sharing system means that all boom functions are easy to mix and to modulate.
If you work on a lot of slope and want high pushing force, then the 115hp, 3.6-litre Deutz TCD L4 motor is likely to be good. Certainly, the now-superceded 121hp unit turned out to be very quiet and not hard on fuel: on light duties it used 5–6 litres/hr, rising to 12–14 litres/hr as loads went up. We think an 80-litre capacity fuel tank isn't big enough, though Merlo reckons it delivers a full day's work. Equivalent consumption figures for the now-standard 115hp engine are not available. Merlo's long-standing commitment to hydrostatic drive continues in the TF 35.7 CS-115. And to good effect – the transmission and tyres convert diesel horses into a very strong push in dung or bulk material.
With the 121hp engine, we measured almost 7.5 tonne maximum in drive range one, and 2.3 tonne in range two. Though performance does drop substantially in the second range, this is only a problem where tight-packed material has to be moved some distance after breaking it out – for to shift between ranges you have to stop the machine. That aside, inching the Merlo up to a trailer or bale stack on the throttle or using both pedals is simple and very controllable.
An electronic joystick is standard on CS models. This brings the company's EPD Top system, which builds on Electric Power Drive (EPD) by automatically raising engine revs in proportion to joystick travel. That's a boon in many operations. Completing the ground drive package are 24in rims all round. These carry 405/70–24 tyres as standard, though the test machine rolled on optional, wider 460/70 R24 rubber; with these boots, finding traction was never a problem. Overall machine width is 2.27 metres and turning circle on the wider tyres is an unexceptional 8.1 metres. Maximum speed on the flat for the test machine turned out to be 42.7km/hr.
 Merlo also stays with its single vertical pin for locking attachments. This approach maximises backward compatibility, but a single pin has drawbacks compared with more common horizontal pin systems: if the attachment isn't perfectly positioned, it won't couple, and it's not easy to see whether the system is locked or unlocked without crowding the carriage. Beyond that, there is no requirement to use two hands when releasing the pin hydraulically, so if the operator doesn't uncouple the pin's supply hose after attachment (as Merlo recommends, which of course means getting out the cab), it's not hard to unlock it accidentally. But as the carriage's fourth service shares its oil supply with the pin, the hose often has to be moved anyway – something that rather defeats the point of hydraulic attachment locking. The tested machine sported screw-type rather than push-fit hose connectors. These take longer to use and would be better positioned on the carriage rather than on the boom; Merlo says they handle flow better and are lockable. 
Now for a bigger story — the new CS cab. Getting up to the standard air seat is easy, thanks to grab handles on both sides. Once in you'll notice the generous one-metre cab width (at least generous for a side boom handler) plus an adjustable steering column. The views all round are good, helped by a low rear boom pivot. Tall drivers have plenty of legroom but rather less vertical space, so for some individuals, it's best not to have the seat set too high.
Engine noise is low, but, once the hydrostat chimes in, the sound pressure jumps from 75dB(A) to a less comfortable 89dB(A). Offsetting this to some extent is hydropneumatic cab suspension – unique to Merlo in the telehandler market – which actively handles shocks. This, along with optional boom suspension, delivers an excellent ride. In buildings where overhead clearance is a worry, it's possible to shave 60mm off machine height just by lowering the cab hydraulically, where it rests on rubber stops. Boom suspension shuts off automatically at under 2km/hr, which is not a problem as re-engagement doesn't involve a stop. Elsewhere in the cab, there are no complaints: ventilation is good, wipers clear a decent area, and the optional air-con is effective. 
The machine's control layout and function largely score well, too. A comprehensive display shows almost everything you need to know apart from average fuel use, and both the instruments and switches are helpfully backlit. Less of a hit is the main joystick, which would be fine if not for an awkward operator presence switch. Holding this while telescoping the boom and/or using the fourth service can cramp your hand. Merlo points out the safety advantage of such a switch, adding that the design may change in future – welcome news.
Other business:
Merlo's optional CDC system brings automatic attachment recognition, sets max load parameters for the attachment and displays load weight
The nearside door and window can be latched open separately
The roof glass gets some protection from a strong grille
Hydraulics below the console bring heat into the cab; not so good in summer
There's no standard indication to show when all wheels are pointing straight ahead, although a dash light is an option. Without this, it's necessary to sync axles by turning the steering from lock to lock. This, says Merlo, is fine by some buyers as the
complication of axle sensors is avoided
Engine maintenance access is good
Hydraulic oil level is easily checked via a sight glass
Grease nipples on some boom pivots and the back axle are a nightmare to reach. Merlo says most rams don't need daily greasing, as their pivots are non-metallic
The muck grab supplied couldn't be fully crowded without contacting the front
tyres – something to check with your
own attachment
Optional, adjustable LED lighting on the boom is excellent
All four mudguards are fixed to the frame, so don't turn with the wheels, which can be awkward in tight places
Summary:
All who drove this new Merlo reckoned it sets the benchmark for driver comfort and visibility, thanks to the suspended CS cab. Backing this up were plenty of praise for its power, breakout force, action and simple driveability.
Yet there is work in Italy still to be done: better, more convenient attachment locking; a bigger crowd angle; improvements to the operator presence switch on the joystick; faster steering mode change, and, in some places, easier greasing.
Keep up to date in the industry by signing up to Farm Trader's free newsletter or liking us on Facebook