Test: Can-Am Defender HD5
---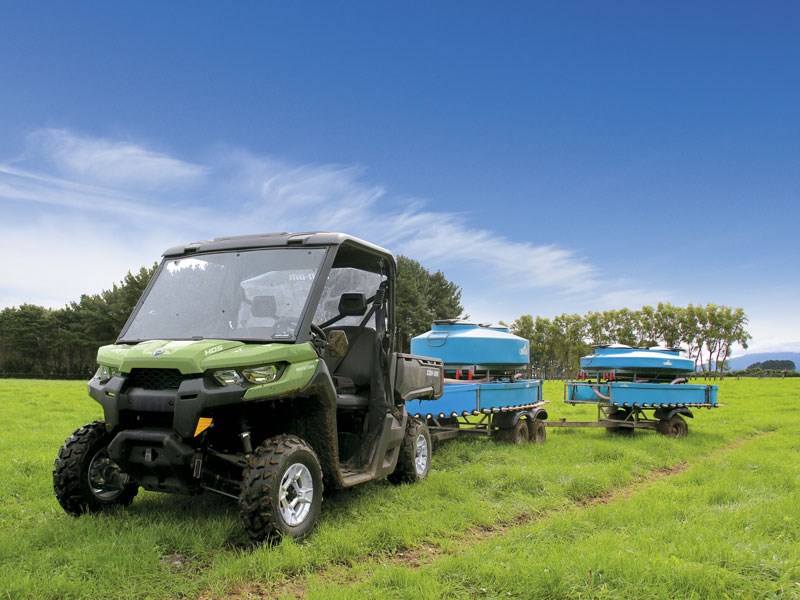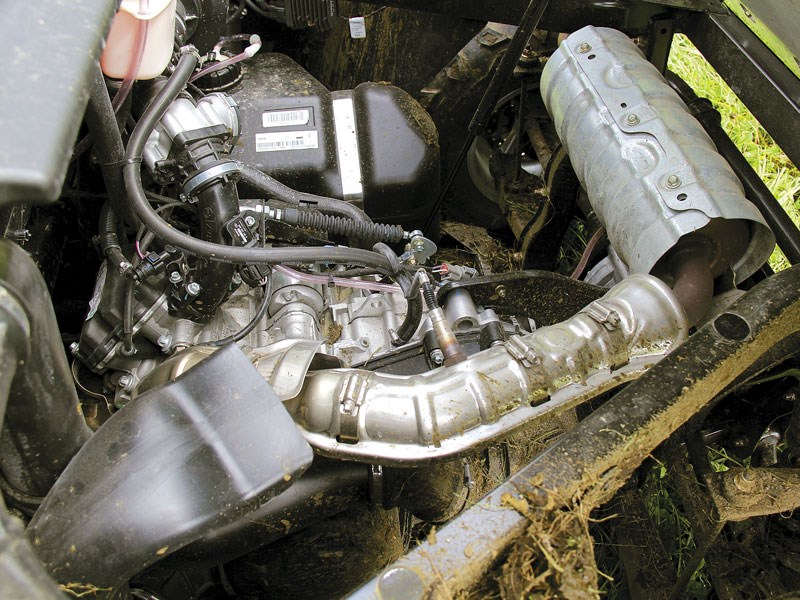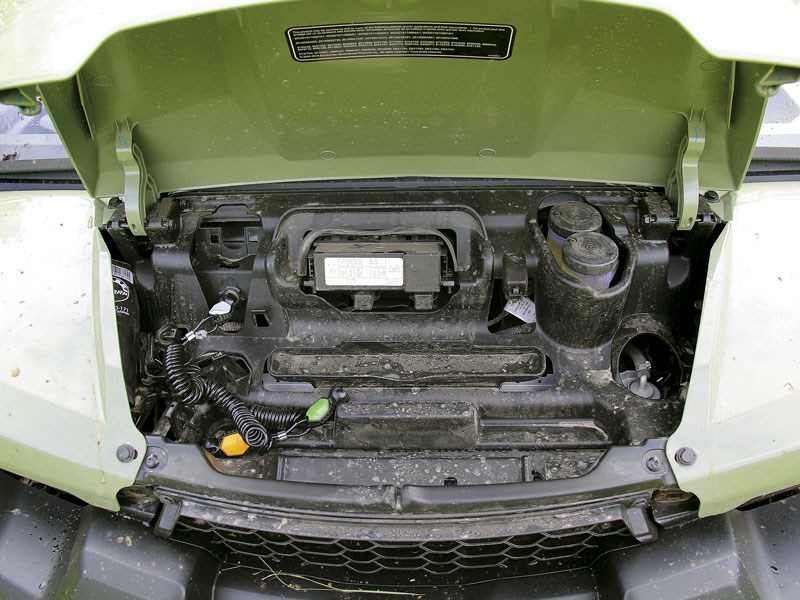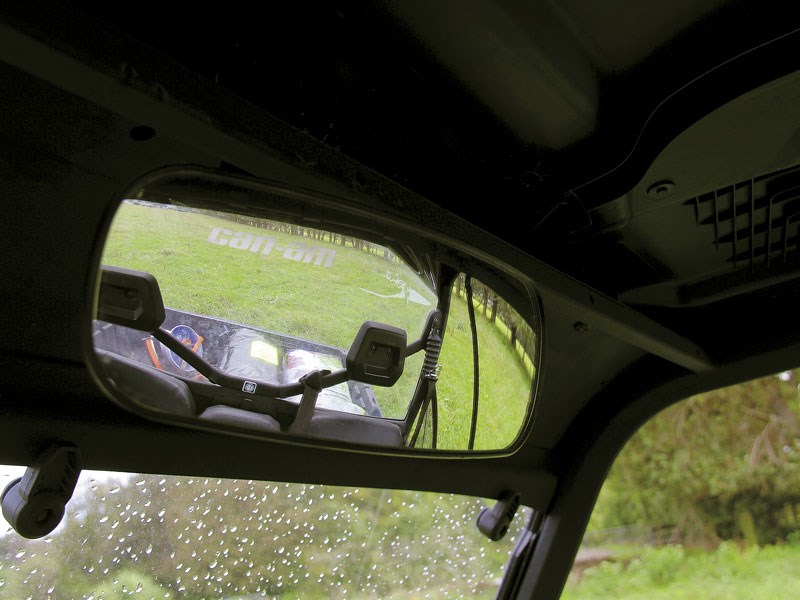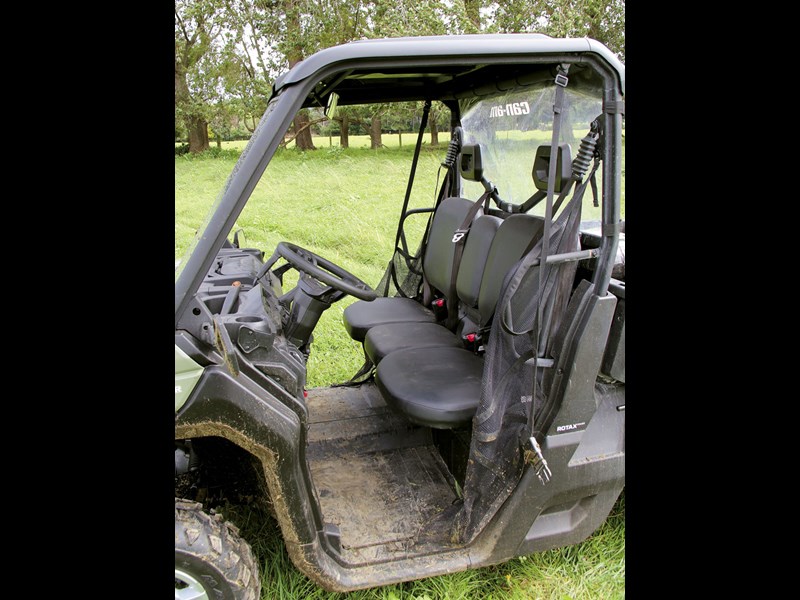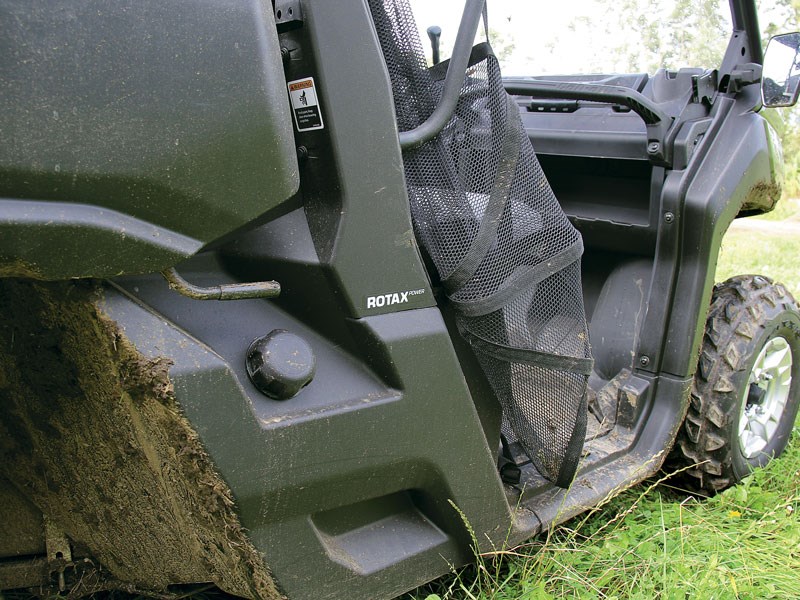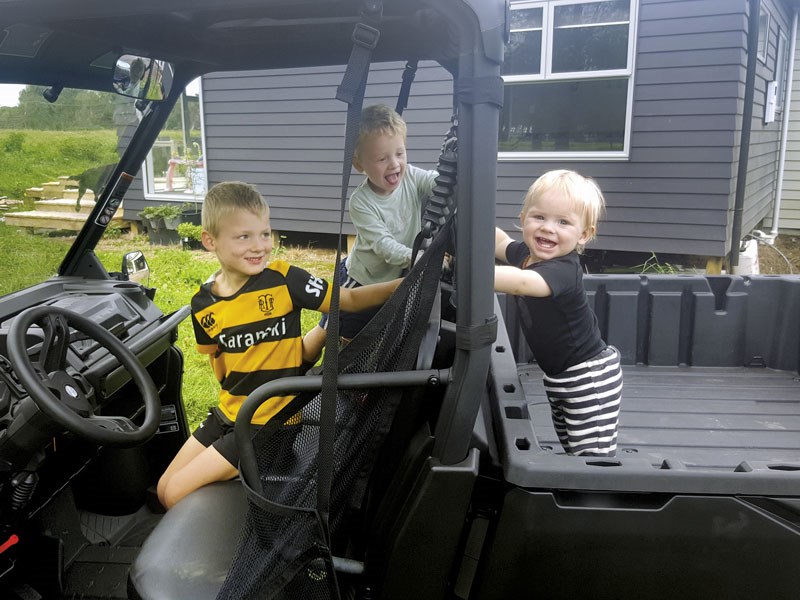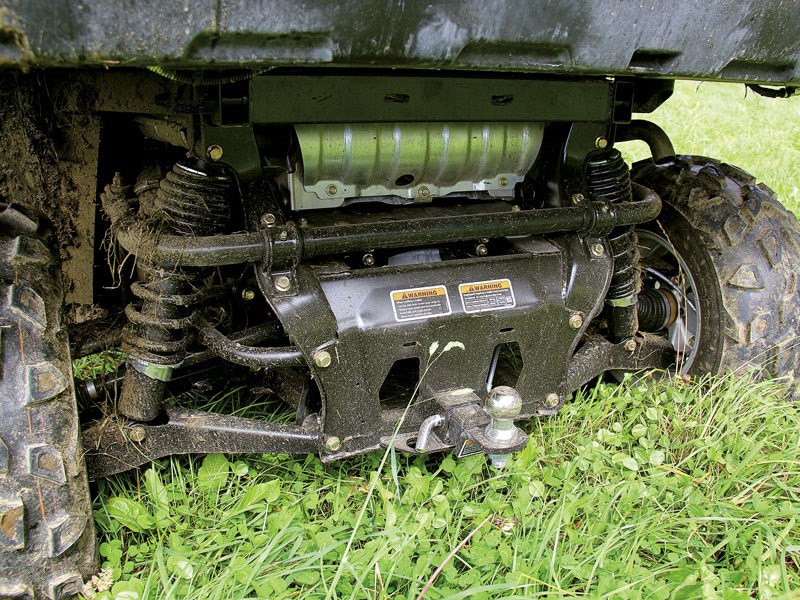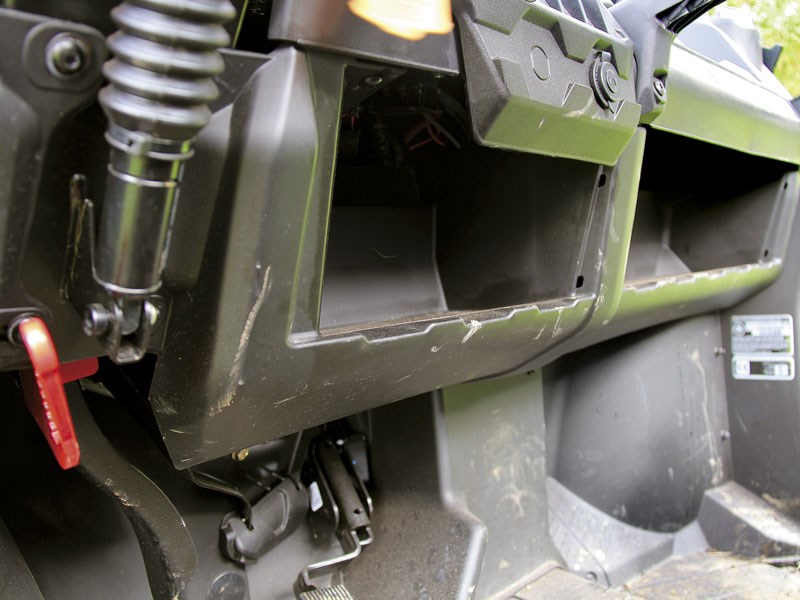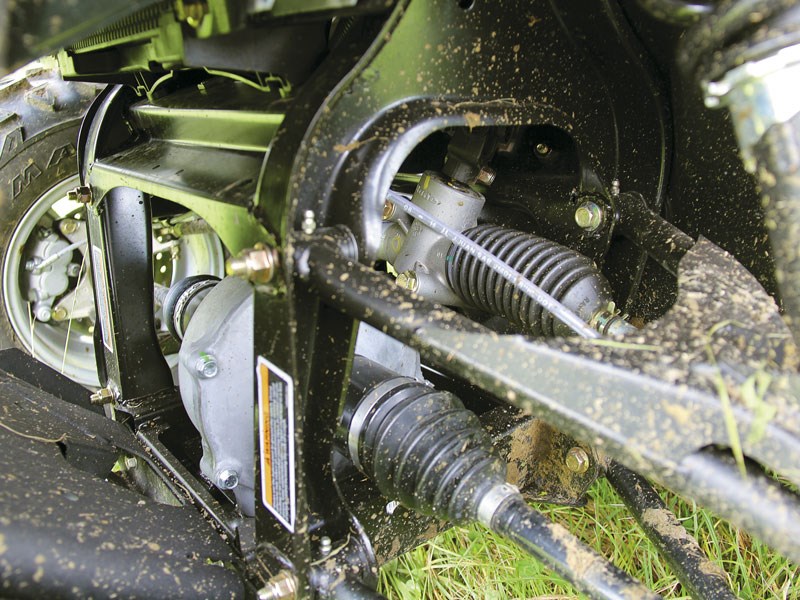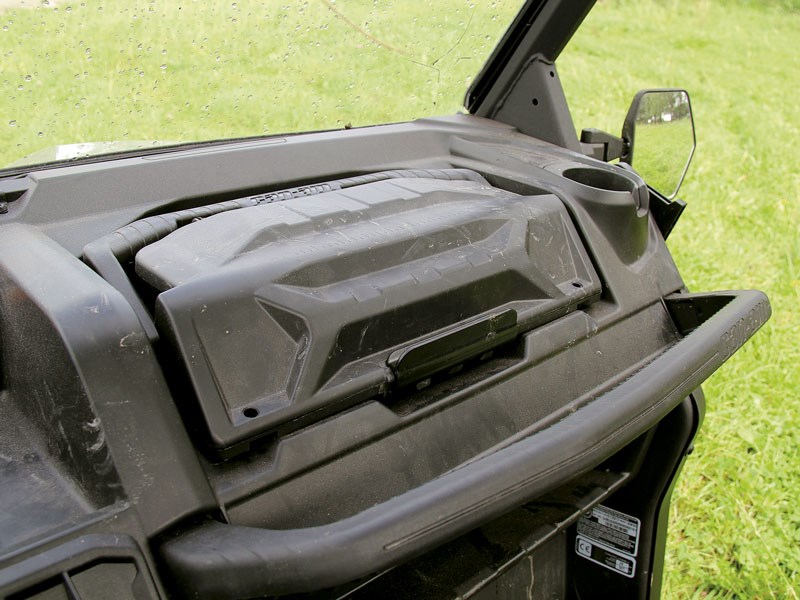 Farm Trader reviews the Can-Am Defender HD5 and in the process gains a new appreciation for versatility of this side-by-side
Admittedly, I don't test motorbikes or farm bikes often, generally sticking to larger farm machinery. However, it was nice to try something new to the market, which provided a bit of a thrill for my three boys. Mainly because they are at an age where they race their pushbikes, competing to see who can make the loudest motorbike sounds in the hope I'll give in and buy them one (or three).
So there was much excitement when the Defender HD5 arrived. Given that we are in the thick of autumn calving, it was definitely a handy addition to the farm. There was no shortage of things to hook up, throw on, and chase around to give the Can-Am a taste of everyday farm life.
Such a varied assortment of tasks presented no challenge to this machine. It has been designed from the ground up to suit the needs of farmers wanting a robust, no-frills machine, with a good service life and which is also comfortable, economical, and practical along the way.
Engine
The 38hp single cylinder 427cc Rotax engine proved to be perky enough to get up and going, yet lug down enough to pull a trailer load of calves through wet sticky paddocks. Even though I was told if we calved at this time of year it would be in shorts and jandals, somehow I'm not convinced.
The single cylinder punches above its weight, thanks to the Intelligent Throttle Control (iTC) and Electronic Fuel Injection (EFI), which means that at low revs, you can trundle along behind cows with nice smooth power, or if one gives you the slip and you have a hot pursuit on your hands, you are also aptly equipped to give chase.
A nifty feature was the three driving modes (these are clip connectors under the front bonnet): Eco, Normal, and Work. Eco is designed to peg the output to optimise economy. Normal mode is the default choice.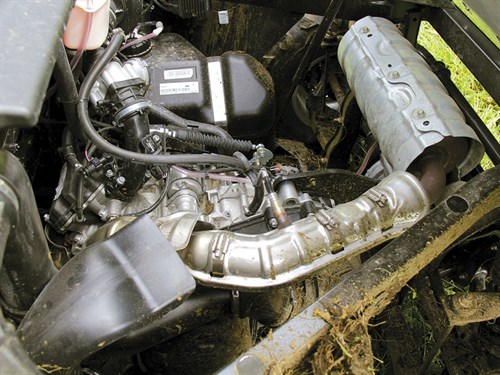 It definitely allows the bike to rev more freely once you put the foot down after a pesky runaway, and Work mode is like having the training wheels on, essentially ruling out access to full engine revs but then delivering a bit more go than in Eco. In New Zealand, they call it 'worker' or 'staff' mode, as it limits top speed to 40km/hr. The three modes worked extremely well and although Normal was the preference, Eco was handy for everyday farm tasks. Because we have no real hills to speak of, the extra power wasn't really needed.
Overall, top marks would have to go to fuel economy. Granted it does have a large 40-litre tank but we had it on the farm for five days and went through two bars of fuel. That is two out of a possible 10 bars (or eight litres in five days). I would say that is phenomenally impressive.
Transmission/Drivetrain
The Defender series is equipped with the Pro-Torq transmission with Quick Response System (QRS), high airflow ventilation, and Electronic Drive Belt Protection.
From a drivability perspective, it offers five-slot column shift with park, high, low, neutral, and reverse positions. Additionally, in New Zealand, a retrofitted handbrake means you don't have to jiggle the lever into the park position every time you encounter a gateway.
Although this is something that was clearly an afterthought, it was a little fiddly to use if I'm honest. Generally, the transmission performed well in High for general rambling and Low for towing and plodding behind cattle. Although a little sticky between slots initially, this sorted itself out once it had seen a bit more work.
The Defender is also fitted with a Rocker switch selectable 2/4wd. This worked well and didn't have a significant impact on what is an already tight turning circle.
Being in the land of milk and honey in Taranaki, I never got a chance to really test
out the Electronic Hill Descent Control feature or the inbuilt engine braking on some steep slopes. But the heavy-duty Torsional Trailing A-arms (TTA-HD) gave a full 25.4cm of travel; both front and rear gave good travel without being bellied or stuck due to one wheel not touching the ground after running out of suspension travel.
Operating station
Can-Am has thought of most things during the design period on these machines made for farms. One of the best may be the Versa-Pro bench seat, which gives stadium-like flip-up passenger seats but with significantly more padding and sealed/waterproof under seat storage. This is for the odd calf/lamb/fat Labrador (who is too tired to walk any further). So you can take them home without the need for somebody else to hog-tie them on the rear tray. On a side note, the seats are well padded and covered in a durable-looking waterproof material because being on a farm, they're sure to take a hiding.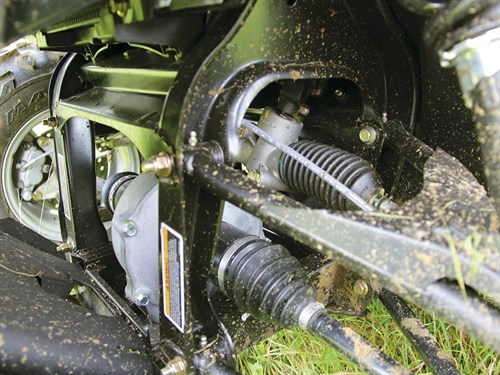 The open dash has an abundance of storage and also features a handy removable and water-resistant 6.3-litre toolbox. This was up there with the best feature for me, as when you go to fix a fence or a running water trough, all the tools necessary are on board with no need for multiple trips.
The multifunctional digital display shows speedometer, tachometer, odometer, trip
and hour meters, fuel, gear position, seatbelt, diagnostics, clock, and auto shut off.
The display tells you to buckle in (only the driver's belt has this) and is linked to limit engine speed if not applied.
Carrying capacity
The 450kg load capacity deck is handy with plenty of space for multiple bags of feed/reels and standards or the tribe of dogs. Thanks to a gas strut, it easily dumps. Strategic features include a 20-litre bucket recess to ensure you don't end up with a sloshy mess, integrated anchors on the sidewalls, and several tie-down points. The kids loved the tail door, which opens like that of a ute and is plenty strong enough with a max load of 113kg.
The 680kg towing capacity proved fine for what we needed, although there is a 908kg capacity option.
Handling and braking
Most New Zealand farms face a tough time keeping out the corrosive nature of the environment: wet, mud, cow poo, deep ruts in paddocks and on farm races. Can-Am
has come up with a laser-cut tongue-and-groove chassis. This uses technology
that's often found in the American pick-up fabrication process and the high-strength,
low-alloy (HSLA) grade steel, means a more rigid design to take the daily punishment of heavy-duty chores.
This solid chassis and the full roll bar did give the machine a nimble (yet planted) feel, while the power steering option on this model made the wheel feather-light. Dual 220mm ventilated disc brakes with hydraulic twin-piston calipers (single piston on the rear) means even if you give the 427cc engine the full beans, you will come to a smooth yet secure halt. Fortunately, there are three well-secured seatbelts for some more adventurous rambling.
Verdict
As mentioned, I don't drive these side-by-side machines every day, so my approach is a fresh one. Having driven its main competitor for a period of time, I must say I was impressed with the HD5.
Fuel economy is the standout feature for me, closely followed by the spacious cab area with plenty of storage. The adjustable steering wheel for a tall bloke was a handy addition. A generous deck area with a good payload and nifty little wing mirrors complete the package.
Was there much to complain about? Admittedly, when it comes to farm machinery and equipment, I am hard to please. The absence of a window wiper and fender extensions to keep it a little cleaner are the only real grumbles. Six thumbs-up from the kids can easily be considered a pass mark.
Keep up to date in the industry by signing up to Farm Trader's free newsletter or liking us on Facebook