Test: Yamaha AG125
---
Farm Trader tests the new AG125 farm bike and finds that Yamaha offers a well-rounded package
The New Zealand Agricultural Fieldays® is undoubtedly one of the biggest launching sites for new, updated, and innovative products for the agricultural and primary industries. One machine fitting into both the new and updated categories for the 2017 Fieldays was the Yamaha AG125.
It was released a couple of weeks prior to Fieldays, which worked out to be fantastic timing, as the start of June is when the dairy industry has its annual shuffle around for the beginning of the new season.
I caught up with Phil from Phil's Motorcycle Centre in Matamata, one of the Yamaha dealers that provides Yamaha sales and service across the Waikato.
The Yamaha AG125 test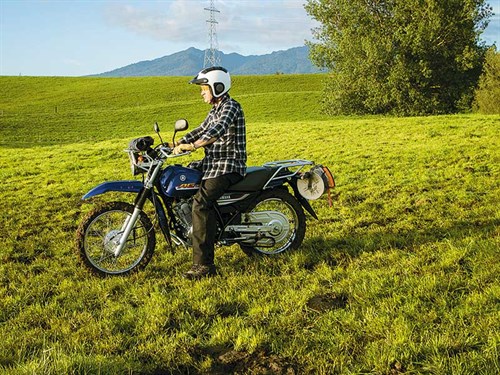 After tracking down Phil's demo machine, which has been in hot demand around the Matamata area, I loaded it up and headed for the hills near Hobbiton.
Having tested the Yamaha XTZ125 last year, I was interested to see how this new AG125 would compare, given that both run pretty much the same engine.
Following cows down the race, the AG125 idled along smoothly and quietly. A well-padded, wide seat as well as new suspension front and rear provide a comfortable riding position, while the low seat height makes it suitable for shorter riders.
Although the engine is only 124cc, it can cruise along nicely on easy terrain or flat farm races. I was impressed it made its way through one particularly muddy spot I came across while testing. Good tyres help in this area, too. The large round halogen headlight comes in handy for those on dairy farms in the next month or two through to the end of calving, also providing safety with increased visibility for scooting down to get cows in for morning milking. Operation and controls are all pretty standard and include a new dash with odometer and trip metre as well as lights to indicate neutral, high beam, and indicators.
The other addition is the electric starter button on the right handlebar. The left features standard lights, horn, and indicator functions. Controls are much the same as across the Yamaha range and similar to other brands for those not used to Yamaha bikes.
Yamaha AG125 engine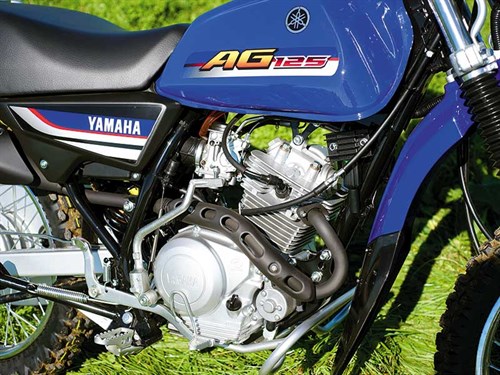 The new AG125 receives a 124cc four-stroke engine, similar to that used in the Yamaha XTZ. A key engine feature is the low noise level, which is great for following stock. Being only 124cc, fuel consumption is minimal. There is a tap on the left side of the tank with on, off, and reserve, for when the steel 11-litre fuel tank eventually gets low and needs filling.
If you have ridden the AG100, you will surely be a big fan of the electric start of this new model. So should you ever have battery issues, you still have kick-start as a backup. Being four-stroke, there is an oil sump with filler/dipstick mounted on the right of the engine casing. Initial service for these bikes is 500km and every four to six months thereafter to keep within warranty requirements.
Yamaha AG125 gearbox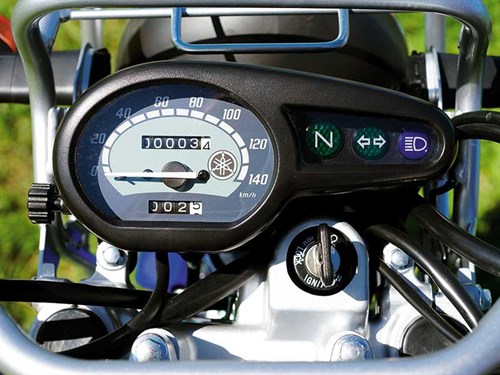 A five-speed gearbox featuring bottom neutral has been fitted to the AG125. A super low first gear is ideal for following along behind stock, without needing to grab the clutch. The other four gears provide ample speed to shoot to the back paddock to round up stock or check troughs.
On the hills, I thought second gear ratio was a bit high, as the 124cc engine struggled. Otherwise, gear shifts were smooth, and keeping neutral position at the bottom makes life easy when trying to open a gate without getting off. The fully enclosed chain is protected from mud and dust, ensuring extended life of both chain and sprockets and keeping costs down at service time.
However, it still needs oiling. I use chain oil, as you get extra viscosity sticking it to the chain rather than dripping straight off. Chain adjustment has been made easier with the use of the snail-type cam, making this job fast and easy even if not mechanically inclined.
Suspension and brakes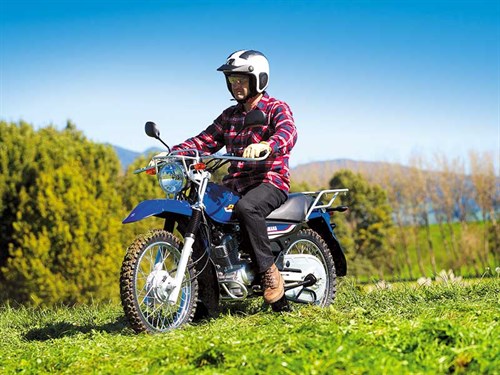 The old rear twin shocks of the AG100 have been replaced with a single mono shock, which accounts for most of the frame modifications at the back end. The front forks have been beefed up to provide a smoother, plusher ride, making it more like the AG200 in this area.
The single rear shock does have adjustment for spring preload. Testing the AG125 over rough, rutted ground, it handled my 70-ish kg weight fine, making it suitable for smaller farmers or workers, without it being so big and heavy that they are unable to pick it up should they need to.
Braking comes in the form of drum brakes front and rear. With the AG125 being an agricultural bike, principally, the sealed drum option is a great fit for this market. Disc brakes may provide better stopping power but will cost more over time with wear and tear in harsh farm conditions.
Construction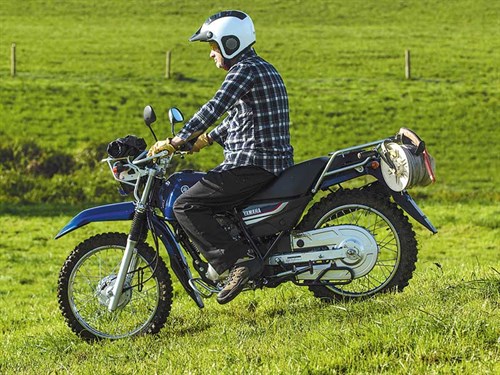 Tipping the scales at around 113kg fully fuelled and oiled up, these bikes have plenty of steel in them.
Chain guard, handle bar/lever protectors, bash plate, fuel tank, and carry racks front and rear are all made to last. They do have large plastic mudguards front and rear and rubber fork boot protectors to keep mud off the rider and machine as best as possible.
The front and rear racks are useful for carrying wet weather gear and a few fencing tools should you require them.
Yamaha AG125 verdict
Two-wheel farm bikes are still one of the cheapest forms of transport in farming situations. I think Yamaha has nailed this updated version of the AG100 with the new AG125 model.
All the key features, such as sealed chain drive, neutral at the bottom position of the gearbox, large carry racks (front and rear), large mudguards, steel tube lever protectors, and dual kick stands, have been carried over. These features, with the addition of a four-stroke 124cc engine, electric starter, bright halogen headlight, and updated suspension and seating, offer a well-rounded package.
In comparison with the XTZ, I think this bike will suit dairy farms throughout the country, particularly those with easier contour where the XTZ may be a better option for
dry stock.
If the sales over the first few weeks since its release are anything to go by, you may well be able to check out the AG125 at a farm near you. Or better still, go see your local dealer to get one working on your farm.
Yamaha AG125 specifications
Engine type: Air cooled, 4-stroke, SOHC, single cylinder
Rating:124cc
Max power: 7.3kW @8000rpm
Max torque: 11.6Nm @6500rpm
Starting system: Electric and kick
Gearbox: Constant mesh 5-speed (bottom gear neutral)
Dimensions (WxLxH): 940mm x 2100mm x 1095mm
Wheelbase: 1350mm
Minimum ground clearance: 225mm
Weight: 113kg
Fuel capacity: 11L
Oil capacity: 1.2L
Tyres Front: 70/100-19 42M
Tyres Rear: 90/100-18 54M
Pluses
Well designed and featured for targeted market
Low daily running costs (fuel usage)
Quality of construction, plenty of steel to protect levers and engine
Comfortable machine to ride and operate
Dual side kick stands
Minuses
I thought second gear ratio was a little high for using on the hills but fine on flat ground
Keep up to date in the industry by signing up to Farm Trader's free newsletter or liking us on Facebook