Test: Protech Evo1S
---
Fencing is labour-intensive, so to make the job a little easier Protech has released its most advanced post driver - the Evo1S
Lately, I've been hearing a lot about the future of virtual fencing on farms, where animals are fitted with a GPS collar. This collar gives them a small shock when they come close to the virtual fence to serve as a deterrent.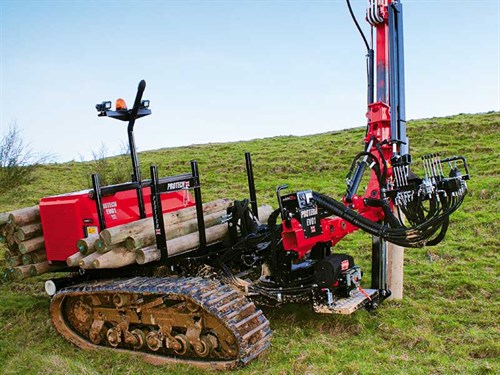 Some well-established companies are pouring a lot of money into developing this idea, as they clearly see some potential. Personally, I think that a lot of animals will be happy to jump the virtual fence and take the shock to get to the green grass on the other side. So it's safe to say we'll be seeing actual fences for some time.
Anyone who has ever fenced will know how labour-intensive it is, but fortunately, better equipment is coming along all the time to make the job easier. I recently tried out probably the most advanced post driver I've come across to date – the Protech Evo1S tracked post driver.
To see it in action and try it for myself, I headed to Waingaro in the Waikato to catch up with Ed Tarry from Agrilife in Hamilton.
Ed is the importer and distributor for the full range of Protech machines. He was demonstrating the machine to Adam Marsh, the owner of Professional Property Services.
Adam's business runs three tractors and post drivers, with around 10 staff working on fencing contracts across the North Island. For more than two years, this has included fencing on the transmission gully project near Wellington.
Despite being constantly busy, Adam kindly took some time out to have us on his property – a worthwhile trip for getting his experienced insight on how the machine could be used in his operation.
The machine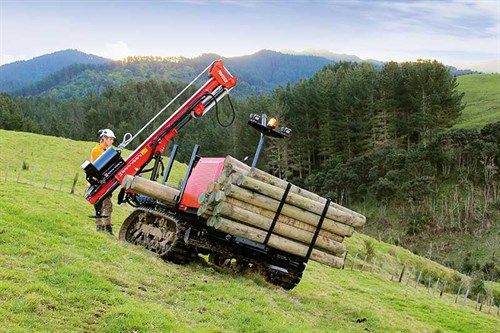 The base for the Protech Evo1 is a tracked chassis platform to which everything is mounted. A 48hp Yanmar engine sits up the front of the machine to counterbalance the weight of the post driver on the back.
The engine is compact and drives a large hydraulic pump, which then powers all the functions on the machine. Even out on steep hills, it never seemed to struggle with any lack of power.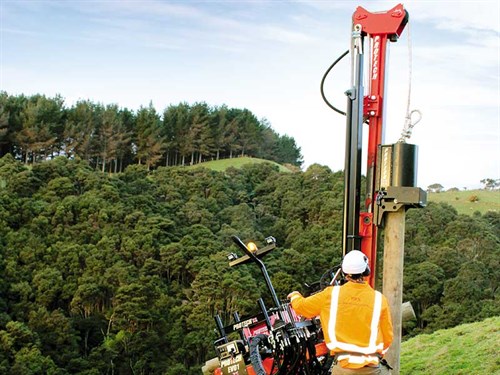 A control box for the engine features a key start, hours' clock, warning lights, and a push button electronic engine rpm switch to set speed. On either side of the engine are cradles, which can carry a good number of posts and strainers.
Along with the mount for a spinning jenny on the side of the machine, this makes it a fairly self-contained unit.
While the small blade on the front is hardly going to be used for pushing much material, it does use double acting rams so the down force is great to stabilise the machine when parked working. Just don't forget to lift it back up when you move.
Transport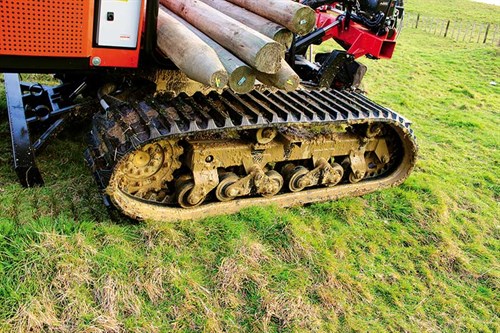 The whole machine runs on 400mm rubber tracks, which cause little scuffing or damage to the ground. In soft conditions, I'm sure they'd be advantageous over the compaction from
a tractor.
These tracks are all the machine needs to travel up, down, and around the sides of hills, where you would never go on a tractor, especially with the ground being so wet.
Oscillating idlers inside the Protech developed track gear allow a degree of flex to smoothen out the ride over rough ground. There is a choice of two travel speeds on the Poclain hydrostatic transmission for working and transport, with clearly labelled levers to operate the direction of travel of each track.
The track frame under the machine is hydraulically adjustable, which spreads the tracks out, taking the width of the machine from 1600mm to 2100mm. This is ideal when working on hills for stability.
Useability
The narrow 1600mm width of the machine helps with manoeuvrability in tight spaces and when transporting.
Because it weighs a little more than three tonnes and comes with its own 3.5 braked Bateson plant trailer, it has the advantage over a tractor of being quickly and easily transported between jobs behind a ute.
Having a busy schedule the day of the test, we were running out of light by the time we were finished, so for once, I can say I legitimately tested the lighting. Four LED lights proved extremely handy and lit a good-sized area around the machine.
Versatility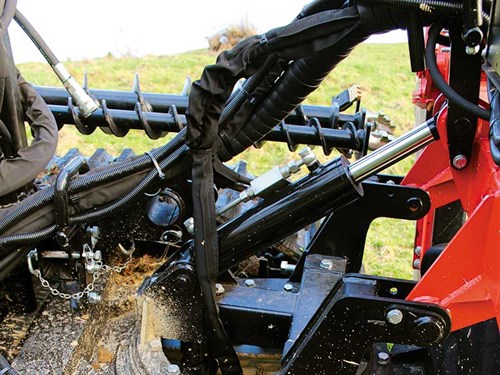 The business end where the post driver is mounted features a hydraulic slew. This allows it to be operated anywhere in a 120-degree arc around the rear of the machine, and when combined with 500mm of telescopic boom side shift, makes it easy to line up posts exactly where they need to be placed.
It's great to see the slew uses a hydraulic ram rather than ring gear to keep maintenance and wear down.
Teflon capped screw-in adjusters on all telescoping sections also make it easy to ensure there is no slop in them, which also minimises wear and tear.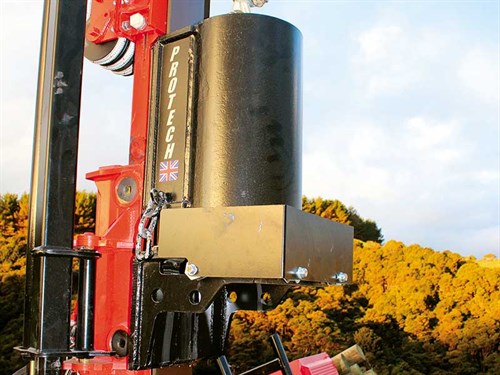 The telescopic mast keeps the machine compact for transport. It can be hydraulically extended an additional metre, high enough to handle a four-metre post, and a 300kg monkey makes light work of driving posts even in the toughest conditions. The two hydraulic mast tilt rams give four way vertical tilt leaving no excuses for anything but perfectly straight posts.
Staying stable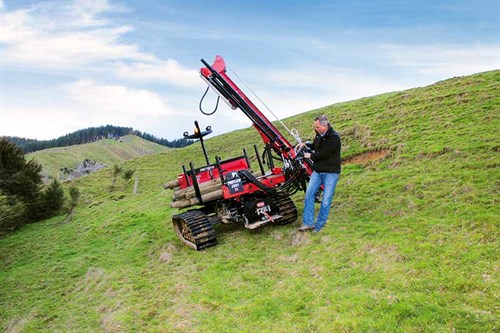 A hydraulic foot from the bottom of the mast is used to stabilise the machine when it's operating. Synthetic versus wire rope is probably a topic we could fill some pages
with.
Everybody has their own preference, but I think Protech had some good justification for synthetic rope when I queried this.
As the rope passes through seven pulleys with relatively tight wrap angles when the monkey lifts, they found the synthetic to be harder wearing and and have superior longevity than wire.
A rock spike and auger are included with the Protech Evo1S, making it incredibly well set-up and versatile.
Something I particularly liked was the fact they are both easily removed from the mast and have storage places on the machine to keep them out of the way when not in use.
The hydraulic rock spike extractor can easily be used to pull posts out of the ground for those thinking a tractor with a loader is necessary for this.
Controls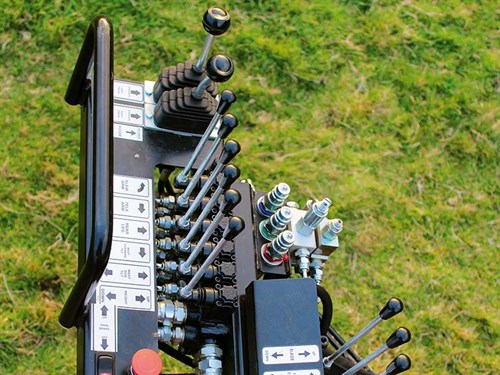 Control levers are clustered together on a central valve bank. Although they are clearly labelled and well-laid-out, there are 12 levers to choose from, so a good level of concentration is required.
Two impressive safety features next to the control levers are an electro hydraulic park brake – to ensure the machine doesn't move on its own – and an emergency stop button.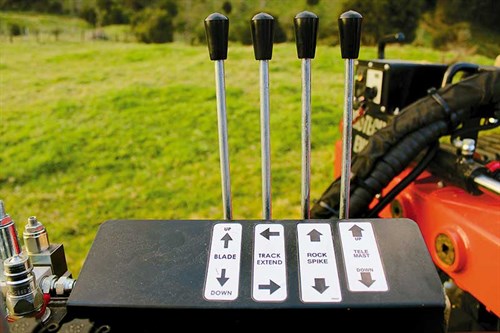 The positioning of the control bank is adjustable and there is a steel bar to rest your wrist on when operating the levers, which helps maintain a steady hand.
A small steel platform that the operator can stand on when moving the machine is useful, although the real benefit of the machine is that the operator can walk behind it when using it – not having to climb on or off and being out of harm's way if something goes wrong.
The addition of a six-tonne winch on the back is also useful if you get into a spot you can't get back out of.
Verdict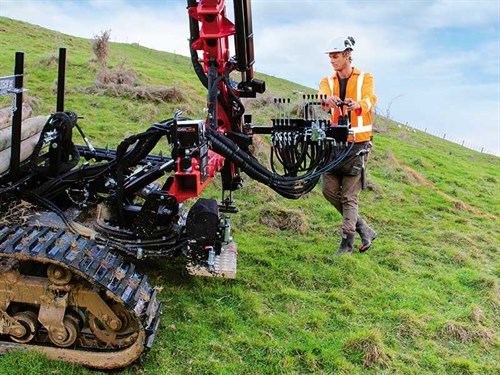 I have to admit that I was somewhat sceptical as to whether this machine would be relevant in New Zealand where the tractor and post driver is the combo of choice for many.
However, having seen it in action, I'm completely convinced. It offers some huge benefits over a tractor for those doing a serious amount of fencing.
The places you can go with this machine is impressive and its manoeuvrability is amazing. The fact it's small and compact enough to easily load onto the trailer it's supplied with and be towed between jobs with a ute will appeal to many. It is equipped as standard with almost everything you could want on a post driver.
From a safety aspect, the fact the driver is not on the machine when in steep situations is also great. As a side note, this machine can also be supplied as a completely remote controlled unit, so the operator can move it around from a safe distance away.
Overall, it's a great machine that the team from Agrilife are keen to get out and show how well it works, so they're doing demonstrations around the country. My opinion is that it's definitely worth a view.
Protech Evo1S Features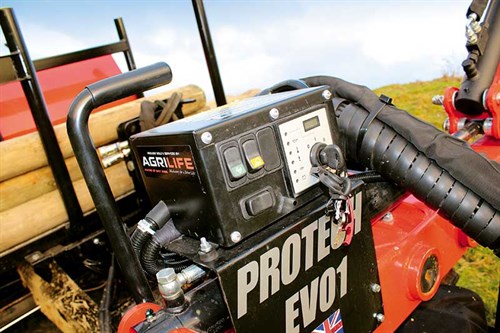 1m telescopic mast extension to handle posts up to four metres
Four-way hydraulic mast tilt
500mm telescopic boom side shift
120 degrees of slew
300kg monkey
Hydraulic mast stabilising leg
Synthetic rope
Removable swinging rock spike with hydraulic extractor
Removable swinging hydraulic auger
Double acting blade
Hydraulically adjustable track width
48hp Yanmar engine
Poclain two-speed hydrostatic transmission
Post carrying frames
Side mounted spinning jenny 
Six-tonne winch on the back
Pluses
Adjustable width tracks
Tracked machine has 
the ability to go were tractors can't 
120 degrees of slew 
and 500mm telescopic boom for easy positioning 
Hydraulic blade and foot for stability
Can carry more than 50 posts and strainers on 
the machine
Rock spike and auger
Comes on its own trailer for easy transportation between jobs
Minuses
It is a dedicated machine for fencing and lacks some of the versatility of a tractor
Keep up to date in the industry by signing up to Farm Trader's free newsletter or liking us on Facebook