Test: Volkswagen's Amarok 4WD Comfortline TDI
---
Farm Trader tester, Cameron Officer, gets behind the wheel of the Volkswagen's Amarok 4WD Comfortline TDI to give it a spin....
Volkswagen's Amarok 4WD Comfortline TDI dispenses with the Euro flair in favour of proper real-world workhorse respectability. It ain't half bad looking with it either.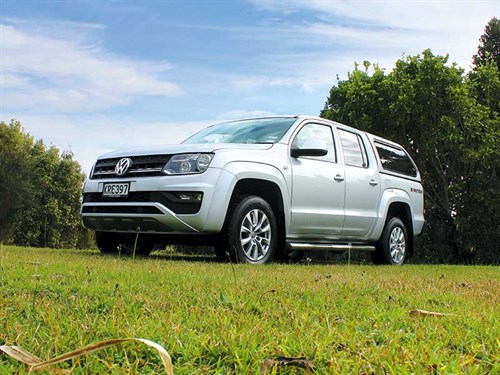 We took a look at what Volkswagen's Amarok ute looks like in a dinner jacket at the beginning of the year when we checked out the top-spec Amarok V6 Adventura in all its shiny finery (Farm Trader issue 240).
Despite evidence to the contrary in many an urban centre around New Zealand – where Volkswagen's ute is to be seen everywhere from outside the hardware store to the supermarket car park sporting all manner of bolt-on accessory – the German manufacturer does indeed ensure fleets and farmers are also well catered to.
Don't forget that, aside from compact cars for the masses, Volkswagen has built its reputation over the last 50-something years as a solid provider of utilitarian commercial vehicles. While pocket rockets and SUVs steal the headlines, the local manufacturer boasts a decent array of dedicated load-luggers, including Amarok utes in work clothes.
The Mid-range Volkswagen Amarok 4WD Comfortline TDI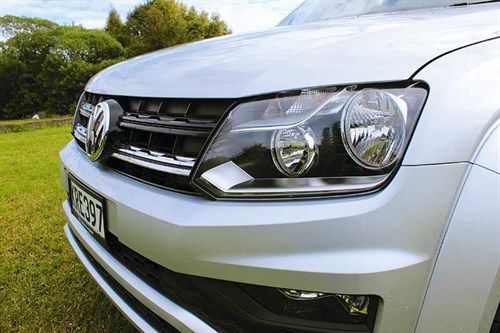 Like the one on this webpage? It's the – deep breath – Volkswagen Amarok 4WD Comfortline TDI. I'll dissect the nameplate in a bit, but the main point is that this is your common or garden variety Amarok, boasting a more workmanlike mix of a trade-specific specification and just enough in the way of modern convenience to ease you out to the back paddocks in comfort.
It's also $57,990, which is $16,000 less than the last Amarok to grace these pages. Yes, there was enough chrome on the V6 version to account for the extra spend, but this still looks good enough without all the sports-bars and alloy wheels you'd be too nervous to take through the farm gate.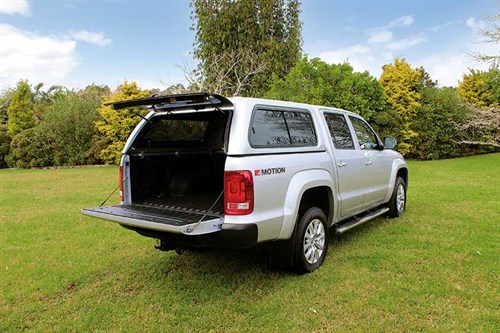 Before we go any further, I should point out that the canopy on our test ute isn't a standard item; rather a bit of a distributor dress-up for the press evaluation vehicle. Being an 'official fit' accessory though, it looks the part and features lockable openings on three sides, with a sliding glass door on one side and a top-hinged hatch on the other.
It also improves on available load-space in the back of the Amarok, although the ute's wellside tray already boasts a decent 1041kg maximum payload, a 1555mm load length, and 508mm in height to the top of the sill. This makes for a 2.52m³ load area, including the rear wheel arches – on par with most other double cab utes of the Amarok's ilk, but Volkswagen claims the Amarok features the widest tray in class, at 1222mm across between those wheel arches.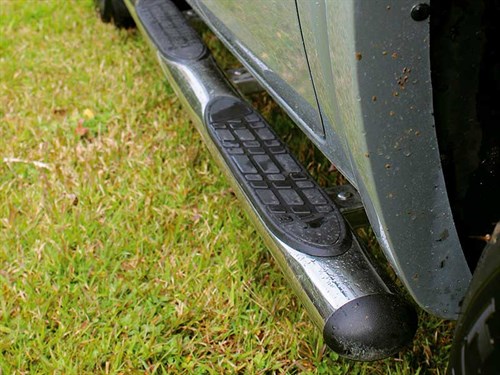 Like the competition, the Amarok 4WD Comfortline TDI sits on a ladder-frame chassis. There is also the option of two suspension settings to help with heavier loads – a standard 2+1 leaf spring set-up or a heavy-duty
3+2 leaf spring assembly, which is a no-cost option.
The Comfortline aspect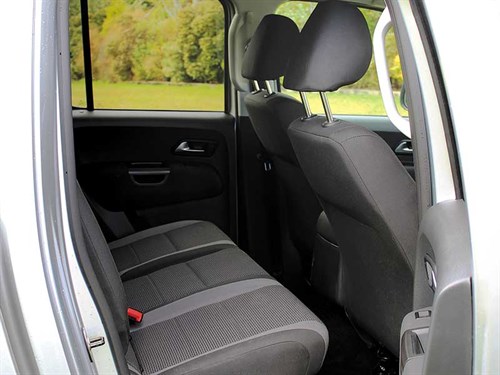 The Comfortline part of this ute's nameplate gives you the main clue that it emphasises practicality over premium grade options.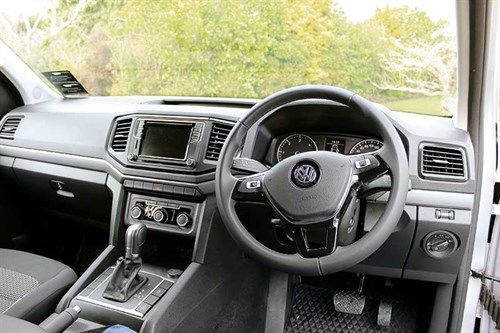 The other grade (aside from the top Adventura spec) is the Highline, which gives you things such as heated front seats, a beefier audio system, four 12-volt power outlets rather than the Comfortline's two, and colour-coded exterior panels.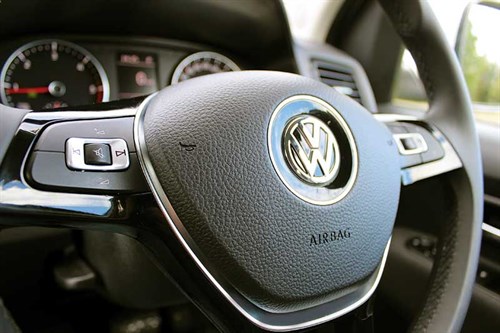 You still get your fair share of comfort and convenience tech in the Comfortline ute. Items such as a six-speaker audio system with Bluetooth phone connectivity, a multi-function display screen, reversing camera, cruise control, and all the safety equipment you'd hope for are present and correct. It's also worth noting that the rear bench is slightly elevated in a 'cinema' style, meaning kids or colleagues stuffed into the back can still see ahead.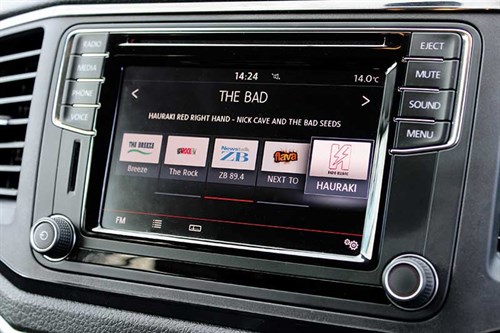 Every Amarok also features a three-year/ 100,000km mechanical warranty and a
six-year anti-corrosion warranty. Owners automatically join a three-year Volkswagen roadside assistance programme, too.
Eight gears to hold you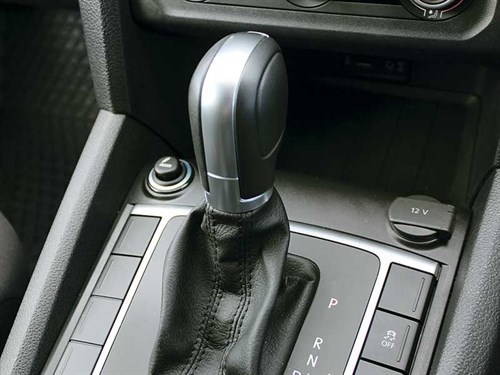 Volkswagen's big point-of-difference remains something you can't see – its class-leading eight-speed automatic gearbox. It's still the only ute on sale here to boast so many ratios and not even incoming Euro competitors into the buoyant local ute market (more on them in a minute) will boast a similar number of cogs.
The eight-speeder is as smooth as you'd hope for and perfect for longer sprints, while you can shift gears manually with the gear lever if you want to hold a particular ratio for longer. Combined average fuel economy for this flavour of Amarok is eight litres/100km, although make the most of that 3000kg braked tow rating regularly and I can't imagine you'll be seeing anything south of 10 litres/100km.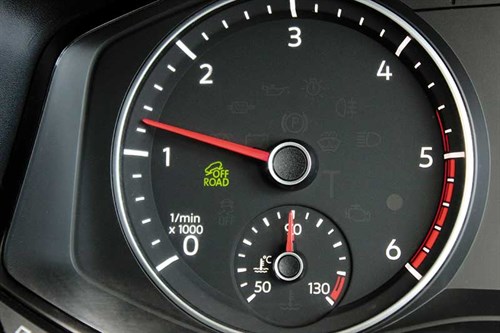 That's still okay though, given that the Amarok Comfortline TDI features Volkswagen's gutsy twin-turbo diesel, which offers up 132kW peak power and 420Nm of torque.
No, it isn't as powerful (or as fast) as the 165kW three-litre V6 range-topper. But then, that's not what you're buying this one for.
And anyway, 177 horses are still enough to get you up and going, regardless of how gluggy, smooth, or otherwise conditions are under the Amarok Comfortline TDI's tyres.
Speaking of traction on the tough stuff, permanent 4MOTION four-wheel drive is a feature here, just as it is in every Amarok on sale (no two-wheel drive boggo-base spec iterations for Volkswagen, thank you very much).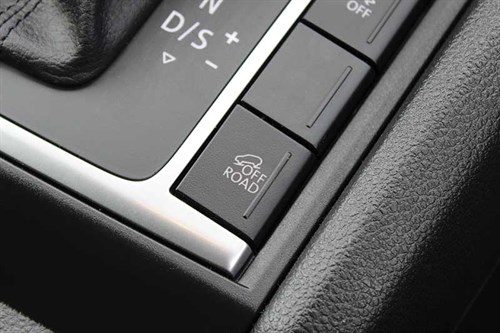 Because it's a permanent system with power divided between the front and rear axles in a 40:60 split, Volkswagen has managed to pare down the deployment of the Torsen 4x4 locking differential to its most simple form; there's a button alongside the gear lever marked 'Off Road'. Hit that and your diff is locked. Easy.
The release of more utes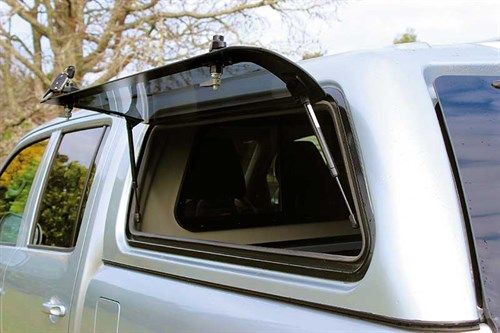 For the last five or six years, Volkswagen has had the Euro ute market all to itself but that will change next year.
Mercedes-Benz is set to release a ute range of its own – the X-Class. Despite the Stuttgart manufacturer's habit of attaching sports packs and massive engines to everything it makes, intel received so far suggests it's showing a remarkably restrained side with the forthcoming ute line-up.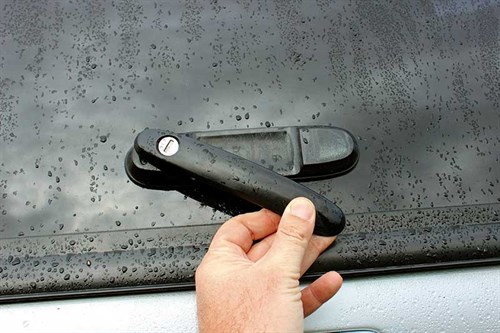 Yes, there will be a range-topper that promises all the refinement of a GL-Class SUV. But with Nissan Navaras as bases (the X-Class is a joint venture programme between Mercedes-Benz and Nissan, despite the former's own commercial vehicle division), the X-Class will also aim squarely for the same utilitarian market as the Amarok.
Renault, of all companies, is expanding its commercial line-up to include a ute, too. To be called the Alaskan, this offering will err more on the side of lifestyler appeal, for whom putting tools or livestock in the tray will be sacrilege.
There's no word on when a production version might be available to Kiwi buyers, and I'm confidently betting it won't prove a mass-market fave. But regardless, the Renault Alaskan will also erode some of the Vee Dub's 'Euro alone' cred.
Verdict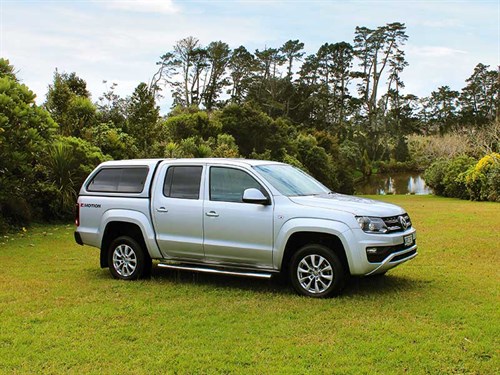 European ute competition aside, the Volkswagen Amarok 4WD Comfortline TDI has a 'pros' column to match its lengthy name. It strips back the whiz-bang showy stuff by just the right amount to make it both a more practical option for the hard yards as well as significantly cheaper out of the box.
The Amarok offers lots of good stuff, too, not least that smooth eight-speed automatic transmission coupled with Volkswagen's intelligent 4MOTION off-road system, ensuring you can get where you need to in what is one very capable Volkswagen.
Volkswagen Amarok 4WD Comfortline TDI spec's
Engine: 1968cc four-cylinder twin turbo diesel
Transmission: 8-speed automatic: Renault 3L turbo-diesel
Power: 132kW
Torque: 420Nm
0–100km/h: 10.9 seconds  
Max speed: 179km/h 
Tow rating: 3000kg (braked)
Fuel economy: 8L/100km
Price: $57,990
Keep up to date in the industry by signing up to Farm Trader's free newsletter or liking us on Facebook