Test: Avatar UTV Diesel
---
Farm Trader's Mark Fouhy test-drives the Avatar UTV Diesel and is left impressed by its build quality and construction
After what seems like months of rain, testing agricultural gear for Farm Trader has been almost impossible due to the wet conditions. Fortunately, the rain came to a halt the same hour I met Peter and Sarah Walters, owners of a 210-hectare dairy farm at Whakamaru in the central North Island.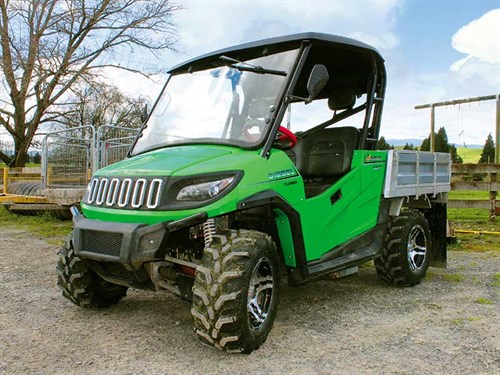 The couple was looking for a multi-purpose machine to help Sarah with calf rearing, from collecting calves to dragging milk and meal feeders around wet paddocks but with enough grunt to tow approximately 900kg of PKE in bins to the cows.
The Avatar UTV has been in action on the Walters property since early July and has already proven to be worth its weight in gold, providing a safer form of transport than the old 4x4 ute, which did some (but not all) of the tasks required. The Avatar is also able to go where neither a two- nor four-wheel bike has previously been capable during the wet winter without raising a sweat.
Although a little pricier than the 500cc petrol quads Peter has operated up until now, the lower fuel consumption and build quality of the Avatar diesel should see a much lower overall cost of ownership over its service life.
The quality of construction, with a thick galvanised box section frame, is a key feature both Peter and I liked, showing the direct farmer input on the design. Animal manure is rather corrosive, so the galvanising certainly gets around this issue.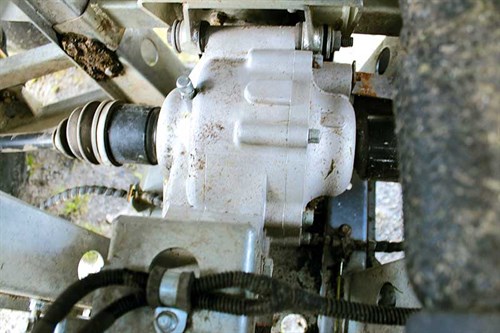 Once you have the issue of frame longevity sorted, you need to have the rest of the componentry at the same level to match, and Avatar has chosen to go with automotive components.
This means the parts are readily available and the machines are basically over spec'd (check out the rear differential) to make sure they are going to last. Not requiring specific parts to be made also helps to keep the overall cost down.
For Peter and Sarah's Whakamaru property, being central plateau country means the pumice-based land does drain relatively well. They have found the manual gearbox easy to get used to, with the first gear perfect for following stock. On hills, the diesel engine has plenty of torque to go wherever you point it as long as you have traction.
Four-wheel drive is engaged at the flick of a button, and for extra traction, there's push button selection for rear and front diffs. With differentials engaged and trailer attached, Peter and Sarah find they can safely go 
where they previously struggled with their 4x4 ute or quad and trailer. The large deck provides ample room to carry electric fence gear or cone feeders for calves. The ability
to drop all the sides further increases load-carrying options.
Transmission
Correct me if I am wrong, but I'm not aware of any other side-by-side manufacturer manufacturing a machine that offers a manual transmission. Why? Because all other side-by-sides are basically recreational vehicles with a few modifications to suit agricultural needs.
Recreational machines are built to be easy to operate for the masses and not for towing heavy loads and other farm jobs. The five-speed automotive gearbox is made for a much bigger machine (small truck) than the Avatar side-by-side. The mechanical clutch and gearbox don't have belts to wear or break, which helps ensure the reliability of the machine and overall longevity.
First gear provides plenty of power for lugging heavy loads as well as great control of the machine going up and down hills. For daily running around the farm, first to third gear will get the job done. The ratio from third to fourth to fifth takes a bit longer to get up to the top speed of 76km/hr.
Engine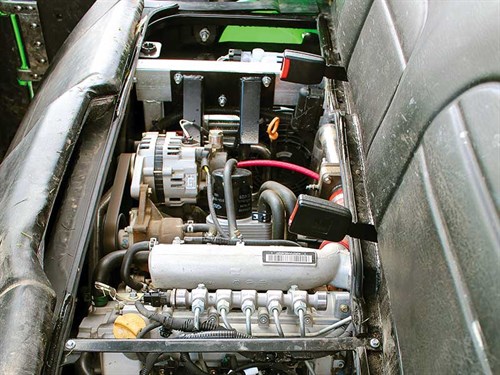 The three-cylinder diesel engine is mounted under the seat. Noise level is relatively low, so you can talk to whoever is sitting next to you. It gets a little louder when you press the accelerator, but it's better to have the power there when you need it.
Being diesel, there's plenty of power available from the bottom of the torque curve as you would expect. The other benefit Peter has found is that fuel consumption is fantastic compared to his petrol-powered quad bike.
It's capable of towing up to 1000kg of PKE, which was previously done with the old ute or tractor. We hooked the trailer up with one tonne of minerals to test this out. On the flat surface, you hardly notice the extra load. On hills, you felt it, but the power is ample for a load this size as long as you have traction.
Construction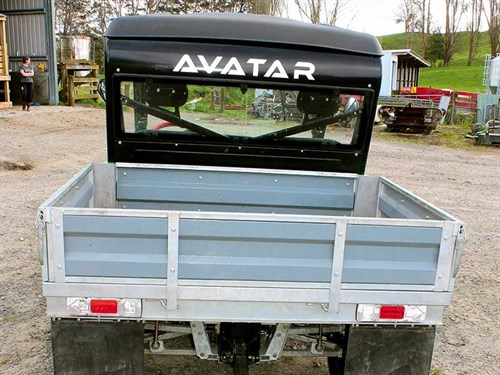 I'm impressed by the build quality and construction of the Avatar diesel. I'm a big fan of galvanised finish. It may not be the most stylish, but it scores 10/10 for functionality on farm.
Plenty of steel in the frame means it's built to handle heavy loads. Double wishbone suspension with nylon bushes and grease nipples decrease wear and keep things moving.
With a solid construction, you want good brakes. Avatar has this covered with large 21.4cm discs front and rear. The front discs have scrappers, keeping the discs cleaner and minimising disc pad wear. Improvements have also been made to the wheel bearings, these being such high wear points.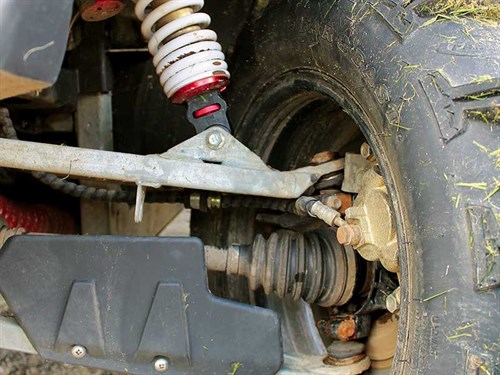 Technical development manager, Hamish Gilbert, and the team at Avatar have taken to producing their own bearings to ensure they are sealed as best as possible to provide the longest life expectancy in the harsh environments the side by sides operate. Ride quality is taken care of with independent suspension front and rear.
Much like a motocross bike, you can adjust the preload and dampening to suit your conditions. Another feature incorporated into the frame is a second mounting point for the rear shocks to carry heavy loads, which may be good if you've planned to use it as a spray unit. The only small area of construction quality that can be improved on are the flimsy side mirrors. A larger truck-style unit with a double-mounting point would go well with the rest of the machine.
Safety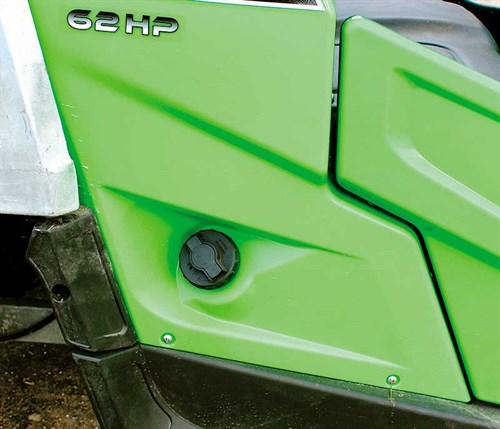 The reason side-by-sides have taken off in New Zealand for agricultural use and one of the reasons behind the New Zealand-specific design of Avatar is for improved safety features.
The Avatar is equipped with a rollover protection and seat belts for two. The wide wheelbase (with the engine mounted under the seat/deck) keeps the point of balance down. It offers seating for up to three, without affecting the balance as adding passengers to a normal quad bike would.
The plastic doors are strong enough to do the job and keep feet/legs inside the machine. The handle release mechanism worked well and fell to hand when getting off. I like that the range isn't spec'd with safety nets, which just end up getting removed.
With the manual gearbox, Peter has set rules on farm for towing loads and safe operation on the hills. The electronic self-adjusting handbrake on the dash is well located to avoid bumping, and there's the option of leaving in first or reverse gear for extra hold on the hills.
Servicing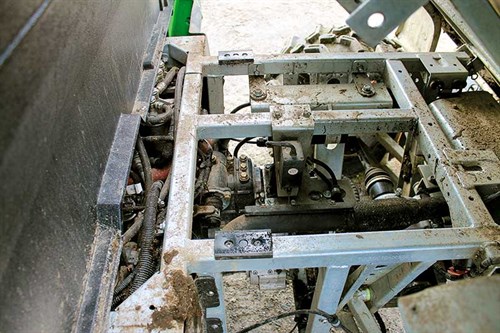 The pop-up front bonnet offers easy access to the air intake and sealed radiator. The engine is accessed by popping the single-piece bench seat off, where you can check the oil level with the dipstick and the conveniently mounted filler and filter for servicing.
The rear flat deck also tips up to allow mechanics room to work on the rear diff, etc. The deck is handle catch released with gas strut to assist tilt for tipping light loads off or providing better access for cleaning. Based in Hawke's Bay, Avatar offers on-farm servicing.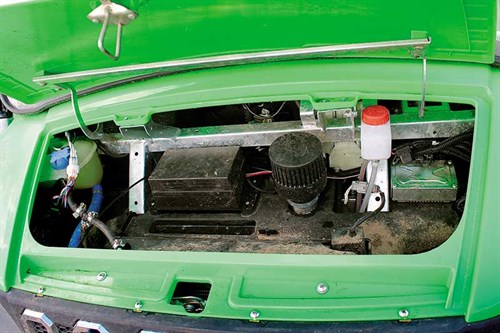 The good thing with the Avatar engines is the simplicity – any mechanic could do this, and the oil change every 250 hours is easy enough for almost any farmer to do.
Extras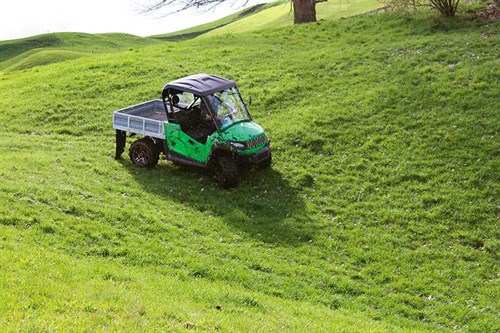 Like all machinery, you can add bells and whistles if you choose or keep the extra dollars in the bank. Unlike many others, Avatar machines come standard with a roof, front windscreen, and wiper.
If you want extra air-conditioning, you can open the front window out for some extra air flow. Peter and Sarah opted for the slightly larger flat deck with a longer drawbar, so you're not climbing underneath smacking your head when you try to hook up or disconnect trailers.
Different tyre packages and winches are also available should you choose to customise your bike to suit your requirements. Peter and Sarah were both impressed with the quality of the lights, with a led unit up front, a reverse light for hooking up trailers after dark, and indicators and hazard lights should you need to follow stock down the road.
Verdict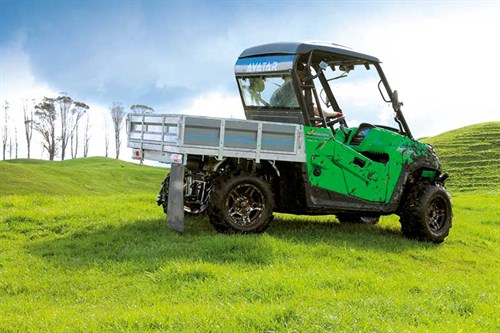 Overall, I was impressed with the build quality and construction of the Avatar diesel side-by-side. One of the key things is that the design process has come from what is required by farmers in an agricultural machine rather than a recreational machine adapted to suit another use.
Although Peter and Sarah have only had their diesel Avatar bike a few months, they say it ticks all the boxes in terms of what they were looking for. Also, the service provided by Avatar has been excellent.
While the manual transmission won't be everyone's cup of tea, it's one of the features that other big name brands aren't offering and will help with the longevity of service in the farming sector.
Avatar UTV Diesel specifications
Brand: Avatar
Engine: 1100cc, Common Rail Diesel 3-cylinder, turbo with intercooler
Power: 62hp
Gearbox: 5-speed manual, 1 reverse
Top speed: 76km/hr
Suspension: Air/spring, adjustable, independent 
4WD system: 2WD, 4WD, and front and rear diff lock
Brakes: 21.4cm disc brakes front and rear
Tyres: 27x11x14 (other options available)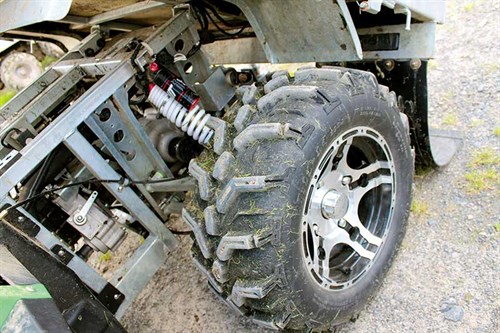 Pluses
Strong construction-galvanised chassis
Unique manual transmission for side-by-side
Torque and power available from low down in the rev range
Heavy-duty automotive components for a long life
Solid steel flat deck tray
Minuses
Bigger wing mirrors with secure mounting
Read more Farm Trader tests and reviews.
Keep up to date in the industry by signing up to Farm Trader's free newsletter or liking us on Facebook