Test: Herron Trailers
---
Build quality, top-notch finish, and braking ability are some of the standout features of the Herron trailers. Farm Trader finds out more.
Herron trailers have a reputation both here in New Zealand and overseas for being well built, robust, and hardworking trailers that can handle the tough jobs, while also fitting into the classic New Zealand mould of wanting a trailer to do at least three jobs, if not more.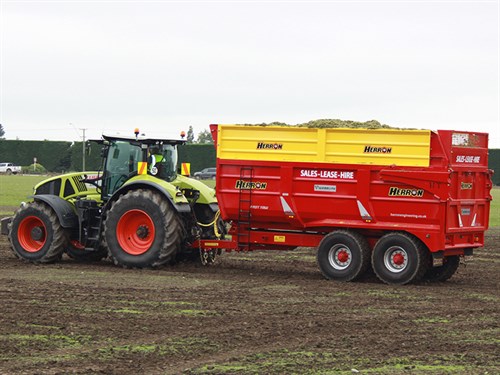 At the Farm Trader Top Tractor Shoot Out 2017, we were kindly loaned an H2 21 grain and silage Herron trailer from Webbline Agriculture Ltd. The H2 21 is the largest in the grain and silage configuration currently. However, a larger model will soon be available. The H2 26 will be fitted on 650-wide tyres, allowing the extra weight to be dispersed, so you don't have cheese cutters running around the paddock making a mess.
Machine features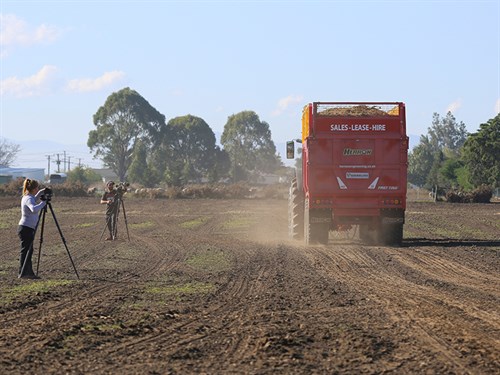 The build quality is the first thing that jumps out at you when it comes to this range of trailers. Herron Engineering Ltd was established in 1989 and is a family business based in County Down, Northern Ireland. These things are well built and, like a lot of Irish gear that makes its way to New Zealand, and seem to handle our conditions well given the similarities in weather and topography between the two countries.
The H2 21 is not a small trailer. At 7.5 metres long and 2.5 metres wide, it weighs in at five-and-a-half-tonne empty. Add the 16-tonne payload of silage we added for our Top Tractor Shoot Out event and with a verified weight of more than 21 tonnes on the weighbridge, it was the ideal machine to hook up to our test tractors to give us a decent indication of performance during haulage applications.
The bathtub capacity is 22.5 cubic metres, which is ideal for grain and beet.
The removable silage crate allows the capacity to go up to 35 cubic metres, with a single three-stage hoist giving plenty of lifting capacity and single ram allowing for greater stability while tipping.
The 20-tonne rated, 10 stud axles with seven leaf spring suspension, and a speed rating to 10km/hr includes brakes on all four wheels, and combined with drawbar suspension, make it a dream to tow. However, this isn't your four-wheel braking. The addition of 'compensating load sensing' trailer brakes maintain maximum braking power while fully loaded and drop back to 30% pressure when empty. This clever system eliminates wheels locking up or skidding coming out of intersections. It also helps reduce the variability in pressure on different tractor-trailer brake valves, which does vary between tractor brands.
During our tractor testing, this braking system was definitely noticeable as it pulled the tractors up. The tractors with exhaust brakes combined with these load-sensing brakes provided enough braking force to just about stop you on a dime.
Design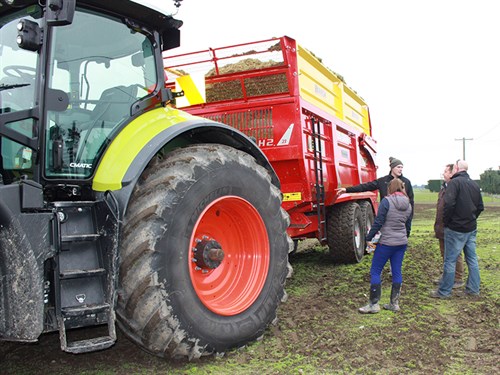 The 4.5mm thick steel floor uses folded steel where the floor and sides meet rather than a half pipe design, allowing silage to flow out easier. Another key design feature is the tapered trailer body. These are dubbed 'conical shaped bodies' – essentially the rear of the trailer is wider than the front. This allows for faster tipping cycles, which is particularly handy during the busy silage season.
Other features include a sprung drawbar as standard as well as 560/45R 22.5 radial tyres.
A watertight up and over tail door also has a feature that allows the trailer door to not be lifted while the trailer is in the fully lowered position. To be honest, I didn't know about this initially and thought the hydraulics on the tractor was playing up because, in spite of pulling the lever, the trailer door wouldn't open. This is a great safety feature (which can be turned off) where the tail door can only be opened once the trailer is lifted to a certain height, eliminating the mistake of accidentally opening the door while on the road.
A folding front flap for opening and mesh on the chopper side for improved visibility are great features of the removable silage crate. Once the crate is removed, these trailers are also popular for grain, but with the increase in beet consistently climbing, they are proving a year-round solution for contractors where metal, beet, and silage are all taken in the Herron's stride.
Verdict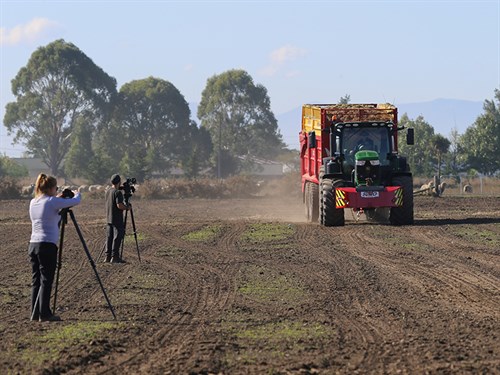 Build quality, top-notch finish, and the braking ability are standout features.
Braking is an important consideration for any large haulage trailer as tractors get faster, and realistically, air brakes should become the norm. Until more tractors come equipped 
with air trailer brakes, hydraulic trailer brakes are the best we have. These are fiddly and 
the performance can vary widely from tractor to tractor, particularly in large fleets with different tractor brands.
Anyone who has driven a fully laden large silage trailer flat out on the back roads of New Zealand will know that the 'tail wagging the dog' is not a nice feeling. This makes the load compensating brakes a bit of a no-brainer in terms of safety, particularly when you add in the variability of the weather, resulting in long hours, rushing from job to job and fatigue – all recipes for disaster. So any additional safety measure like this is a definite asset.
Watch the Herron trailers in action.
Read more tests and reviews on Farm Trader.
Keep up to date in the industry by signing up to Farm Trader's free newsletter or liking us on Facebook