Vertical farming in the city
---
Farm Trader takes a look at the Altifarm - an all-season modular home farm from India
There's something hugely satisfying about picking your own homegrown fruit and vegetables right before serving up the latest meal creation. I like to know where my food has come from and what's gone into it, but that's not always the case with conventionally produced fruit and vegetables that can end up being stored for lengthy periods, losing its freshness and nutrition.
However, for city-dwellers living in a high-rise apartment building, garden space is limited or even nonexistent. I don't have a garden, just a tiny balcony. However, with the increasing cost of buying fresh produce in the supermarket ($9.99 a kilogramme for tomatoes these days), I started looking at ways to overcome this problem.
Having read about new technologies and indoor vertical gardens, the concept of growing vegetables in a city apartment seemed appealing. However, I was slightly apprehensive about jumping into some of the more complicated hydroponic units I'd seen online with nutrients, pumps, and motors.
As I've spent most of my life in the middle of cities and have no prior experience with growing anything, I was looking for a more natural solution.
Discovering Altifarm
I came across Altifarm online at Indiegogo (enverdeworld.com). It's an all-season modular home farm from India and is self-watering, with a greenhouse cover and optional grow lights.
It's designed for tight urban spaces and those with a busy lifestyle and so seemed like the perfect fit to try.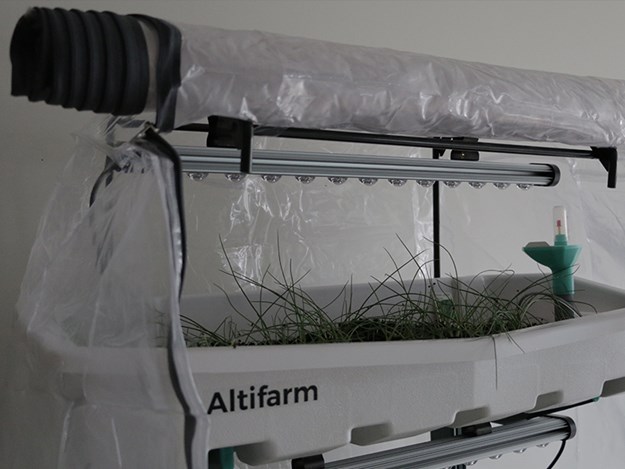 The Grow Lights and Green House expansion pack gave me the freedom to confidently set this up indoors in the heart of a CBD apartment and hopefully enjoy an all-year-round growth.
Ordering was straightforward and hats off to the team at Altifarm for being prompt with the delivery.
Easy set-up
Unpacking and figuring out the construction was simple. The instructions were clear, and it was quick and easy to set it up without the need for any hardware or tools. Much like an Ikea-type kit, the plug-and-play design meant I managed to get it fully functional in just over an hour.
The unit I had chosen was four-tier, starting with a large module at ground level and working up to smaller tiers towards the top.
Each tier has a self-watering system, complete with a water-level gauge, so there's no need to worry about over-watering. An overfill valve at the bottom makes sure everything is kept in order. Each tier also has two height adjustments, which can be moved up or down depending how big your plants grow.
The LED lights (part of the Grow Lights expansion pack) were quick and easy to get going. These are robust, with an IP65 rating (IP stands for Ingress Protection and is a rating used to indicate the level of protection from dust, water, etc.), and waterproof connections.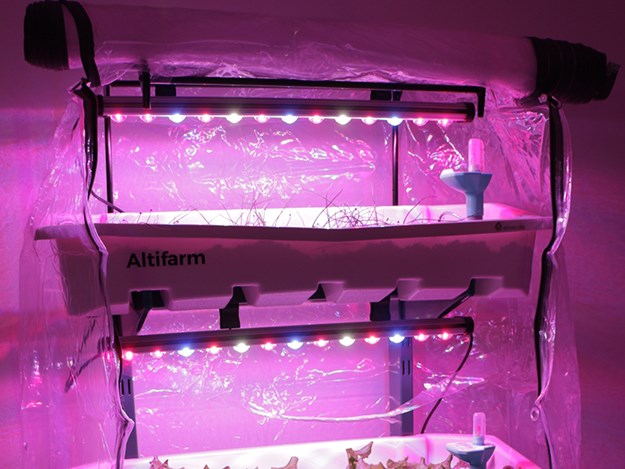 There are no loose wires and everything fits tidily within the unit. The lights work by using specific wavelengths, giving off a pink colour to encourage vegetation all year. This is ideal if you don't have a sun-facing window or balcony.
Deciding what to grow
The next step was working out what to grow. As I was a beginner, I thought I'd try not to be too ambitious on my first go and so decided to grow a combination of salads – some from seedlings and others from scratch.
The spring onions went on the top shelf, lettuce on the second, Lebanese cucumbers from seed on the third, and two types of tomato plants on the larger tier along with some basil, as I'd read these can be grown successfully together.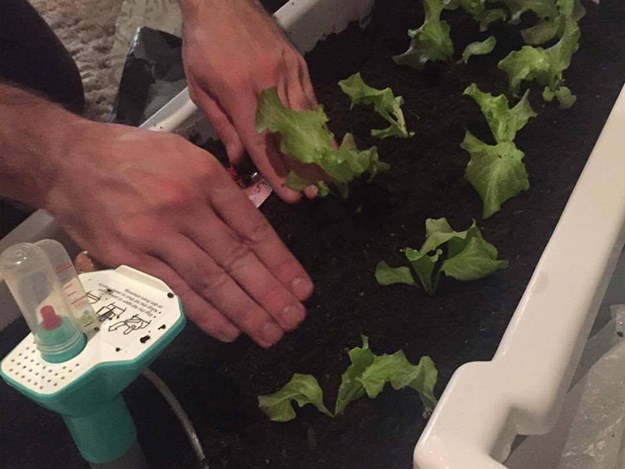 I picked everything from a local garden centre, along with about 40kg of compost, which was reasonably priced.
Planting was easy, too. I even managed to keep compost off the carpet so a win-win situation. Within no time at all, everything was set up and I was starting to feel like a (city) farmer.
A quick tip: when you refill with water, it's worth putting a container under the bottom tier to avoid overflow of water onto the carpet.
Lighting cycles
Now that everything was happy and hopefully thriving, I started using the LED lights. I started with an eight-hour light cycle, plugging in the power each day when I went to work and turning off when I got home.
However, after reading online, I discovered that this wasn't the best method to boost growth and a longer cycle would be more beneficial.
Some recommendations were to leave the lights constantly powered on, but I felt, like with anything, the plants deserved a bit of time-off each night to recover. So I switched to 15 hours of light each day, which seemed to work well, as the plants were quickly getting healthier.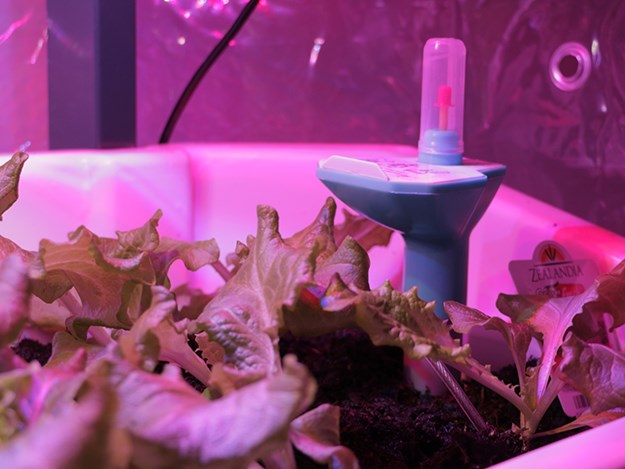 I was slightly concerned early on about the impact this was going to have on our power bill, especially with such long light intervals.
After working out the cost and thankfully because of the low-powered LEDs used, it meant a monthly increase of between $25 and $40, which wasn't too bad.
I also found the light expelled from the Altifarm relaxing, meaning we used less normal lights at home during the day.
One thing I felt the unit was missing was an automatic timer, which would have been a great addition to make things more automated.
However, these can be picked up nice and cheaply from any hardware store, so it wasn't a big deal.
Maintenance
Maintenance has been simple. There's little you need to do week-to-week other than making sure your plants get enough light and are topped up with water periodically, so it's great for anyone with a busy lifestyle.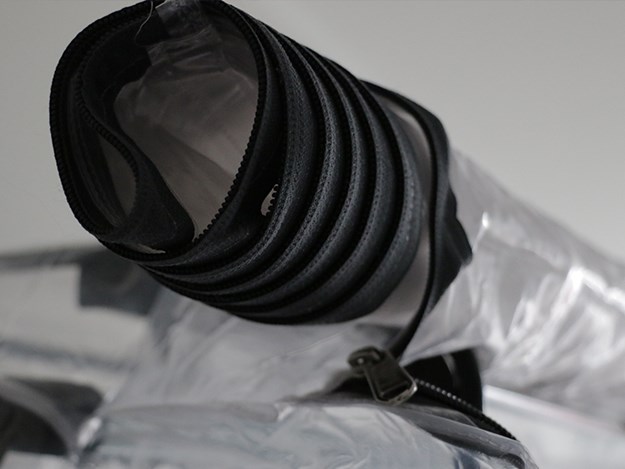 Taste
In the first four weeks, I successfully harvested lettuce and basil, with the remaining vegetables still going strong, and I look forward to trying these out in the following weeks.
The taste of the produce has been great. Because I've kept everything natural, I don't need to wash anything before using it.
Verdict
I'd certainly recommend the Altifarm – an all-modular home farm for anyone interested in growing vegetables at home. It's easy to set up and maintain no matter where you live, and the results have been incredibly promising.
I'm looking at ways to get the plantations into a cycle, so I can continue to harvest each week and maintain a growing pattern. It's safe to say I've grown in confidence and am looking at what I can grow next.
Keep up to date in the industry by signing up to Farm Trader's free newsletter or liking us on Facebook