Test: Branson 2900H
---
When Kelsey Pond was given the choice between a diamond ring and a new tractor, she didn't hesitate for even a second. With no regrets, her Branson 2900 is used on almost a daily basis.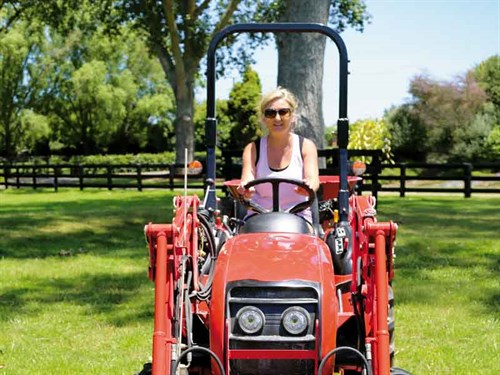 The former farm girl knew exactly what she was looking for when it came to choosing a tractor – a compact but versatile workhorse able to turn its hand to all kinds of jobs on her lifestyle property, from moving dirt to shifting mulch, fertilising paddocks, and keeping on top of general property maintenance. After considering a couple of brands, she decided on the Branson 2900H.
"We did quite a bit of research beforehand into suitable tractors and after a test drive, I decided it was exactly what I was after. We got a great Fieldays deal. The tractor came with the front-end loader and mower, and we purchased the fert spreader as an extra."
Kelsey and Martin's 2.5-hectare lifestyle property on the outskirts of Hamilton features immaculately presented gardens, as well as allowing Kelsey to raise some sheep and beef.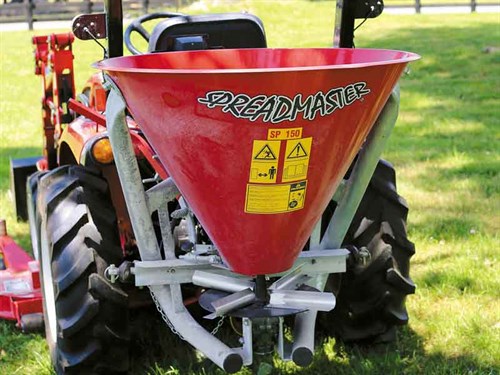 "Choosing the tractor over a diamond ring was an easy decision," she laughs. "I spend a lot of time on the property landscaping the grounds and with stock. So in one day, it is doing everything, from moving silage bales to mowing, fertilising, and shifting dirt and mulch. It's a great workhorse and ideal for my requirements." Kelsey made one tweak to the standard model, getting the bucket control switched around for her preference of pushing the lever forward for the down movement and towards her for upwards action.
"It just made more sense to me and the team at Branson were really helpful in swapping it around for me – probably the first time they've ever been requested to do that." Kelsey loves the fact her tractor (which has earned its own name – Red) is so uncomplicated.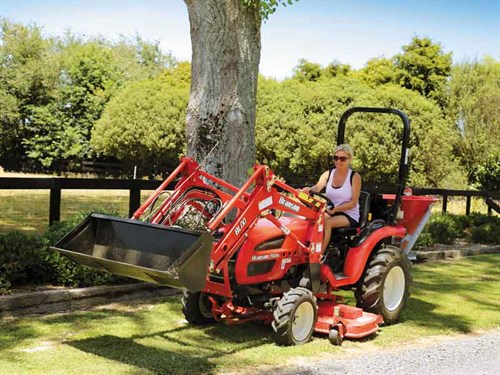 "Anyone can drive it," she says. "Well, except Martin – but that's by choice." Kelsey's partner Martin was happy to buy the tractor instead of a diamond ring, but just as he wouldn't wear her ring, he also has no plans to take over her property chores. 
"I'm quite possessive about it," she laughs. "It's mine and you wouldn't loan your diamond ring out, so it's the same with Red the tractor."
Kelsey has added a toolbox, which carries a knife to cut silage bales open and a hammer for instant fence repairs."It's made life so much easier and definitely earns its keep on a daily basis. Our grounds are pretty big so there's always plenty of work to do."
Test drive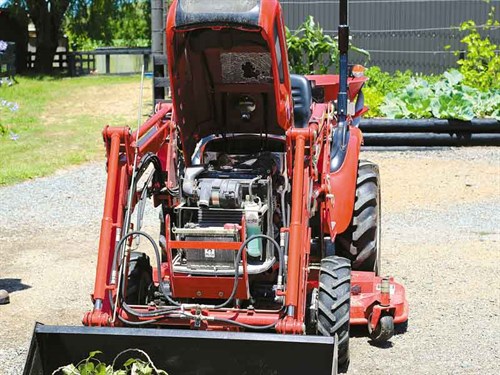 Farm Trader's Mark Fouhy has decades of experience driving tractors, so when called on to put the Branson 2900H through its paces, he was only too keen.
Although he's more often found in the cab of larger tractors, he has an appreciation for the versatility of smaller tractors, which are ideal for the lifestyle and small farm market.
"Branson tractors have a reputation spreading back some 40 years from their place of manufacture in South Korea. Not being one of the biggest players in the New Zealand tractor market, having only entered the country eight years ago, I decided it was time to find out more about the brand, checking out the Branson 2900H on a property on the outskirts of Hamilton," Mark says.
Engine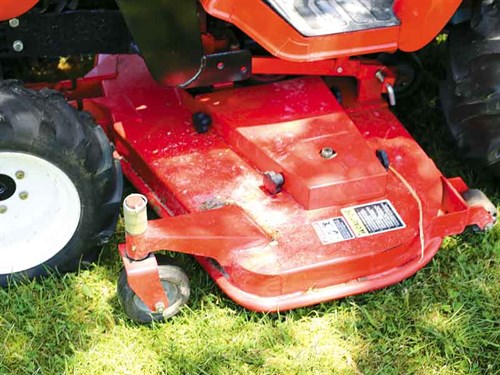 Branson is fitting the 2900H model tractors with a three-cylinder water-cooled diesel engine (which they manufacture). This is similar to those used by other brands in similar-sized equipment. Being the next step up from the compact tractor, the 28hp turbo engine showed it had plenty of capability while still being manoeuvrable.
Fitted with an optional 60-inch mid-mounted deck, it's well set up for all kinds of mowing tasks. I particularly like the design of having the exhaust tucked down to chassis height to avoid the chance of it getting snagged on low branches. The foldable ROPS structure is also of benefit in this regard, making the Branson 2900H ideal for orchard/vineyard work.
Transmission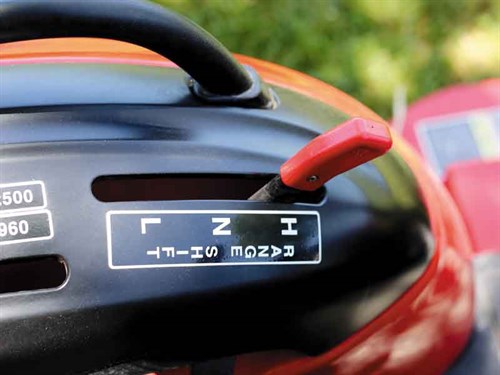 Smaller tractors have mostly gone to hydrostatic drives, offering simplicity of operation for a multitude of users. The Branson 2900H has opted for this system with one or two features that set it apart from the rest.
Although there are only the two ranges (High/Low), the clutch pedal should help minimise wear when changing between the two. Equipped with cruise control, which allows you to keep forward speed set to what is required for the job you are working on, I reckon that although only a small tractor, the cruise control is just as useful a feature when mowing, etc., as it's on much bigger machines.
Another 'big tractor' feature included is individual rear wheel brakes. These are not common on other similar-sized tractors with hydrostatic drive and make the Branson great for horticultural and orchard work for improved manoeuvrability. I did find the hand throttle a little touchy and wanting to drop revs, but I would put this down to the tractor maybe just requiring a little adjustment or a shot of CRC down the cable to free it up. It was a pretty insignificant negative in what is overall a great little tractor.
Operation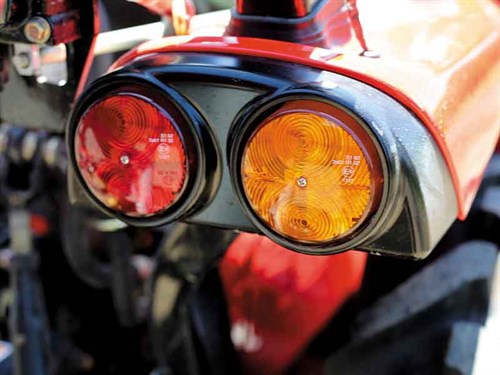 With a large flat platform, basic operation is pretty straightforward, making it quick and easy to get under way with operation and simple tasks. For those a little less tractor savvy, a few pointers on the simple operation of linkage and PTO controls would have them under way and ready to mow/shovel/spray/spread or almost any other job required around a property. The clear centre console displays information such as regarding 2wd/4wd, tractor revs, hours, PTO, and lighting functions. A full lighting package, including hazard lights, is standard, which is a good feature if you want to mow roadsides safely.
Servicing
Daily checks are easy on the Branson. The nice one-piece bonnet pops up on gas struts to allow access to all the service points. The air cleaner and battery are positioned at the front, with the radiator in behind. The diesel tank is on top of the engine and easily accessible from the ground for filling. Engine oil is checked and filled on the left-hand side with hydraulic oil checked with a dipstick by your feet when sitting on the tractor.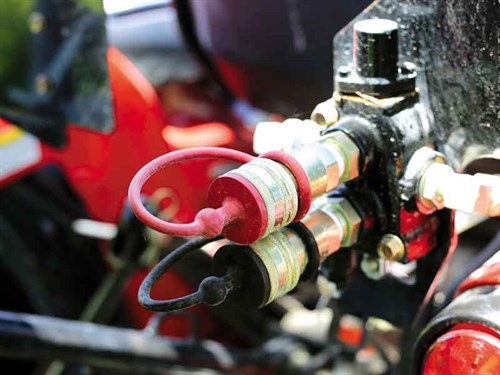 Filters are fitted to both the hydraulic and transmission systems to avoid contamination of oil and potentially damaging components, which is a really good feature. Also with the Branson tractor range, on the initial 50-hour service, all fluids are changed, including diffs. This is done to ensure things are as they should be, rather than just changing engine oil/filters. Rear hydraulic connections (x2) are standard if you wanted to hook up a wood splitter or the optional backhoe.
Construction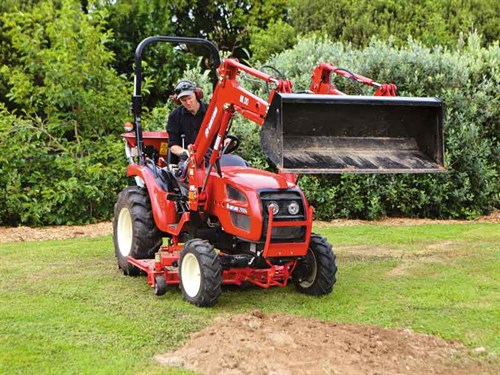 I thought construction of the Branson 2900H tractor was impressively good. Although a lesser-known tractor brand in the New Zealand market, Branson has actually been available here for eight years and has been manufactured in South Korea for some time, with the company starting business some 40 years ago. For me, the quality of construction is shown in the thickness of the front axle and steering assembly. This has been designed to take the strain and extra force put on it when operating the front-end loader.
Tyres
Our test machine was fitted with agricultural tyres. This is a good option in my opinion for those using the tractor more for paddock work than lawn duties and is the only real option if you want to operate on hills. However, the industrial tyres are a good compromise in between and cause less damage to turf than ag tyres if you were mostly doing mowing with the tractor.
Suitability
The versatility of the Branson 2900H tractor makes it ideal for a wide variety of situations, from small to larger lifestyle blocks. It is a good option for schools or councils for mowing duties, as well as being capable of other jobs that may need attention. Orchard/vineyard/horticultural work are all areas where this machine would prove very handy.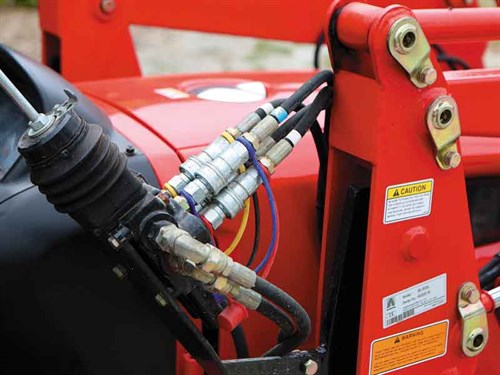 Branson 2900H Specifications
Engine: Liquid cooled, 3-cylinder, diesel, turbo
Displacement: 1175cc
Engine hp/kw: 28hp/ 20.5kw @ 2600rpm
Emissions: Stage IIIA
Transmission: Dual Range Hydrostatic
Speed: 6.13km/hr min - 21.7km/hr max @2850rpm
Hydraulics
L/min: 18.2L (main pump) 13L (steering pump)
Lift capacity: 650kg
Cat: I
PTO speeds: 2-speed rear 540&960rpm 1-speed for mid mount mower 2500rpm
Tyres
Options: Turf/Industrial/Ag tyres to suit
Dimensions
Wheelbase: 1502mm
Length: 3066mm (incl. front weights)
Width: 1124mm
Height: 2216mm
Ground clearance: 315mm
Weight: 790kg
Fuel tank: 23L
Service intervals: 50-hour initial
Warranty: Four-year limited warranty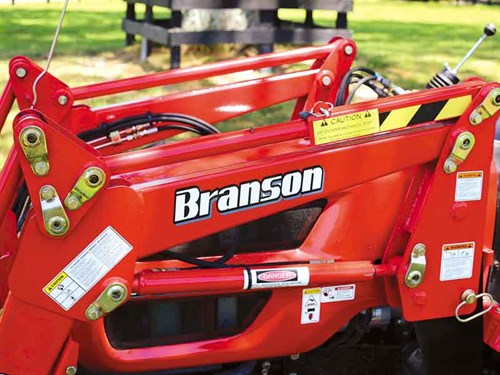 Pluses
Transmission cruise control feature
Separate oil filters on hydraulic and transmission
Compact size with tractor construction and features
Thorough initial 50-hour service programme
Minuses
Hand throttle a bit touchy
Read more tests and reviews on Farm Trader
Keep up to date in the industry by signing up to Farm Trader's free newsletter or liking us on Facebook