Review: Fieldmaster Sabre
---
Farm Trader checks out the Fieldmaster Sabre and Fieldmaster GMM gear mower that helps maximise efficiency and profitability
When it comes to mowing and property maintenance, Lance Pawley boasts decades of experience. His family business, Block Busters Lifestyle Maintenance, was launched in 2006 and he has been operating the Fieldmaster GMM gear mowers for nine years. Having lived on a lifestyle block since 1997, Lance and Sheryl came up with the idea for their business in the 1990s.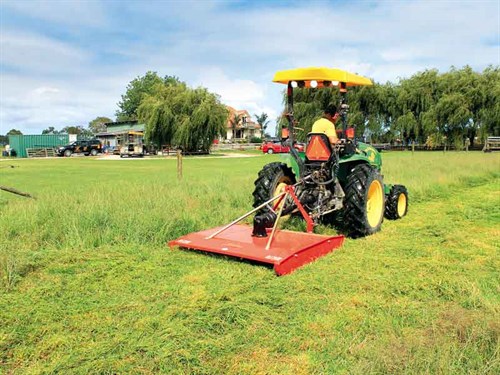 The pair identified a lack of mechanical or tractor based services available to "lifestylers" and small farm holders. Any substantial equipment required, needed to be hired as purchasing was just not economic, with most lifestyle block owners not using the gear frequently enough to justify purchasing it. Seeing this challenge as an opportunity, Lance and Sheryl developed their business model to provide a range of tractor-based services targeting the smaller landholder.
The Fieldmaster range of equipment has been an integral part of the business and its growth. Based in Pukekohe, Fieldmaster is a New Zealand company that manufactures a wide range of mowers to suit tasks from the smallest lifestyle blocks up to large sports grounds or airfields. As well as small and large mowers, Fieldmaster also offers its unique rotary gear mower, and its range of machinery is popular with farmers, contractors, vineyards, and orchardists.
When Lance purchased his Fieldmaster GMM Gear Mower 3n1 Multicut Mulcher/Topper/Slasher some nine years ago, Farm Trader's Brent Lilley was on hand to see the machine in action from almost new. Fast forward to the present day and while Lance is in no way needing to replace his original Fieldmaster, he is keen to test out the Fieldmaster Sabre.
Fieldmaster GMM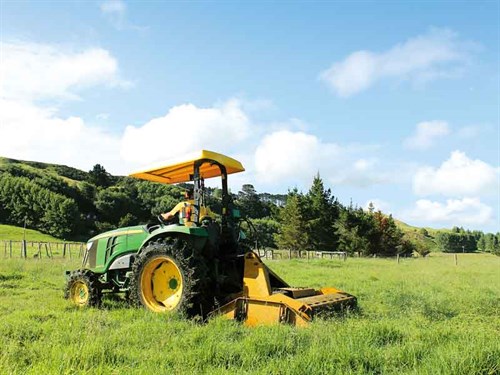 The Fieldmaster GMM Gear Mower 3n1 Multicut Mulcher/Topper/Slasher has more than earned its keep after countless blade changes and many hours spent mowing paddocks matted with kikyua and tidying two-metre tall old man gorse.
While, as expected with such a busy and long life, the lighter steel used in the cover plate for the PTO and drives to the two rotary flails is looking a little worse for wear, this doesn't affect the performance or operation of the mower in any way. The shafts still have all their protective covers in place.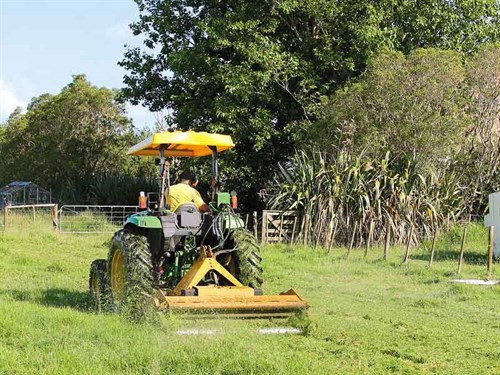 The only thing Lance is looking at doing is replacing the side skids. After around 2200 hours, there is a bit of wear on the undersides, which could be easily rectified with a new strip of plate steel welded in place, allowing it to carry on for another 2000 hours.
Custom mower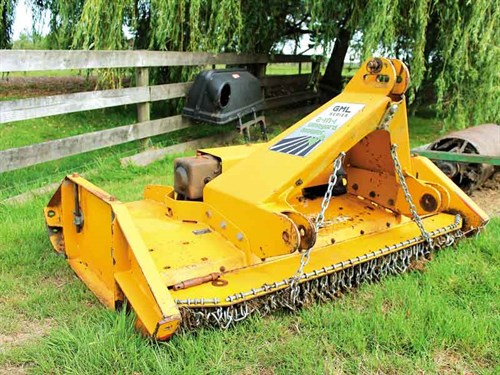 Fieldmaster customised the mower for Lance to suit his business colours. Colour matching is easily done at the factory, so instead of the iconic Fieldmaster red, Lance received a yellow mower to go with the rest of his immaculately kept green and yellow equipment. 
Requiring slightly more effort, thought, and design from Lance and the Fieldmaster design team was the hydraulic rear lift roller instead of bolts with holes for adjustment. Used in conjunction with a hydraulic toplink, this has allowed Lance to use his gear mower to do a wide variety of mowing tasks with the one machine, making it efficient.
With many mower models in the Fieldmaster range manufactured in New Zealand, the business can work alongside clients to come up with a custom solution.
Fieldmaster Sabre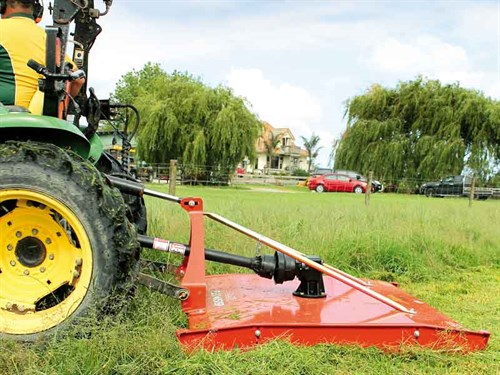 Having seen the longevity of the Fieldmaster GMM under contracting conditions, Fieldmaster decided that Lance is the ideal guinea pig to test-drive the Fieldmaster Sabre 1500 rotary slasher for this machinery test.
This Sabre model is aimed at lifestyle properties, as these mowers are suitable for 18–40hp compact tractors. The build quality of the higher capacity gear mulcher range is still evident in the lower end Sabre models, which are available in 1.5-metre and 1.2-metre mowing widths.
The basic design allows for simple height adjustment, with two bolts on each skid making this a pretty quick job. In my estimation, the four holes would give a cut height of between 50 and 100mm. If you wanted to cut higher or lower, it would be easy enough to get modifications done to the skids.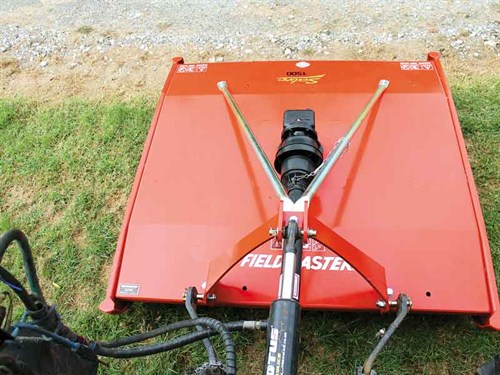 In our test mowing kikuya, it appeared to be mowing around the 50–60mm mark, with the new blades (two flails, no knives) leaving a clean tidy cut. Having used Lance's gear mower earlier in the day with pretty well worn blades, the benefits of new or sharpened blades was obvious. Hooked up to a smaller tractor, the smaller Sabre did the same job in the same paddock with less effort.
Depending on what you intend to do with your mower, you can choose to have a four flail rotor and hay knives bolted to each to give a cut that is even tidier. And it depends what you end up mowing as to how many hours or hectares you get between blade sharpenings. Aside from blades, other things that require attention are regular greasing of the drive shaft and universal joints and keeping an eye on the oil level of the gearbox.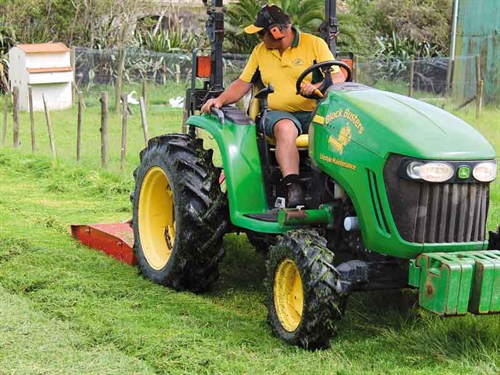 A benefit of this lighter range of mowers includes being light enough that you can give them a little shove if you haven't backed up perfectly when mounting. The Cat I pins for the lower linkage are mounted on the tractor so there's no chance of losing them as long as you keep them tightened up. And for ground following, the Sabre mowers use a sliding hole for the toplink. Lance used a small hydraulic ram top link, locked in float for ground following, which works well when doing large amounts of mowing.
For me, one of the key benefits of the Sabre mowers is the fact they are designed and made in New Zealand for New Zealand conditions. And with all Fieldmaster machinery, they are built strong and built to last.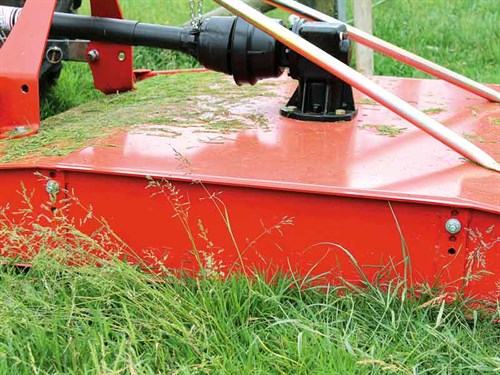 Constructed from quality steel, the same durable blasting and painting procedure is used on the entire Fieldmaster range of equipment, from the biggest mower to the smallest, to ensure it handles life in the sometimes harsh New Zealand climate (winter flooding and summer droughts).
Pricewise, this may make them a little more expensive than some imported products, but with years of experience using machinery, I'm far happier to pay a little more to purchase a quality machine I know will last, than something that could well need replacing or rebuilding after just a few years.
Verdict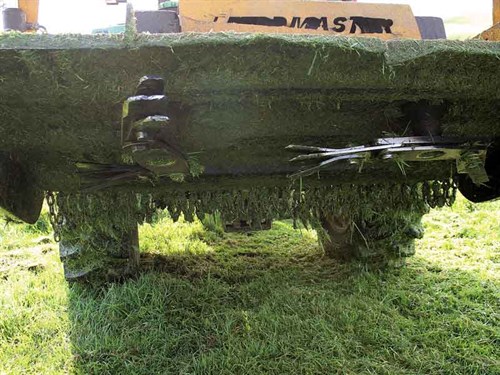 With more small-time farmers in New Zealand now, these mowers are a great option to help landowners manage and maintain their properties. Whether they want to keep thistles at bay without spraying or top seed head behind stock to allow pasture to freshen for the next grazing, the Sabre mowers are ideal.
They are also potentially an affordable option for tidying grass between kiwifruit vines or other fruit trees to keep things tidy when you already have a low horsepower orchard tractor.
Fieldmaster Sabre 1200 and Sabre 1500 specifications
| | | |
| --- | --- | --- |
| Model | Sabre 1200 | Sabre 1500 |
| Cut width | 1.2m (47inch) | 1.5m (60inch) |
| Flails | 2 | 2 |
| Options |   |   |
| Extra flails | 4 | 4 |
| Hay knives | Bolt on 1 per flail  | Bolt on 1 per flail  |
| Rear roller | Bolt on, height adjustable | Bolt on, height adjustable |
| Colours | Red, other options available  | Red, other options available  |
| Grass flow/spreader vane |   |   |
| Heat treated skid wear plates |   |   |
| Slip clutch on drive shaft |   |   |
| Mounting |  Cat I |  Cat I |
Pluses
Simple, proven design
High-quality build and components
New Zealand-made
Minuses
Extra mowing height adjustment
Watch the Fieldmaster Sabre in action
Read more farm machinery and equipment tests and reviews on Farm Trader
Keep up to date in the industry by signing up to Farm Trader's free newsletter or liking us on Facebook