Test: Vigolo TDF-DT Mulcher
---
Farm Trader writer Mark Fouhy is keen on gear designed to suit specific areas and climates and specialised tasks. The Vigolo TDF-DT high body mulcher is an excellent case in point.
The journey to view this impressive mulcher in action involved heading towards the winterless north, just out of Kerikeri, where I met Keith Inverarity of Jacobs Contracting. Keith has been contracting around Kerikeri for 15 years after buying the business from brothers Colin and Nigel Jacobs.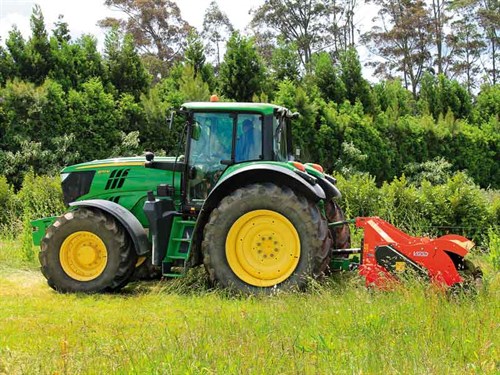 Offering a range of services, including spraying and spreading, full cultivation through to maize and grass silage, and baling round and square bales, contracting in the Far North means Keith has always operated a mulching mower, much in demand in the area.
After spotting the Vigolo range of mulchers on the Agriline site at NZ National Agricultural Fieldays last year, Keith was impressed by the build quality of the Vigolo and left his details for Mike and Gerry Hamlin to get in contact. He has since purchased the Vigolo TDF-DT mulcher and wasted no time putting it to work.
Test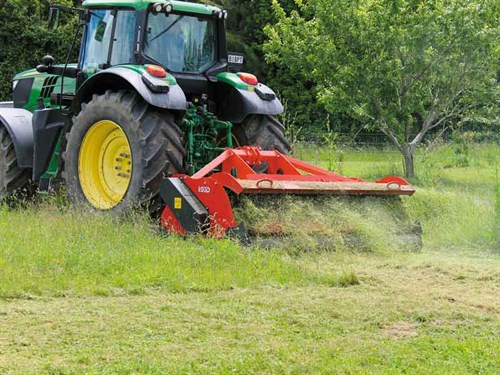 Getting hooked up and under way with the Vigolo mulcher is pretty straightforward. Initial set-up involves getting the side skids/rear roller and door set correctly, which may take a little time to get the correct height.
The rear tailgate can be set in a number of positions, depending on how much you want to mulch what you are mowing. You can shut it right down and with the double row of chains along the front edge of the mower, can stop almost all of the material from flying out of the machine (possibly causing damage when mowing around buildings, roadsides, etc.).
Optional, but not on this test machine, is hydraulic operation of the rear door if you intend to change the setting regularly. Being a busy contractor, Keith did not get around to tidying up the last little bit of grass around his sheds, which was ideal for our testing purposes.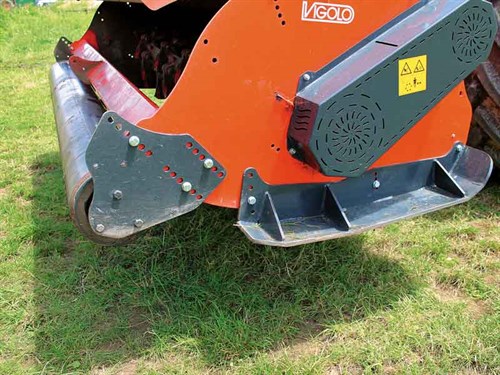 I was confident the Vigolo mulcher would handle it fine, which was the case, but found it performed even better than anticipated. I attribute this to the triple flails, which produce a very fine chop of the material exiting the rear of the machine. The fine chop speeds up the breakdown of organic material, which in warm, humid climates also helps to decrease the risk of potentially harmful facial eczema spores building up.
Construction
Initial thoughts on seeing the new Vigolo TDF mulcher was that this was one serious bit of kit and any kikuyu, gorse, or other brush type weeds had better look out. Mulchers generally get a hard time and need to be built accordingly to handle the job.
Until now, I only had experience with flail mulchers used in orchards of around two metres. Although almost a metre narrower than the 2.8-metre working width of the Jacobs Contracting Vigolo machine, the construction was much lighter.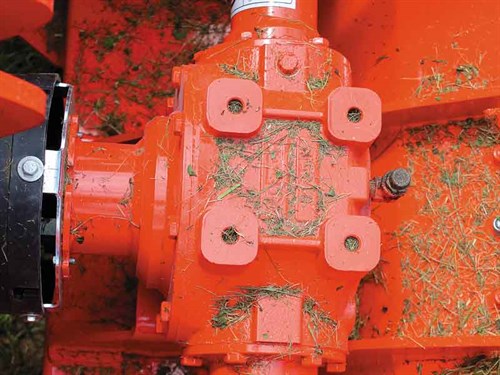 Vigolo uses the highest rated gearboxes on its range of flail mulchers – 300hp. This is a big plus for Keith, as it means he can put any tractor in his fleet onto it rather than having to wait until a smaller tractor gets back from another job.
With a higher rated gearbox, you need to have enough belts to drive the rotor and flails. In mulching, a 30hp/belt for drive is the golden number to aim for. With 12 belts, six each side, and 300hp at the PTO, which equates to 25hp/belt, belt slip should be no issue.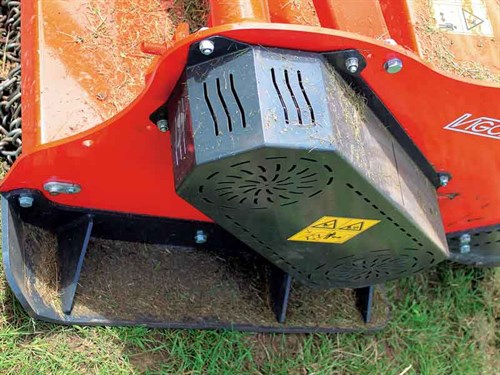 The gearbox is fitted with an overrun clutch that allows the rotor to run down freely without damaging the PTO in the tractor. The other important thing to note with the gearbox is the solid mounting, which along with the bearings on the rotor and flails, take a fair hammering.
The double-skinned deck, with plenty of gussets and braces used throughout construction, ensure the Italian-built mulcher is built to handle some serious work.
The Vigolo TDF DT high body mulchers offer a 2.3- to 3.2-metre cut width and come standard with a 273mm rear roller – an option often not standard for most mulchers. Along with the wide and long skids, the rear roller helps prevent scalping and minimises extra wear on the flails.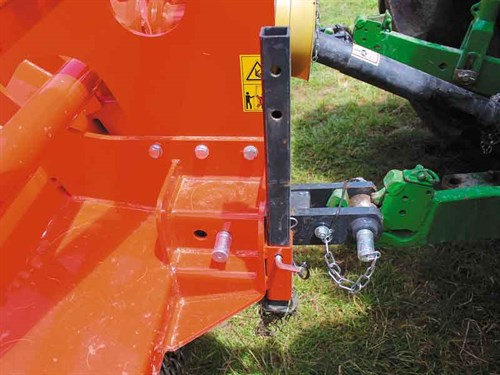 Once up to speed, the large 273mm rotor made of thick steel helps maintain momentum in tough going. Vigolo fits a triple flail system to its mulchers. Other flail types are available on request.
The triple flail is excellent for getting into the thick mat of kikuyu that can be found throughout Northland. The three-knife system cuts finer than a hammer flail and requires less horsepower to drive it.
Keith uses his mulcher as part of his cultivation arsenal to break down grass or crop residue, giving better strike and yields, which works out better for the farmer. The versatility of mulching mowers maybe a little underrated in New Zealand, as they tend to be used mostly for either land clearing and orchard work or kikuyu management. They are also a great option for topping to control pasture, offering several benefits in this area.
Verdict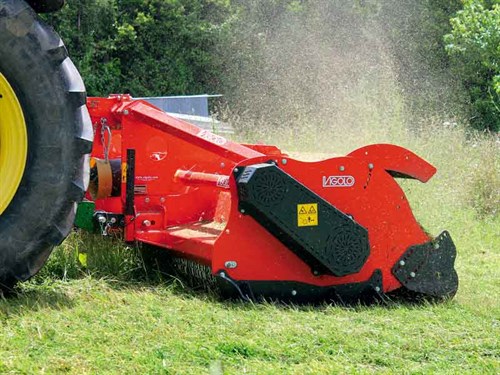 If you're looking to purchase a flail mulching mower, I strongly recommend you talk to the guys at Agriline. They have a wide range of options available and the build quality and specification level of the Vigolo machines make them a serious option in this line of work.
Pluses
Strong construction
High rated gearboxes used with overrun clutch built in
Three blade Y flails offer excellent consistent fine cut
Double front row of chains to minimise opportunity of damage from flying debris
New Zealand design
Minuses
A hydraulic rear door would be a useful addition (that is an available option)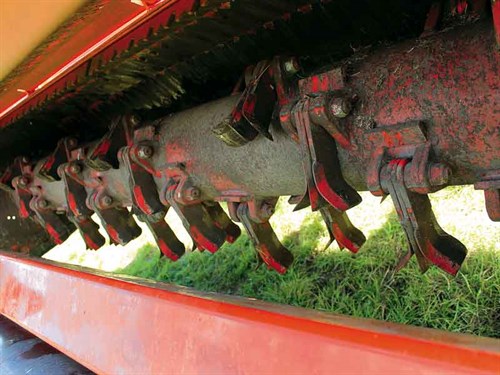 About Agriline
With both North and South Island yards, Agriline offers a serious range of machinery, along with a range of parts – everything from tractor-mounted mulchers from the Vigolo brand and tractor and hydraulic drive excavator-mounted heavy-duty forestry mulchers from Picursa. The business also stocks Vigolo rippers and power harrows and Speedtillers from K-Line Agriculture.
A range of beet processing equipment is also available. Mike Hamlin of Agriline has 20 years' experience working with and selling mulchers. Fortunately, they have had input at design time for the new Vigolo TDF mulcher, which they reckon is the best mulcher available to suit the conditions in New Zealand.
Read more tests and reviews of agriculture machinery on Farm Trader.
Keep up to date in the industry by signing up to Farm Trader's free newsletter or liking us on Facebook