Test: Yamaha Kodiak EPS 450
---
Farm Trader puts the Yamaha Kodiak EPS 450 to test and finds it to be the ultimate mid-size ATV
Farm Trader's Lyndsay Whittle test drove the Kodiak at an ex-orchard, with plenty of challenging terrain to put the bike through its paces.
Property owner Murray Firth was happy for us to use his place. His answer was swift and simple: "So long as I can have a ride when you've finished testing the machine." Turns out, he was just as keen as me to see the latest offering from Yamaha in action. Both of us appreciate a functional, well-performing ATV, having driven many of them over the decades in a variety of situations.
I'm not quite sure what planet I was on when I was thinking of giving the ATV a bit of hard exercise because it turns out that we were in the middle of one of the driest summers I can recall – no mud to be found anywhere.
Test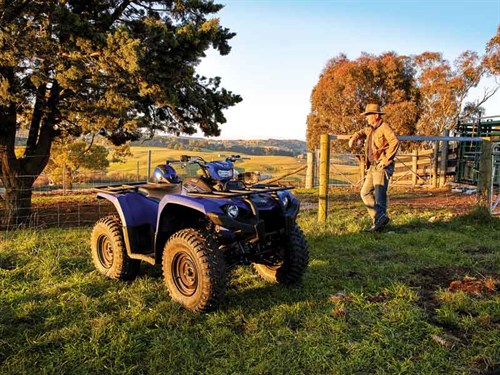 As soon as I took the Yamaha Kodiak off the ramps of the transporter, I took it for a ride around Murray's 10-acre block and immediately headed for what is usually a boggy low point, where in the past I've been too scared to take Murray's trusty old Ferguson with the rotary slasher on the back. However, my heart sank, as on this occasion, it was as dry as a bone. No challenges here today, sorry!
A visit to another usually boggy bit of the property produced a similar result and it dawned on me that there wouldn't be anywhere within a country mile that would be wet enough for the task, save dumping 20,000 litres of precious water on the test bed beforehand. Just as I was wondering what to do next, Murray appeared and announced that he had a couple of maintenance jobs that he wouldn't mind a hand with when I had a spare moment.
One job was to cut back some gorse that needed a bit of a trim, while the other was to drill half a dozen postholes. As both jobs were at far-flung corners of the property, the Yamaha Kodiak EPS 450 ATV would be perfect for getting the necessary chainsaws, posthole borer, augers, and all of the associated safety gear that goes with them to the job site.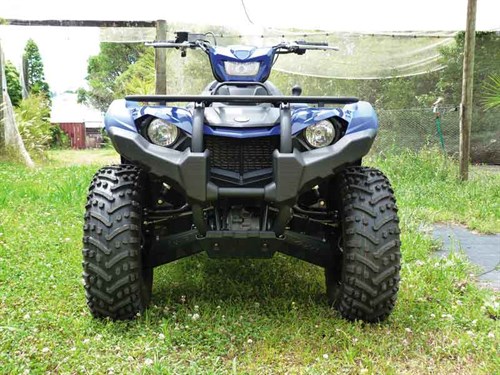 The front rack has a carrying capacity of 40kg and the rear has 80kg. Our load, by nature of its shape, would have weighed-in under that but nonetheless provided a good idea of the machine's load-carrying capability.
With the ATV loaded and ready to go, I placed one foot on the large footwell and was easily able to throw the other leg over the seat without any hint of my leg being fouled on the load placed on the rear rack.
While it's fair to say that I wouldn't be the largest-framed rider who would ever operate an ATV of this size, there was a ton of room to mount and dismount, and for taller, larger operators to get on and off with ease, courtesy of the extra-large footwell and long comfortable seat.
Suspension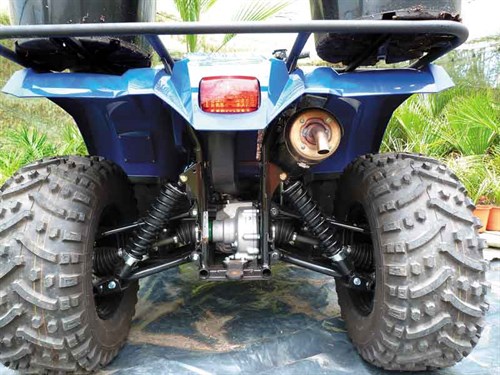 One of the first things to impress me about the Yamaha Kodiak was the comfort it provided, both in riding position and the smoothness of its suspension. Speaking of suspension, I have to say that while I never really got to put the Kodiak's long stroke suspension to any meaningful use on this occasion, the close-up photo of the front suspension gives an indication of its beefy nature.
Having carried out the jobs with the chainsaws and posthole borer and delivered them safely back to the shed, it was apparent that this workhorse had handled the task as if it had no load aboard at all, which left me lamenting the absence of rainy weather to soften the terrain.
Small yet big enough
Determined to find a job to test the Yamaha Kodiak mettle, I looked around for some other way to put it to test and spotted my standard-size 6x4 foot car trailer. I wondered if the machine would fit on it, which it did with ease. This latest Yamaha Kodiak has a heavier-duty chassis with a wider track and a 600kg towing capacity.
I figured it would be interesting to see how it would handle towing the 300kg trailer up and down a few hills. Just to make things a little more interesting, I loaded a 200-litre drum and filled it with water, giving us an all-up weight of around 500kg.
This job had the twofold purpose of setting a test for the machine and of providing some much-needed nutrition to a recently planted commemorative tree that was starting to wilt in the recent heatwave.
I did think that asking an ATV of this size to drag half a tonne (plus its own weight of 295kg) up and down slopes of around 20 degrees would be asking a bit much, but the task was handled with ease, without the need to shift to low range or activate the push button four-wheel-drive function.
At a tad under 450cc, the engine's capacity is actually 421cc and is fuel injected. There was plenty of power to carry out any task I asked of it on the day.
Not only did it tow a load that was fairly close to its rated capacity up steep gradients but the engine (along with Yamaha's Ultramatic ATV drive system) also did a great job of preventing the trailer from pushing the unit on the downhill runs, where I barely needed to touch the brakes.
Features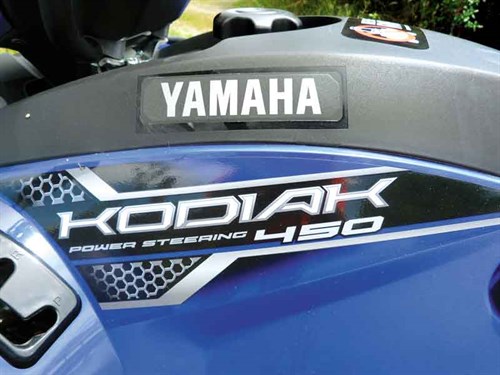 Right from the moment I threw my leg over the Yamaha Kodiak, I knew I was in for an enjoyable day's ride. All the controls are positioned perfectly for someone of my size (I'm 165cm tall/short and weigh 72kg).
Steering the ATV was easy, thanks to electronic power steering (EPS) – a feature I found particularly handy when needing to back the trailer into a tight spot.
Naturally, it would depend on the situation the purchaser intended to use the Yamaha Kodiak in as to whether they bothered to fit rear-view mirrors or not. In this instance, where I didn't have any mirrors, I had to turn my head and operate the throttle with the thumb of my left hand – a task that would have been nigh on impossible without the benefit of power steering.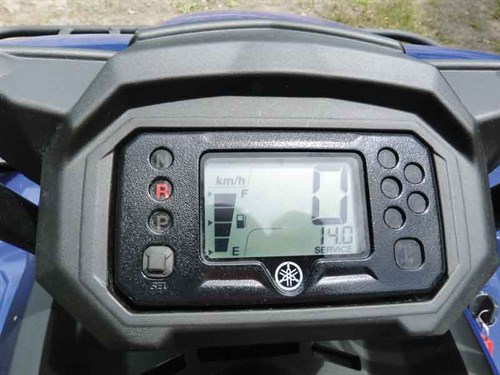 I particularly liked the large LCD digital dash, which was easily readable even on a scorching bright summer day. However, I would have liked indicators to inform me when the machine was shifted to high and low range to accompany the neutral, reverse, and park indicators on the display panel.
The shifting lever for these functions was on the left-hand side as it would normally be in a car or truck, but the raised H L N R P beside the lever was difficult to see – the solitary niggle I had at the end of the day.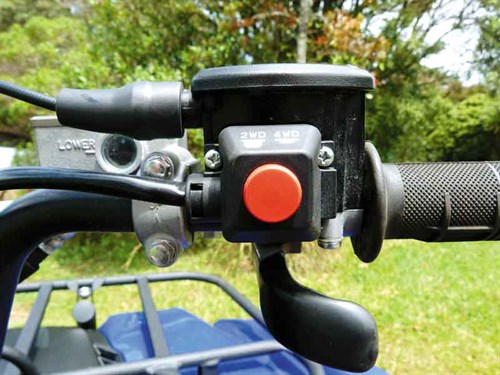 Shifting from 2WD to 4WD is carried out with a simple push of a button situated on the right handlebar, with a 4X4 icon illuminating when four-wheel-drive is activated. Both the Yamaha Kodiak 450 and 700 are fitted with three headlights: one sits amidship and turns with the handlebars and two conventional car-type lights are tucked in behind the bush bar.
This is a handy feature, which still gives forward lighting, even when the front rack is carrying a load obscuring the handlebar light. A mid-mounted tail/stop light is also part of the standard package. A feature I thankfully didn't get to use, which is incorporated in the design of the tow bar, causes the tow bar to shear if the trailed implement overturns, preventing a rollover of the towing vehicle – a nice safety feature indeed.
Verdict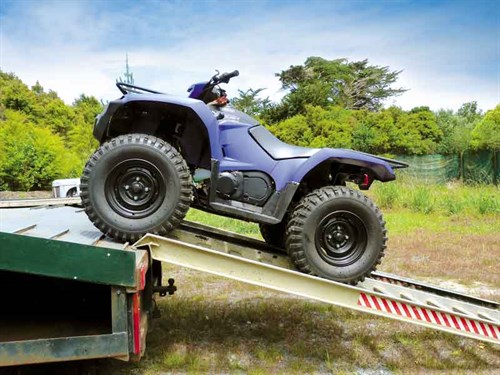 The Yamaha Kodiak 450 proved its versatility in transporting a host of everyday tasks, including towing tow a trailer with 200 litres of water among other chores. While any of these jobs could have easily been carried out with the trusty old tractor, it would have meant disconnecting whatever implement was attached to the tractor at the time.
The ATV was ready and waiting to be put to work at a moment's notice. And not only that but it's also compact enough to be exceptionally manoeuvrable and is quick on
its feet as well.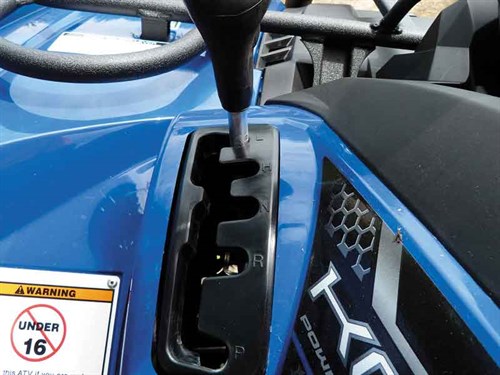 It's ideal for all manner of jobs on a working farm, but I was particularly impressed with the smoothness of the changes with shifting through the transmission ranges. I managed to get it up to 35km/h on a short length of track, with plenty of speed left for anyone with greater distances to cover.
With tons of room for getting on and off (even with a load on the rear 80kg-capacity rack), once seated, I felt that I could've sat there all day with absolutely no complaints. Also, the suspension gave a smooth ride, with the extra-wide footprint providing a feeling of stability on slopes. While the test ATV wasn't fitted with a winch, all Yamaha Kodiak 450 and 700 models are pre-wired for this function.
Yamaha Kodiak 450ATV Specifications
Engine capacity: 421cc
Fuel type: 4 stroke petrol
Fuel system: Injected
Front rack carrying capacity: 40kg
Rear rack carrying capacity: 80kg
Steering: EPS electronic power steer
Transmission: Ultramatic CVT
Towing capacity: 600kg
Rear tyre size: 25x10x12
Front tyre size: 25x8x12
Wet weight: 295kg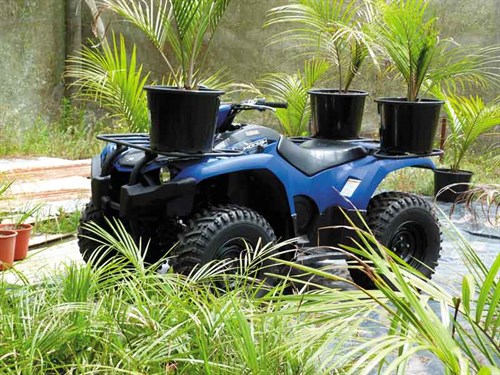 Pluses
Smooth CVT transmission, including park mode
Powerful four-stroke petrol engine
Heavy-duty carry racks, front and rear
600kg towing capacity
Safety shear-point tow bar to prevent ATV rollover
Easy-to-read dash
Comfortable seat
Large footwell for easy access
Electronic power steering
3 powerful headlights
Minuses
Gear change positions at shift lever a little hard to read
Read more farm machinery tests and reviews on Farm Trader.
Keep up to date in the industry by signing up to Farm Trader's free newsletter or liking us on Facebook