Test: Claas Arion 460
---
This year sees the release of a redesigned Claas Arion 400 range. Farm Trader tests the Claas Arion 460 to find out what's on offer.
The Arion 400 range has been primarily designed as an all-rounder and loader tractor and so was comfortably at home on the day of the test loading a mixer wagon with grass and maize silage.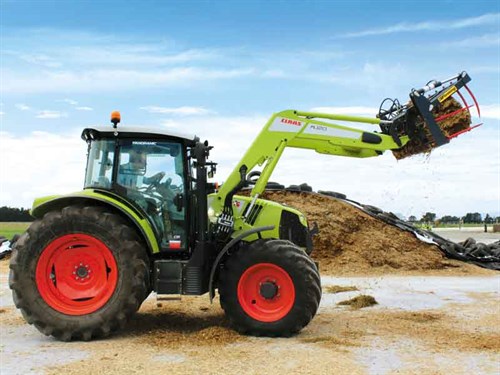 Engine
The power plant under the bonnet sees an interesting change for Claas with the use of a four-cylinder. 4.5-litre FPT (Fiat Powertrain Technologies) engine with an intercooler and a turbo charger to deliver the max rated 140 horsepower.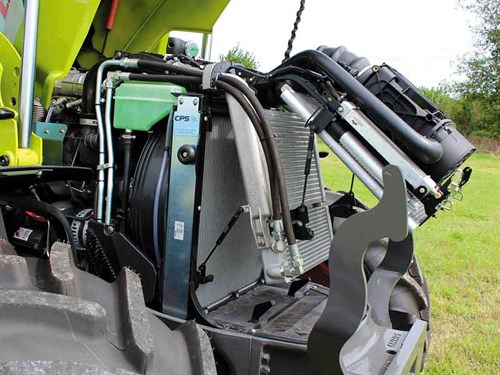 Although we were only loading a mixer wagon on the day of the test, most reports I've seen on this engine say that it is very responsive and performs exceptionally well on the dyno and a range of other tests for power and efficiency.
To meet Tier 4 final emission standards, Claas has opted to solely use SCR AdBlue with a 22-litre tank next to the 190-litre fuel tank. While it is good to see the use of a single simple technology to meet the emission standards, for many, the need for AdBlue on-hand might be a little annoying, but it's something we now have to accept on most modern tractors.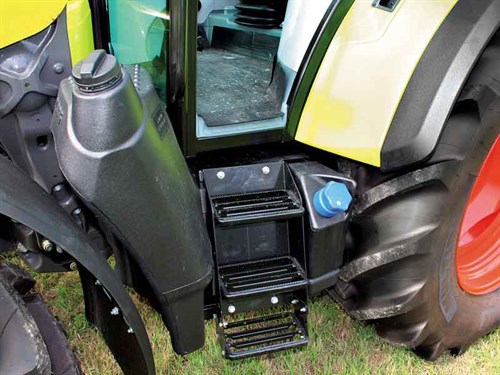 European laws have again stifled us, with the large, new, and improved single-piece bonnet that requires a key or flat tool to open it. However, when open, it lifts clear of the engine for easy access. An impressive cooling pack opens out on gas struts and is simple to unlatch for excellent access for cleaning.
As you would expect from an FPT engine, service intervals are pushed out to an impressive 600 hours on the engine and 1200 hours on the transmission. Like most manufacturers, Claas suggests genuine oils should be used and that the engine should be serviced at least yearly if clocking up less than 600 hours.
Transmission
There is a choice of either a 16-speed quadrishift or a 24-speed hexashift transmission. Both will be familiar to previous Claas owners and are well proven. Essentially, they are much the same – one has four ranges of four gears and the other four ranges of six gears. Both share all other features. The Arion 460 I tested was running the quadrishift gearbox, which was more the suitable for the tasks at hand.
This is essentially a full powershift transmission with no need to use the clutch at all, even when changing ranges. Just tap the short gear lever forward to change up a gear or hold it forward to jump up a range. It's nice and simple and also speed matches to the optimum gear when changing ranges.
The quadractiv and hexactiv automatic mode give two driving choices. In the field position, it automatically shifts up and down gears in the range as required, and in the transport position, it changes through all gears and ranges in the gearbox as required. It's great to see this feature is customisable and that the trigger points in engine rpm or PTO can be set on the CIS monitor (more on that shortly).
Another impressive new feature is what Claas has coined as 'smart stop'. This can be turned on/off. When it is on and the brake pedal is pushed, the tractor electronically disengages the clutch to stop. When you take your foot off the brake, drive is re-engaged. This works particularly well for loader work.
Operating environment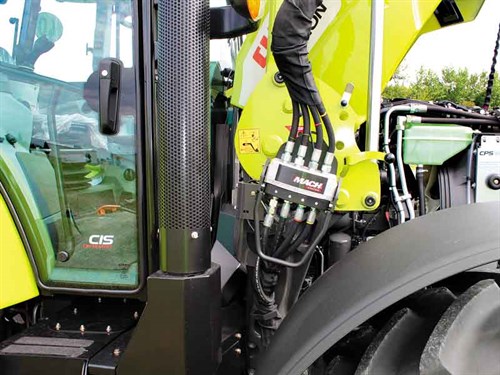 The new six-pillar panoramic cab is one of the most noticeable changes to this Claas redesign. The large single-piece front windscreen joins almost seamlessly without any cross member, with a decent-sized sunroof giving impressive visibility both forwards and upwards. This is ideal for high loader work.
A full sliding visor slides down to block the sun when required. The mid pillars are slim to minimise the loss of visibility. The easily managed door still has plenty of width for easy access, and rounded windows at the rear corners also offer great visibility to the rear sides, while still allowing a decent-sized rear window.
The passenger seat is comfortable without impeding access and has a useful chill box under underneath with space for a 1.5-litre bottle and snacks. The model tested featured mechanical two-post cab suspension at the rear of the cab, which I found more than adequate. As an option, these models can also be fitted with PROACTIV front axle, which gives around 90mm of travel.
Controls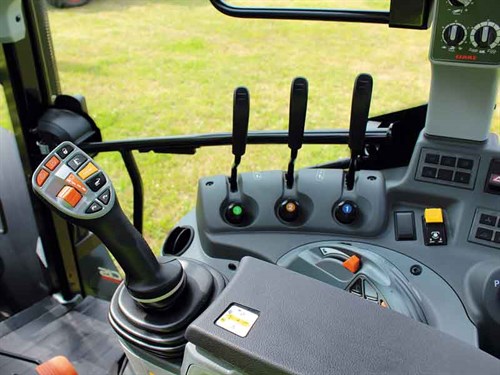 Controls are well laid out with many on the multifunction joystick on the right-hand armrest used to control the loader. The armrest also has buttons on the top that include gearshift, linkage, engine speed controls, and customisable multifunction buttons. Any controls not found on the joystick are still within easy reach on the right-hand console, including the mechanical remotes and four-wheel drive/diff lock.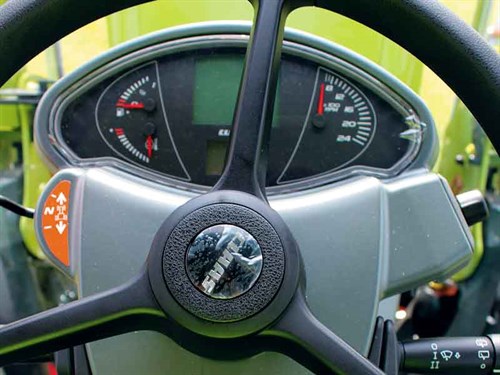 The CIS screen on the right-hand front pillar has been upgraded to a seven-inch colour screen. This displays information such as the direction of travel, gear selected, linkage height, and forward speed. More importantly, it gives access to change settings such as smart stop on/off, flow rates on the electronic spools, and whatever the F3/F4 buttons are set to control. There is also a simple headland management system that can be programmed as well as preset engine rpm buttons.
Hydraulics and linkage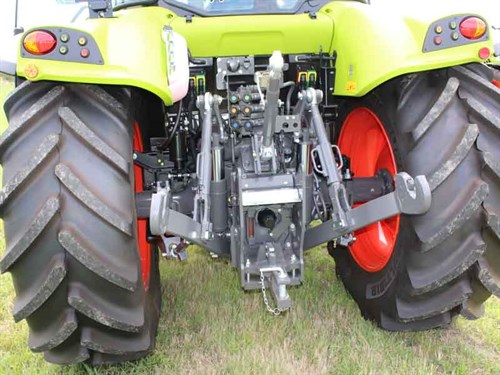 First impressions around the back end of the Arion are that everything is well laid out and uncluttered. Three sets of mechanical remotes are standard with an option for a fourth. It is great to see improvement here; they are stacked in pairs on the left-hand side and are colour-coded to match the levers inside the cab, making it simple to couple up external hydraulics. Although, it would be nice to see easy release couplers found on larger models.
All the remotes have four selectable positions: float, neutral, and pump in either direction (which is great to see) but only one has an adjustable flow rate. Two mid-mount valves are used for the loader and are electronically controlled via the joystick in the cab.
Flow rates are adjustable on the CIS monitor, which is useful when setting the loader up to suit the operator. Interestingly, the tractor runs three hydraulic pumps. A 42 litre per minute pump is dedicated to the steering and brakes while two others 57 litre per minute and 43 litre per minute power the loader and three point linkage respectively. These last two pumps can be combined at a push of a button to speed up the loader and hydraulic circuits.
The three-point linkage uses cat 3 quick link arms and has an impressive lift capacity of just over five tonnes, which should be more than ample. The well-designed top link holder makes it easy to stow. As well as the standard clevis drawbar hitch, there is also a pintle hitch that allows heavy trailers to be coupled as close to the rear axle as possible for the best weight transfer.
Loader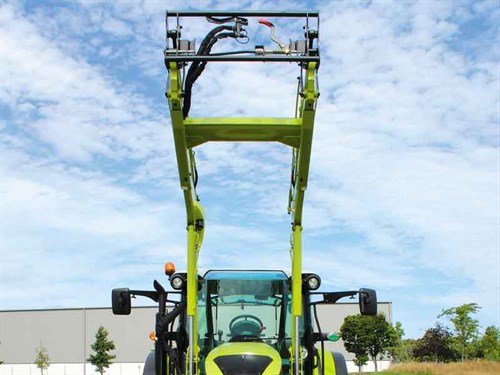 The Arion 400 range is built to be fitted with a loader. The engine block and transmission are designed and built stronger, so loader brackets can be bolted directly on to them. As standard, these tractors come with a factory fitted Claas FL120 loader, which is well built and fits the tractor well.
There are also some great features built into it, such as boom suspension, a third service, and a MACH quick coupler for hydraulic hoses. Although not fitted, hydraulic self-levelling is available as an option or retro fit that simply sees another ram added. 
The loader uses an electronic mid mount valve and an electro pilot joystick to give smooth control over the loader movement. The flow rates, and therefore the speed of the loader actions, are easily adjusted from inside the cab to suit the operator.
F3 and F4 buttons on the side of the joystick control the third service of the loader and are configurable to a variety of different functions. The most impressive in my opinion is the ability for F4 to be set as forward/reverse, which is great when using the loader.
Verdict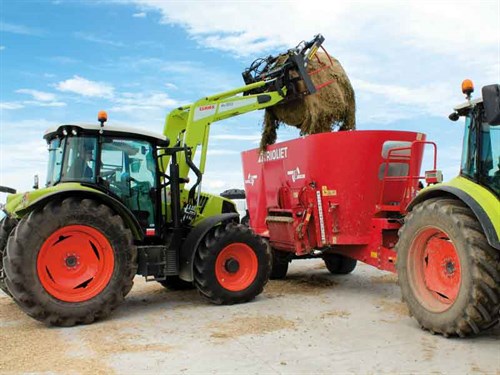 Claas has certainly made some interesting changes on the new models, but overall, they will still be familiar to pervious Claas owners and operators. The use of an FPT engine is interesting and does provide a simple way to meet Tier 4 final standards with just AdBlue. The cab is where the most notable changes are found with the panoramic front windscreen allowing impressive visibility when using the loader.
Clever features built into the controls (such as smart stop, customisable buttons on the loader joystick, and an improved CIS monitor that is easy to navigate) make this a great all-round package that I'm sure will prove popular with many farmers and contractors around the country.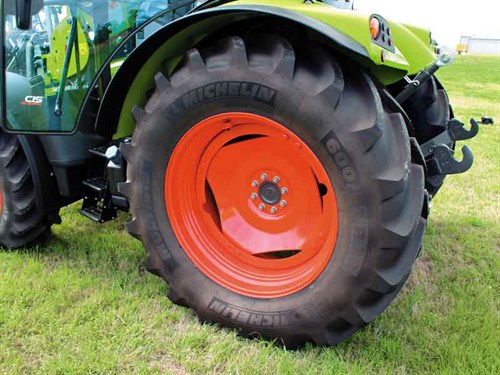 Claas Arion 460 Quadrashift Specifications 
Engine
4-cylinder, 4.5L FPT engine, intercooled turbo  
Rated engine power
140hp
Transmission
40km/hr, 16-speed powershift
Max torque 
570Nm
Fuel tank capacity
190L
AdBlue tank capacity
22L
Service intervals
600 hrs engine, 1200 hrs transmission
PTO
540, 540E, 1000 
Max hydraulic output
100L/min
Rear lift capacity
5750kg
Wheelbase
2525mm
Length
4444mm
Weight
5100kg
Standard tyres

Front: 480/65 R28

Rear: 600/65 R38
Read more farm machinery tests and reviews on Farm Trader.
Keep up to date in the industry by signing up to Farm Trader's free newsletter or liking us on Facebook