Review:John Deere 9620 RX
---
When the 9RX range arrived in New Zealand, Farm Trader was quick to grab the opportunity for a closer look
Although the 9RX range has been around overseas for a couple of years, the closest we've got to see it in action here is through photos and video. So when one finally arrived on our shores, at Drummond & Etheridge in Rolleston, Canterbury, I was lucky enough to get an up-close look and drive of the massive John Deere 9620 RX.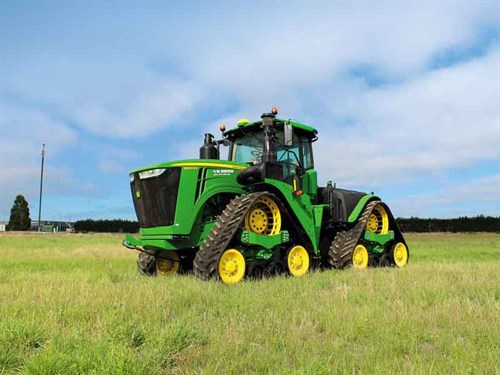 Although the machine has been snapped up already by a large contractor in North Canterbury, I managed a sneak peek and a brief drive before it left, and hopefully, we'll catch up with this machine again at its new home to find out just how it's performing for its new owner.
Pulling power
Under the bonnet is a massive 14.9-litre six-cylinder Cummins QSX15 engine, which is rated to 620hp and puts out a whopping 670hp at full boost with the help of a variable geometry turbo. Impressively, this engine also meets Tier 4 final emission standards using exhaust gas recirculation, a diesel particulate filter, and AdBlue. Fuel tank capacity sits at a huge 1500 litres, with filling points on either side to make life easy. The AdBlue tank holds 83 litres to keep the engine running clean.
The robust and reliable E18 transmission is a full powershift, giving 18 forward and six reverse gears without needing the clutch. An auto efficiency manager can be customised to a set forward speed and engine rpm to then control the gears depending on the load to minimise fuel consumption and deliver efficiency.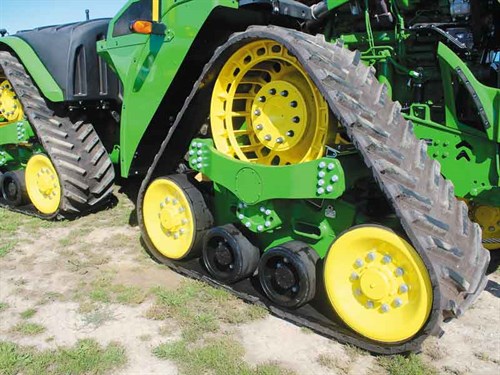 While John Deere has many years of experience building high horsepower articulated machines, the company hasn't simply slapped on tracks to an existing machine. A lot of thought has gone into the design of this tracked range. The drive sprocket is more than a metre in diameter, allowing more contact with the track lugs to ensure drive in all situations.
Only two mid rollers are used, which is said to give less vibration for a smoother ride, and the idlers are slightly higher than the mid rollers for less scuffing and a greater ability to climb over obstacles. As standard, the machine runs on 30-inch Camoplast tracks, which are said to exert only 7psi of ground pressure – not bad on a massive 28-tonne machine.

Hydraulics
Hydraulic flow rates are huge, as the machine is optioned with a high-capacity pump delivering a total output of 435 litres per minute. Five sets of remotes are standard with an option of up to eight, capable of delivering 160 litres per minute out of each set.
The three-point linkage on the rear uses a heavy-duty quick frame with CAT 4 pins and has a lift capacity of more than nine tonnes. Somewhat unusually for this size tractor, it is also fitted with a rear PTO as an option. It has a single 1000rpm speed and the power output is capped at 335hp.
Cab
The CommandView three-cab provides a comfortable environment for the operator. It is exceptionally quiet and has great visibility. Most importantly, in my opinion, it uses four-post cab suspension on spring-loaded shock absorbers on each corner, which gives the operator an amazingly smooth ride – something that can be a problem on tracked machines.
Controls are familiar, as they are the same as any machine from the 6R range upwards –simple and well laid out with everything found on the right-hand command arm and armrest. Electronic spools are at your fingertips as are the PTO and linkage controls. As you would expect, the functionality of the machine is customisable to the operator and task at hand. This is done through the touchscreen Command Centre display. 
Verdict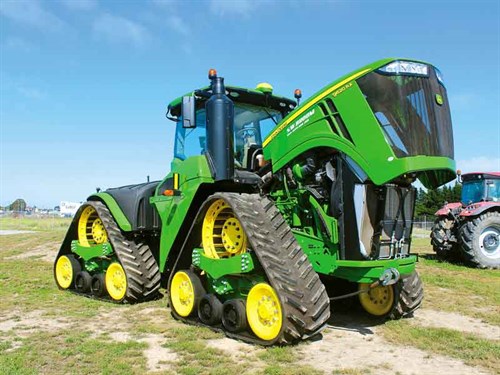 Overall, it's a highly impressive machine and great to see one first-hand in New Zealand. I'm looking forward to seeing it again when it's put to work at its new home.
John Deere 9620 RX specifications
| | |
| --- | --- |
| Engine  | Cummins QSX15 14.9L 6-cylinder |
| Max engine power | 670hp  |
| Transmission | E18 full powershift 40km/hr |
| Fuel tank capacity | 1514L |
| Hydraulic output | 435L/min, 5 set of remotes |
| PTO | Single speed 1000 rpm |
| Rear lift capacity | 9000kg |
| Wheelbase | 4154mm |
| Turning radius | 6.4m |
| Weight | 28,000kg |
| Tracks | Four 30-inch Camoplast Durabuilt Tracks |
Read more farm machinery tests and reviews on Farm Trader.
Keep up to date in the industry by signing up to Farm Trader's free newsletter or liking us on Facebook