Test: Fransgard GT300 AUS DKH
---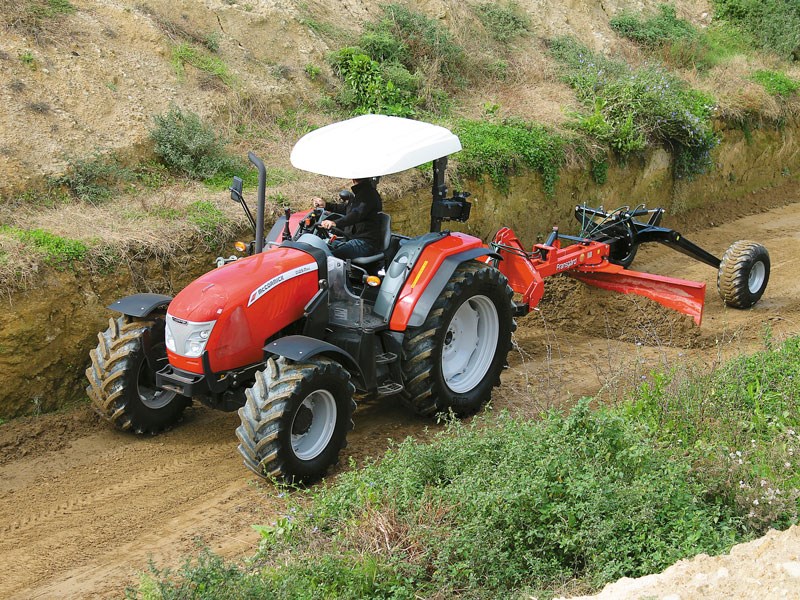 Carving a track with the Fransgard GT300 AUS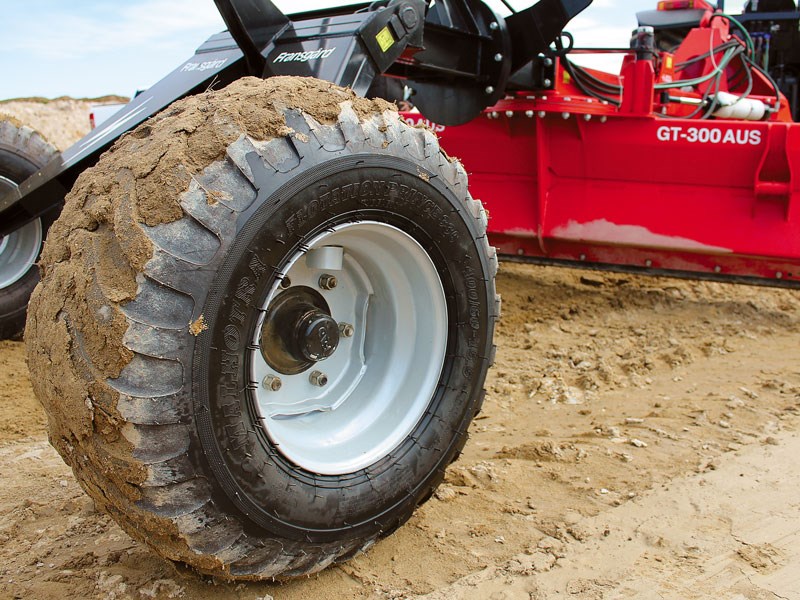 Large Ag tyres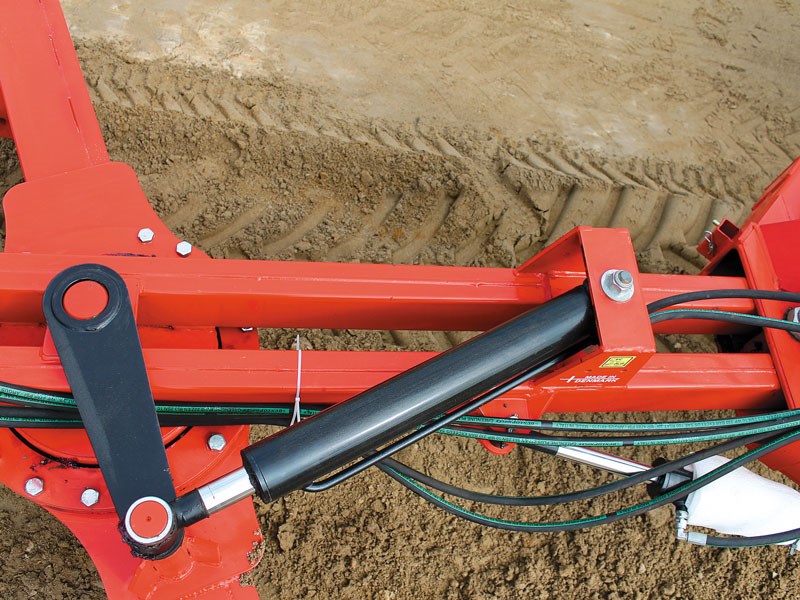 Dual box section frame for strength and and weight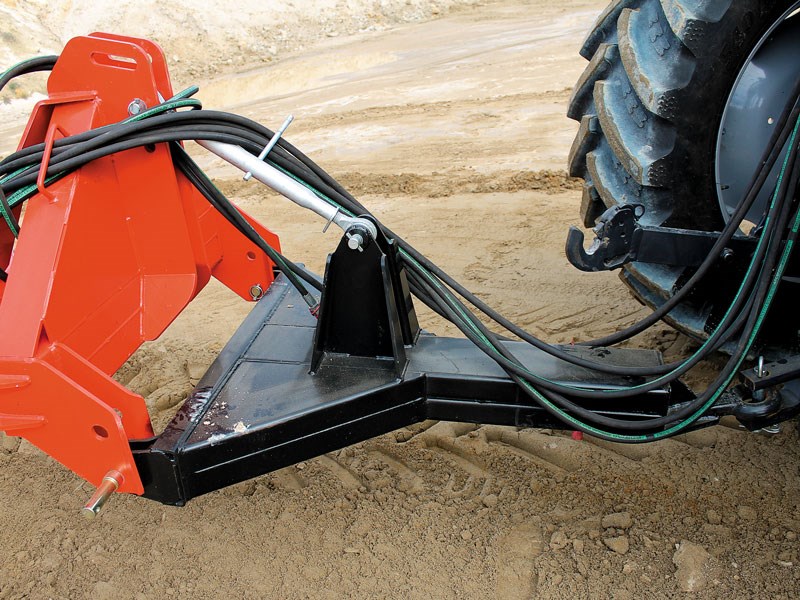 Drawbar or three-point linkage mounting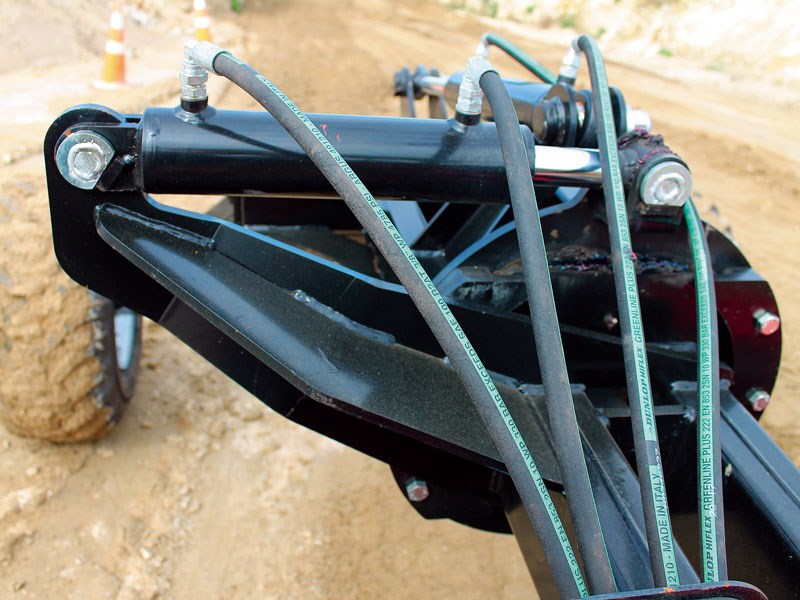 Hydraulic lines are well located to minimise possible damage

Farm Trader tests one of the latest Fransgard grader blades from Forestquip available in New Zealand
Grader blades have long been an essential bit of kit for New Zealand farmers, who often want to do their own earthworks or track maintenance and save money by doing the job themselves. Many older blades are still in use today.
They may be looking a bit worse for wear but remain functional nonetheless. However, given that farm sizes are generally expanding and these older blades are usually between 1.5 to two metres long, with manual adjustment, they are no longer efficient.
Getting the job done faster and better is a high priority for the modern family. Hydraulic adjustment makes modern grader blades such as the Fransgard GT300 AUS DKH more appealing, allowing the operator to avoid getting on and off the tractor to make minor adjustments.
While grader blades are still basic pieces of machinery, they are built to last through decades of hard work on the farm. The Fransgard range of grader blades manufactured in Denmark and distributed in New Zealand by Forestquip are proving popular with farmers and contractors for their versatility and performance.
Test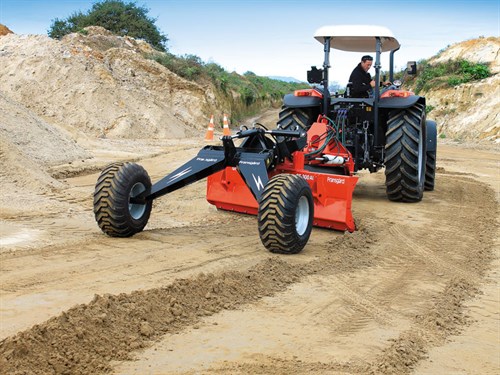 Hooked up to a McCormick 125 D Max supplied by Te Aroha tractors – the local dealer for Fransgard equipment – we headed to a local sandpit on the outskirts of Te Aroha.
With a working width of three metres, you can easily rotate the GT 300 AUS DKH blade enough to keep within road rules, avoiding adding overwidth panels. Fransgard blades range from two to 3.5m, with headstocks rated up to 200hp on the larger models.
The GT 300 AUS was designed to suit the Australian market, although, I'm sure it will find plenty of suitable applications in New Zealand as well. The basic design and concept is taken from the three-point linkage mounted 300 DKH, which is a heavy-duty model.
A drawbar mounting extension of around a metre has been added, with a screw out type adjuster to help get it level if using on different tractors.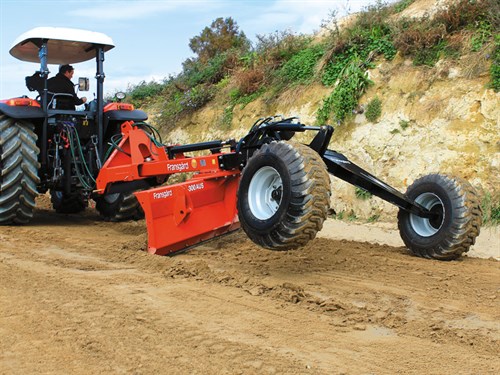 Getting the hydraulics set right will ensure you get the most out these blades. You need constant pressure from the hydraulics to lock the blade in position. Initially, we had the hydraulics in floating, so when the blade started to fill up with sand or soil, it started pulling back in line rather than continuing to dig, which is not ideal but was a rookie mistake at my end.
To help combat this, you could remove the drawbar mounting at the front and mounting on the three-point linkage, decreasing the range of movement between the tractor and blade. We did find the drawbar mounting excellent when used to tidy up and level a back filled area.
The blade's manoeuvrability for turning was very obvious at the end of each run. I like the 700mm blades used on the Fransgard, as it allows a good volume of material to be shifted and has a potential for other uses where you would otherwise require a box scraper or scoop. Also, the moving component of the blade adjustment is further out of the way, meaning less chance for dirt to get in and do damage.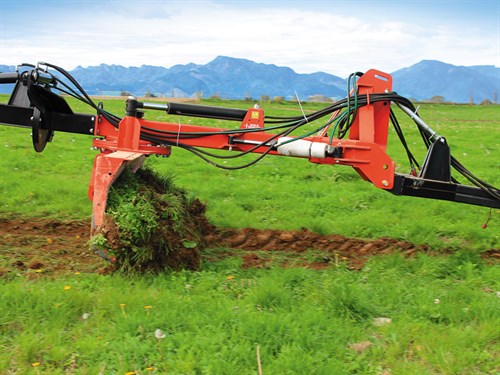 Fransgard uses a patented system in the turntable, with replaceable wear discs to avoid the play that eventuates over time. Adjustment of the horizontal pitch of the blade is controlled by a hydraulic ram mounted between the blade and large twin 400/60-15.5 transport and depth wheels.
Twenty degrees of movement either side is available. The blade can also be offset from the tractor – 60cm either side – which is useful for cutting in water tables or keeping the tractor off the fence when grading along fence lines.
Our test of the Fransgard GT300 AUS DKH involved hard-packed sand and metaled laneways, pasture-covered soil, and levelling across back filled ground. The machine worked well in these different conditions, proving its versatility.
Construction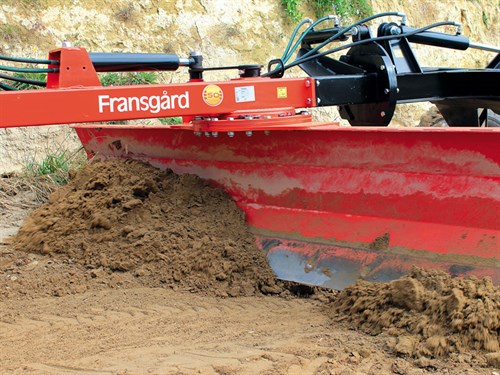 Weight is important in grader blades and other earthmoving equipment. Fransgard blades are some of the heaviest on the market, weighing in around 1200kg. Fransgard uses 700mm blades on their larger heavy-duty models and Hardox reversible cutting edges are used on all blades.
Twin box section steel is used for the main grader blade frame as well as the bolt on rear section. Large rear trailing wheels provide good ground following, allowing the grader to make a smooth job without leaving humps and hollows.
With today's technology, paint quality on agricultural equipment is excellent, and the Fransgard range ticks the boxes in this area. The blades are available in either red or green, direct from the factory, to match your tractor.
Options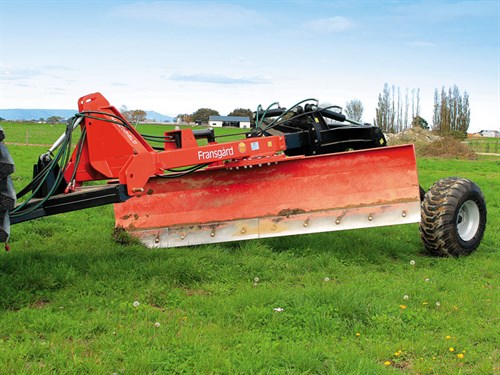 A range of options is available depending upon your planned usage. Having holes pre-drilled for blade extensions of 250mm to allow use as a box type scraper for levelling out ground adds to the versatility and suits road or housing development type applications.
The variety of blades includes a rubber option, which may appeal to dairy farmers with large feed pads that require cleaning without using gallons of water.
One downside of the full hydraulic functionality of the blade is the requirement of four double acting rear remotes. For example, our test tractor only had three remotes. The option of a valve splitter can get around this problem, and accumulators can be added to give breakaway protection and prevent damaging the blade.
Verdict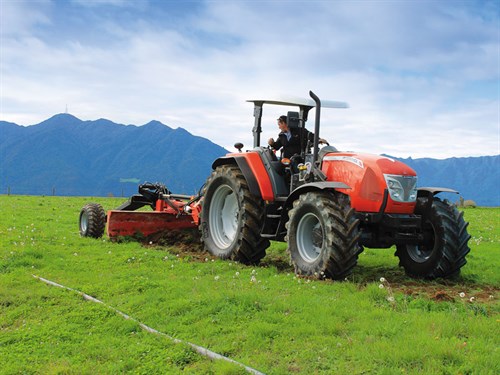 The new Fransgard GT 300 AUS DKH is a leap forward for grader blades. Danish-build quality and innovation go hand and hand and proves to be the case with these new blades. Their versatility was proved repeatedly throughout our testing, making them an ideal addition for farmers or contractors.
Fransgard GT300 AUS DKH Specifications
| | |
| --- | --- |
| Working width |  3m |
| Blade height | 0.7m |
| Blade Function | Hydraulic, 3 double acting rams |
| Height Control | Wheels with hydraulic raise/lower |
| Tyres | 400/60-15.5 |
| Mounting | Drawbar or 3-point linkage |
Pluses
Versatility, removable drawbar hitch to allow linkage mounting for greater control
Distance between mounting point on tractor/blade/depth wheels helps with grading smooth finish
Large mouldboard to allow shifting large volumes of soil, etc.
Reversible Hardox blade, standard, with plenty of options and accessories 
Replaceable wear plates on the blade turntable
Minuses
Four rear remotes are required to connect all functions of the blade. Two or three remotes are still quite common on many tractors around 100hp mark.
About Fransgard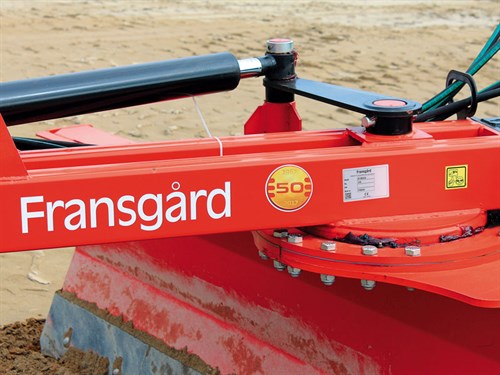 Fransgard is a family-owned business founded more than 50 years ago. Originally starting out with hay and silage equipment, Fransgard added forestry equipment later to their line-up.
The introduction of the tractor-mounted forestry winch was a winner and saw rapid growth of the company. Today, 80–90% of the product made in the Danish factory is sold throughout the world.
The Fransgard forestry range is available in New Zealand through ForestQuip. The Fransgard blades were also introduced to New Zealand by ForestQuip, and this year, the products from the hay and silage range will debut at New Zealand National Agricultural Fieldays®.
Keep up to date in the industry by signing up to Farm Trader's free newsletter or liking us on Facebook