Test: Mahindra Pik-up
---
The recently arrived Mahindra Pik-Up ticks plenty of boxes when it comes to affordability. Farm Trader test-drives the single-cab 4WD variant.
Mahindra's second-generation Pik-Up work and farm 4WD ute recently arrived in New Zealand, bringing a raft of changes led by a more powerful engine and a new six-speed manual gearbox.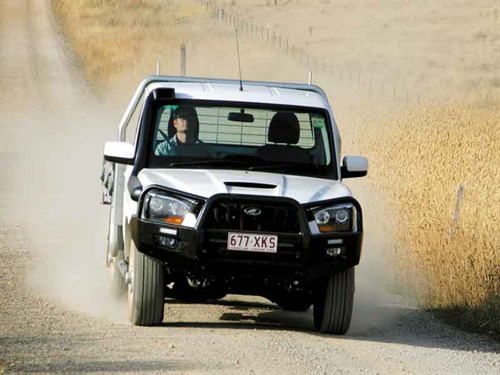 The cabin interior is new, too, and there's more equipment, more safety features, and a restyled exterior.
The Pik-Up was first sold in Australia in 2007 and in New Zealand in 2013, with much of the Pik-Up's appeal in its pricing. This single-cab 4WD in basic cab-chassis guise is priced at just a snip under $25,000 – a considerably lower price bracket, thanks to most other varieties of farm ute. Of course, at that price point, there is no denying the lack of extras.
However, it's not marketed around its bells and whistles but around being a basic functional work vehicle. All you need is to add a rear tray – either a genuine accessory tray or one from an independent supplier – and it's a handy workhorse on most size farms.
Climb aboard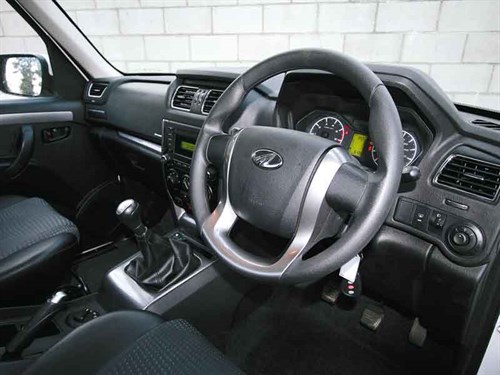 You can tell by looking at it that the Pik-Up single-cab is a work and farm 'truck' in the style of a LandCruiser 79 Series, rather than a budget competitor for the more 'car-like' utes. The Pik-Up has a tall and upright cabin.
It's also a fair step up into the cabin and, while the standard sidesteps make that easy enough, there's no grab handle to provide extra assistance. 
Once inside the Pik-Up, you'll find a cabin that is spacious, airy, and comfortable. There's no reach adjustment for the steering wheel (only tilt adjustment) but the seats are well shaped and the upright driving position provides excellent vision for the driver.
The new dash also brings a more modern and upmarket feel to the Pik-Up and the interior has a neat finish overall.
Behind the seats is a good amount of space to carry items such as a small bag, although more stowage recesses for things such as phone, wallet, and keys, and for drinks or water bottles would be welcome.
Test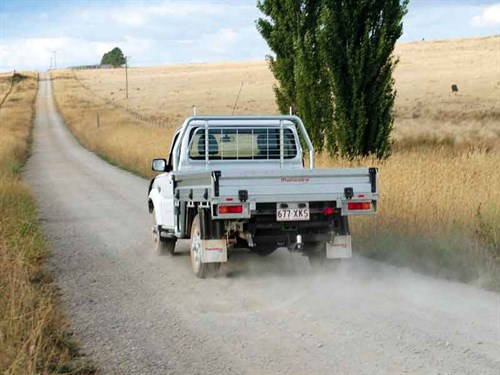 Fire up the engine and the first thing you'll notice is just how quiet it is. Once under way, the engine remains quiet and helps bring a newfound sense of refinement to the Pik-Up. The engine is also willing and energetic with a good spread of power across the rev range.
With a maximum power of 103kW (90kW in the outgoing model) and 330Nm of torque (previously 290Nm), the Pik-Up still isn't a rocket ship but is nevertheless relaxed and effortless and has no trouble holding highway speeds even on hills with little need to downshift. Even on the motorway, an environment the Pik-Up is least designed for, it gets along nicely indeed.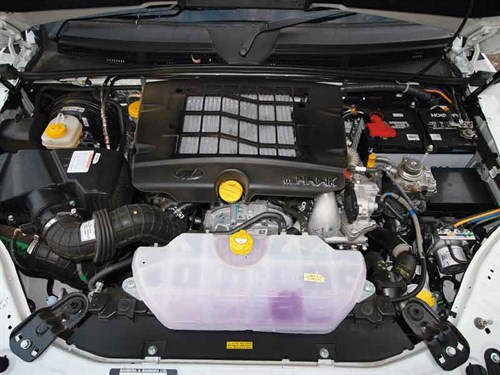 It boasts good fuel economy, too, unless you really press on at highway speeds where the blunt-nosed aerodynamics don't work in the Pik-Up's favour. Overall, the test fuel consumption was just below 10 litres per 100km, so there's plenty of range from the 80-litre tank.
In all, the engine is helped by the new six-speed manual (previously a five-speed) that provides a low enough first gear for gentle, no-throttle take-offs and a sufficiently tall top gear for relaxed highway driving.
The Pik-Up is a typical light commercial vehicle inasmuch as it's built on a ladder-frame chassis and has independent front suspension with a 'live' or solid axle and leaf springs at the rear.
On the road, it steers and handles far better than you'd expect of a 'farm truck', although the unladen ride is on the firm side.
In the paddock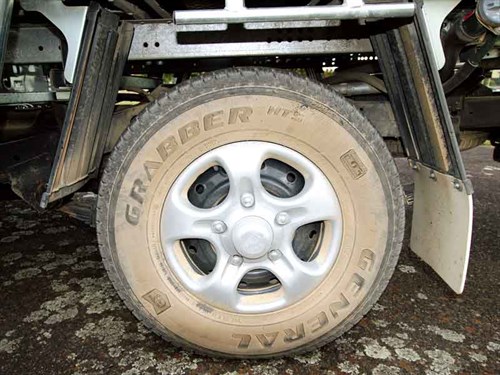 The Pik-Up offers good ground clearance for paddock work and has a major advantage in that its rear differential lock engages automatically when it senses wheelspin and works in both 2WD and 4WD.
It also has electronic traction control, which remains active on the front axle if and when the rear locker engages – a feature that most 4WD utes with their driver-switched rear diff locks don't enjoy.
For paddock work, first gear high range could be a bit lower, although low range is easy enough to engage (via a rotary dial) and provides a significant reduction and excellent crawling ability.
The Pik-Up comes standard with highway-pattern tyres that work well enough in all but mud, while the high profile (75 Series on 16-inch steel wheels) means less potential of tyre sidewall damage from hidden rocks and the like.
Load carrying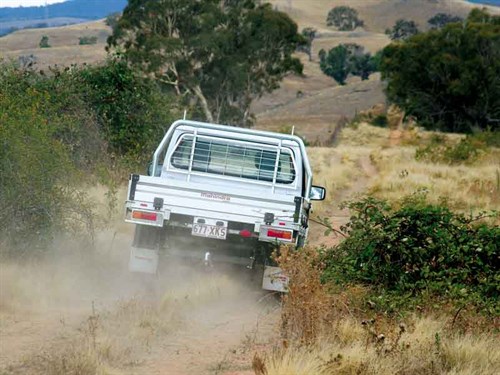 With a gross vehicle mass of 3150kg, the Pik-Up single-cab has a payload around 1170kg once you have fitted a tray. Take off the weight of the steel bull bar and tow bar fitted to our test vehicle and the weight of the driver, and you still have a payload in the order of 1000kg.
We threw 800kg in the tray (our standard test payload) – above the axle and not against the backboard – and the Pik-Up hardly flinched. The rear suspension dropped a mere 45mm.
On the road, there's no nose-up, light-in-the-steering feel and the handling was acceptable. And a much more compliant ride, of course, then when unladen. The engine also did a notably good job of hauling that load, even if you could feel there was a significant load on board.
Having gained a good reputation for reliability, the Pik-Up certainly looks robust and solidly built in terms of its chassis and suspension.
Nice detail touches include gas bonnet struts and a manual fuel-pump prime, although the lack of a lock for the fuel cap isn't ideal.
Verdict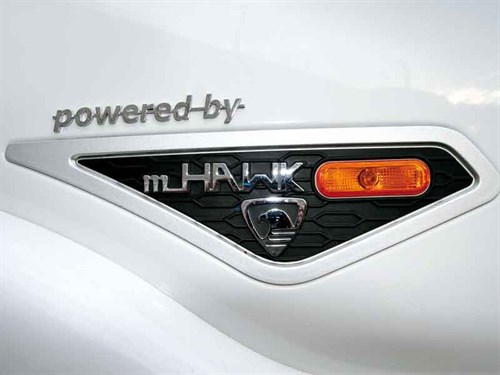 For anyone after a 4WD farm or work single cab, the Pik-Up makes a convincing 'buy me' argument given what it does, how it does it, and how much you pay. It does all the basics well and is difficult to criticise except in detail. The Pik-Up also doesn't lack for equipment despite its low price. On the negative side, the tow rating is only 2500kg at a time when most utes offer at least 3000kg or 3500kg.
The Pik-Up also hasn't been ANCAP safety rated at this stage. The previous model achieved a three-star rating. Since that time, the Pik-Up has gained a number of safety features, including electronic stability control, traction control, and rollover mitigation, so the new one should do better if and when tested.
The Mahindra story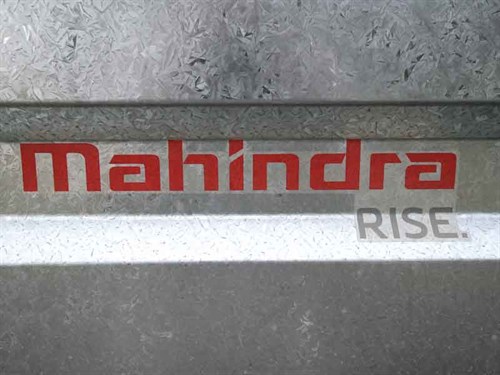 Just in case you thought otherwise, Mahindra is no small fry or johnny-come-lately. Headquartered in India, it's a giant global conglomerate employing more than 200,000 people in more than 100 countries.
Among other things, it's the world's largest producer of tractors (by volume) but has interests in things as diverse as aerospace and defence.
The company was founded in 1945 and soon after started assembling Jeeps under licence  from Willys-Overland. Mahindra is available in New Zealand through MD Distributors and the range includes the Mahindra Pik-Up, the seven-seater XUV 500 2WD, and the Mahindra range of tractors (40hp–85hp).
Mahindra Pik-Up specifications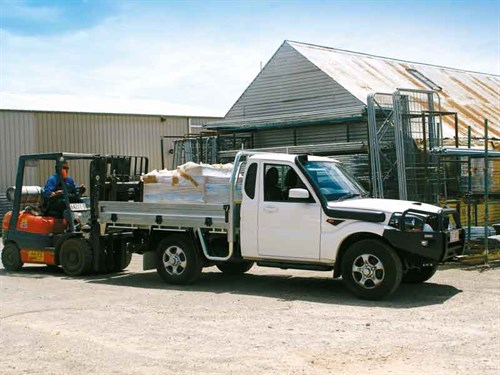 Engine: 2.2L 4-cylinder turbo diesel
Max. power: 103kW @ 4000rpm
Max. torque: 330Nm @ 1600–2800rpm
Gearbox: Six-speed manual
4WD system: Dual-range part-time
Front suspension: Independent/torsion bars
Rear suspension: Live axle/leaf springs
Tyre/wheel spec: 245/75R16 111S
Unladen weight: 1780kg (no tray)
GVM: 3150kg
Payload: 1370kg (minus tray)
Towing capacity: 2500kg
GCM: 5150kg
Overall length: 5195mm
Overall width (no mirrors): 1820mm
Height: 1860mm
Wheelbase: 3095mm
Turning circle: 13.4m
Ground clearance: 210mm
Fuel tank capacity: 80L
ADR fuel claim: 8.6L/100km
Test fuel use: 9.8L/100km
Keep up to date in the industry by signing up to Farm Trader's free newsletter or liking us on Facebook