Test: Can-Am Maverick Trail 1000
---
The Can-Am's Maverick Trail 1000 is quick through dense scrub and slim enough to fit on the back of the average Kiwi farm ute
In some US states, there is a '50-inch rule'. It means that, for general safety reasons, no recreational vehicle wider than 50 inches (127cm) is allowed on tracks operating under the rule.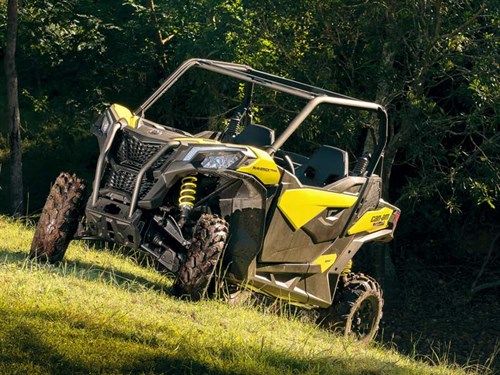 As a consequence, we have vehicles like the Maverick Trail 1000 and Polaris RZR, mini rally cars with gobs of power and all-wheel drive.
As far as we know, the Trail is the first 1000cc machine built for America's 50-inch trail systems. There's no practical requirement in this country for a 50-inch wide 4WD vehicle, still, we have to admit, they are fun to drive, up to a point, and that if you live or move around in a densely wooded country with steep hills that alone could make one of these missiles useful.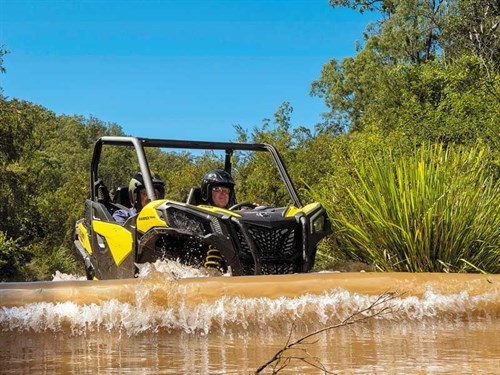 The Trail is a recreational people mover. It has a tiny cargo box at the back, with a load capacity of 136kg but limited use as a storage space for tools, dogs, or to be honest, anything larger than lunch. But that's neither a criticism nor a problem. You don't buy a Maverick Trail for carrying anything but yourself and anyone game enough to get in there with you.
Standard gear includes a comfortable cab with decent grab handles, a chassis with a full-length plastic bashplate, one of the most capable and easy-to-use all-wheel-drive systems in the industry, and enough rough terrain talent to keep you interested. It's also quick. Very quick.
Specifications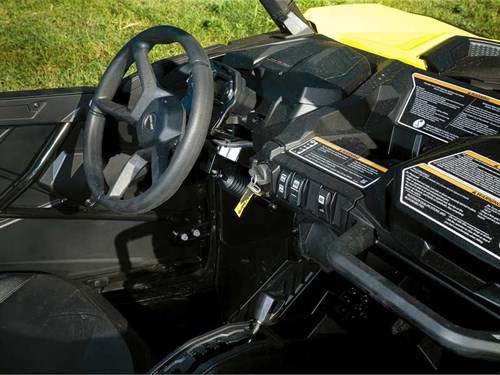 Okay, let's look at the specs. With a 75hp Rotax twin, this thing launches like a slot car and has a top speed of about 110km/h. We know that because the Maverick reached 110km/h before running out of space on the gravel road we use for top-speed testing. Given another 500 metres and it might have gone faster.
You don't need more power than this Rotax delivers. As well as a decent top speed, this buggy has plenty of hill-climbing torque. We can't imagine it bogging down in anything less than quicksand, and even under hard acceleration, there's virtually no wheel spin – another reason it launches so quickly.
One of the guys helping us with the evaluation owns a Defender and he said the Trail's centre of gravity felt better with the seats set low in the cab. It certainly feels that way when you're sitting in it; in fact, your bum gets wet in creek crossings while water enters through the floor.
The plus side, of course, is that stability is enhanced with a lower centre of gravity, at least to the point where you do something stupid and C of G is suddenly irrelevant.
The roll cage adds to the impression of a low seat height. So do half-doors with a top edge above shoulder height. An advantage in the high doors is that they aid in keeping your arms inside the vehicle should the bright yellow mozzarella become inverted.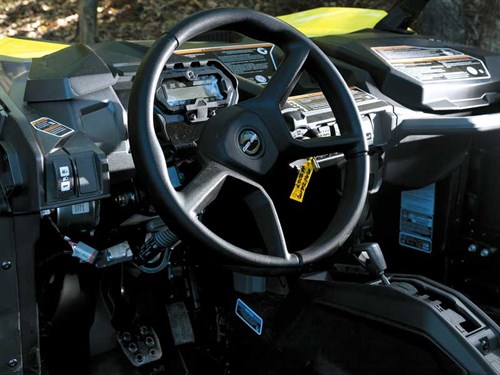 The cab itself conforms to Can-Am's current high standards in comfort and functionality. The gear selector finds the gears without scraping around in a barrel; the deep seats are comfortable and supportive and the steering wheel tilt-adjustable.
The transmission control and diff-lock toggles are next to the ignition key and headlight controls to the left of the steering wheel. The multi-function gauge is right in front of you between the wheel spokes.
The only thing lacking is rear-view mirrors. You gotta have 'em. You can't see much when reversing in this machine – thanks to the low seat height and tall doors – and it's difficult to twist your body in the seat to look behind you when you're strapped in. It needs mirrors. There's power steering on this model.
It has a nice feel to it, with a precise response and no feedback when the big gas shocks can't handle the buried treasure you just slammed into. We'd describe ride quality as firm but not harsh. At reasonable trail speeds, it copes with lumpy terrain pretty well, even with wheel travel limited by the 50-inch track.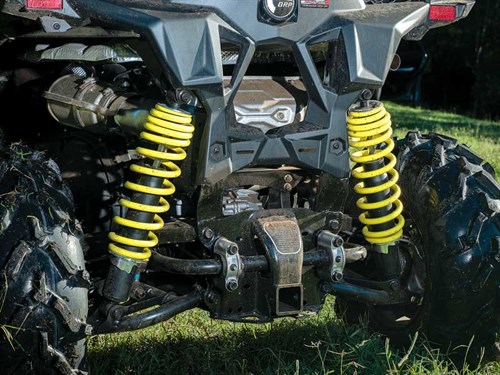 For a 4WD vehicle, we thought the turning circle was okay, too, even though Can-Am has lengthened the wheelbase to 90.6 inches (300.5cm). The long and short of it is that the Trail would be a comfortable vehicle for several hours at a stretch, and that's good news. Brakes are 220mm discs at each end.
Pedal response feels a little spongy but, in fact, the stoppers work very well. Engine braking probably isn't a big issue with a vehicle like this. Nonetheless, the big Rotax V-twin takes care of business, as usual.
Can-Am press material says the Trail has some sort of electronic descent control though we could find no technical explanation of what that actually is. In any event, on descents, the Trail's engine braking seems to kick in at around three kilometres per hour and the Rotax keeps it between there and six kilometres per hour all the way to the bottom of the hill. It's safe and feels good.
Verdict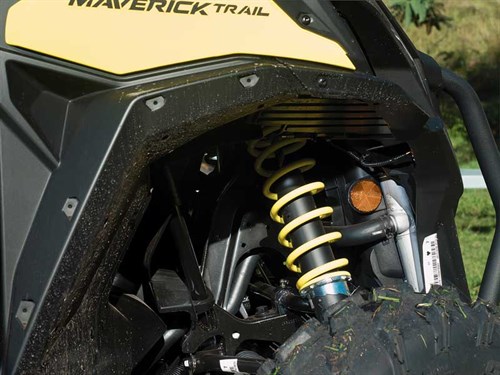 This particular Maverick – there are many – is a good proposition not for a broad acre operation but for anyone with a smaller property who wants a light, powerful, agile 4WD vehicle to get around in. You won't carry large loads in it – it's not designed for that – but it will get you from A to B with a yellow blur and a rebel yell. Yee-haw.
Can-Am Maverick Trail 1000 Specifications
| | |
| --- | --- |
| Engine  | Rotax 976cc V-twin |
| Output | 75hp (55.9kW) |
| Injection | EFI |
| Transmission | CVT |
| Drivetrain | Selectable 2WD/4WD, Visco-Lok front diff |
| Front suspension | Double A-arms with swaybar |
| Rear suspension | Can-Am TTA |
| Front brakes | Dual, 220mm ventilated discs |
| Rear brakes  | Ditto |
| Front tyres  | 26x8x12 Carlisles |
| Rear tyres  | 26x9x12 Carlisles |
| Rims | 12-inch steel |
| LxWxH | 300.5x127x175.3cm |
| Dry weight | 611.9kg |
| Towing capacity | 680kg |
Keep up to date in the industry by signing up to Farm Trader's free newsletter or liking us on Facebook