Review: Case IH JXM 90HP
---
Farm Trader managed to score some time behind the wheel of the Farmall JXM, and came away impressed by the practical all-rounder
The Farmall range of tractors has been a staple of the Case IH brand for 95 years. It's something of an icon, and for farmers across the globe, Farmall has been a trusty workhorse, tasked with anything and everything on the farm.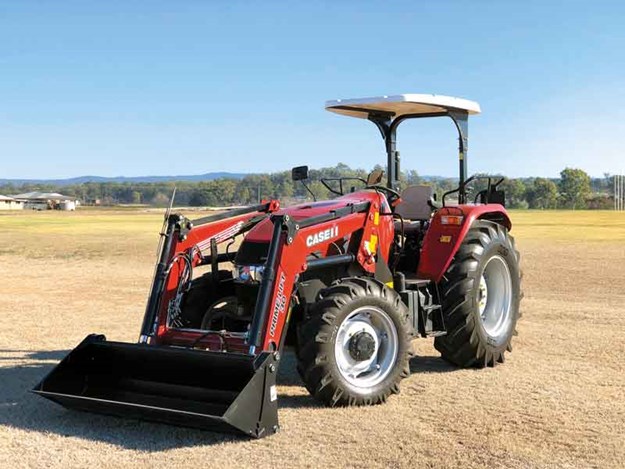 The new generation of Farmall – the JXM – joins the likes of the Farmall B, JX, C, and U, and we were given an exclusive first look and test-drive before its big debut at this year's AgQuip field days in Australia. Demo models of the machine have freshly arrived in New Zealand.
You won't see any fancy gizmos or GPS monitors on the Farmall JXM, but what you do get is a hardy all-round tractor that will complement farmers looking to include a utility tractor for more general-purpose work.
Engine
I'll let it be known early, the 90hp JXM was a blast to drive. Starting with the engine, the JXM 75hp offers a 2.9-litre turbocharged and intercooled three-cylinder FPT, while the 90hp variant (which we drove) has the 3.9-litre, four-cylinder option.
She's not going to set any land speed records, but a maximum road speed of 34.5km/h isn't too shabby. And the four-cylinder FPT engine on the 90hp JXM was grunty, providing ample power as we bummed around a paddock out in Gatton, Queensland.
Servicing the FPT will be a breeze, thanks to the efficient one-piece bonnet that is opened by a press of a button.
Gatton is some of the best farming country in the state, with many vegetable farms just down the road from our test site, which had me thinking that the 90hp JXM wouldn't look out of place at one of these operations; something echoed by Case IH Australia product manager Seamus McCarthy.
"Yes, definitely," Seamus says. "It also has the benefit of having a creeper transmission for when you really need to get down to those low speeds in operations like vegetable farming."
Transmission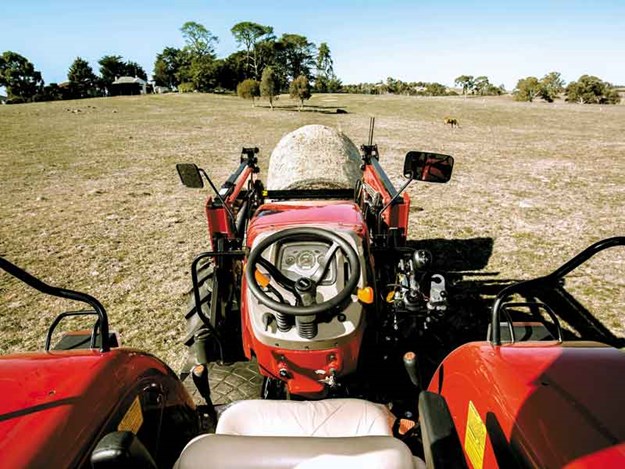 The transmission we used was the basic 12x12 mechanical synchroshuttle, but the JXM series does offer a 20x20 synchroshuttle transmission with creeper options or a 24x24 mechanical synchro synchroshuttle transmission with a splitter. While our machine didn't offer the creeper gear, it was still obvious that this was a jack-of-all-trades kind of machine.
The 12x12 synchro box was perfectly fine. The JXM has a hand throttle and foot throttle. While relatively stock-standard on tractors, personally, I find you prefer either one or the other, but strangely enough, both are convenient.
I found myself switching between the two without favouring or disliking either. Thumbs up there for the JXM.
But the real winner on the JXM is its hydraulic powershuttle. If you've got a loader on the front – which we did – the powershuttle will make loader work extremely easy when you're repetitively driving forward and reverse.
In regards to the PTO, both the 75hp and the 90hp models receive 540/540E PTO speeds. For the hobby farmer, I couldn't see you needing anything more than the 12x12 box. It's very simple to use, with a quality clutch. For farming operations such as vegetable farming or operations with cattle, I'd definitely suggest the transmission with the creeper.
Hydraulics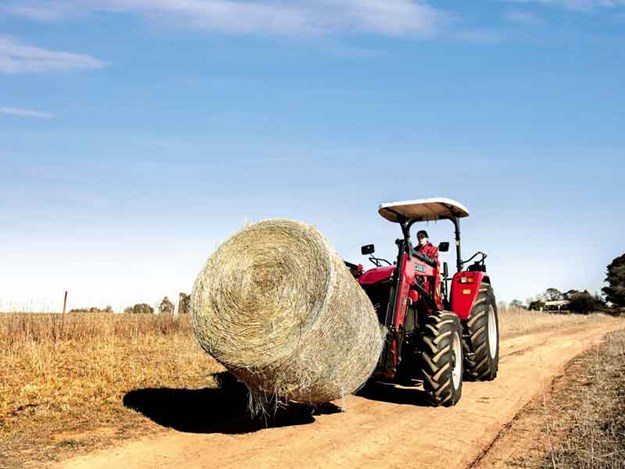 The JXM offers two remotes as standard with an option of a third. In terms of the hydraulics system itself, it offers 60 litres per minute flow, which will cover most implements.
While we didn't attach anything to the 90hp JXM, Case IH is confident that the JXM's power and hydraulic flow will comfortably pull a small plough, hoe or even a small square baler.
The JXM also comes with a three-point hitch capable of lifting and handling implements up to 2500kg, which is pretty impressive for a utility tractor. Hydraulic controls and levers are placed on your right-hand side.
Operator comfort
The first thing you'll realise when jumping aboard the JXM is how high you sit. For a value-line product, Case IH hasn't shafted us in terms of the materials.
They're never going to be Magnum series standard, but they're certainly quality for the price you'll pay: a comfortable seat, a quality dash, and same goes for the handle throttle and powershuttle that I mentioned before.
However, while you get fantastic visibility by sitting up high, my only criticism of the JXM would be the space between you and a few of the controls positioned on its flat deck floor. It's a bit of a stretch for my little arms, but I'm really only nit-picking there. I'd rather where they are than cramped around me.
Verdict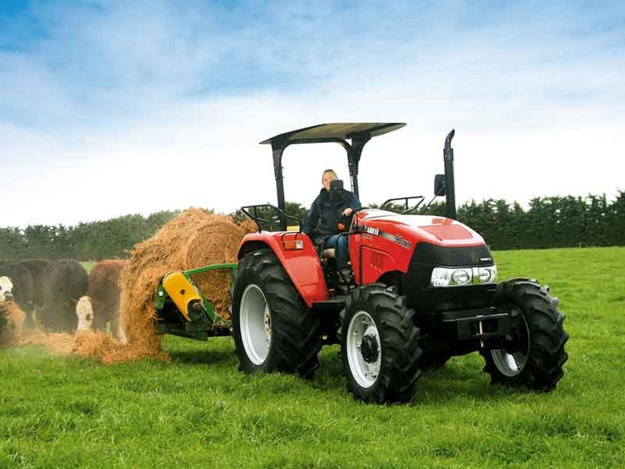 Case IH has a reason to be excited by the newest member of the Farmall family. It's put together a fun, well-built utility tractor from the company's Indian manufacturing plant. It's proven itself overseas, so why shouldn't it work here?
Like Seamus says, Case IH has always had tractors of this horsepower range but they've always come with a premium price tag.
"We're hoping it satisfies a lot of customer needs, and we're looking forward to getting out onto the market and looking forward to the opportunities the JXM will provide." The JXM is for the value-line customer who wants a basic tractor with a lot of capability "without burning a hole in the pocket".
Case IH New Zealand product manager James Perry says a small number of Farmall JXM 90s have been bought into the country to get properly tested out under New Zealand conditions 'by some of our more demanding clients to make sure they'll handle our conditions'.
"We intend to release them onto the New Zealand market early next year after the testing programme," he says.
Case IH JXM 90HP specifications
| | |
| --- | --- |
| Engine | FPT (Iveco S8000), Tier 3, 3.9L four-cylinder |
| Rated engine power  | 90hp |
| Transmission | 12x12 powershuttle, optional creeper |
| Torque | 340Nm |
| Hydraulic flow | 60L/min with separate steering pump |
| Fuel tank capacity | 90L |
| PTO | 540/1000  |
| Rear remotes  | 2  |
| Three-point linkage  | 2500kg lift capacity  |
| Ground clearance   | 415mm  |
Keep up to date in the industry by signing up to Farm Trader's free newsletter or liking us on Facebook