Cover story: Polaris Ranger XP 1000 HD EPS LE
---
If you're looking for power and load carrying capacity, the Polaris Ranger XP 1000 EPS LE could well be the machine for you. Farm Trader reviews.
Danny McCautrie and his family, who farm Willowburn Station in the South Island, know this situation well and have found a solution to some of these time pressures with the recent purchase of a Polaris Ranger XP 1000 HD EPS LE.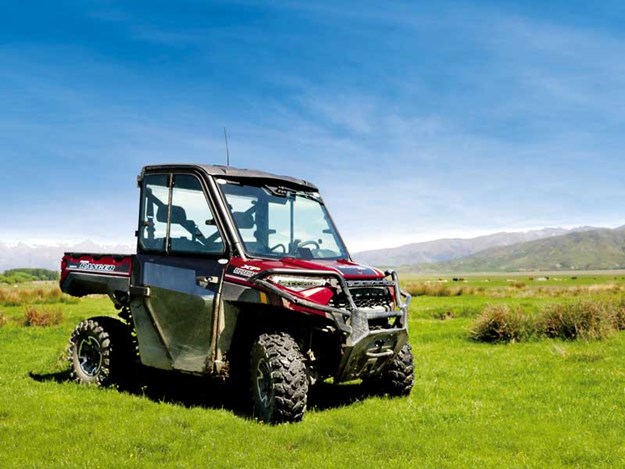 This limited edition model is Danny's fifth Polaris side-by-side, so clearly he's a fan. The brand has proven to be a rugged, dependable workhorse on his 2200-hectare sheep, beef, and deer property.
Located minutes from the township of Omarama, the gliding capital of New Zealand, the weather is not known to be fickle. It's pretty straightforward – in winter, she's mighty cold; in summer, the opposite, being relentlessly hot with dry heat. When we arrived to test drive the Polaris Ranger, it was a 27-degree day of heat – great for creating lift for glider pilots like Richie McCaw.
Danny has to get the jobs done regardless of the weather, and his latest Polaris model, with a full cab (doors, roof, and front and rear windscreen/panel) and a heater, helps to get the jobs done on those cold days a little easier. On hot days, the front windscreen pushes out for natural air conditioning, bugs and all.
When break feeding, Danny usually removes one door. This takes less than a minute and allows him to reach pigtail standards from the tray behind, putting up fences quickly and easily without having to climb off his side-by-side. While the LE in the title stands for 'Limited Edition', it could just as easily be for the word 'luxury'.
Geoff Gray and the team at Temuka Motorcycles worked with Danny to kit his Polaris up with all the extras that were going to be useful to his requirements, such as an extra front bullbar and light and a radio inside the cab.
With such a cracking bit of country to explore, we decided to borrow his workhorse and see for ourselves what the big Polaris petrol could do.
Transmission
A three-range belt drive transmission is the go-to for most manufacturers in the side-by-side market, and it's the same for the Polaris Ranger XP 1000 LE. A heavy-duty clutch and larger drive belts are among the improvements made for the 2018 model.
I found it could grab a little bit if trying to ease off slowly. Being belt driven, it needs the tension, so it worked better with more accelerator from the get-go. Three 4WD modes allow plenty of options – minimal ground disturbance in turf mode and the tightest turning circle, 2WD with the rear diff locked, or 4WD offering true All Wheel Drive for maximum traction to all four wheels.
Through the creeks, up hills, and around rocks, 4WD was the best choice for the job. The transmission three-mode throttle control is easily adjustable depending on what you're doing and the requirements for each job.
Unsurprisingly, Work mode is what I'd recommend for daily farm use, with Standard and Performance modes offering a faster throttle response. Using 2WD in conjunction with the Performance mode, over Standard or Work, made the Ranger XP a heck of a lot of fun with no trouble getting the power to the back wheels and just a small issue maintaining traction.
Danny is a fan of the Performance throttle control mode for zipping around the ewes. The XP comes with the Polaris Active Descent Control (ADC). This useful feature is activated at the push of a button on the dash.
You already have engine braking with the Polaris; leaving the ADC in will help pull up the machine coming to gateways or down steep hills with your foot off the accelerator. In High range, it isn't so noticeable; however, in the Low range, it slows the machine so much, you need to apply some gas again.
I liked the pull type handbrake in the dash over just a park lock in the transmission. This makes it easier to get back into gear, and you can leave in gear with the park brake on while opening a gate, saving wear on transmission by not having to change so often. For safety, it's best to put transmission in neutral or park when idling.
Suspension/handling
Suspension is hugely important for machines working off-road all the time. This is where the Polaris Ranger XP shines, with 27.9cm of travel on the independent, adjustable shocks front and rear, soaking up the ruts left from a wet winter.
Being a three-person machine, the 158cm width provides plenty of stability even when traversing hill sides. A good 33cm of ground clearance minimises the chances of getting hung up on anything underneath, and a reinforced bash plate helps protect the bottom from damage from rocks, etc. when crossing creeks.
With independent suspension all round, the issue of body roll is minimised further with anti-sway bars front and rear. Dan has only ever found it in any way noticeable while travelling at speed fully loaded with dogs.
Sporty cast aluminium rims are fitted with aggressive 27-inch, six-ply Maxxis tyres to suit a variety of conditions. Electronic Power Steering (EPS) completes the handling package with stiffness adjusted as speed increases to keep things safer. This also helps minimise kick back if you inadvertently run over something.
Engine/servicing
As Polaris manufactures its own engines, the Prostar twin-cylinder, 999cc, four-stroke, and fuel-injected engine has been designed to produce bucket loads of power – some 82hp and 83Nm of torque, which is what you want in an off-road machine.
The oil level is checked by lifting the deck, which is fine as long as the deck isn't loaded up. Engine and other servicing is mostly accessed with the tilt deck. Polaris is moving away from grease nipples on suspension A arms, opting for a sealed self-lubricating bush system instead.
Other improvements on this model are the air intakes for engine/transmission tucked up under the quick-release front bonnet. This is also where the washer fluid tank is and you can check radiator fluid. The grill behind the front bumper clips out to allow easy access to the radiator for cleaning.
Having also had the Polaris 1000 diesel version, Danny hasn't found the usage of fuel excessive since changing to the petrol unit. When you take off the fuel excess tax to be claimed back, he prefers the extra performance. Others have also made the change since the release of the Ranger XP 1000 model.
Build quality
With 20 years of manufacturing side-by-sides and UTVs, Polaris has refined designs as well as added plenty of improvements to the 2018 Polaris Ranger XP 1000 HD LE (Polaris produced its millionth Ranger this year). The well-built machine is designed to take the challenges of harsh farm life.
Heavy-duty upgraded wheel bearings and sealed drive shaft splines help minimise issues in these areas. Like any UTV, correct servicing and sensible operation maximises life expectancy.
Small tweaks have been made elsewhere such as an extra guard in front of the left rear wheel to prevent muck build-up – a simple yet clever design addition. Wind tunnel modelling has refinement to front guards to prevent excessive mud build here also.
Also impressive is the thoughtful attention given to storage. There is a generous 51 litres of storage in the cabin. The almost half a tonne (454kg) rear tray capacity is well set up to take a wide variety of Polaris lock and ride accessories, depending on the usage of the machine. Polaris says its 1134kg tow hitch rating is the largest available from any side-by-side manufacturer.
Danny had just finished docking when we caught up with him, so at times, had been dragging the tandem car trailer around the hills, loaded with docking gear. This is probably 500–600kg's worth so well within the Polaris' limits. However, he does try to avoid doing this on regular basis to look after his Ranger.
Operation
If you're after creature comforts, the LE version of the Ranger XP 1000 is definitely the machine of choice. A warm dry cabin with heating on cold wet days is a definite asset. It's also useful for keeping dust out and with the front opening window, allows you to create air flow in hot summer months.
The cabin is comfortable and even with three blokes in it, it didn't feel claustrophobic. Even with the windows open for ventilation, engine noise was far from excessive for a 1000-cc twin cylinder petrol, with the cab allowing easy conversation while driving.
Driving position is comfortable with adjustable steering. This has been a feature on Rangers for a few years now, making getting in and out extra easy. Seating has been revised and now features thicker padding for additional comfort.
The passenger seat can flip up to allow you to carry a 20-litre bucket without lifting it up onto the tray. There's storage under the seat as well a toolkit and access to the battery. A bank of electrical connections is mounted under the roof.
Danny has a handy removable LED light and radio hooked into his, and Polaris has a large collection of accessories you can choose from to customise your Ranger. Whether you require extra spotlights for night driving or power to run a sprayer, connection is easy.
Safety features
With the Limited Edition model coming with a fully enclosed cab, seatbelts have been designed to fit the rollover protection structure of the standard Ranger. It's a reminder that wearing the fitted seatbelts is just as important regardless of machine's extra safety features.
A governor (speed controller) restricts the speed to 24km/hr if the driver's seatbelt is not engaged – a handy feature for junior or inexperienced operators for whom the power of the machine may be a bit too much to handle.
The speed sensitive electronic power steering is also helpful in decreasing operator fatigue when operating over long periods of time.
Verdict
Polaris continues to innovate while incorporating customer feedback, producing its wide range of side-by-sides.
If you're after power and load carrying capacity, then this could well be the machine for you. If you want extra comfort to go with those features, then the LE version like Danny's is the obvious answer (it also includes the Pro Shield clear-view doors, Cargo Max system, chainsaw mount, and kit bed divider).
Ease of operation is one of the most standout features of Polaris side-by-sides, with the different driving/4WD modes making them even more versatile.
Polaris Ranger XP 1000 HD EPS LE specifications
Engine
4 stroke twin cylinder, petrol
Power/output
999cc 82hp@7700rpm/ 83Nm @6000rpm
Transmission

Auto, belt drive (H/L/N/R/Park)

Drive system

AWD/2WD/Versa Trac turf mode 3-mode throttle control

Cooling
Liquid with fan
Suspension

Front: Dual A-Arm 27.9cm of travel
Rear: Dual A-Arm IRS 27.9cm of Travel

Brakes
Four-wheel hydraulic disc
Park brake

Park lock in transmission and handbrake

Tyres

Front: 27x9-12, 6 ply
Maxxis MU51
Rear: 27x11-12, 6 ply
Maxxis MU51

Dimensions L x W x H

305 x 158 x 196cm
Ground clearance
33cm
Payload capacity
454kg 
Tow rating
1134kg 
Dry weight

709.9kg (LE is heavier with extras)

Fuel tank
43.9L
LE model extras

Sports roof, glass windscreen, wiper kit, poly rear panel, heater
Pluses
Comfortable seating and room for three whether cab or no cab
Plenty of power from the Prostar 999cc petrol engine
Handbrake on dash as well as transmission
A number of 4WD/transmission modes to suit different conditions
Heavy construction; 700kg+ with quality components bearings/drive shafts, etc.
Excellent storage, tray carrying capacity and tow rating
Minuses
The deck needs tipping to access the dipstick
Speed key as standard would be a good addition. It's available as an accessory.
Keep up to date in the industry by signing up to Farm Trader's free newsletter or liking us on Facebook