Test: Branson F42H
---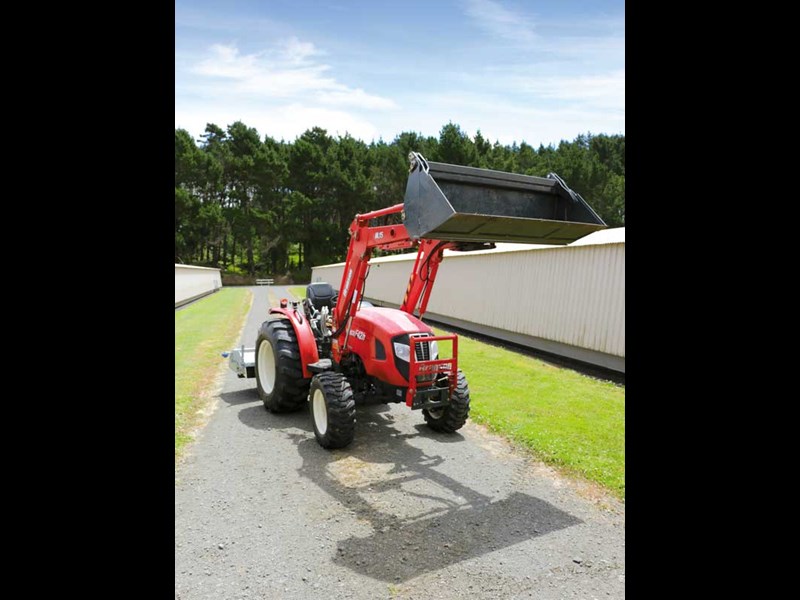 The well spec'd Branson with front loader and industrial tyres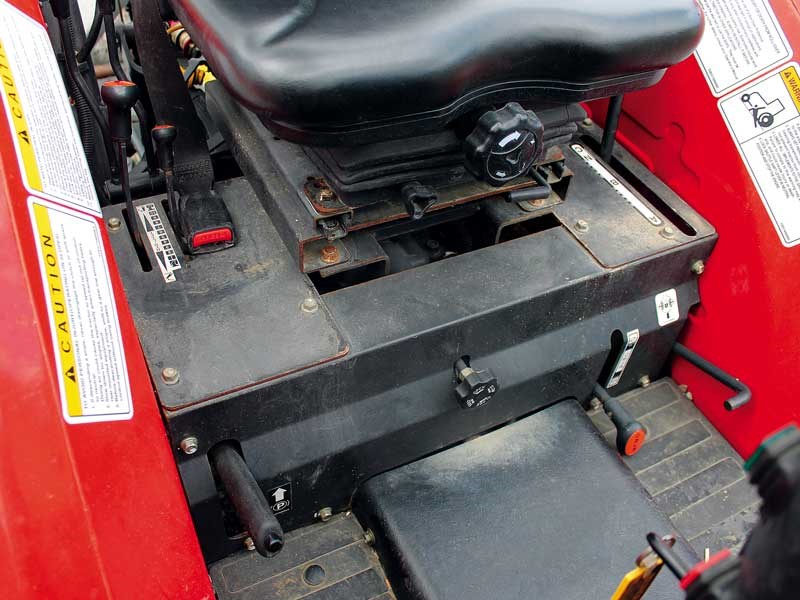 The seat has mechanical suspension with forward and rear adjustment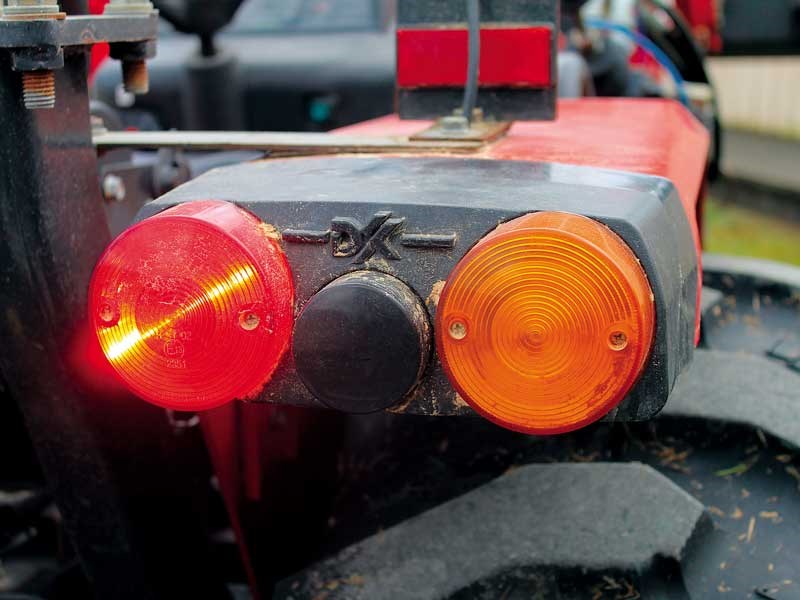 Basic brake/indicator/driving lights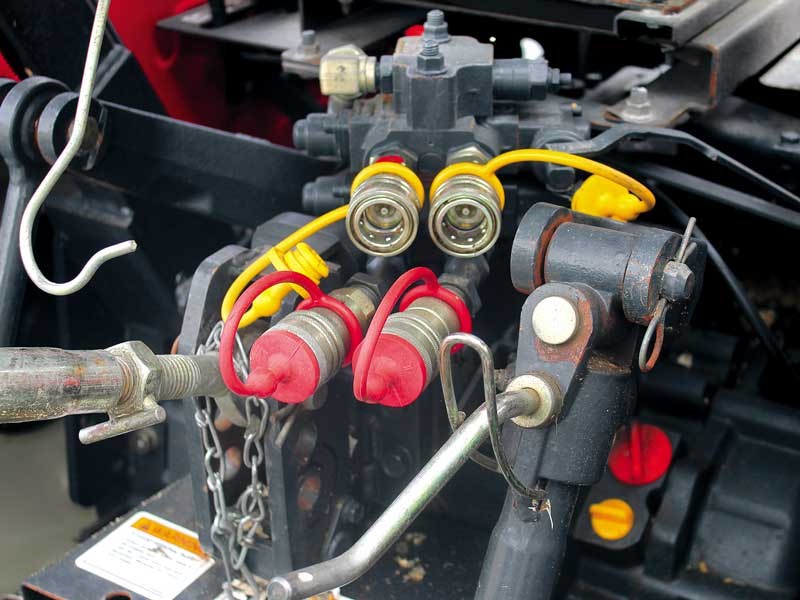 Two sets of double acting rear hydraulic remotes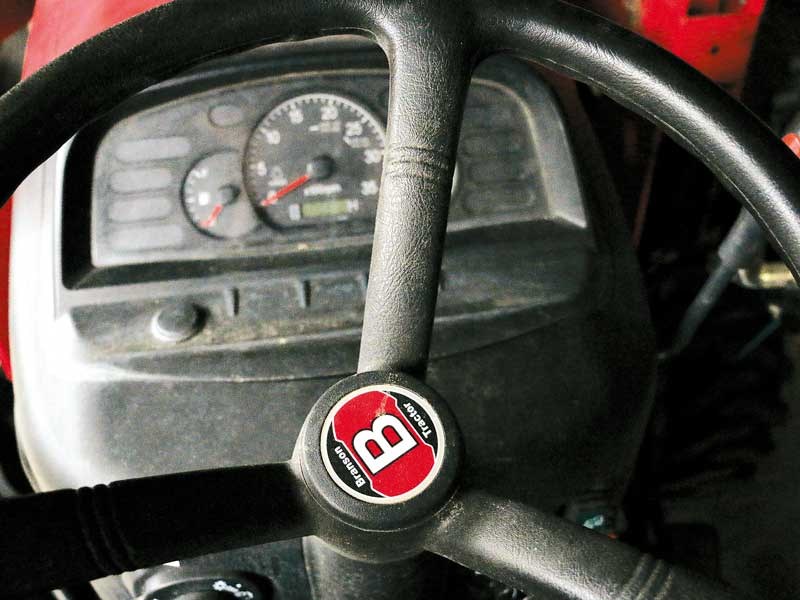 Basic dash with standard features

With the tractor market running hot in NZ, even new players such as South Korean manufactured Branson are sharing in a slice of the action. Mark Fouhy test drives the Branson F42H.
About this time last year, Farm Trader had the opportunity to check out the Branson 2900H on a lifestyle property near Hamilton. This time, we headed to Auckland's west coast to see the next model up – the Branson F42H, at work in a commercial chicken business.
It's available in two transmission options: the F42R with 12x12 syncro mesh or the F42H (which we tested) three speed forward/reverse hydrostatic.
For ease of operation, it's hard to go past the hydrostatic option. Working in confined spaces, the 56-degree steering angle allows super tight turns. Operating on hard surfaces and mostly indoors at a slow speed, tractor owner Steve Evans has assessed the risks, decided the ROPS structure is unnecessary for their usage and one less thing for the operator to worry about.
Branson is imported under the Stevens Outdoor Power Equipment banner and available throughout New Zealand.
Engine/servicing
Like many smaller tractors, Branson has used a three-cylinder turbo diesel engine to power its F42H model. Branson makes its own engines for the smaller tractors in the range. The engine for the F42H model is Tier 4 certified, without any AdBlue or diesel particulate filters to worry about, which keeps things simple.
The long stroke design of the engine is designed to produce maximum torque from lower revs, which Steve notices when working with the PTO driven aerator. This saves on fuel, as well as offering decreased engine noise, which is particularly helpful when working indoors.
Oil dipsticks and fillers are easy to find and still accessible even with the front-end loader on. Oil filters are located on the right side of the tractor for servicing. After an initial 50-hour service, 300- and 500-hour services are done. Approaching his first year of ownership, Steve only recently had the 300-hour service done on his machine.
Because of the dusty environment he operates in, the easy lift bonnet (for access to the radiator and cartridge air filter) is a convenient time-saving feature for him and his staff. Aside from daily checks, Steve has had no troubles or issues with his Branson, which is exactly what you would hope for and expect from a new machine.   
Hydraulics
When operating a hydrostatic tractor, hydraulic performance becomes just about as important as when operating an excavator, as not having enough hydraulic flow equals slow/poor performance.
With dual hydraulic pumps (one for transmission with 33.6 litres per minute flow, and one for steering and attachments with 18 litres per minute flow), transport speed, even while turning and operating the front-end loader, did not noticeably affect any aspect of the tractor's performance.
Two sets of double acting hydraulic remotes at the rear should be plenty to run whatever you may need on a 40hp tractor. The Cat I linkage offers 1500kg of lift capacity at the ball ends, and 1100kg a further 610mm behind the ball ends, which should be more than adequate. A dial controls the hydraulic flow rate for the rear linkage, allowing for simple adjustment of the speed when raising and lowering.
The optional front-end loader is plumbed into mid mount remotes, with standard hydraulic couplers (with colour coding), making it simple to get the right ones back to the right spot when reconnecting the loader.
Branson loaders have third service function as standard, allowing for the use of bale grabs or the four-in-one bucket, which Steve has.
He finds this particularly useful when doing potholes along the metal roadways. With other attachments used for pushing wood shavings and pallet forks, etc., the self-levelling feature with Euro hitch was exactly what he was looking for.
Operator platform/operation
The Branson tractor boasts a roomy operator platform – a clear floor area with rubber surface for grip on either side. Difflock and 4WD controls are mounted to the left, with the handbrake to the right. A single brake pedal operates the wet multi-disc brakes.
An excellent steering angle of 56 degrees negates the need for individual braking to rear wheels when working on hard flat surfaces rather than slippery hill terrain.
The forward/reverse drive pedals offer progressive speed increase with acceleration, like a car. This leaves the handle throttle-free to set engine rpm for PTO work such as the tasks Steve uses his tractor for.
A handy feature with the three-speed hydrostatic transmission is the cruise control button. Push the button once and you have the tractor set at the desired speed. This is handy for jobs such as mowing.
The seat of the Branson F42H is mechanical suspension with forward and rear adjustment. Steering angle adjustment is one small feature the Branson could do with to accommodate different drivers and making access on and off the tractor easier still.
Construction
Build quality is a strong point of the Branson tractor range. Powder-coated steel is used in the bonnets and mudguards rather than plastic. Weighing in at a hefty 161kg tells you there is plenty of steel used in the construction of the F42H.
This is an important factor for Steve, given that the tractor does a lot of pushing as one of its tasks. The high original weight of the tractor means he hasn't had to worry about filling the tyres with water.
The Branson is pretty similar feature and specification wise to other brands of a similar size, but price is where the brand may have the edge. Although relatively new to New Zealand, Branson has been producing tractors for the US market since 1998, with the South Korean Kukje Machinery Company producing agricultural equipment and engines since 1968.
Since last year, when I checked out the Branson 2900H, the warranty has increased from 1000 to 1500 hours or 24 months across the tractor range, whichever comes first, demonstrating the confidence they have in their product.
Verdict
Replacing an old worn-out tractor with a well-built, well-spec'd, and well-priced Branson tractor has proved to be a sound decision for Steve and his business. With the quality of build and features offered, if you are in the market for a smaller tractor, the Branson F42H is well worth a look.
Branson F42H specifications
Engine
Liquid cooled, three-cylinder, diesel, turbo 
Displacement
1700cc 
Power
40hp/29.4kW @ 2600rpm 
Emissions 
Stage IIIA 
Transmission 
3 range hydrostatic 
Speed 
6.5km/hr min – 33.2km/hr max @2850rpm 
Hydraulics  
L/min
33.6L (main pump) 18L (steering pump) 
Lift capacity
1500kg 
Cat 

I

PTO 
 Speeds
2-speed rear 560&780rpm 
Tyres 
Options 
Industrial/Ag tyres to suit 
Dimensions  
Wheelbase
1670mm 
Length
3429mm (incl. front weights)
Width
1450mm 
Height 
2643mm 
Ground clearance 
335mm 
Weight 
1612kg 
Fuel tank 
27L 
Service intervals 
50-hour initial 
Pluses
Well-built, heavy tractor
Good service accessibility
Easy operation three-speed hydrostatic drive
Cruise control function
Minuses
Lacks adjustable steering position
Video: Branson F42H tractor
Watch the Branson F42H in action.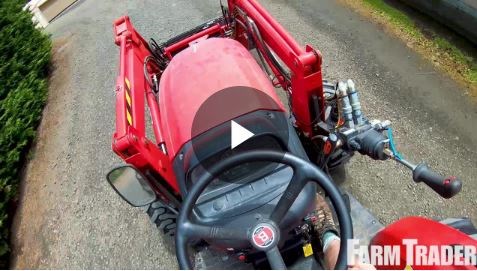 Keep up to date in the industry by signing up to Farm Trader's free newsletter or liking us on Facebook