Test: Kinghitter series 5 rotational post driver
---
Jaiden Drought carried out an in-depth test of the Kinghitter Series 5 rotational post drive on-site in Canterbury
A quick overview of the features of the Kinghitter Series 5 rotational post driver is sure to be music to a fencing contractor's ears. Able to cover more than four square metres from one simple tractor movement means some serious efficiency when it comes to fencing.
Back in the day
Fairbrother Industries was founded by Jim Fairbrother in 1977. Credited with inventing the first hydraulic post driver in New Zealand, that early model was something of a revolution compared to the often dangerous PTO driven machines (of which, there are still a few around providing the operators have got away with all their limbs intact).
The beauty of Fairbrother Industries is the fact that Jim is still actively involved in the company 40 years later. His daughter is also involved, along with a team of other skilled individuals who take care of everything from design and manufacture through to all aspects of research and development and producing the final product.
This is all done under the keen eye of Jim, whose industry knowledge and experience, coupled with his practical engineering skills and the fact he has physically been building these machines for 40 years makes its obvious why the Fairbrother name is still vitally important to the Kinghitter brand.
The machine
The Kinghitter Series 5 rotational post driver was released to the market just a month ago. Obviously, the latest in the Kinghitter line-up retains many of the features traditional to a Kinghitter and representing four decades of engineering and experience.
For me, the key feature is the 'Expander Beam', which is essentially like a telehandler boom. It goes up and down, which allows a transport height of 3.1 metres and a maximum working height of 5.1 metres.
Another clever feature is having the monkey always slide on the same faceplate. The faceplate hydraulically moves up and down to allow a clean drop of the 340kg weight. In turn, this creates a constant punching force of more than 25 tonnes.
The main (and probably most obvious) advantage of these features is that hinged post drivers can be a pain to work with, particularly around trees and overhead wires. For traditional hinged systems, operators have to constantly fold and unfold the main beam. Not only is this niggly but it can also be unsafe clambering up the machine to put locking pins in.
I think this Kinghitter system is the way forward. You can put a four-metre pole in, which is ideal for high deer fencing and for contractors working in various environments, and instead of getting on and off the tractor to unhinge everything just to get under a tree, the Expander Beam makes the whole process a lot faster and less hassle.
Kinghitter Series 5 rotational post drive's key features
The high-tensile cable for the hammer offers plenty of strength and durability for lifting the 340kg block and dealing with its associated force on a daily basis. It comes standard with a 12-lever valve bank.
While this can be a little daunting at first, it's clearly labelled with what everything does, and like any new machine, once you know your way around the controls, you're away.
Obviously, the guys who are familiar with the system and use it all the time can pretty much do it with their eyes closed, but while you're getting used to the system, you can feel like a bit of a numpty.
Apart from my inferior knowledge of the specific functions of a 12-lever valve bank (that is why I have a single lever joystick for my loader to avoid any confusion), having so many options does have a practical purpose.
It gives you the ability to nimbly move within a massive four square metres of operational area, while the rotation device allows the actual mast to be moved around essentially like a digger. It can be tucked right in behind the tractor or swung left or right giving 200-degree rotation.
The worm gear, which drives the rotator, has absolutely no movement once it's in the position that you require. It's won't creep or move and is hydraulically driven from its own motor, giving exceptional post placement and that precision that fencing contractors strive for, as there is nothing more satisfying than a superbly accurate fence line.
As you'd expect to see on a post driver, there is the standard hydraulic top link, two hydraulic legs, and mast tilt. However, the combination of these along with the exceptional side shift, 200-degree rotation and extendable mast allows for an extremely manoeuvrable machine, offering a practical solution for a contractor who's looking for more than a one trick pony.
Kinghitter also offers a couple of other options for the tough jobs, which can be added on (and which for our purposes, the test machine didn't have on the day). These include the auger kit and rock spike, something most people in the South Island would no doubt appreciate.
The only thing I think could possibly be improved is some of the hose routing, not from a practical perspective but just to stop them being fouled over time. A central spring or bungee rope would still allow them the movement required to perform the task, but keep them away from moving parts (much like keeping hoses up from PTO shafts).
Tractor power
How big does my tractor need to be? I'd suggest for this mighty Kinghitter that a 100hp tractor is probably the minimum to handle the weight of the machine. We had a lightweight 100hp machine during our testing, and with the side shift, you could easily move the back of the tractor across the ground with no worries at all.
I guess for seriously steep terrain, a dozer-mounted option could be the ticket, or if you really want to get carried away, strap it to the front of a telehandler and really get stuck in.
Verdict
Forty years of engineering and know-how has resulted in an exceptionally well-designed and manoeuvrable machine.
The fact that it can fold back in on itself and bang a post straight in behind the tractor is impressive – and even closer than a standard poverty pack post driver mounted straight to the three-point linkage.
This thing will get closer to the tractor as well as being able to swing around and bang a post to the left or right, without having to jump back on the tractor.
I was impressed with the flexibility offered. Four square metres is a huge area for one tractor movement and from a fencing contractor's perspective, anything that minimises getting on and off the tractor increases output. For sheer manoeuvrability and adding in the telescopic mast, the Kinghitter Series 5 rotational post driver is a potential game changer.
Pluses
Exceptional manoeuvrability without moving the tractor
All sliding parts are nylon bushed and able to be tightened as wear occurs
12 port hydraulic bank gives excellent control
3 separate side shifts 
Rotating mid-section is a game changer
Extendable mast is an exceptionally good idea and very practical
3.1m transport height with max banging height of 5.1m, thanks to the extendable mast
340kg monkey, with the help of gravity gives 25 tonnes of punch
Minuses
Some mechanism to keep the myriad of hoses out of moving parts would be a welcome addition
Watch the video
Watch the Kinghitter Series 5 rotational post drive in action.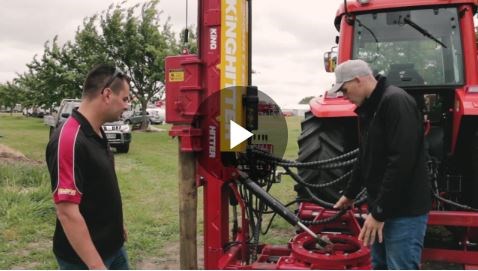 Keep up to date in the industry by signing up to Farm Trader's free newsletter or liking us on Facebook