Cover Story: BvL V-Mix Mixer Wagon
---
A reliable and efficient mixer wagon is crucial – and, as with anything, if you skimp on quality, the results will show. Farm Trader checks out the BvL, an undoubtedly well-made machine.
As environmental regulations continue to govern the farming sector, farmers are faced with two options: a low stocking rate per hectare using a simple grass-based system, or a higher stocking rate using standoff areas and collecting effluent. A key part of this second option is an effective feed-out system.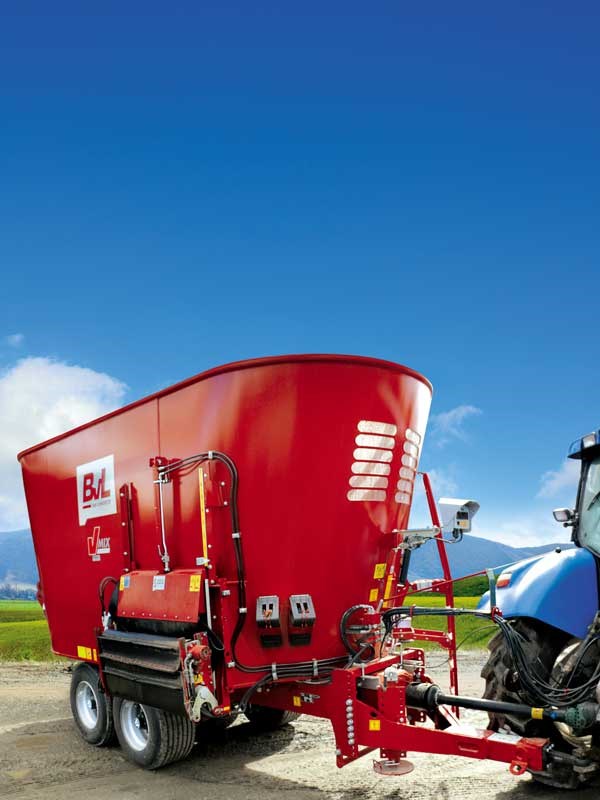 Running a higher stocking rate and utilising effluent and supplementary feed requires effective farm-management systems and machinery, to ensure maximum productivity.
A reliable and efficient mixer wagon is crucial – and, as with anything, if you skimp on quality, the results will show. Minimising waste is vital to ensure stock receive the maximum nutrients possible from feed, whether it is home-grown or costly imported ingredients or a mix of both.
If not done properly, poor feed management can be the breaking point of a business. While running an operation involving the daily use of a mixer wagon is not everyone's cup of tea, there are definite benefits of fully feeding stock, resulting in healthy livestock and increased production. It is also a good way to know what nutrients the stock are getting as we regularly grapple with the effects of drought and flooding on pasture.
To do the system justice, ideally you'll want to enjoy spending time in the tractor with your wagon. Larger-scale operations realistically need a suitable mixer and a second tractor/telehandler or loader to really speed up the operation and ensure an even mix, particularly when feeding bulky forage feeds.
The BvL option
German company Bernhard van Lengerich (BvL) has been building mixers since 1978. The company itself has been in business since 1860 so knows what it's doing when it comes to designing and manufacturing agricultural machinery.
With mixers ranging between 3.5m³ and 46m³, in single, double and triple configurations, there are more than a mind-boggling 1000 options. Basically, if you can dream it, they can build it.
To check one out for ourselves, we headed to the Waikato to see Paul Scheres' new BvL V-mix Plus 24-2S tandem-axle, twin-auger machine in operation. The 24.9m³ size is an upgrade from the Scheres family's previous 20m³ machine. It gives slightly more capacity, and the slightly larger loading height still allows them to fit the machine under the roof of their covered feed pad and to navigate the narrow feed passages.
The Scheres were among the first customers to purchase a BvL machine from Webbline Agriculture and have had 10 in total – six are still in daily use across their multiple farms in the Waikato – so it's fair to say they know a thing or two about mixer wagons.
Tub and augers
The BvL tub is made from 8mm rolled steel sheet. Adding even more strength is a heavy-duty anti-spill ring. The top ring on the tub and the anti-spill ring give double-tubular construction from 4mm walled tubing.
Twelve mm welded-on carrier bars are the connection between the inner and outer rings. This all combines to makes the tub exceedingly strong. Even if you hit it with the loader bucket, you won't bend it.
As the name suggests, the anti-spill ring prevents the overflow of material, particularly if it is fluffy fibrous product. The only downside is that feed can collect on top of it if you overload the tub (which you shouldn't). This is because the ring on this model sits flat to enable it to fit in a container for shipping, whereas the smaller-capacity machines have it on an angle, which prevents this.
The tub interior is arranged asymmetrically, with mixing wedges on each side slightly different to effectively move product between the two mixing chambers, while reducing the power needed to drive the machine.
Unlike some manufacturers whose augers are the same shape and height regardless of bin size, BvL adapts the height and shape of its augers to guarantee high-volume utilisation as well as easy mixing, particularly when using round and square bales.
Made from 15mm-thick steel (18mm is also an option), for longevity the augers' leading edges are coated in highly wear-resistant Hardox 400inch steel. Stainless-steel liners are also available for the bin to give even greater service life.
A nifty design feature called the 'shark bite' features a scalloped notch cut from the bottom auger flight. It looks just like the name suggests, and is said to allow material to continually drop through the notch for greater mixing speed and quality.
Driveline and running gear
The drawbar has several mounting holes so it can sit level on the tractor. This is key to providing good mix quality and reduces the risk of overflowing. The two-speed main drive gearbox allows mixing at a slower speed, ideal for concentrates where overmixing can be an issue.
Simply swap to the higher ratio for a faster discharge, and into 1000 PTO speed once the weight is less than 2000kg, and the bin will be completely empty, with no material left on the auger flighting.
From the main gearbox, a single shaft connects to the first auger gearbox, with another between the first and the second auger gearbox.
Poke around under the tub and you'll find high-specification sprung tandem-axle unit ADR axles and hydraulic trailer brakes on both axles, all sitting on hard-wearing 435/50R19.5 tyres.
Decent steps, long handrails and a viewing platform make checking the mixing progress a doddle. Maintenance is also simple, with the external gearbox oil reservoirs on the outside, and all hydraulic lines neatly routed through a hoop, keeping them clear of lift arms and tyres and the spinning PTO shaft.
Discharge
The patented Exact Dosing System (EDS) creates fast and consistent discharge. This is achieved by ensuring the fodder comes out at the widest point on the side of the mixer wagon.
A subtle insert at the base of the door 'rounds off' the opening to prevent a dead spot around the base of the tub. Once out of the tub, there is almost every conceivable option in terms of the number of doors, shoots or conveyers.
This particular machine had a shortened discharge conveyer to feed into narrow bins. However, the most common option in New Zealand is the 900mm belt, fixed to the front right-hand side door.
BvL conveyor rubber belts are 6mm thick, with a double reinforced textile rubber lining. Two large tracking rollers at each end are designed as cage rollers to ensure non-slip operation in the wet, and prevent material getting between the roller and the belt.
It tracks well, and the ribbed belt allows feed to be uniformly fired into the bins without slipping. Doors have a simple numbered scale to show how far they are open.
Scale options
Mounted on the mixer, the load indicator is easy to read from the cab. This HL25 model with four load cells (one on each corner of the chassis) works well on a swivel and can be seen easily, even from the loader tractor.
If you are used to an in-cab monitor, this is also an option along with cloud-based mixer ration software. This works with the transceiver box mounted between the load bars and digital display, so can retrieve data and send it via Bluetooth to the paired PDA (it's all high-tech stuff but super useful). This then ends up in the cloud via your phone.
An associated app is ideal for a complex ration over several mobs when staff are loading, as it works just like a shopping list.
Verdict
First impressions are immediate; the BvL is undoubtedly a well-made machine. Having plenty of steel means it does tip the scales at just over seven tonnes when empty, but on the plus side, you'll enjoy a longer tub service life, simply because there is more metal to wear out. The scales are easy to see, and accurate, although other brands do offer a loader tractor monitor, which can come in handy.
The top spill ring adds an amazing amount of strength to the tub and if somebody clips it with the bucket, at worst you will scrape paint off, with no damage to the tub itself.
The elevator is strong, with thick ribbed rubber and cage rollers meaning significantly longer belt life. The best part of all is that a reputable German company made it, so you know it's good!
Pluses
8mm-thick tub with double ribbed top line and anti-spill ring
Cage rollers for conveyor stop feed getting stuck between the belt and the roller
Asymmetrical tub for faster mixing with less power
Shark bit out of auger allows feed to constantly fall for better mix quality
Simple, easy-to-use scales
Two-speed gearbox puts less stress on tractor and wagon
Heavy-duty sprung ADR running gear with twin axle brakes 
External oil-level indicators for quick daily checks
Oil and electric lines are well clear of being fouled 
External mineral shoot
Minuses
Feed sits on the anti-spill ring
The main two-speed gearbox doesn't sit directly in the middle of the machine, meaning the main driveshaft and the driveshaft to the first auger don't sit square
 See more mixer wagons for sale in NZ.
Watch the BvL V-Mix Mixer Wagon in action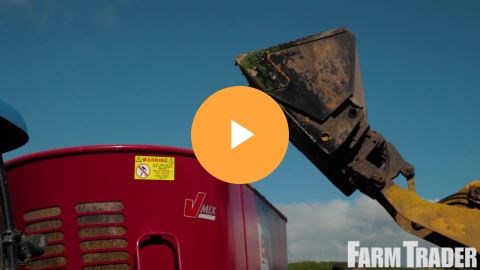 Keep up to date in the industry by signing up to Farm Trader's free newsletter or liking us on Facebook