Test: Strautmann Verti-Mix 1801
---
The Strautmann Verti-Mix 1801 is not only a mixer wagon, but is also equipped with a blower function, helping farmers work smarter and more efficiently
It may sound like the start of a bad dad joke, but when is a mixer wagon not a mixer wagon? With this month's test I may have found the answer – it's the Strautmann Verti-Mix 1801, which is not only a mixer wagon, but is also equipped with a blower function.  
To see the new mixer wagon in action, we visited Harrison Dairy Goats' farm in Matamata and were on-site to see it being unloaded fresh off the truck.
The Harrison team wasted no time putting it to work – they were already experienced with the Strautmann brand, having owned a smaller model.
As the name suggests, the Strautmann Verti-Mix 1801 is a vertical (twin) auger mixer wagon, with a capacity of 18 cubic metres.
However, it also has a blower function on the front. This allows wood chips or cut straw to be spread as a bedding material – an important job in many goat-farming operations.
Personally, I'm a big fan of the efficiency of getting one machine capable of doing more than one job. For example, the combi baler/wrapper offers significant benefits in saving time, labour and tractor hours, doing away with the need to change implements for baling and wrapping.
In this case, having a blower on the mixer wagon offers potentially huge time savings compared to traditional systems used for spreading bedding, as well as decreasing the amount of bedding required.
Test
Having previously visited Geoff and Jo at Harrison Dairy Goats, I had seen the smaller 1251 Strautmann mixer and blower wagons in action. When Geoff told me they had ordered a new 18m3 model, I decided to check it out.
I had spent significant time on a goat farm, and could immediately see the benefits these machines offer, particularly in re-bedding sheds with shavings to look after the health and wellbeing of the animals, as well as minimising bacterial growth to ensure quality milk is produced daily.
Because the 1251 single vertical auger mixer wagon had a blower on the front, Geoff and the team had already experienced the huge time and labour savings that resulted from their not needing to bed each shed with individual front-bucket loads.
With increased shed space for goats, and despite the company having a few more animals, the blower unit means it still uses only the same amount of shavings – and sometimes less – because these are getting spread evenly across the area.
For Harrison Dairy Goats there are other efficiencies to be had: the new machine means just four or five loads are needed, as opposed to the usual seven with a smaller machine. The same applies to feeding out baleage, with the larger unit able to mix an extra bale or two, saving plenty of time.
Construction
Weighing in at 6200kg for the standard model (excluding blower attachment), the Verti-Mix 1801 is designed to handle a 5600kg load/mix. Loaded to the gunnels with dry shavings, the best we managed was 1200kg, and for the baleage mix probably about 3000kg.
There's plenty of potential to add extra volume to the machine, with extra steel rings at the top for added height. Steel 20mm thick is used in the tub floor, with 8mm-thick steel used in the construction of the wall. A reinforcing ring around the top on the inside and two steel ribs either side between the augers add strength while aiding the mixing process.
Auger design is a key feature of any mixer wagon. Strautmann has come up with a step design for its auger rather than a straight spiral design. The Strautmann design is said to require less power (82Kw/110hp), so the 180hp Massey Fergusson 7718 used is more than adequate.
The mixing process is also sped up, with fodder tumbling on the steps of the auger rather than just being forced around the bowl being cut. Each auger has six blades/knives with holes for two different mounting positions.
The top blade has an extra steel brace to protect it from damage while loading bales. Feed augers are made with 15mm steel, further strengthened by a 5mm-thick, 100mm-wide stainless-steel wear plate along the edge to ensure longevity of these high-wear parts.
Operation
Hooking the Strautmann Verti-Mix up is pretty straightforward. The PTO that operates the augers and front blower needs to be connected in 540rpm. There is a gearbox on the machine that can be changed on the control box on the cab – good for helping to clean out the last of a mix or shavings before switching jobs.
Lights and trailer brakes are standard. One set of rear remotes is all that is required for hydraulic flow. The tractor control box then takes care of any other hydraulic functions, of which there are a few.
Initially, the control box does look a bit daunting, but once under way, you'll realise you need only two buttons at a time: the blower arm, and door up/down or feed conveyor and door.
With the feed conveyor at the back of the tub, you can feed left or right, although left does work better as the augers rotate clockwise.
The Harrison Dairy Goats team are looking to mount a camera at the back of their machine to alert them to any potential block-ups when feeding. Mounted in the right spot, it would also be handy to show where the back of the machine is when getting into and around sheds.
One additional feature that could be useful on this size machine is a steering rear axle (available on 24m3 machines). While it would add to the initial cost, it would save on tyre wear, and as it's only 2.36 metres wide, it shouldn't really hit strainer posts.
The tandem-axle set-up runs on BKT 400/60-5.5 tyres, a common agricultural size, so easy to replace if you have a puncture.
The floor height is at 0.75 metres and the height to the top of the bowl is 2.37 metres, so there should be no loading problems for a telehandler, and is probably still all right with a large loader tractor.
Stairs at the front allow an easy means to check how the mix is going or to safely see what is left in the bowl.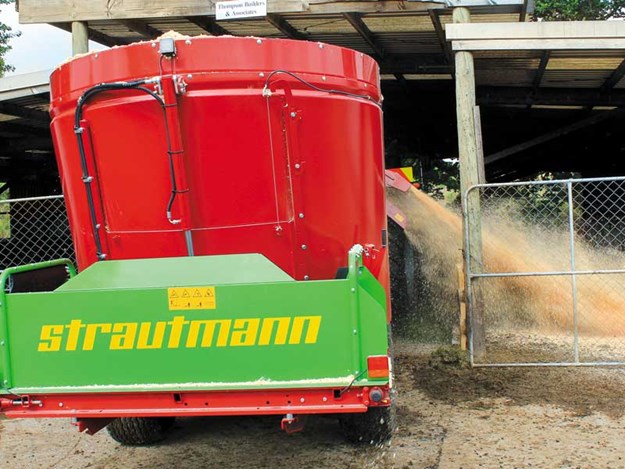 The scales turn on automatically with the tractor, so you don't have to remember to switch them on manually before loading. Central mounting means they can swivel to either side when loading, and back to the centre when feeding out again.
Verdict
Overall, I was very impressed with the Strautmann Verti-Mix 1801 with blower unit. If I was in the dairy-goat-farming business, this is certainly one piece of machinery I'd look to purchase.
With the workload of milking and feeding livestock every day, jobs need to be done as efficiently as possible, which this machine certainly does. As this is a stand-alone mixer wagon, the design of the augers for mixing/cutting speed with low overall horsepower requirement is a key feature.
Aside from its usefulness in the dairy-goat industry, the addition of the blower adds another dimension to the machine and lends itself to use in civil construction work, and for cutting and mixing straw or shavings to be spread on roadside edges to stabilise soil while helping to establish plantings.
In summary, the Strautmann Verti-Mix 1801 is a cool piece of kit that can help farmers to work smarter and more efficiently.
Strautmann Verti-Mix 1801 specifications
| | |
| --- | --- |
| Length | 6.71m |
| Width | 2.36m |
| Height | 2.37m |
| Volume | 18m3  |
| Unloaded weight | 6200kg |
| Permited total weight | 11,800kg |
| Height of floor | 0.75m |
| No of knives | 12  |
| PTO shaft speed  | 540  |
| Auger speeds | 2 speed 26/14.4  |
| Tyres  | 400/60-5.5  |
| Power requirement | 82Kw/110hp (min)  |
Pluses
Dual purpose, able to do standard mix as well as bedding with the one machine
Smart design, with augers to save power required while decreasing mixing time
Easy to hook up and operate once familiar with controls
Low floor height and tandem axle make it feel a lot more stable than smaller, single-axle model
Scales automatically turn on when the tractor is started
Minuses
No steering rear axle
Rear feed-out visibility is not great
See more mixer wagons for sale in NZ.
Keep up to date in the industry by signing up to Farm Trader's free newsletter or liking us on Facebook