Cover story: Schäffer 9630 T
---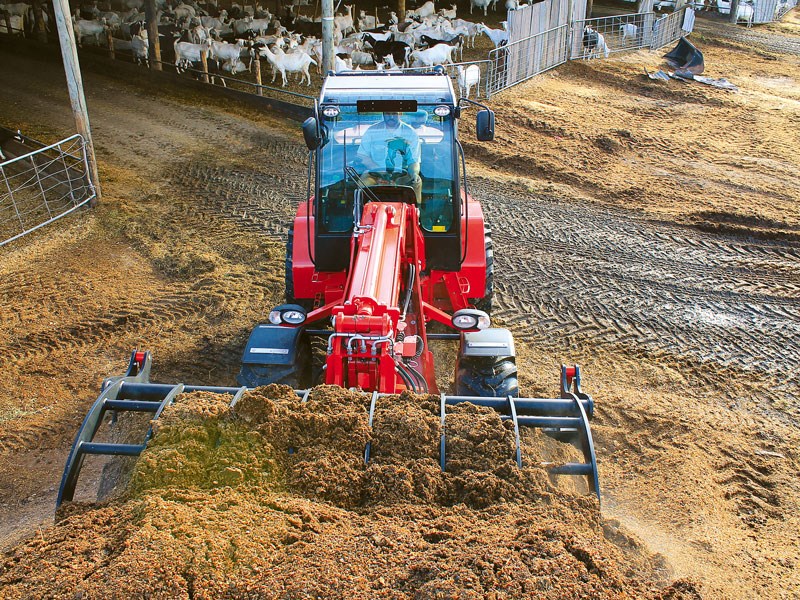 Large glass cab with great visibility, particularly of wheels and attachments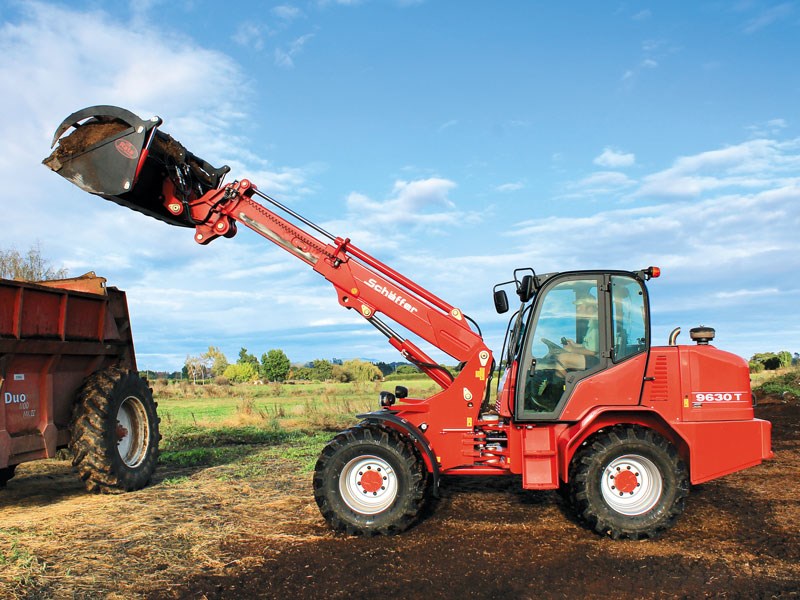 Plenty of reach for loading silage wagons or muck spreaders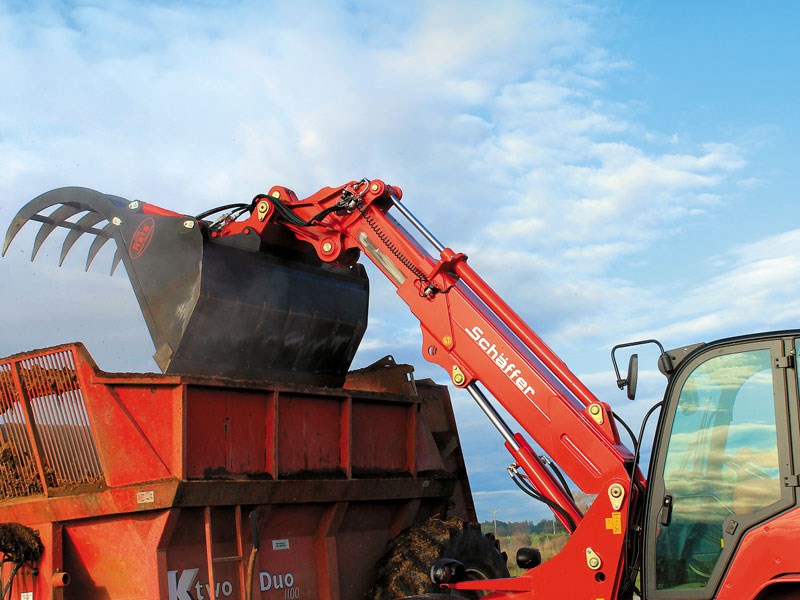 Dump cylinder protected within the boom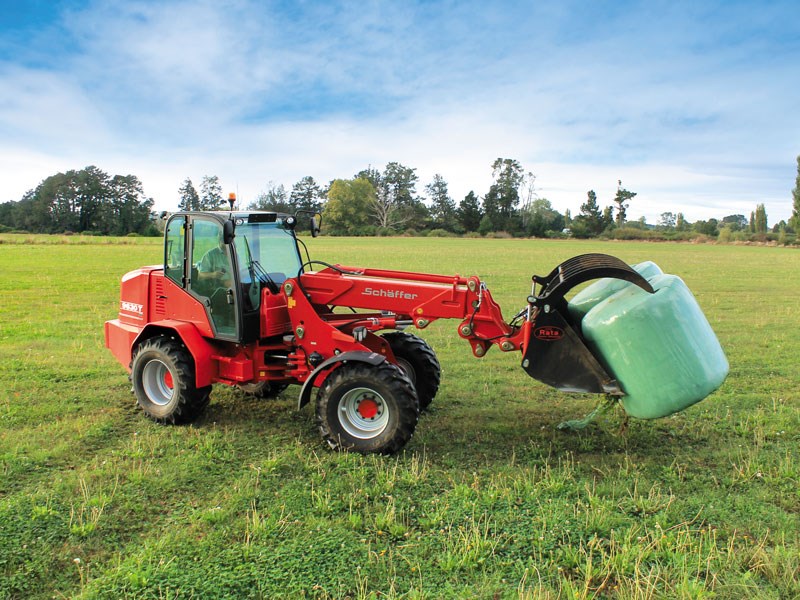 Being able to safely carry an extra bale of silage saves time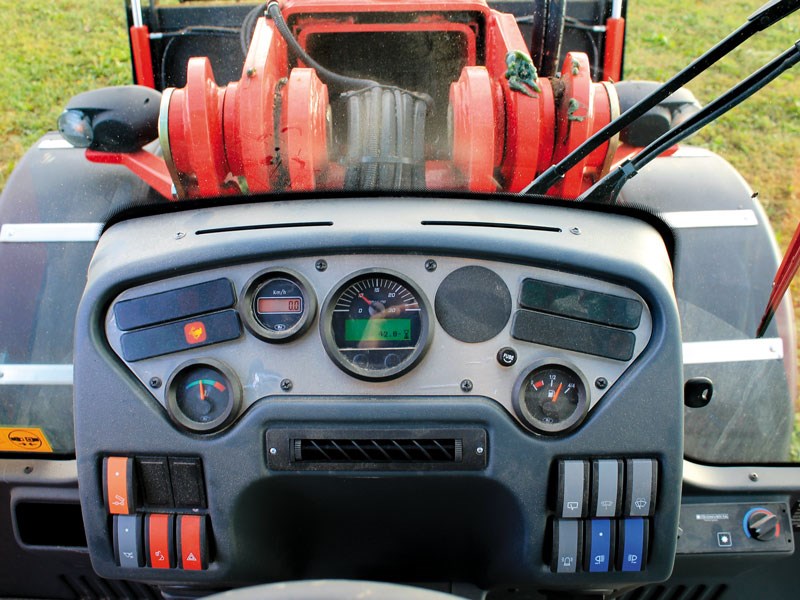 Functional dash with easy-to-use buttons and clear gauges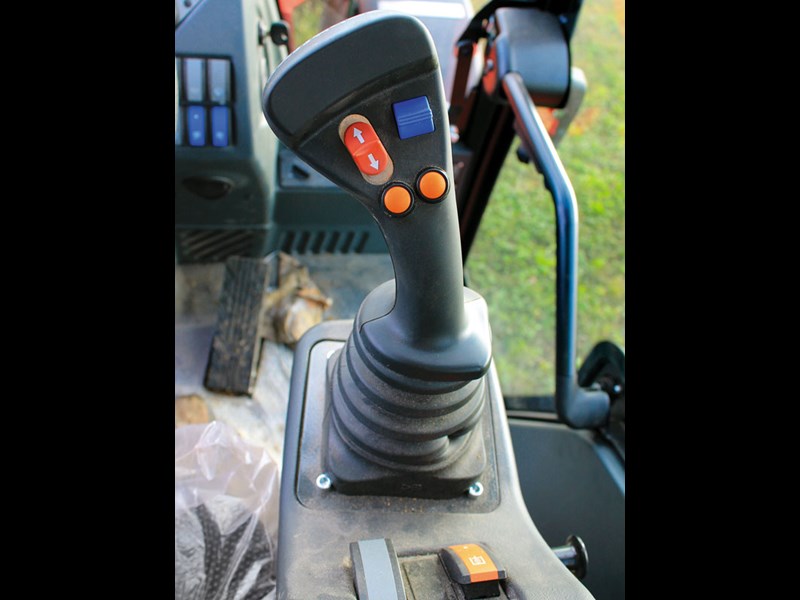 Comfortable, easy-to-use joystick controller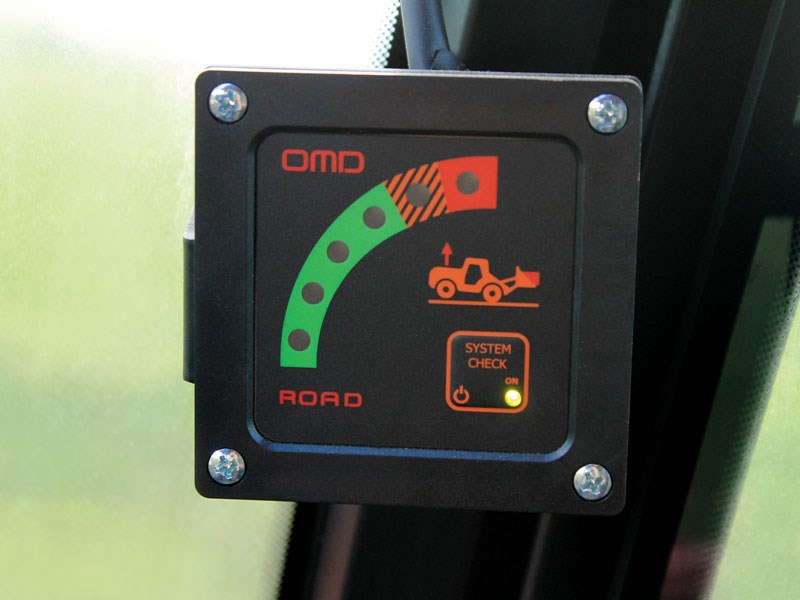 In-built safety features to keep the loader within its operating limits

With NZ farms increasing in size, and with a need for increased efficiency and productivity, these dedicated loading machines have become more common on the Kiwi rural landscape
With this being the case, the team at Ag Machinery Specialists didn't waste any time at making the most of the opportunity to import and distribute the Schäffer brand of wheel loaders, which includes telescopic loaders.
As well as seeing the potential for dairy cow and goat farms, the versatility of these machines means they also suit a wide variety of other situations.
New Zealand farmers, who have traditionally plugged away doing telehandler-type jobs with their tractors and front end loaders, will be pleased to know that the Schäffer loader has its roots in tractor front-end loader design and construction.
The company was established by Heinrich Schäffer in 1956, with its first tractor front-end loader produced in 1963. The first compact wheel loader for the company wasn't produced until 1979, with a couple of features such as the hydrostatic drive and quick-release attachment system since refined and still in use today.
Other features were developed over time, such as the telescopic boom system, and one of the most current Schäffer offerings on the market today is the 9630 T model we tested for this article.
Test
Goat farms are busy places, with animals housed to avoid potential health issues with worms, as the browsing nature of goats makes grazing management difficult. Being housed indoors also means that they have shade for hot days and shelter for cold wet days, as well as food and water on tap never more than a few metres away.
The downside (for farmers anyway) is the constant need to keep bedding clean and dry and to deliver the food in its many forms: grass, silage or grain.
Then any uneaten waste needs to be disposed of, either as food for cattle or organic material as compost to be spread back onto the paddocks.
I caught up with Rudolph van Zuydam, contract milker on a 1100 dairy goat property on the outskirts of Matamata in the Waikato.
Rudolph has had possession of the Schäffer 9630 T pivot steer telescopic loader for some time now and was happy to share his thoughts around some of the features of the new machine.
Until recently, Rudolph operated smaller Hitachi and Komatsu wheel loaders. These have their advantages and disadvantages. The old machines fit through some of the lower roofed sheds easier, but the new Schäffer has a load more grunt and pushing power for cleaning out sheds.
Being a larger heavier machine, it's also able to safely carry two silage bales at a time, rather than just one – a massive time-saver. The ability to telescope the single central boom also makes life easier when loading silage wagons and muck spreaders (as we did on our test day).
Although lift height is 5.1 metres (pallet forks level) maximum, this is ample to load bales onto trucks or stack them three high. Other standard telehandlers of a similar size may have six to seven metres of lift height available, which can be handy in some situations, but the Schäffer is ideal for requirements on this property.
Being more like a wheel loader in design, its pivot steer offers great manoeuvrability and I reckon this is on par with the four-wheel steer of conventional telehandlers.
The rear axle of the Schäffer loader pivots like the front axle of a tractor, which is a safer option, although, of course, care is still required when carrying loads, particularly on uneven terrain or when turning.
Safety sensors are built into the boom and hydraulic system to keep the machine operating within its design parameters. One of the main areas the Schäffer 9360 T (and all telescopic pivot steer loaders) really shines is in terms of visibility from within the cab.
Sitting up above the engine, rather than beside it, means that 360 degrees of vision around the machine is excellent. The low front end with its central telescopic boom allows an excellent view of both sides of the bucket, enabling the operator to see exactly what they are doing.
A partial glass roof adds another tick for visibility while extending the boom and working at height while loading, and the sloping rear engine cover allows you to see the corners of the machine when reversing.
For our test requirements, the Schäffer loader was operating a Rata bucket/grab – the Swiss army knife of loader attachments. Thanks to this combination, we were able to carry two bales at a time for feeding out.
It also allows us to tidy up the fallen logs and stack them, as well as grabbing large buckets of compost for spreading. The hydraulic locking of attachments allows a quick changeover for a variety of other implements for whatever task you need to do.
One slightly different feature with the connection of third service attachments is the screw on coupling. You could be forgiven for assuming this could be a hassle instead of standard quick-release couplings.
However, the benefit with these screw-on couplings is that when there is pressure in them, you can still screw them on, and you could always put an adaptor with quick-release after to match with existing implements such as bale grabs you may already own.
One area I think other telehandler designs are possibly superior is in having hydraulic lines and electric power supply within the boom, preventing damage.
Schäffer's hydraulic cylinder that controls the implements is hidden within the telescopic for protection, which means there isn't the room for extra hoses and electrics.
On the flip side, though, because these hoses, etc. are exposed on the Schäffer, if you do happen to get a leak, it's easy to see and repair.
Build quality/construction
With a history dating back to 1956, more than 60 years, the aim of the Schäffer company is to build loaders with no compromise on quality to ensure durability, reliability, and low operating costs.
Rudolph has not had his Schäffer 9630 T for long so couldn't really comment on that aspect, but in terms of build quality, he certainly has no complaints.
Manufactured for both ag (red machines) and industrial (yellow machines), they are designed to handle long hard days, weeks, and years of hard slog.
Some of this longevity is due to the heavy steel used to build these machines. Depending on individual set up, the 9630 T model weighs in between 8000 and 9300kg.
Schäffer uses Kubota engines in its smaller machines and Deutz engines in the larger models. This particular model is running a four-cylinder Deutz turbo common rail engine producing 123hp and 90kW.
There is no AdBlue, fuel capacity is 140 litres, and hydraulic oil is 120 litres. These tanks are mounted either side of the rear wheels for extra ballast. Both are accessible from the ground when you lift the one-piece rear engine cover.
Grease nipples are located around the loader and the pivot point grease nipples are in a bank on the left side. The remaining checkpoints are pretty much at the back: radiator, air filters, and engine oil dipstick.
Space for servicing is pretty good, which should help keep service time to a minimum.
Lift capacity for the Schäffer 9630 T is 4.200kg and the overall design lowers the front end for even greater forward visibility (already a key point of these machines).
The single boom gives a maximum telescopic reach/lift height of 5.1 metres. Heavy-duty pivot pins as well as Ferro-Form composite material is used for its practically wear-free properties and guaranteed long service life.
In loading machines, another of the high wear points traditionally is the axles. This Schäffer loader uses a Dana Spicer axle to cope with the high workload, and the pivoting suspended rear axle provides stability to the machine when working off-road or on uneven ground.
The axles are designed to match the loader to give maximum thrust/push without losing power. The enclosed multi-disc brakes oil bath brakes provide great (smooth) stopping power and are maintenance-free (even better).       
Operation
In my opinion, telehandlers are one of the easiest machines on farms to operate, thanks to their basic functions, and Schäffer loaders definitely fit into this category. With two-range hydrostatic transmission, it's pretty straightforward and easy to operate.
Like most wheel loader type machines now, as well as boom function, there is forward-reverse shuttle control on the joystick controller. The hydrostatic transmission is ideally suited to loader work.
The two ranges, which can be changed under load, give a max speed of 20km/hr and there is an option for 35km/hr should you need it. Hydraulic accumulators on the boom provide some relief from rough surfaces, and the pivoting rear axle helps provide stability of the loader in off-road use.
Inside the cab is a quality Grammer air cushioned seat, just as you would expect to find in a tractor cab. With the reach tilt/adjustable steering wheel, the Schäffer provides a comfortable position for a range of drivers.
As the operator sits in front of the engine, rather than beside it, visibility is excellent in all directions. The partial glass roof is ideal for working with the boom at height. Doors on either side allow access to the cab and can be locked open.
In dusty or hot conditions, shut them and crank up the air con. The cab is actually big enough to have a training seat with toolbox/lunchbox underneath. Overall, the cab is roomy, functional, and uncluttered with buttons with fantastic visibility.
Verdict
If you liked playing with Tonka toys as a kid and don't want to grow up too soon, the Schäffer telescopic loader may well be your ultimate toy. In case you haven't already picked it up from my write-up, I am definitely a fan of the pivot steer telescopic loader.
 The Schäffer 9630 T is a great example of the usefulness and ease of use of these machines; with better visibility than a wheel loader and similar reach of a standard telescopic loader.
The Schäffer brand loader has a long history of producing high-quality loading equipment to handle the rigours of farming and industrial work. With small lithium-ion battery versions already available, who knows what the range will look like in years to come.
Schäffer 9630 T specifications
Engine
4-cylinder, Deutz turbo
Power rating
123hp (90kW)
Transmission
2 range hydrostatic-automotive HTF
Speed
0–20km/hr (0–35km/hr option)
Lift capacity
4.200kg
Max lift height
5.100m
Operating weight
Cab: 8000–9300kg
Fluid quantities

Diesel 140L
Hydraulic oil 129L

Length
5.2mm
Width
2.075–2.400mm
Height
2.640mm 
Pluses
Excellent visibility
Large uncomplicated, comfortable cab
Easy service access
Quality construction
Minuses
Hoses and electric connections at the end of the boom could potentially get damaged
Pivot steer may be less stable for less experienced operators in rough/uneven ground
Keep up to date in the industry by signing up to Farm Trader's free newsletter or liking us on Facebook