Test: Kuhn GMD 3125 F
---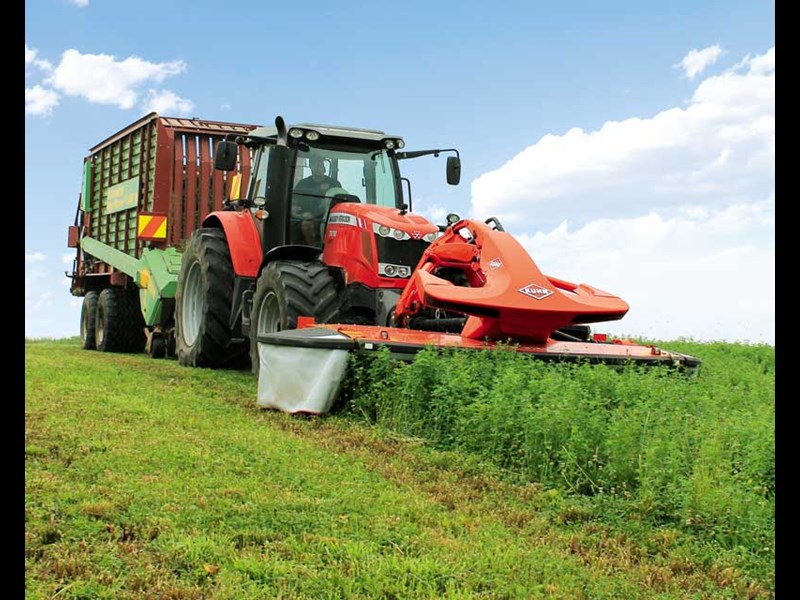 The Kuhn GMD 3215 F mower making light work mowing lucerne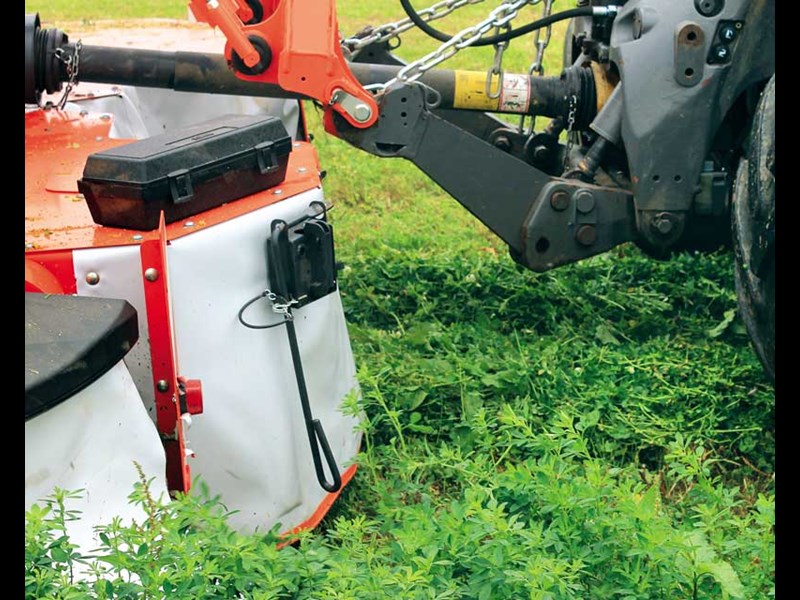 A spare cutter and quick-change tool are mounted on the rear of the mower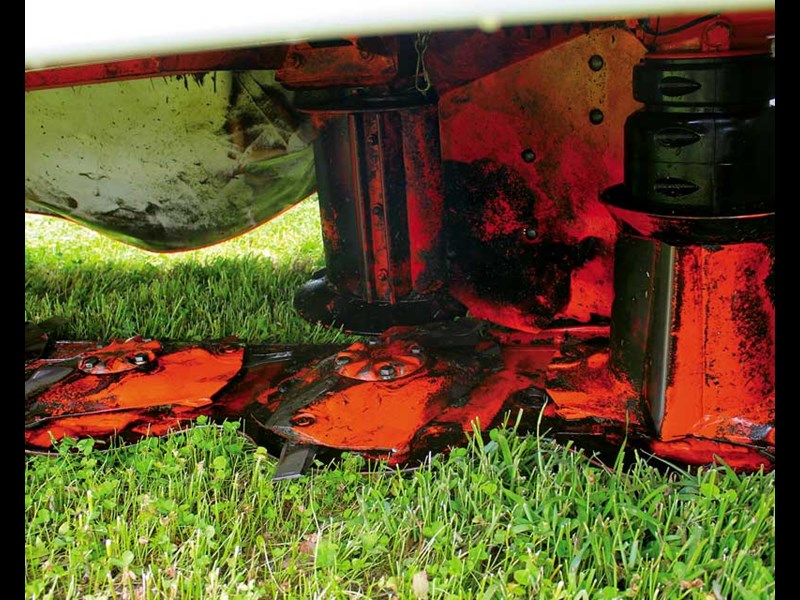 The rotary swathes give 1-1.2m mown rows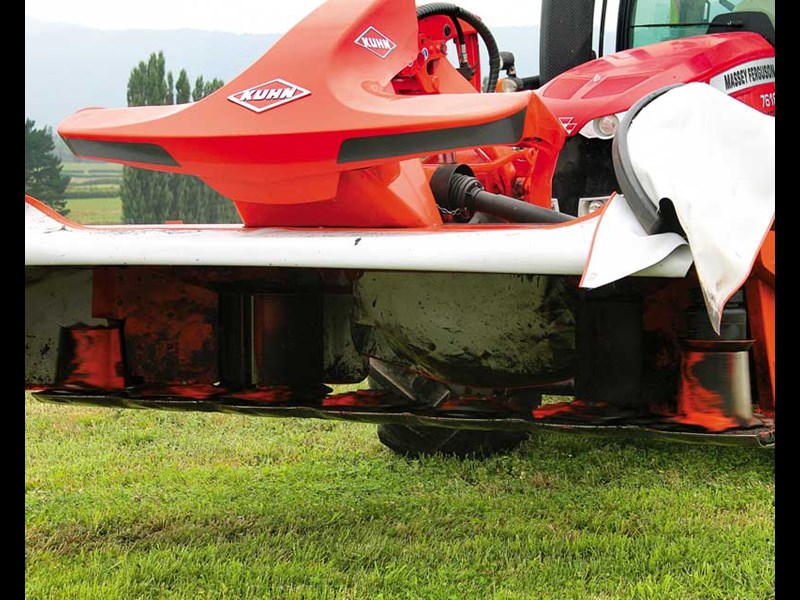 The new headstock design allows impressive forward visibility

The rotary swathes give 1-1.2m mown rows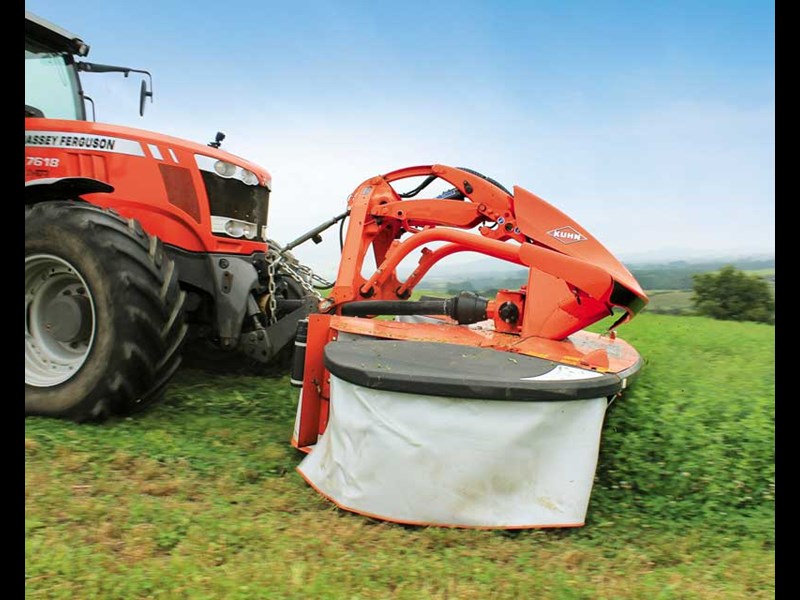 Handling uneven terrain is a cinch thanks to the large range of upward movement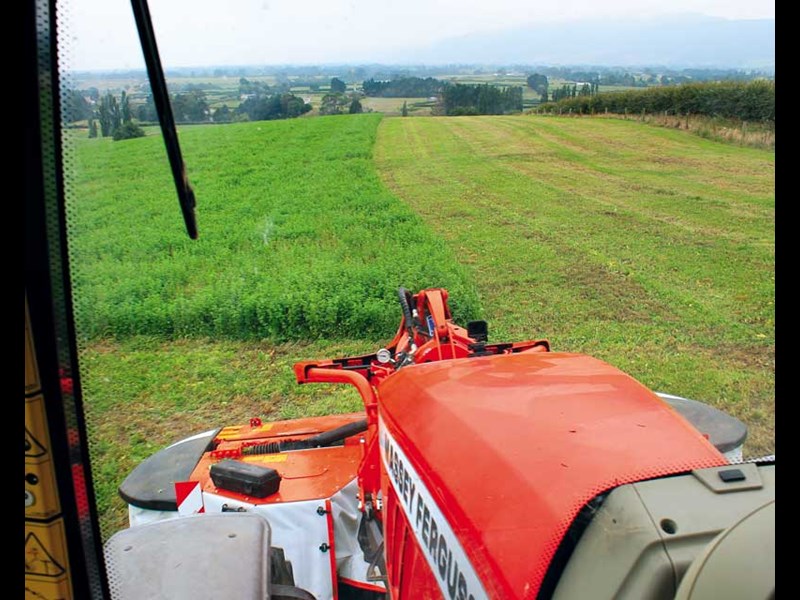 Equipped with 14 steel cutting knives on seven cutting discs, large paddocks are mown with ease

Farm Trader's Mark Fouhy takes a closer look at one of the latest front mower models from Kuhn – the GMD 3125F
With 14 steel cutting knives on seven cutting discs to devour its prey (vegetarian), the mounting of the mower to the floating headstock resembles the hammerhead. It's just missing the triangular dorsal fin for direction, but that's what we still have tractors for.
In early spring, Giltrap AgriZone teamed up with Kuhn for some demo days for farmers and contractors to view some of the Kuhn range in action. This is where I got my first look at the new Kuhn GMD 3125 F mower.
That day, it was set up as the front mower on a Case IH Puma tractor, as part of a triple mower set-up. After seeing it fly through a couple of hectares as part of the demonstration, I decided it was worth finding out some more.
So while checking out a Strautmann mixer wagon at Harrison Dairy Goats, I noticed they had a relatively new (four months old) Kuhn GMD 3125 F mower on a Massey 7618, set up to cut and carry feed for their goats, with another Strautmann loader wagon.
With around 1000 goats requiring feeding daily, it wasn't difficult to pick a time of day to see the units in action. Key operator Matt Downs had some lucerne lined up to mow for feeding the goats that day. With around two hectares to be mown every day, reliability was one of the most important features required.
After looking at the number of mower options before replacing his old Kuhn PZ drum mower, the Kuhn GMD 3125 F came out on top, ticking the boxes for all of his requirements. 
The clean cut of the disc mower over the drum mower helps with regrowth but also minimises wastage with two driven swather units allowing them to pick up what they have mown with the loader wagon, without running it over or contaminating it with dirt.
Operation
Initial set-up and operation of the Kuhn GMD front mower is straightforward. Hydraulic controls raise and lower the mower, rather than linkage arm controls. This allows a lower mounting point on the tractor and a greater range of movement to handle undulating contours of different paddock conditions.
Engaging the front PTO gives drive to the cutter bar's seven discs and swather rotors. These two rotors were the deciding factor for Harrison Dairy Goats choosing the Kuhn over other front mowers. Unique to Kuhn (as far as I am aware), the drive swather rotors leave the 3.1m of cut forage in a 1–1.2m swath, making it easy to pick up.
Goats are notoriously fussy, which is strange given that they are naturally browsing animals. They won't eat forage driven over by tractor wheels or contaminated with dirt so that carefully mown grass gets wasted.
The swathing system has merits for farmers and contractors alike, from minimising fodder wastage to avoiding crop contamination or spoilage from dirt, potentially causing bacteria and mould in bales or silage stacks.
Construction and design
As mentioned earlier, the headstock of the Kuhn GMD mower resembles the shape of a hammerhead shark. However, in turn, this design offers good visibility to the outer corners during work and transport mode.
Side skirts are locked into place with a spring system. You can order hydraulic function for this, although, if you have locked hydraulics for transport and applied the transport lock, you will still need to get out to re-engage these.
The headstock provides the mowers raise and lower function via a hydraulic valve, with tractor linkage set to the correct height when setting up the mower. The range of movement and protection of the mower bar is important, even more so for front mowers in my opinion, as they are rather prone sitting out in front of the tractor.
The ground adaption of these Kuhn mowers provides vertical movement of nearly 70cm and oscillation from left to right of 30 degrees. The mower bed has a pivot point at the rear for further movement. Ground pressure is controlled through hydraulics and accumulators, which can be adjusted from the cab for different conditions.
For wet ground, lower pressure will minimise forage contamination and clogging. Also minimising skid wear and fuel usage, for drier conditions, extra pressure can be dialled up to maintain ground contact and cutting.
The Optidisc cutter bar is designed to be maintenance-free. The steel used in Kuhn equipment has always been of the highest quality and this is no exception. Forged, treated, and hardened steel is used for different parts on the Kuhn mower.
Top-of-the-range componentry features on the cutter bar gears. Should an obstacle become struck, the Protectadrive system allows the shaft holding the disc to shear above the bearing. This is fixable in about 15 minutes without a huge expense on parts.
The one negative both Matt and I agree on is the long distance from the front of the tractor. To incorporate the swathers and keep the mower balanced, it would probably be one of the longest in terms of front mower options and so requires a careful operation to fit through the goat farm sheds or off narrow laneways into paddocks on dairy farms.
With the movement of the headstock, there are plenty of pivot points and associated grease nipples, although, a couple are a little awkward to get at. Ten-hour service points are uncapped, while 100-hour points are capped. For contractors operating on roads, hazard panels and front corner lights are standard.
Verdict
As a general rule of thumb, mowers are pretty simple pieces of machinery. They have one basic task to do – cut pasture/forage, often for conserving as a supplement. The Kuhn GMD 3125 F certainly does this well, thanks to the host of features, such as replaceable high wear points/skids on the Optidisc cutter bar.
The flotation system using the hydraulics and accumulators is excellent and is something I'm sure other brands will incorporate.
Since first seeing the Kuhn GMD 3125 F mower back in spring, the number operating throughout the Waikato that I am aware of has certainly jumped – a good sign that Kuhn is on the right track with the hammerhead mower design and performance.
Kuhn GMD 3125 F specifications
| | |
| --- | --- |
| Cutter bar | Optidisc |
| Number of discs | Seven |
| Knife attachment | Fast-Fit |
| Swathing system | 2 x driven drums |
| Swath width | 1–1.2m |
| PTO speed | 1000rpm |
| Ground pressure | Lift-control hydro-pneumatic suspension |
| Ground adaption | Pivoting connecting rods |
| Minimum power requirement | 43hp/32kW |
| Transport width | 2.99m |
| Cutting width | 3.1m |
| Weight | 1105kg  |
Pluses
Excellent ground following
Quick change blades
Replaceable hard wearing parts, designed to minimise repair costs
Driven swathing rotors improving quality of fodder cut and harvested
Minuses
Long distance forward of front wheels to balance the mower to incorporate the swathing rotors
See more mowers for sale in NZ
Watch the Kuhn GMD 3125 F mower in action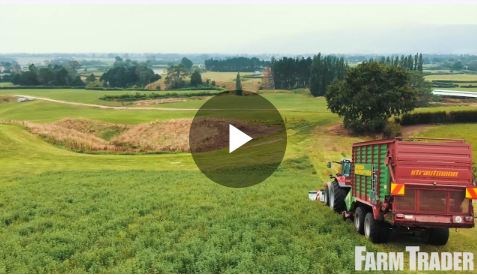 Keep up to date in the industry by signing up to Farm Trader's free newsletter or liking us on Facebook