Review: Bale Baron 4245P
---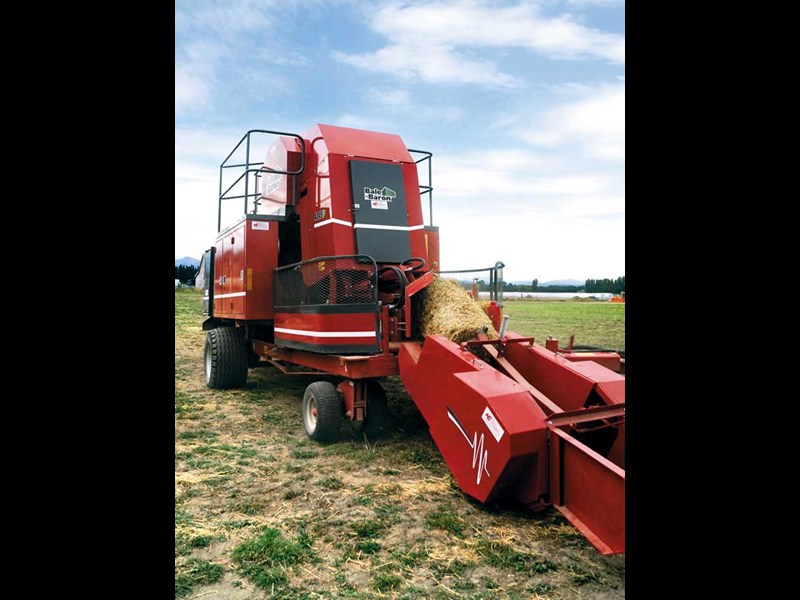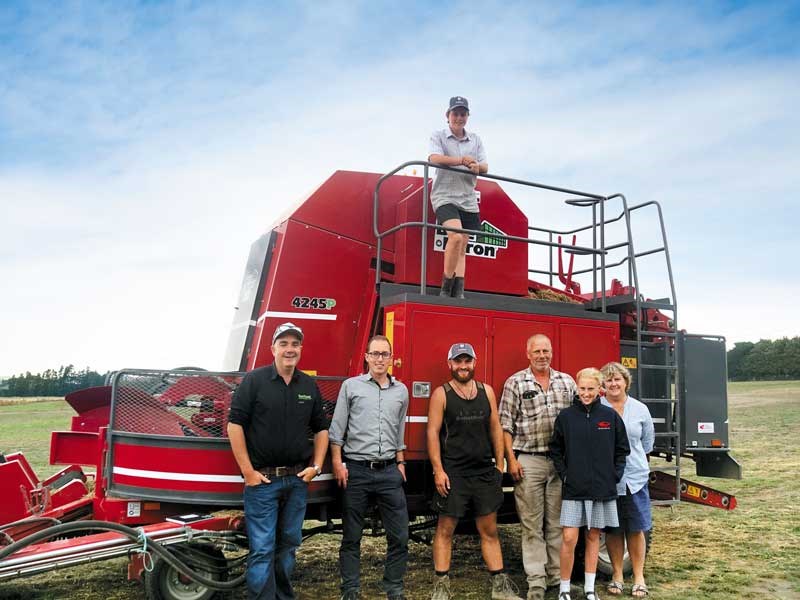 Brent Lilley, Ryan Bassett, Nick, Maggie, Alex, Ella, and Jen Ferguson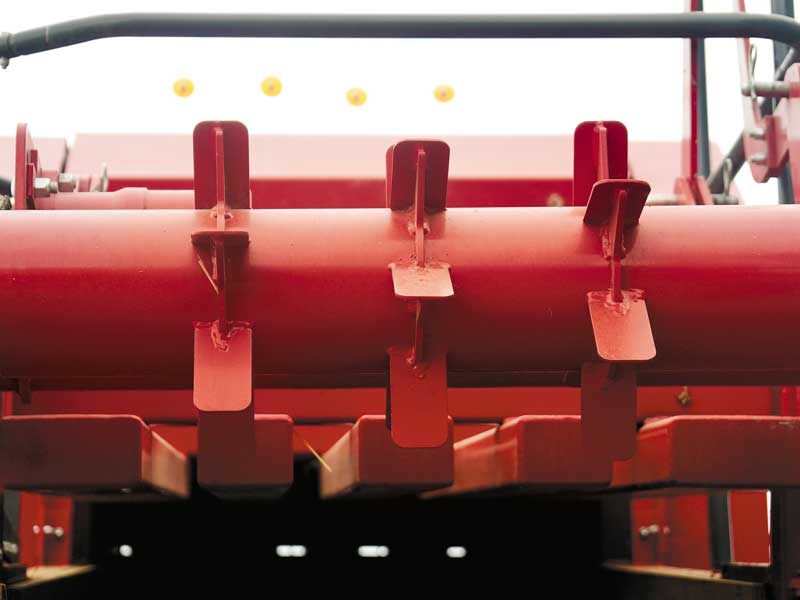 A hydraulically-powered roller on the rear shoot ejects the pack from the machine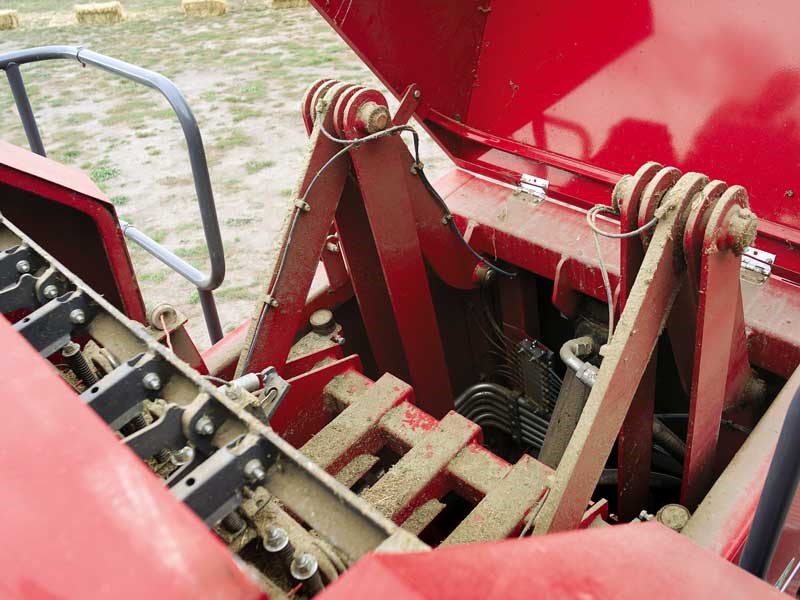 A row of well-proven Rasspe double knotters tie the pack off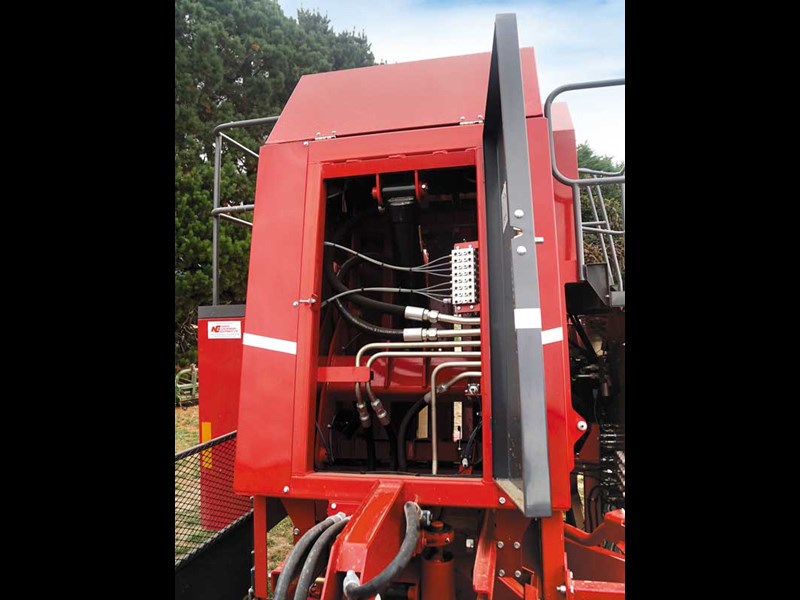 A central grease bank makes daily maintenance quick and easy

If you handle a serious number of conventional bales every year, the Bale Baron 425P will definitely be of interest. Farm Trader reviews.
Picking up conventional bales by hand is one of those tedious jobs that most rural people have done at some stage and are not overly keen to do again. 
However, when it comes to selling hay, it's hard to match the price that people are willing to pay for the convenience of a conventional bale. So any machine that helps move large numbers of conventional bales without having to touch them by hand is definitely of interest.
As it turns out, there is such a machine. The Bale Baron, designed and built by Canadian company Marcrest Engineering, looks to not only take the hassle out of picking up conventional bales but also to ensure that they can be transported as optimally as possible.
North Canterbury Equipment in Amberly is the New Zealand importer and distributor of the Bale Baron. There are now five machines operating around the country as well as a demo unit available.
Sales manager Ryan Bassett talked me through the machines features and for a first-hand look, we headed to Hawarden in North Canterbury where farmer Alex Ferguson has owned and run a Bale Baron bale packer for the last three years. During this time, it has packed an impressive amount of bales – in excess of 100,000.
Conditions in Amberly are ideal for producing top-quality hay, with long hot summer days. Alex supplies high-quality hay, straw, and lucerne to the equestrian market in South Auckland.
Concept
Designed with a conveyor that grabs bales straight off the field, the Bale Baron then stacks them three bales high and up to seven bales long before tightly compressing and tying into a solid secure pack. Impressively versatile, the machine can be set to do packs of nine, 18, or 21 bales.
The packed bales end up bundled into one large bale, similar in size to a traditional large square bale. This makes handling a whole lot more efficient, as they can be rapidly picked up and easily stacked into sheds without ever having to move a small bale by hand.
With most of the bales from this property heading from Canterbury to Auckland, maximising space is key. Alex finds the Bale Baron packs an ideal size to load onto curtain sider trucks – they can take almost 1000 conventional bales, which (with the help of a special grab) one person can load in under an hour – exceptional in my opinion.
The Bale Baron has the option of being towed directly behind the baler to save on an extra tractor and labour unit. However, because the machine has such a high capacity, Alex chooses to run his separately, preferring to concentrate on getting the hay baled when conditions are perfect with two conventional balers and having the Bale Baron chase both of them.
To pick up and handle the packs, he has a specially designed grab, also built by Marcrest Engineering. Dubbed the claw, it uses rows of hydraulically powered steel hooks that grip all the bales in the pack without damaging them or the integrity of the pack. With this system, multiple packs can easily be picked up and stacked or loaded on to trucks at the same time.
Operation
So how does the Bale Baron actually work? There are many similarities in the design to a large square baler, although, it's somewhat more complicated. To pick the bales up off the ground, a pick-up chute uses two vertical rollers on either side.
These rollers are hydraulically-powered and coated with rubber to positively grip the sides of the bale, pulling it up into the machine on to a hydraulic conveyor belt, which then propels the bale onto the turntable.
Although it was flat and smooth where the machine was being operated on the day we were there, this cleverly designed system doesn't require the chute to sit on the ground, so the height can be hydraulically altered to make sure the bale is always picked up.
The turntable is perforated with steel dimples, which positively grip the bottom of the bale to ensure it moves in all conditions. From the pick-up chute, the turntable drags the bale around as it turns until the bale is turned 90 degrees and sits sideways across the machine.
On top of the bale, a steel indexing bar keeps track of when a bale is fed in, timing the rest of the hydraulic movements. A ram then pushes the bale into the injector chute.
Once three bales have been fed in, they are pushed up into the packing chamber, similar to how a stuffer works on a big square baler. The main plunger ram pushes the stacks of three down the packing chamber, with friction from the walls helping compress the bales together.
When the pack reaches the desired length, gates at the rear of the chamber hydraulically swing into place on the last row of bales in the pack, compressing the whole pack before it is tied off.
To bind the pack together, four massive needles thread regular square bale twines up to the knotters on top of the chamber (again hydraulically driven).
These Rasspe double knotters are commonly used and well proven on many large square balers. They are known for being low maintenance and reliable. Lollipops and an audible alarm in the cab alert the operator to a dropped twine.
Large cabinets on each side hold a total of 16 balls of twine. This is enough for more than 640 packs or around 13,000 conventional bales. When the bale is finished, the gates at the back open and a powered roller pushes the bale down a short ramp, ejecting it from the machine ready to be picked up.
Everything on the machine is hydraulically powered, which is perhaps one limiting point. While it will run off as low as 75 litres per minute, the capacity of the Bale Baron will be around 400 bales per hour.
This is fine trailing behind one baler, but to get decent output, it ideally needs at least 115 litres per minute of flow to follow two balers, or sit even higher perhaps at around 150 litres per minute to hit maximum capacity of more than 1000 bales per hour.
To help keep the hydraulics moving, a Regen valve is used. This recycles energy back into the system as certain rams are retracted. As you can imagine, the hydraulic circuitry is rather complex, but it's tidy and well laid out.
A large electric over hydraulic valve control bank is found in a cabinet on the side of the machine as well as the computer, which runs and times everything. Cleverly, this includes a smart solve system, which helps trouble shoot and solve any problems in the hydraulics.
As the hydraulics are largely self-contained, all that is required on the tractor is two sets of remotes – one for the pick-up chute and one for the hydraulic drawbar as well as a high flow load sensing power beyond valve.
Baleage
Wrapped conventional baleage has become increasingly popular in recent years, which I think makes the job of conventional bales even more tedious if that's possible, not to mention the huge amounts of plastic that is required.
Luckily, the Bale Baron can help here, too. The smaller packs of nine that it can produce are similar in size to a 3x4 square bale of silage, so once they are packed, they can be picked up and wrapped with a regular square bale wrapper and then handled with soft hands.
This is another great use for the machine and the fact that it uses roughly six times less plastic to wrap a pack, as it would take to wrap each bale individually, means it offers some huge savings for those doing big numbers of bales.   
Verdict
Firstly, I was impressed overall by Alex Ferguson's operation. Baling tens of thousands of conventional bales a year is a huge task, particularly when there are easier options out there.
However, like all good businessmen, he has had to listen to what the end consumers want and what they are happy to pay a premium for and then figure out how to make that work.
The Bale Baron is key to this efficiency and end result. Although quite a sizable machine weighing in at five tonnes and sitting at 10 metres long, it may not be suitable for packing up a few bales on a small lifestyle block, but it's still fairly manoeuvrable. While there are a couple of other smaller machines out there that will pack conventional bales, as far as I can see, there is nothing that will pack
them as quickly as the Bale Baron or in such large packs.
So if you're handling a serious number of conventional bales every year, this is well worth a look. There are also some huge gains to be made given the speed of handling, loading, and using significantly less plastic. It's a labour-, time- and money-saver, which has to be good.
Bale Baron 425P video
See more hay tools for sale in NZ. 
Keep up to date in the industry by signing up to Farm Trader's free newsletter or liking us on Facebook