Review: Deutz-Fahr 6140 Powershift
---
Power Farming are pretty pleased to be able to get their hands on the latest Deutz-Fahr four-cylinder models in the 6 Series line-up – the 6130 and 6140
Designed as heavy-duty machines, these tractors are targeted at the larger farmer or contractor for roles such as mowing or twin rotor raking where manoeuvrability rather than the extra weight and cost of a larger six-cylinder machine is required.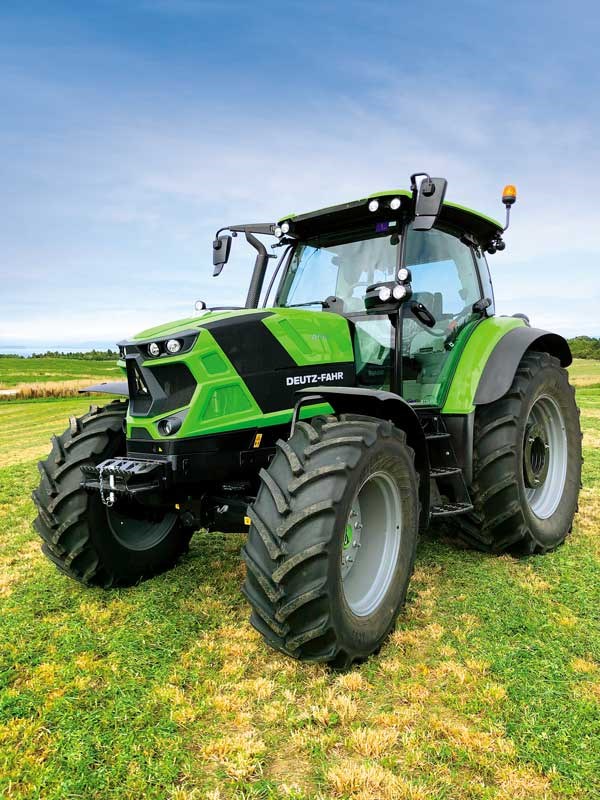 Aside from a couple of cylinders less and a few less horsepower and weight, the 6130 and 6140 tractors are packed with most of the same features as the larger models of the Deutz-Fahr range.
Shades of green
Overlooking the shores of Lake Taupo, near the holiday spot of Kinloch, Power Farming had organised a Drive Day featuring Kverneland and McHale hay equipment pulled by the mighty Deutz-Fahr tractors.
With lucern still growing well through the summer and plenty of area, there was ample opportunity to see the green machines in action.
For our test, Alistair Horrocks, national sales manager for Deutz-Fahr Tractors at Power Framing had organised a Powershift version 6140 Agrotron, which was released in New Zealand at the Northland Field Days in early March.
This new model is available in two different horespower ratings – 130 and 140 (like our test machine), with two transmission options – Powershift and TTV (variable) – available. There are different spec level machines, and there's also the option to indent order a tractor to your specific requirements.    
Engine/serviceability
The 3849cc four-cylinder FARMotion engine is fitted to the 6130 and 6140. Thicker, extractable liners and new steel crankshafts are designed to improve balance and overall strengthening for higher performance, particularly when operating front-end loaders, which they are well suited for.
These engines meet Tier4i requirements, using diesel oxidation catalyst and cooled exhaust gas recirculation, so diesel particulate filters or AdBlue do not need to be added to meet environmental requirements.
Utilising an electronic Viscos fan also helps keep total fuel requirements down for low total cost of ownership. Alistair also pointed out the easy-lift bonnet and removable side panels, the easy-clean radiators, and access to the likes of filters to keep the mechanic's time spent changing oils, etc to a minimum.
Power-wise, I thought it was really good for what I would consider a medium-sized tractor. With the three-metre-wide mower conditioner operating over rolling terrain, the engine ticked away without running out of power and having to chop up and down gears, as you would hope.
Transmission
I like the Powershift transmission used on the 6140 test tractor. Changes between the five-speed gearbox were pretty smooth considering the tractor was still like new. A low/med/high split gives a range of speed options within each gear while mowing without feeling the need to reach for the gearstick to change gears.
With two ranges, this gives total gears of 30 forward plus 30 reverse (Summit specification). For vegetable-type work, you can double up again to give 60+60 (standard on Strato variant) with the creeper option.
This is a relatively simple and well-proven system, however, Deutz-Fahr have added a few bells and whistles to bring this model up to spec to meet the requirements of the 21st-century farmer.
The Stop and Go feature works as you would expect, allowing the operator to use the brake alone to stop the tractor without the clutch, much like your automatic car or variable transmission tractor. It's particularly helpful when operating loaders or working in confined spaces.
The ComfortClutch system is a button on the gear lever allowing you to change gears without the clutch pedal, almost making it surplus to requirements. The power shuttle has five stages of adjustment, designed to allow changes of direction without interrupting torque, but I didn't really get a chance to fully test this feature.
Two programmable engine speeds also make things simple, setting the revs for whatever task you may be doing. In our case, the required revs was 1000PTO rpm to run the mower conditioner.
Hydraulics
The 120 CCLS pump is a standard fitmet across the range. This provides 120 litres per minute load sensing with mechanical remotes (three standard).
This set-up with up to five electro-hydraulic double acting valves and other features such as the factory fitted front linkage, capable of lifting 2880kg, and/or front-end loader (the rear linkage has a lift capacity of 7000kg) would be ideal for the type of work that many farmers encounter on a daily basis.
As our test machine was new, it hadn't been set up with ballast block on front linkage or front weights, which, with a three-metre mower, made the front end feel a little on the light side; the small rear wheel weights did help though. I would like to see how it would feel with 500–1000kg on the front while still having the nimbleness of the four-cylinder machine.
Cab/operation
Having just jumped out of a bigger 6 Series Deutz, the cab of the new model four-cylinder 6140 did feel a little small (with two in it), though, the standard fitted mechanical cabin suspension provides a good level of operator comfort.
However, it was well laid out, with functions close at hand without feeling cluttered and messy. The colour-coding – yellow PTO controls, green linkage, orange transmission, and blue hydraulic remote controls –  is common to all Deutz-Fahr tractors. Similar systems are used across other brands, making operation and familiarisation for new operators pretty straightforward.
I like that the tractor info centre is incorporated into the tilt and reach adjustable steering dash, which leaves room for other monitors to be mounted in the cab for implements or guidance should they be required.
Using a six-pillar cab design gives good strength to the cab without ending up with large full side doors that can be difficult to shut. Operator comfort is taken care of with plenty of air vents for heating or cooling the cab as well as Bluetooth radio.
Driver seats have three available levels of spec available depending on machine spec. All come standard with passenger/trainer seat. If your tractor is a 50km/hr transmission machine, it will come with front suspension. Mechanical cabin supension is standard fitment across all New Zealand models.
The mechanical spring set-up seemed to do the job fine on the test tractor when working in conjunction with front suspension and air seat given the wheelbase is quite short being a four-cylinder at just over 2.5 metres.
One of the new features I did like on the new model is the addition of the hydraulic park brake. I think it adds to the build quality of these tractors – a system I prefer over mechanical cable handbrake alternative.
Verdict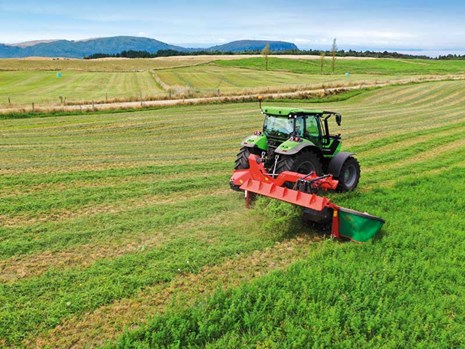 I think Deutz-Fahr have a good package in the 6 Series 6130/6140 tractors, receiving style features from the larger members of the range as well as the reliable FARMotion engines with plenty of hydraulic flow to get the job done.
With plenty of power, a small adjustment on weight would see these tractors quite at home as the smaller members of a contracting fleet or your larger farm requiring a bit more horsepower and a few extra bells and whistles.
Having not had a heavy-duty four-cylinder machine available in this size for a while, Alistair and the Power Farming team are excited to have these new models that will suit New Zealand farmers down to the ground.
Deutz-Fahr 6140 Powershift specifications
Engine
FARMotion 
Cylinders aspiration/emission
4-cylinder/turbo intercooler/Stage 4i
Displacement
3849cc
Engine power

129hp/94.9kW @2200rpm
136hp/100kW @2000rpm

Transmission 
60x60, 5-speed gearbox with low/med/high range powershift; 4 mechanical ranges, including a super creep gear set
Shuttle shift 
Electro-Hydraulic shuttle-adjustable 
Hydraulic system 
Closed centre load sensing
Pump capacity 
120L/min CCLS standard
Three-point hitch
CatII/III 
Lift capacity 
7000kg 
Remote valves 
4 electronic remotes standard
Rear PTO speeds 
540/540E/1000/1000E 
Front PTO speed 
1000 (if fitted) 
Front tyres
480/65R28 
Rear tyres 
600/65R38 
Dimensions  
Length
44280mm 
Wheelbase 
2550mm 
Maximum total weight 
9000kg 
Fuel tank 
200L 
Pluses
Hydraulic park brake
FARMotion Tier 4i without the need for using AdBlue
Basic Powershift type transmission with extra features such as Stop and Go
Comfortable and functional cab
Minuses
Front end a little light for heavy linkage implements; options to remedy this
Cab felt small after jumping out of the larger 6 series Deutz but still plenty of room for your lunchbox
Deutz-Fahr 6140 video
See more tractors for sale in NZ
Keep up to date in the industry by signing up to Farm Trader's free newsletter or liking us on Facebook