Test: Polaris RZR RS1
---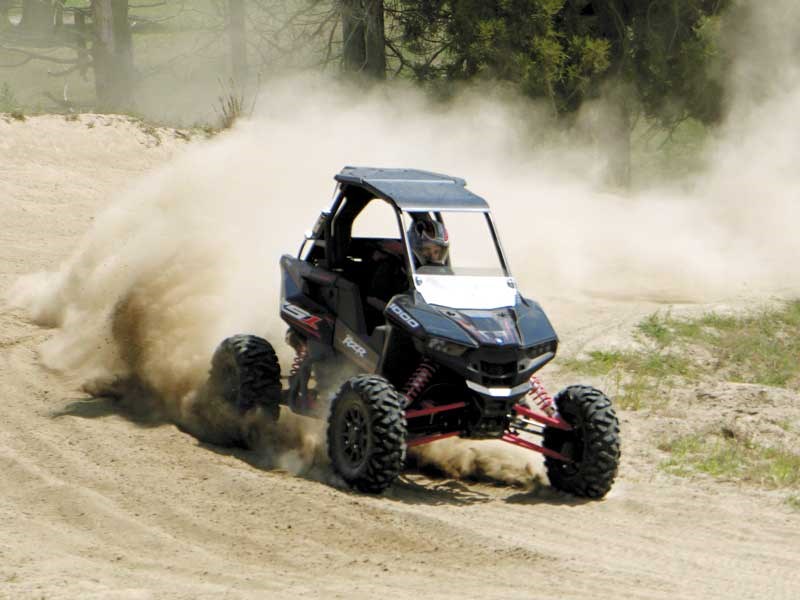 The Polaris RZR RS1 impressed with both its acceleration and handling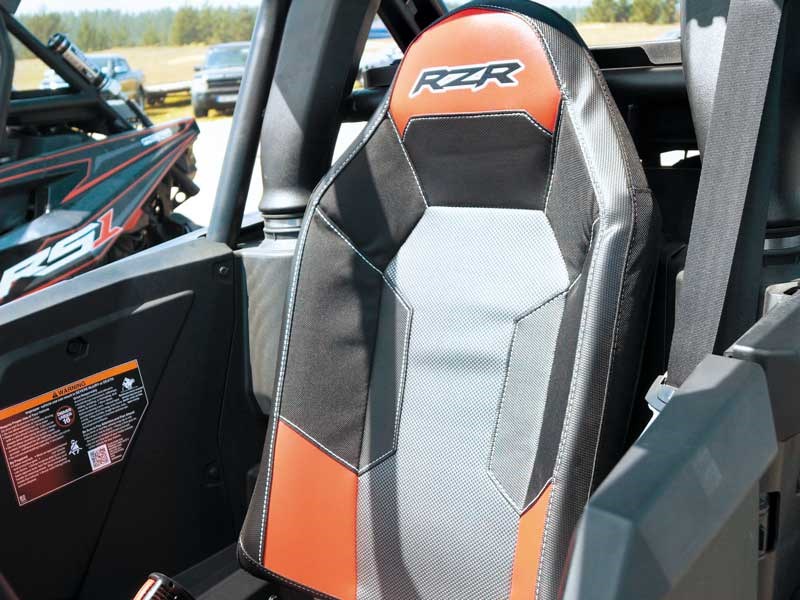 A racing bucket seat wraps around the driver for extra security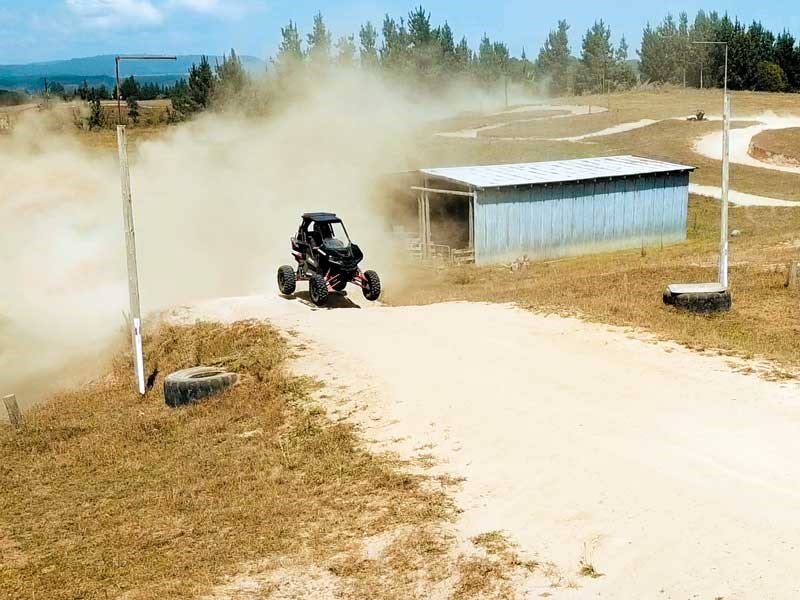 Air time and landing are super comfy thanks to standout suspension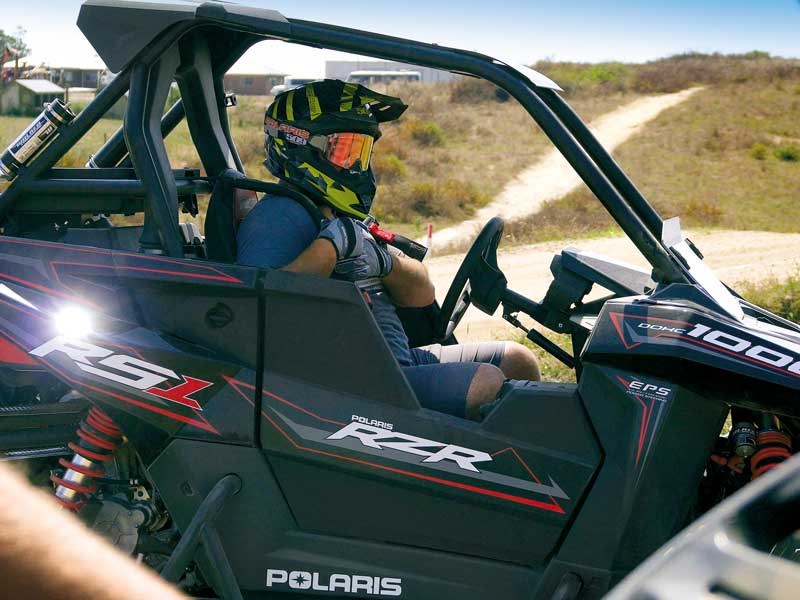 A five-point harness holds the driver inside the full roll cage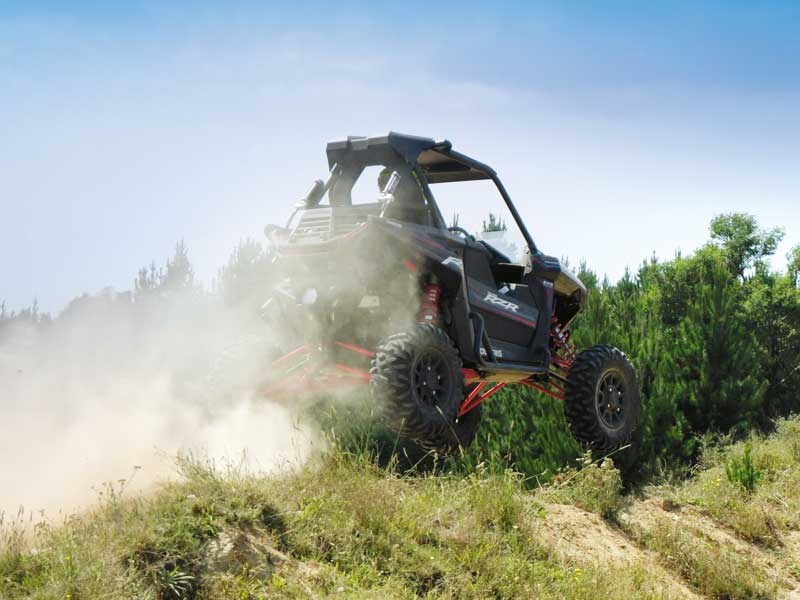 Weighing in at just of 600kg with a 1000cc engine, the RZR RS1 has an amazing power to weight ratio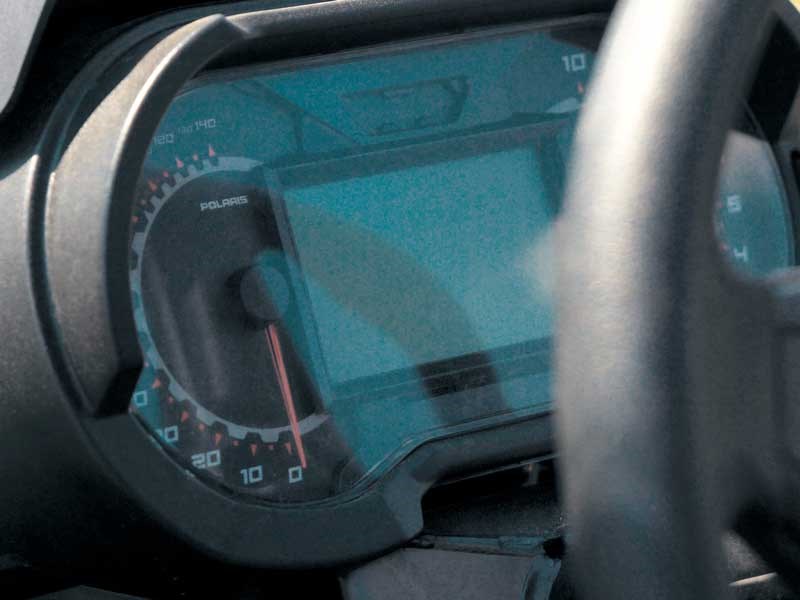 The clearly laid out dash

The opportunity to test-drive the single-seater Polaris RZR RS1 showed it to be an absolute rocketship designed purely for racing and recreation
The off-road UTV market has grown massively in recent years. It's incredible to see so many of these machines on the rural landscape, machines that many didn't know they even needed 10 years ago.
In New Zealand, we tend to regard them mainly as vehicles for work and getting us around the farm, but for much of the rest of the world, and a growing number here too, the preferred used is purely for recreation and off-road racing.
Earlier this year, I managed a day off the farm to see for myself just how much fun they can be recreationally. The opportunity to test-drive the single-seater Polaris RZR RS1 showed it to be an absolute rocketship designed purely for racing and recreation.
Polaris agent Steve Donoghue from Jacks Machinery supplied a range of Polaris UTVs and organised the demo day at Pirini Motorbike Park in Te Puke that features two dedicated motocross tracks as well 40km of trails through farmland and forestry, catering for various skill levels.
It proved ideal to put the Polaris RZR RS1 through its paces. Adrian Bunyan  from Polaris was also on hand to point out the features of the machine and show me what it has to offer..   
Engine
The Polaris engine is rear mounted for weight distribution over the rear axle, allowing improved traction. For its size and weight, a phenomenal amount of power is delivered, using an in-house Polaris Pro Star 1000 engine.
This four stroke, parallel twin-cylinder with DOHC and electronic fuel injection has a capacity of 999cc and puts out massive 110hp – impressive for a machine that weighs just over 600kg.
When in the driver's seat, it takes the smallest touch of the accelerator and the Polaris jumps off the mark and throws you back in the seat with amazing acceleration. I'd like to tell you the top speed, but the truth is I don't think I actually ever hit it due to the many twists and turns of the trails I chose, but rest assured, it's lightning fast.
The radiator has been moved to the rear of the machine above the engine. This is said to make the cooling package more efficient and also means the driver doesn't get the hot air coming off the radiator in the face.
Clean air for the engine is drawn in through the ROPS frame above the driver's head, which is ideal to ensure it remains free of mud and dust. Weight distribution is important. To keep the machine balanced, the fuel tank is positioned centrally underneath the driver and holds an impressive 36 litres to keep going on the trails for hours.
Transmission and brakes
Power is transferred to the wheels through a fully automatic CVT transmission. The centrifugal clutch and belt drive have been designed to minimise power loss and maximise acceleration. A selector gives the driver a choice of High, Low Neutral, Reverse, and a transmission locking Park brake for holding the machine when stopped on a hill.
There is also a choice of two-wheel drive or true on-demand All Wheel Drive, providing a positive drive to all wheels in changing conditions. 
With such a speedy machine, stopping is equally as important. Thankfully, there are four-wheel hydraulic disc brakes all round with dual bore callipers. This system provides progressive active braking that gives the ability to feather the brakes in the corners or stomp on them to come to an incredibly abrupt halt.
Suspension
The suspension set up is another standout feature. Up front, you'll find a dual 'A' arm set up, which gives huge 400mm of travel for the wheels. There are 50mm Walker Evens Needle shocks that incorporate adjustment to 16 positions. 
At the rear, a trailing arm set up with a stabiliser bar gives an even more impressive 460mm of travel. The shocks are the same Walker Evens Needle as the front, except larger 63mm diameter. Overall, the ground clearance sits at 330mm.
In layman's terms, all of this adds up to amazing ride and handling, even over seriously rough terrain. The suspension soaks up the largest bumps and ruts with ease. We were also clearing some impressive jumps on the motocross track. Thankfully, the landings were equally as impressive and smooth regardless of the angle of impact. 
Cabin
Being used to a two-seater, the cabin space initially appears small. However, once you're in the driver's seat, there's actually plenty of room. The racing bucket seat, five-point harness, and full ROPS frame give a great feeling of reassurance and safety when you're strapped in, regardless of what's going on outside.
A simple dash provides everything required in the way of gauges for speed, RPM, fuel, temperature and volts, gear indicator lights, hour metre, etc. A service indicator and clock are also included on the dash. 
The steering wheel is adjustable to suit individual drivers. An accelerator pedal is comfortably placed for the right foot and somewhat unusually, there are twin brake pedals.
These are not independent brakes but are designed to cater to people who want to left foot brake when the right foot is hard on the gas.
It also allows you to right foot brake using the other pedal, and while useful to have the option, it was hard to master when you're not used to it. 
Storage space is a premium on this machine, There are a few small pockets in the cabin, a smallish rack on the back, and a compartment in the front.
Verdict
There's a lot of talk around the wellbeing of farmers these days, including making sure it's not all work and no play. Well, I've decided the Polaris RZR RS1 is just the ticket to some downtime and fun. You don't really get what a machine like this has to offer until you actually get in the driver's seat and give it a hoon.
With phenomenal acceleration, loads of power to pull you out of most sticky situations, incredible handling, and suspension to cover the roughest terrain and land the biggest jumps all packed into an incredibly lightweight machine, there's no denying that it's a heck of a lot of fun.
Probably, the only real negative thing I can see is that it's definitely something you want to do with a couple of mates. Given that there's only room for one, the solution is easy – just talk them into buying a Polaris RZR RS1 as well.   
Polaris RZR RS1 specifications
| | |
| --- | --- |
| Engine | ProStar 1000 H.O. 4-stroke DOHC Twin Cylinder |
| Power | 110hp  |
| Transmission | Automatic CVT P/R/N/L/H |
| Fuel tank | 36L |
| Dry weight | 608kg |
| Front tyres | 29 x 9 - 14 |
| Rear tyres | 29 x 11 - 14 |
| Length | 2845mm |
| Width | 1626mm |
| Height | 1873mm |
| Wheelbase | 2110mm |
Watch the Polaris RZR RS1 in action
Keep up to date in the industry by signing up to Farm Trader's free newsletter or liking us on Facebook