Test: Can-Am Outlander Pro 650
---
The latest Can-Am Outlander Pro 650 is plusher, wider, and safer – so much so that it's practically a limo, according to Australia-based machinery tester Barry Ashenhurst
Current trends suggest that we can ignore the old wives' tale that farmers are too conservative to covet a neighbour's latest high horsepower acquisition, or that they're too busy being farmers to enjoy flashy new toys in the garage.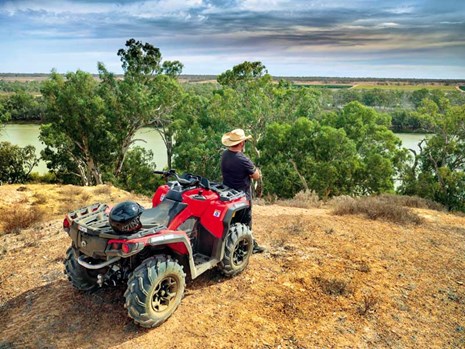 But attend any field day anywhere in the country and brand reps will tell you how many farmers trade up to more expensive gear simply because brand envy is a natural human
emotion – and that works its magic with ATVs too.
With a reputation as a plush speedster, Can-Am has upgraded the 2019 platform, making it more attractive to buyers who want a fistful of speed with a comfy recliner ride.
The basics
Thanks to a new wheel offset, the new model has wider footprint, which should make it marginally more stable. It now has a front torsion bar to lessen the soft riding machine's tendency to dive under brakes when driven hard by a hungry worker eager to get to Mum's lamb roast.
Can-Am says in its advertising material that this is the only independent rear suspension to "eliminate scrub and camber changes". That's something we can't measure so we'll take it on face value. The 12-inch cast aluminium wheels look very swish while six-ply tyres give better sidewall puncture resistance. Ground clearance is a claimed 30.5cm, towing capacity 750kg.
Standard equipment includes the factory's Digitally Encoded Security System (DESS). In day-to-day terms, DESS has a dual function: it helps prevent vehicle theft by blocking access to the engine's electronic ignition system and with a pair of security keys controls the vehicle's top speed. With a green key in place, top speed is about 70km/h, and with the grey about 105km/h. No doubt some employers will stash the grey key in a cupboard so the cowboys can't cause collateral damage. 
Out and about
The machine rides nicely, as you'd expect, and although it wanders slightly at high speed, as all ATVs with low pressure, all-terrain tyres tend to do, it has no disturbing characteristics such as chronic understeer – not that I could feel anyway.
Can-Am's Tri-Mode Dynamic power steering is adjustable to match the conditions you're working in. The Medium setting is a good all-rounder and the Max setting is best used when you need full power assistance, for example, as you probably would when steering with one hand while keeping an eye on the sprayer behind you.
Braking is first class. Downhill braking in low range from the 62hp (46kW) Rotax V-twin is as good as it gets on any ATV. Wheel brakes are strong, too, with an even braking force that feels predictable and stable. The Outlander pulls up from high speed in a straight line, even on a gravel road.
I know I've said this before but single-lever braking has its advantages over dual-lever front and rear brakes, particularly with a novice in the saddle. I know from experience that applying too much front brake on a steep descent can be dangerous – spent time in Ipswich Hospital contemplating that – but you won't commit that felony on an Outlander 650 Pro.
Can-Am says that even with two discs up front and only one down the back, it's damn near impossible to flip the machine because you've applied too much front brake on a steep descent.
To be honest, anything can happen 'on a steep descent', and some of it defies physics. But having a braking system that fights the flip is a good place to start with operator safety. Polaris runs a similar set-up and it works well too.
The collection
650cc Outlander models and above are premium products that differ from the workaholic 450 and 570 Outlanders. The 450 and 570 have stiffer load-carrying suspension and steel racks with higher carrying capacities.
Loads on steel racks can be secured with any old thing you find lying around – rope, wire, tie-downs, string theory, whatever – while Can-Am's plastic racks are integral to the manufacturer's LinQ range of grips, tool holders, and rack extensions. I'm reliably informed by reliable informers that farmers have been known to favour the 650 purely on the grounds of its LinQ system.
There's little to complain about on an Outlander 650 Pro. In fact, the only uncivilised thing about it is the way it pitches forward or backward when you engage a gear. Nearly all machines with a CVT transmission do this; it's called clutch clunk, so it's good practice on any ATV to apply the brakes when engaging the transmission.
These days, because general ATV design has been standardised and most share similar characteristics, other factors have been brought to bear on who buys what and why. Factory warranty has become a big factor in the purchasing decision, bigger even that performance or trick bits or good looks.
According to some whose job is to sell these machines, warranty conditions are now the first thing many farmers consider, particularly on dairy farms where the machines work non-stop in corrosive environments. Can-Am's ATV warranty is three years and for many, that box is too big not to tick.
Can-Am Outlander 650 Pro specifications
| | |
| --- | --- |
| Engine | 62hp Rotax V-Twin |
| Transmission | CVT |
| Drive train | Selectable 2WD/4WD with auto locking front diff |
| Powersteering | Tri-Mode Dynamic |
| Front suspension | Independent arched double A-arms with swaybar |
| Rear suspension | Independent torsional trailing arm |
| Rear shocks | Oil |
| Front brakes | Dual 214mm ventilated discs |
| Rear brakes | Single 214mm ventilated disc |
| Front wheels and tyres | Carlisle ACT HD 26x8-12 |
| Rear wheels and tyres | Carlisle ACT HD 26x10-12 |
| LxWxH | 218.4 x 121.9 x 126cm |
| Wheelbase | 129.5cm |
| Ground clearance | 30.5cm |
| Dry weight | 341kg |
Watch the Can-Am Outlander in action
Keep up to date in the industry by signing up to Farm Trader's free newsletter or liking us on Facebook