Cover Story: Polaris Ranger 570 HD EPS
---
Farm Trader tests three Polaris Ranger 570 machines out on a dairy farm near Morrinsville
Polaris has firmly established itself as a major player in the side by side market in New Zealand. With one of the widest range of off-road utility vehicles available here, there's a model to suit all working farm situations and an impressive dealer network across the country to accommodate sales and servicing needs.
I recently spent time with dairy farmer Geoff Irwin, who runs two Polaris Ranger 570 side by sides on his 84-hectare property near Morrinsville.
Craig Tilson from Polaris joined us for the day, along with Ian Good from Action Equipment in Hamilton, bringing a brand spanking new Ranger 570 along too decked out with some extras, so we could put all three machines through their paces to see what they offer.
While Geoff enjoys farming, he also enjoys fast machines. Having ridden a lot of motocross bikes in the past, he knew exactly what he was looking for in for his farm bikes: practical, safe machines to use on the farm but with some good acceleration and speed.
Having owned larger, more powerful side by sides in the past, Geoff bought his first Polaris Ranger just over two years ago because he was impressed with what it had to offer. He must have been happy with its performance, as his second Polaris was purchased a year later.
Engine
Mounted low in the chassis with its weight over the rear wheels is the single-cylinder 567cc liquid-cooled engine. Designed and built by Polaris specifically for this machine, it puts out a substantial 44hp, which is great in a machine this size.
Personally, I found it really responsive, with plenty acceleration off the mark, which is mainly attributed to the low overall weight of just under 500kg, giving the Polaris Ranger 570 a great power to weight ratio.
While I didn't test it with any significant amount of weight on it or with a trailer, it's rated up to 227kg on the tray or to tow an impressive 680kg. I'm sure you'd notice that much weight on the back, but then maybe that's a good time to put it in low gear and take your time anyway.
Geoff and his staff regularly use the Polaris Ranger's shifting effluent irrigators and towing calf milk trailers and find them more than capable. A decent-sized 34-litre fuel tank is tucked under the seat of the machine - once again nice and low to keep the weight down and with an easily accessible large filler on the right-hand side.
One thing Geoff immediately noticed with the Polaris Ranger 570 is that it's incredibly economical to run, travelling almost twice as far on a tank of fuel as his old 800cc machine.
Transmission
As with most side by sides, drive is through a belt-drive Continuously Variable Transmission (CVT). This gives smooth acceleration from a standstill to a top speed of close to 80km/hr and anything in between.
A gear lever on the dash offers a choice of a high and low gear. Although, most of the time, the machine will likely be in high, low is great when towing loads or tackling hills or tricky spots. The lever also provides neutral, reverse, and a park lock.
Both machines on the farm have had no problems with the transmission, and once again, Geoff puts it down to regular servicing and keeping them in top order.
With a choice of three different drive modes, there's a selector and indicator on the dash. Firstly, a turf mode, which sees the rear differential unlocked and power delivered to either rear wheels as required. When turning in the paddock, it doesn't scuff the ground up and the steering is nice and light, making the machine nimble and manoeuvrable.
Then there is 2WD, which sees the rear differential locked and power delivered to both rear wheels. Finally, there is true on-demand All Wheel Drive (AWD), which sees power delivered to all four wheels as required. This is useful to drag the machine out if you're ever in a muddy slippery situation, or struggling for traction.  
Braking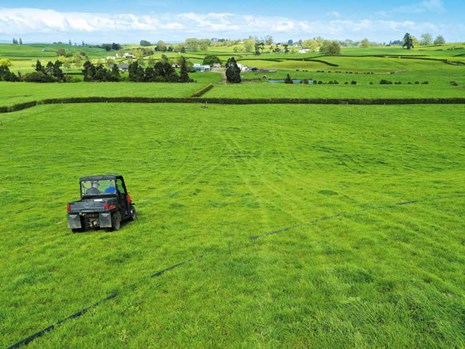 For me, engine braking is crucial on a side by side, and there are still some shocking examples around that freewheel downhill, something that can be really dangerous. Not the Polaris though, as the Ranger 570 uses a set-up they have coined Active Descent Control (ADC), which can be turned on or off with a selector on the dash.
The ADC uses a sprag clutch in the driveline to actively hold the machine back with the engine when descending a hill, and at slow speed, if you let your foot off the accelerator, it will actually bring you to a stop at which is great to ensure the operator is in complete control at all times.
This is also amazing when towing or on very steep hills. The interesting thing is that even with the ADC turned off, there is still a level of engine braking that keeps the machine's speed from increasing when going downhill without your foot on the accelerator.
The brakes on the machine are also impressive. Hydraulic disc brakes on all four wheels provide ample trouble-free stopping power at the touch of the foot pedal. It's also great to see that in addition to a park lock on the transmission, there is a mechanical handbrake.
This is far quicker to use if you're stopping briefly to open a gate, rather than shifting through the gears to park. The only minor gripe I have is that it's slightly out of the way below the seat in the footwell where it could be forgotten. Fortunately, Polaris has thought about this, so when it is on, it won't let the engine go above an idle until the handbrake is released; a useful way to protect the brakes.
Chassis, suspension, and handling
A well-built steel chassis frame is the backbone of the Polaris Ranger 570 and creates a nice stable platform. MacPherson struts on the front corners give around 230mm of travel, while wide dual 'A' arms and shocks at the rear give over 250 mm of travel.
This set-up makes for a surprisingly smooth ride, and the handling is good, thanks in part to this and to the electronic power steering. Ground clearance is just over 250mm, which is also more than adequate.
What I did like was that the suspension pivot points had grease nipples to extend their lifespan and that the chassis and suspension is designed to reduce the places where mud can get caught and build up. The same cannot be said about the underside of the tray above the wheels, as the honeycomb pattern collects mud and can be difficult to wash.
Fortunately, you can add on a full mudguard over the top of each wheel, which reduces the amount of mud getting stuck to the machine; a useful piece of ingenuity.      
Cabin
A comfortable, slightly sculpted bench seat is perfect on this type of machine, as it easily fits two people or maybe three with a bit of a squish. The comfortable upright driving position is really easy to get in and out of. It's good to see three-point seatbelts. Cleverly, if the driver's seatbelt isn't used, the machine is automatically limited to 25 km/hr: a good safety feature.
Nets on the side doors are another safety feature. The decent-sized steering wheel can be adjusted for the most comfortable position and the all other controls are within easy reach of the driver.
A digital dash display shows the vital stats you would expect and includes a fuel gauge. It's good to see a 12-volt lighter socket for a spotlight or phone charger. Storage is more than covered, with numerous cup holders, compartments, and a decent-size glovebox to store all the vital everyday odds and ends. 
The most impressive thing for me about the cab though is the Polaris Lock and Ride system. This is a range of accessories designed by Polaris exclusively for their machines.
Fitted to the model tested was a roof as well as a front and rear windscreen, but doors are also available as well. The way these accessories are fitted is the standout feature. The ROPS frame has a channel built into it that the accessories fit snuggly into. They are then secured in place with plastic twist-lock handles.
It took seconds to remove the front windscreen and there is no movement or rattling when they are fitted. A wiper and a washer bottle for the front windscreen was also part of the package.  
Verdict
The Polaris Ranger 570 HD is a great example of an all-rounder that I'm sure will prove to be a solid workhorse on any farm. The engine provides plenty of torque and the light overall weight ensures that translates into plenty of acceleration.
I was particularly impressed with the engine braking and Active Descent Control. It works very well and is a great safety feature. The Turf mode is another surprise for me and something I now realise is worth having, as in dry conditions with it on, the machine is nimble and manoeuvrable.  
Polaris Ranger 570 HD EPS specifciations
| | |
| --- | --- |
| Engine | 567cc, Single cylinder 4-stroke, Liquid-cooled |
| Transmission  | CVT belt-drive transmission with high/low range, neutral, park and reverse |
| Drive system   | On-demand AWD/2WD/Turf Mode with Active Descent Control |
| Fuel capacity | 34L  |
| Front suspension  | MacPherson strut, 229mm travel |
| Rear suspension  | Dual A-arms, 254mm travel |
| Tyres | 25x8-12 front, 25x10-12 rear |
| Brakes | Four wheel hydraulic disc |
| Ground clearance  | 254mm |
| L x W x H | 2790mm x 1470mm x 1850mm |
| Cargo bed capacity  | 227kg  |
| Towing capacity | 680kg |
| Curb weight | 499kg |
Pluses
Responsive yet economical 567cc single-cylinder engine
Three drive modes: AWD, 2WD, and Turf mode
Engine braking and Active Descent Control to control downhill speed
Simple yet smooth suspension set-up
Great Lock and Ride accessories to customise each machine
Minuses
Handbrake is slightly out of the way, although, the machine won't move if forgotten
Honeycomb pattern on the underside of the tray collects a lot of mud. There are full mudguards available to limit this.
Find more quad bikes for sale in NZ
Keep up to date in the industry by signing up to Farm Trader's free newsletter or liking us on Facebook