A compact giant
---
Some of the best ideas and inventions stem from the simplest ideas, particularly when inspiration is taken directly from nature
The GiANT 6004, designed and made by European compact loader manufacturer, Tobroco from the Netherlands, is an excellent example of this philosophy.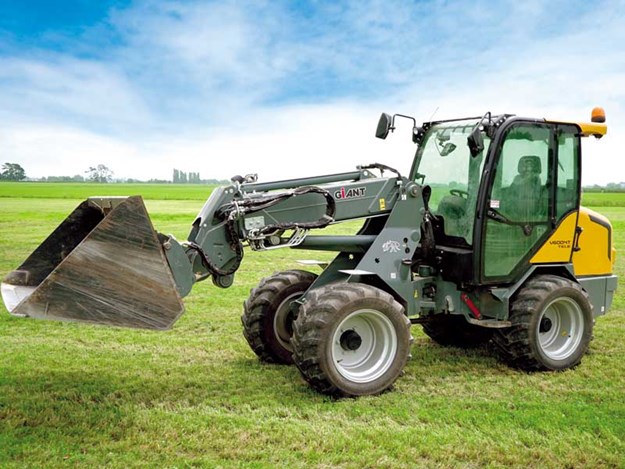 Behind the name GiANT is a double meaning: not only is the word giant a representation of size and strength but it also incorporates the word ant, with this humble insect known for its ability to work and carry up to 5000 times its own weight.
GiANT loaders are an upscaled version of these incredible insects, designed for efficient lifting and for carrying of a wide variety of objects.
The Tobroco-GiANT loader brand hasn't been on the scene in New Zealand for as long as some other agricultural and industrial brands, however, it's quickly establishing a reputation for compact loaders with high capacity to handle large workloads.
Coupled with the reliability of using some of the best names in the business (components used in GiANT machines include Comer axles and Bosch Rexroth hydraulic components), the majority of GiANT loaders run Kubota engines (they also have an electric version available).
Kubota are leaders in diesel engines for smaller industrial machines, and the fact GiANT are producing loaders for Kubota, leaving the factory branded as Kubota machines, is a fairly high testament to the quality of these loader. 
Test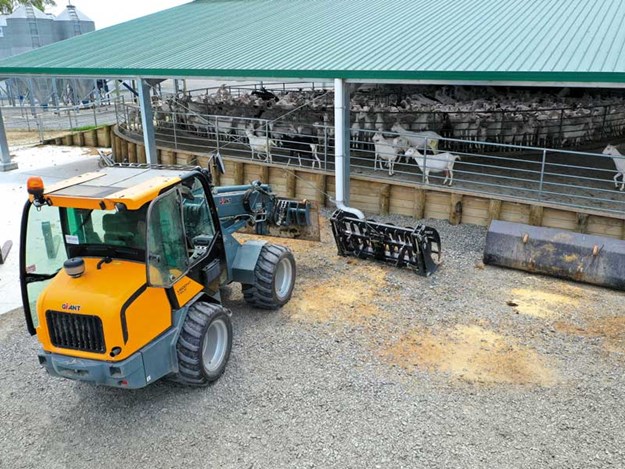 To put one of the machines through its paces for our test review, we headed to Elite Dairy Goats at Manawaru between Matamata and Te Aroha. The team from Te Aroha Tractors, local dealers for the GiANT brand, had earlier delivered a 6004 GiANT, one of the larger models available from the 36-model range of loaders.
With several months work under its belt, the new machine had clocked up more than 500 hours and already more than proved its value to the smooth running of a variety of tasks.
The Elite Dairy Goats team reckon it's a daily time-saver for staff, far more capable and suited to required tasks than the old small tractor and loaders it replaced.
Reliability is one of the key attributes of the new GiANT machine and the fact it's easy to maintain is a definite bonus. With easy access to grease nipples and daily service points well thought out, the fold-out rear engine cover for radiator and air filter cleaning means daily and weekly checks and servicing don't take long, so are more likely to get done regularly.
Oil and hydraulic filters are on the right side, and GiANT has located the hydraulic tank at the rear, with the diesel tank under the center of the machine, helping keep it stable and avoiding variation between a full tank to empty over the course of a full days work.
At current workload and 250-hour service intervals, Elite Dairy Goats machine will require four services a year.
Since arriving on farm, the GiANT has filled the role of not only the small tractors it replaced but has also taken on some of the work that was previously the domain of the telehandler, such as scraping out waste feed from sheds and loading the mixer wagon.
With a reach of 4.3 metres, thanks to the telescopic boom and arm, and a maximum lift capacity of 2000kg, a bale of silage proves absolutely no trouble. In fact, two bales at a time is possible, so long as the machine is weighted up correctly.
GiANT loaders feature fixed loader arm models as well as the telescopic version, such as is fitted to our test machine. Bjorn from Elite Dairy Goats has also found that the telescopic reach is sufficient to allow him to load the muck spreader directly from the shed, once again helping save time and the need to use the larger telehandler.
A particularly great feature of the GiANT loader is the fact extra ballast can be bolted
to the rear and underneath for greater lift capacity.
The test machine had 500/45-20 tyres fitted, which are larger than standard, and add to the stability of the machine. It also had a liquid lime solution added to the tyre ballast, which is supposedly better than water.
With around 2500 goats to milk twice a day and feed, and a total of 4000 goats on farm including replacements, all fully housed, work needs to be done as efficiently as possible to enable the team to get through all the jobs required. The addition of the GiANT 6004 to the farm team has made a considerable impact and is an excellent example of how having the right tool (or machine) for the job allows you to work smarter, not harder.
Operation
The beauty of the GiANT 6004 loader is that, as the name suggests, it's designed to be a loading machine, so operation is designed around this purpose, with all key functions close at hand.
Like most modern loaders, all loader controls are built into the joystick – an electro over hydraulic unit in this case. Forward reverse shuttle is also found on the joystick, allowing the operator to leave their left hand on the steering wheel.
Given that it's designed as a compact machine, the cab isn't overly large but it's functional and with air conditioning and heating options, is certainly the place to be on cold winter mornings or hot summer afternoons. If your budget doesn't stretch to a full cab, there are variants of ROPS cabs available.
GiANT produce both fixed boom and telescopic booms. Like the Elite Dairy Goats machine, the telescopic loader boom gives the benefits of a telehandler with excellent visibility of the corners of the bucket.
With pivot steering, visibility is not compromised and with the driving position above the engine, rear and side vision is excellent. As an added safety measure, a rear-view camera can be fitted as an option.
Hydraulic locking of attachments is standard on this model. This is a two-step process that requires both hands (for safety reasons). Like other loader brands, sensors are built into the hydraulic systems to ensure the machine operates within its limits.
Engine/hydraulics
As mentioned briefly, the GiANT 6004 runs a Kubota engine. In this model, a four-cylinder turbo charged unit produces 60hp/44kW, which in tractor terms is well and truly on the smaller end of the scale.
However, the benefits of a purpose-designed machine suited to specific jobs is obvious here, with this compact teleloader proving more efficient and manoeuvrable than a clumsier larger tractor front end loader set up. I would also expect to start saving straight away on daily fuel running costs.
GiANT gets away with a small engine here, as a compact wheel loader is similar to a tracked excavator, where hydraulic flow is the most important factor. Hydraulic performance being key; GiANT has not cut any corners here, opting for the high quality German made Bosch equipment.
The hydraulic pump runs the two-stage hydrostatic drive transmission as well as the working function for the steering and boom.
Running a single pump with a maximum 121.5 litres per minute available for driving, at 5000psi an electric proportional solenoid valve will make 67.5 litres per minute at 3100psi for working functions as required. The two-speed hydrostatic drive transmission is smooth, as would be expected.
Range 1 gives a 0–10km/hr working range, providing plenty of power for heavy pushing work. With full-time 4WD, you don't have to worry about remembering to select 4WD. Front and rear axles have electronic locking diff should it be required.
Range 2 gives operating speeds of 0–28km/hr. While it may seem slow, don't forget that most often on farm, the time spent operating over 15–20km/hr is probably not that much, especially when operating fixed axles without boom suspension on small tyres.
Steady growth
Manufactured in Oisterwijk, Netherlands, GiANT has grown from its initial small beginnings in 1996 to an impressive product range now consisting of skid steer, wheel and telescopic loaders, and telehandler machines.
By 2014, the brand had produced 10,000 machines and 25,000 attachments. Now available around the globe, GiANT is imported to New Zealand and Australia by Forestquip, and Te Aroha Tractors are one of the regional dealers.
The versatility of these nimble yet high capacity machines makes them suitable for
a huge variety of tasks and industries. Forestquip's Richard Henkelman says the machines are working in farming, apiculture, horticulture, and council garden and roading projects.
The attachments available ex-factory from GiANT are many and varied. For me, the fact you can spec your machine with a euro hitch, which the majority of other farm loader attachments in New Zealand are, is a huge plus.
This means if you have an existing collection of attachments, they can be utilised. Add to that the hydraulic coupling, which means that if you're regularly changing bucket to forks, for example, this can be done without leaving the operator seat – another time-saving efficiency.
Like many tractors and trucks, if you know exactly what you want your machine for, you can sit down with your dealer and build your machine to the spec's required, just like Elite Dairy Goats have done.
Opting for the fully enclosed cab, air conditioning, wider tyres, and reversing camera to further enhance the safety of the machine on such a busy farm, they got the machine they wanted correctly spec'd for the jobs needing to be done.
Other options can include a custom paint job to match business branding, safety features suchas the Stabilo System, and boom suspension through accumulators are available should you want them (these are particularly helpful when operating in rough terrain).
Verdict
After spending the day with the GiANT 6004 at Elite Dairy Goats, I am impressed at the capabilities and variety of models and accessories available. With so many options and specification levels on the menu, GiANT are also happy to build an individual machine to suit personal requirements.
These days where efficiency and bang for buck are vital to the success of farming as a business, I reckon this ticks all the boxes.
GiANT 6004T loader specifications
Engine
4-cylinder, turbo charged
Output
60hp/44kW
Transmission
Hydrostatic, 2 range, electric shuttle
Max speed
Range 1: 0–10km/hr 
 
Range 2: 0–28km/hr
Max lift height
4.3m
Length without the bucket
3.9m
Width on standard tyres
1.4m
Lift capacity
2000kg
Service weight
3850kg
Hydraulic flow/pressure 

Driving 121.5L/min @5000psi
Working 67.5L/min @3100psi

Standard tyres
12.0/75–18 TR11
Diesel tank
68L
Service interval
250hrs
Pluses
Power to size/weight ratio - plenty for its size
Hydraulic Euro hitch
Factory customisable
Easy access for servicing
Great all-round visibility
Minuses
Find more loaders for sale in NZ
Keep up to date in the industry by signing up to Farm Trader's free newsletter or liking us on Facebook