Test: Lemken Heliodor 9
---
It was pretty great to spend time with one of the latest arrivals on our shores: the Lemken Heliodor 9
This impressive bit of machinery incorporates modern thinking into the art of soil cultivation while keeping things old school simple. Even better, it speeds up the cultivation process while saving fuel, and with the price of fuel these days, that's definitely a good thing.
The Lemken Heliodor 9 compact disc harrow is capable of stubble cultivation as well as seedbed preparation, a job that has until recently been taken care of by PTO driven tillage implements.
Put to the test
Thanks to Lemken distributors Te Aroha Tractors, we were able to spend a day with the Heliodore 9, at work on some flat paddocks in the Hauraki Plains. And because of the changeable weather of late, there were a few late paddocks of maize still to be planted.
With the seven-metre machine hooked up to a Fendt 824, which at 240hp is right in the middle of Lemken's suggested power requirement of 175–280hp, we set work early in the morning. The flat Ngatea landscape didn't provide any particularly tough conditions but did allow us to test the operating speed fairly effectively.
With its seven-metre width and power to burn, we certainly covered the ground at a respectable speed. In comparison to say a six-metre power harrow operating at 5km/hr, where you would probably be burning 60 plus litres per hour or 15–20 litres per hectare (approximately), our (admittedly rough) test numbers from the tractor monitor showed an average of four litres per hectare, at which rate you could do almost four passes to use the same amount of fuel.
After just three passes with the Heliodor 9, the first deep ripped peat soil paddock was looking pretty good and ready for the planter.
The second paddock was a tough ask: heavy marine clay, which had a lot of grass left on it when sprayed and disced. After four passes, it still didn't look ready to plant, and even after running the power harrow we also had available through it for comparison, the trash looked like it was going to be an issue, showing just how difficult some soils are to give ideal seedbeds for optimum crop establishment and yield.
Conversely, I know paddocks around Matamata worked with the Heliodor, which have come up perfectly after just two passes, leaving a finish very similar to that of a power harrow.
Operation
The Heliodor 9 is semi trailed for the seven-metre version (this is what our test machine was) and is mounted on a three-point linkage. This gives excellent manoeuvrability for headland turns.
In its basic form, there are only two sets of double-acting hydraulic banks required: for raising and lowering the machine, and folding from transport to work mode.
The double rollers, which control the depth worked by the discs can be optioned with hydraulic operation. This allows minor adjustments to be made on the go instead of with the manual pin system, which also does the job.
Hydraulic levelling paddles are another option and can be added in front of the first row of discs. This would be particularly useful for levelling plough furrows, although, I am sure would work just as well knocking the high points off initial discing or deep ripping.
To avoid just levelling discing out, operating the Heliodor across the paddock helps achieve the desired result. The other key piece of operating information is that faster is better
(up to a point) with operating speeds of 12–15km/hr being optimal. Front, cab, and good seat suspension are high on the tractor spec list for this job.
Initial pass after primary discs probably is only going to allow a max speed of around seven to eight kilometre per hours.
The reason for the speed is to allow the discs to throw and tumble the soil clods to break them up before being broken down by the rear rollers, a cage, and crumbler roller (in the case of our test machine). A number of roller options are available to suit different conditions.
The rear rollers have a central oscillation point, which helps keep the discs and machine operating smoothly across the paddock. The mounting point for the rollers is directly onto the frame of the discs. As well as each disc being individually mounted and spring-loaded, each wing of discs has a central pivot point to allow levelling across the machine. This is important with wide gear like the seven-metre test version.
The Lemken Heliodor is available in three-point linkage, semi-mounted, and trailed variants. Sizes range from 2.5 metres, popular with vineyards right though to 16-metre units, which are particularly popular in Australia where they are used as an alternative option to pre-emergence spraying to control weeds, leaving land fallow before coming back in with the planters.
Construction
I could just say Lemken gear is made in Germany and leave it at that, with the quality and reputation of German-manufactured equipment speaking for itself. I will, however, point out a few of the finer, more important details such as the box section steel used.
Originally, Lemken operated as a steel foundry, so there were never going to be short cuts made here. On close inspection, you can see the box section is single piece, with no welded seams, and on the inside, the uniform steel thickness is noticeable through the corners, being the same as the sides to provide maximum strength.
Manufactured to European standards, front and rear transport lights and hazard panels are fitted at the factory, and it's all finished off with a high-quality paint job in the distinctive light blue Lemken colour. Folded for transport, the Lemken Heliodor 9 is down to 2.9 meters wide and 3.7 meters high, which is compliant with New Zealand road rules.
Speed discs such as the Heliodor 9 are designed to fill the role the power harrow has hogged for some time. There are several benefits of the speed disc, one being that there are no gearboxes and drive bed components. Also to minimise ongoing costs, sealed disc bearings are used to prevent dirt getting in and affecting performance.
The large 510mm serrated concave discs use 5mm thick steel to give long life. Lemken has designed a steel leaf spring to carry each disc, over the rubber-mounted system favoured by other speed disc manufacturers.
The benefit of this is to provide a greater degree of tracking stability of the discs while working.
The patented design of the bend of the leaf springs ensures the cut of the disc stays the same over the working life of the disc: 10.5 degrees to the ground and 16.5 degrees to the direction, with 125mm spacing between to achieve optimal soil mixing and cultivation at the correct depth, across the full working width of the machine.
Options
Lemken make a point of designing its equipment so extra features can be easily bolted on. The best bolt-on accessory for the Heliodor in my opinion is the Solitair pneumatic seed drill, which allows seed to be planted on your last pass, with the Heliodor preparing the seedbed, rather than relying on another tractor to come back to complete the job. The modular Lemken system then allows the seed planter to be removed and mounted on another machine (like a power harrow for example).
Other options include hydraulic levelling paddles and rear roller depth adjustment. There are a number of roller options to select from. High speed axles and brakes are other options worth considering on the larger models for contractors who spend time dragging their machines around the roads.
Verdict
It was great to see the Lemken Heliodor 9 out in the field cultivating. I am a fan of the speed disc concept and the ability of these machines to cover the ground is impressive, especially when you take into account the low fuel usage required to achieve the finished job. With a wide range of sizes, it caters for all situations, from vineyard to farmer or contractor.
About Lemken
While there are plenty of agricultural manufacturers who have been in the business for many years, Lemken is definitely a standout in this category, with the company's history dating back some 240 years when it started out as a metal foundry.
Today, Lemken employs approximately 1600 people within manufacturing and its 27 daughter companies in 55 countries. Lemken equipment is exported to 80 countries, which accounts for 70% of the annual turnover of 370 million for the 2018 financial year.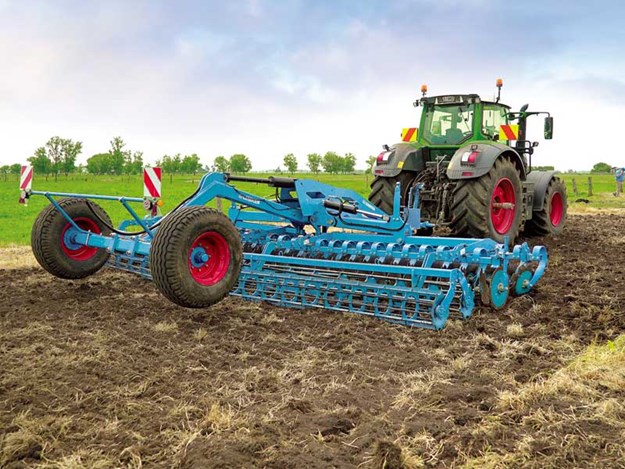 Until May/June 2019, Lemken had been available through the Norwood network of branches across New Zealand. With a change of direction for the company, Lemken is now available at strategic agricultural machinery dealers such as Te Aroha Tractors, who provide sales and stock parts for servicing. Lemken has also built a new parts warehouse in Melbourne so parts are never far away.
Pluses
High-speed operation with low fuel usage – important to help get through the workload at busy times
Low running costs, with long life sealed bearings
Easy to set up; straightforward operation
Multipurpose machine with the ability to complete the cultivation and planting with the one machine
Well built with quality steel used throughout and excellent paint finish
Minuses
Heavier soils dried out quickly are going to challenge the Heliodor
Lemken Heliodor 9 specifications
| | |
| --- | --- |
| Working width | 7m  |
| Transport width | 3m  |
| Weight (approx.. | 03582kg (without roller) |
| Number of discs | 56 |
| Discs | Concave 510mm x 5mm |
| Disc spacing  | 125mm |
| Mounting  | 3-point linkage Cat3 semi trailing |
| Power requirement | 175—280hp 129–206kW |
Find more cultivators for sale in NZ
Keep up to date in the industry by signing up to Farm Trader's free newsletter or liking us on Facebook