Test: Kubota M7-172 Premium
---
Kubota's updated range of M7 tractors mainly focuses on extra spec levels
In an industry filled with brand loyalty, many Asian countries have gallantly tried but ultimately failed to break the global tractor market. Except one – Kubota. Kubota has long been the pin-up girl you could say for the Asian tractor market.
Thanks to its Jack Russel-like tenacity, Kubota has successfully become a thorn in the side of both the Europeans and Americans. This has a lot to do with its ever-improving high horsepower range. Building on its long-running success in its small equipment options, the latest M7-2 range of tractors is starting to make some serious inroads here in New Zealand and Australia.
Sweet (orange) tractor
For this test review of the Kubota M7-172 Premium, we headed to the glorious Sunshine Coast in Queensland. It was a strawberry farm that was ironically filled with oranges (tractors).
Humid conditions resembled a sauna, but the farmer had recently seen some much-needed rain – one-metre in fact – so the Kubota had some sandy soil to compete with. The test tractor was the second-generation Kubota M7-172 Premium, the Japanese brand's latest mid-horsepower tractor.
It's a striking machine, with the bold orange paint job contrasting nicely against the green field. However, it looks very familiar. That's because the new M7-2 hasn't really received any cosmetic changes.
The main difference between the new M7-2 and its previous model is its extra spec levels. There are now four options: the Standard, Deluxe (new), Premium, and the Premium KVT.
We can't say it really bothers us; there is plenty to like about the M7-2 which we will get to; however, a negative to this lack of physical change is the bragging rights.
A fantastic looking ride, but how can one expect to showboat to thy neighbour? Picture this, you're humming up the road with your fresh Kubota M7-2 but your neighbour would merely think you've finally polished the bonnet of the old one.
Engine
Enough aesthetics – let's get to the fun stuff. Under the bonnet, the latest Kubota uses its very own four-cylinder, tier 4 final engine that pushes out a maximum 168hp (125kW) plus a 5hp (3.7kW) boost.
A reliable engine, the Kubota is able to reach tier 4 final from the perky four cylinders using the usual diesel particulate filter (DPF), exhaust gas recirculation (EGR), diesel oxidation catalysts (DOC), and selective catalytic reduction (SCR) wizardry.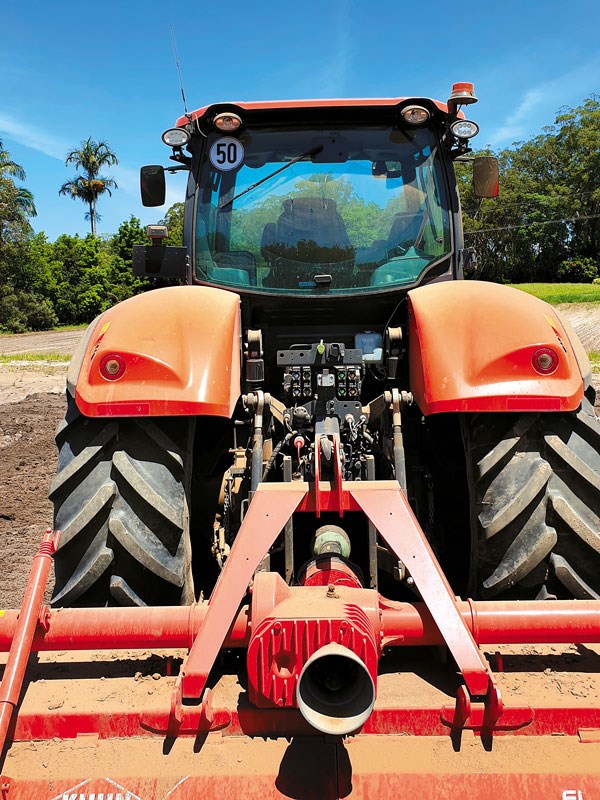 Displacement-wise, the Kubota engine is a 6.1-litre powerplant, which is why this four-cylinder keeps up with many of its six-cylinder competitors. We found this so on the day when using a Kuhn rotary hoe in a boggy field.
Conditions resembled quicksand, as you could expect when that loose fruit/veggie soil gets smashed with a metre of rain. However, the Kubota just plugged along nicely. It never complained, never threw a tantrum of noise; in fact it was so quiet when working that we thought we hadn't dropped the hoe in the ground. Safe-to-say, that four-cylinder has some go.
Transmission
The new M7-2s use ZF transmissions. Being the Premium machine, it had the semi-powershift trans, which we found quite impressive. Unlike the previous M7 Kubotas, the new models feature a much smoother six-speed, five-range box that also included creeper gears, giving it a further 24 gears.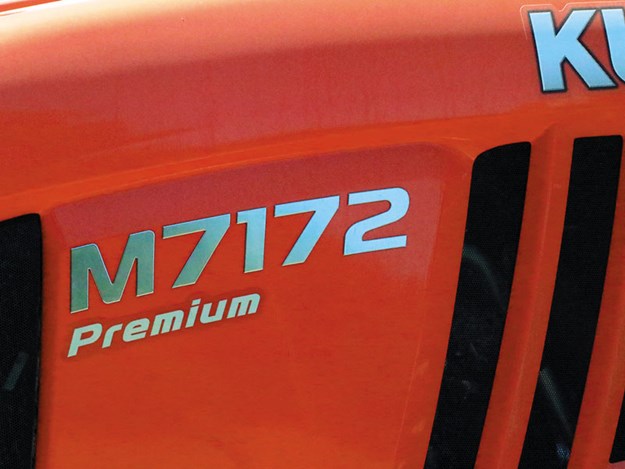 We found the six powershifts in each range to be more than capable, especially when combatting changes in soil conditions. Shifts are simply made by pushing up or down on the hand controller.
The tractor tested was a 50km/h variant, which offers front suspension and auto shifting capabilities. Personally, we felt the auto-shift suited better while working in the field than when driving on the road, a slight lag between ranges was a bit niggly.
Cabin
First up, the upgraded seat on this new M7-2 was a big positive. It was comfortable, well-made, and easily adjustable for operators of any height. This seat combined with the easy-reaching armrest is a key addition to this machine.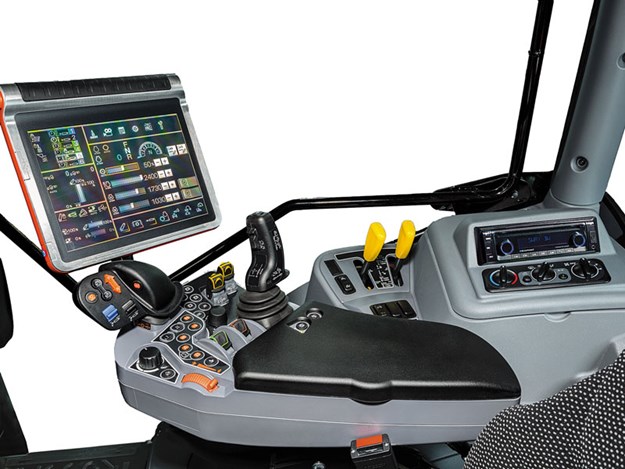 It's worth pointing out that the day we drove this machine, the mercury tipped out at 35 degrees Celsius, and don't forget the humidity, so we treated this cabin like a shrine. With the aircon at full-whack and the engine quietly going about its business, this is a cabin you'd happily work in for days on end. Many competitors could take note.
Hydraulics, linkage, and PTO
Kubota has boosted its hydraulics, increasing pump flow from 80L/min to a very impressive 110L/min, which is sure to increase work capacity and please spec freaks. Combine this with the five rear spools and a 9.4-tonne lift capacity and it has more than enough to lug around any kit you have lying around your ranch.
Power take-off-wise, the M7 comes with four speeds, 540/1000, and associated eco modes.
The test model wasn't fitted with front linkage. However, this can be optioned on all specification models along with Kubota's own LM series loader as an optional extra.
Verdict
The Europeans and Americans should be worried about Kubota's M7-2 range of tractors. We think many will be surprised with what's on offer. What's next for Kubota – the anticipated M8? Perhaps not for a while, so this sleek, comfortable underdog from Japan with a strong history of reliability, the M7-2, certainly keeps the brand at the pointy end of tractor making.
Pros
Comfortable,
well laid-out cab
Quiet four-cylinder large displacement engine
Improved ZF transmission
Top-notch suspension package
Huge touchscreen monitor
Well-built with a five-year warranty
Cons
Sensitive clutch
Not too different from its predecessor
Rear guards vibrated a bit at low speed
Kubota M7-172 Premium specifications
| | |
| --- | --- |
| Engine | Direct injection, water-cooled 4 cycle diesel |
| Cylinders | 4 |
| Max power | 168hp (@ 1900 engine rpm) |
| Boost power | +5 |
| Emissions |  Tier 4 |
| Fuel capacity | 330L  |
| Transmission | Semi-Powershift CVT |
| PTO | 140hp (@ 2000 engine rpm) |
| Wheelbase | 2720mm |
| length | 4770mm |
| Total height  | 3030mm |
| Total weight | 6848kg |
Find farm machinery for sale in NZ
Keep up to date in the industry by signing up to Farm Trader's free newsletter or liking us on Facebook