Review rewind: Kubota RTV-XG850 Sidekick
---
As part of our annual bike feature, Farm Trader revisits our test review of the Kubota RTV-XG850 Sidekick with Brent Lilley behind the wheel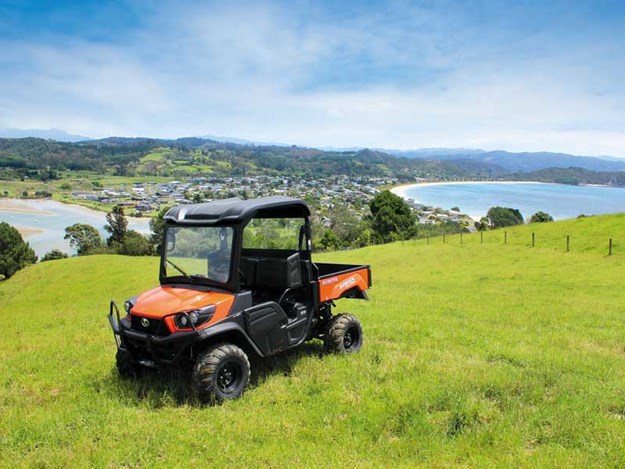 The Kubota RTV-XG850 Sidekick is a fresh offering from Kubota, which is well positioned to cross over between utility an​​d recreational users. 
Engine
In the past, Kubota side by sides have either featured smaller petrol engines or larger diesels. The Sidekick slots itself in between these, with a powerful but economical 851cc twin cylinder, liquid-cooled petrol engine.
The engine is mounted low in the chassis under the rear cargo tray, giving a nice balance of weight over the rear wheels. Cooling is via a large radiator under the front bonnet. With the tray up, there's easy access for daily checks and servicing.
This engine has plenty of power to weight, putting out an impressive 48hp. Equally notable is the torque the motor produces, especially at lower engine RPM. I have a nice steep hill that's my go-to for testing side by sides.
The Kubota handled it with ease, powering up in high gear with two of us on-board. Acceleration from a standstill is also good and with plenty of top-end speed, the limiter kicks in at around 65km/hr.
Transmission
As you'd expect, the engine is coupled to a CVT (Continuously Variable Transmission) unit, which is built in-house by Kubota. It runs a double cogged drive belt for responsiveness and longevity. Also included in the transmission is a centrifugal clutch in the drive line.
This keeps constant tension on the drive belt, giving engine braking at all speeds, something that's vitally important in my opinion. In practice this worked quite well coming back down my steep test hill.
I could feel it holding the machine back, although, the foot brake was still required to hold the descent speed on the steepest sections. Luckily, the four-wheel hydraulic disc brakes can pull the machine up to a halt.
To hold the machine stationary when parked, the handbrake is more than adequate. There's no park lock on the transmission, something that will be missed by some when stopping on steeper slopes.
Cargo tray
The large sturdy steel cargo tray is built tough and rated to carry 454kg. It features a locking rear tail gate and steel tie-down points. A higher headboard at the front of the tray is well designed to help stop anything moving forward.
The tray is tipped manually with the help of gas struts and can be upgraded to electric over hydraulic for effortless tipping from the cab. While I didn't carry anything around with me other than Finn the dog (who thought it was a pretty good place to ride), I'm told the suspension set-up handles distribute the weight when carrying a load so well that the ride height barely changes when loaded.
It uses fully independent suspension at the front and rear for a smooth ride with plenty of ground clearance. The Sidekick provides ample pulling power and is rated for towing just over 900 kg, which is more than adequate for this size machine but something people should keep in mind before hitching up the fully loaded palm kernel trailer.
Controls
With plenty of cabin space, upright seats give a good driving position with plenty of legroom. To keep you secure, the seats are sculpted, with seatbelts, half-height side doors, and shoulder guards.
The steering wheel is adjustable, and all controls are in easy reach of the driver. An easy-to-see display panel features warning icons to alert of all major vehicle functions, and an LCD screen shows the vital stats, including engine temperature and RPM, the gear selected, and current speed.
The inclusion of a fuel gauge is great to see and probably the only thing missing is a clock (yes, I'm old school like that). Storage is well thought out, with cup holders and cubby holes in the dash as well and a decent-sized glovebox on the passenger's side. Flip up the seats for more storage with two large plastic bins.
Speed-sensitive Electronic Power Steering (EPS) is also worth a mention. At slow speeds, you get the full benefit of EPS, making the machine highly manoeuvrable with little effort.
As the forward speed increases, the effect of the EPS decreases, giving a more positive feel to the steering. This improves handling and increases stability, even under heavy load.
Accessories
Bolting on accessories is a great way to customise your UTV. Like most manufacturers, Kubota offers a huge range of accessories, with choices of roof types, front and rear windscreens (in acrylic or glass), and full height doors allowing for a completely sealed cab.
For the exterior, there are winches, extra lighting packages, additional guards, and a cargo tray extender.
Verdict
While Kubota hasn't strayed too far from its history of building no-nonsense utility machines designed for work, the Sidekick offers a lot for recreational users as well, making for a versatile crossover machine. With plenty of power for acceleration and shifting decent-sized loads, the Kubota handles well on hills, with quality suspension giving a smooth ride over rough terrain.
Kubota RTV-XG850 Sidekick specifications
| | |
| --- | --- |
| Engine | 851cc, twin-cylinder, liquid-cooled |
| Transmission | CVT belt-drive transmission with high/low range, neutral, and reverse |
| Drive system | Selectable 2wd/4wd, limited slip front and locking rear differential |
| Fuel capacity | 33L |
| Front suspension | Independent with dual A-arm with 229mm of travel |
| Rear suspension | Independent with coil over shock with 216mm of travel |
| Tyres | 25 x 10–12 6 ply |
| Brakes | Four-wheel hydraulic disc |
| Ground clearance | 249mm |
| L x W x H | 3093mm x 1605mm x 2020mm |
| Cargo bed capacity | 454kg |
| Towing capacity | 907kg |
Pros
Responsive 851cc engine delivering 48hp
Well-designed CVT transmission with downhill engine braking
Sturdy steel cargo tray with almost a half a tonne payload
Speed-sensitive Electronic Power Steering
A huge range of bolt-on Kubota accessories
Cons
No park lock on the transmission
Keep up to date in the industry by signing up to Farm Trader's free newsletter or liking us on Facebook