Review: Stewart Trailer
---
Farm Trader takes a closer look at the Stewart Trailer range made in Scotland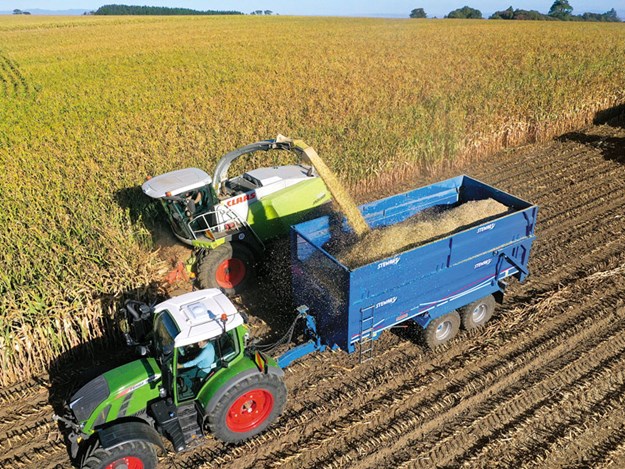 Well known for producing some of the world's finest single malt whiskys, Scotland is also home to the Stewart Trailer range. If there's one piece of machinery every farm needs, it has to be a tractor-trailer.
To fulfil this need, there's a wide selection of tractor-trailers to choose from, and the New Zealand market is spoilt for choice when it comes to both Kiwi-made and imported trailers.
Imported European-built trailers tend to be larger silage type and construction dumper trailers. The larger units are usually pretty well spec'd, in part to comply with the more stringent EU laws but also to handle the workload demanded of these high capacity trailers.
I recently spent some time with the team from TRC Tractors in Feilding, distributors of Stewart Trailers, which I consider to be the Rolls Royce of the trailer world – all the way from Aberdeenshire in North-East Scotland.
Trailer test
There's an impressive collection of Stewart Trailers in stock, from a basic eight-tonne model through to the larger low loader trailer, which we loaded up with a shiny new Fendt 9 Series tractor to demonstrate its load-carrying capacity.
That particular trailer was heading to a local contractor for transporting his digger and bulldozer between jobs and had been customised to suit, with a timber floor to stop machines sliding and a stainless toolbox for chain/strop storage as just a couple of the personalised features.
Plucked from the selection though, we chose the PS 16 21 HZ for our trailer test review. This is a custom-built (indicated by the HZ in the name) grain trailer model, originally with a 16-tonne capacity before adding the silage sides.
Grain capacity is 21 cube, and with the addition of the silage sides, capacity is 35 cubic meters. After spending some time looking over the full range of Stewart trailers, we hooked up with PS 16 21 HZ and headed out towards Marton to catch up with a contractor working on a maize block, who was happy to have an extra tractor and bin on the job.
TRC Tractors may have only had the Stewart range for six months but salesman Logan Berg has first-hand experience with the brand from time spent abroad like many young Kiwis harvesting and hauling grass, maize, and wheat while on their OE.
The contractor he worked for in Scotland was operating with the Scottish-made trailers. After returning to New Zealand, Logan worked for Miers Contracting in Reporoa, who have also seen the benefits the Stewart trailers offer their business.
Now in a sales role with TRC Tractors, Logan is in direct contact with business owners James and Mandy Stewart, streamlining the process for ordering trailers to suit the specific needs of New Zealand customers.
To make up our own minds, we wanted to see these trailers first-hand and use them to assess performance and design. With our test trailer attached to a Fendt 720, it was bigger than the trailers currently being used by the contractor, offering efficiencies in less downtime for the harvester waiting for trailers, potentially saving the cost of running an extra tractor, bin, and driver.
The extra size didn't appear to offer any real disadvantages, and even at 2.45-metre wide, 10-foot gates are manageable. In fact, with the four-leaf suspension as opposed to the older basic walking axle, it was more stable going through the hollows of the gateways.
Performing as a grain trailer, the silage top was added. Stewart use a wedge-type system to allow this to fit snugly without causing extra rattling. The hydraulic door also locks in tight so you don't hear the noise of the silage trailer coming five kilometres away.
Dumping is quick and efficient, with dual hydraulic rams giving a smooth, even lift. The dump pivot point of the trailer is in the main runners of the chassis. The loading height is kept low by clever design, which allows the top chassis to fit inside the bottom chassis. This also provides improved strength and stability.
As you'd expect from a trailer of this size, taillights are standard and are mounted on the chassis, away from the dump zone and protected by stainless steel guards. Rear orange flashing LED is standard with wiring to connect extra lighting should it be required.
Operation
Now you wouldn't think there would be much to say when it comes to details on trailer operation; it's all pretty straightforward. However, each Stewart trailer comes with its own specific manual (as all custom trailers are different).
Each trailer has a serial number, which can be quoted when ordering parts to help speed up the process. Among the latest features available is the useful tyre inflation system, which allows you to make the most of the latest tyre technology.
This nifty system can raise tyre pressure from 35psi in the paddock to 70psi for road haulage in just 45 seconds using speed sensors to ensure it's done correctly to prevent damage to the expensive rubber feet.
The manual also includes details on grease points, etc., if you haven't fitted an auto lube system. Also worth noting is that the hinge pin is the full width of the chassis, fitted with grease points at the bushes.
One of the simplest (even better than cable tying hydraulic lines) and best features is the alloy plus and minus colour-coded hydraulic couplers. This makes sure each one goes in the right hydraulic bank, the right way round, the first time, with no jumping in and out to change, or altering in the screen to make them work. It's another example of good practical design.
Construction
Earning the reputation as one of the best in the business is no mean feat, however, this is what Stewart Trailers have done. Quality is everything for farmers and contractors, who rely on their gear to get the job done with minimal downtime.
I casually assumed our 16-tonne test trailer to be between six and 12 months old given the small bit of paint rubbed and signs of use from being a demo machine. Turns out, I was wrong and it's already done three years hard service, including maize and grass silage seasons, along with carting pumice in rubble in the offseason sorting out farm raceways.
I can put this durability down to a couple of key reasons: obviously, the previous operators looked after the trailer. Also, the two-pack acrylic high gloss paint system is as hard wearing as promised and finished to perfection, as it's still like new where loads have not been slowly wearing it off.
A sample of each paint job is kept at the Stewart factory should there ever be a problem with a paint finish in the future. The added option of stone chip paint for the front and under the guards further minimises damage in these areas.
The chassis of the 16-tonne trailers is solidly built using 250mm x 150mm box section, designed to take the rated 16-tonne weight load all day, every day, and to handle the occasional load at bit extra when it has to.
Stewart Trailers produce two ranges of trailers: the GX and the Pro Series (PS). Our test trailer came from the Pro Series range, where the main difference is the use of Hardox plate for the body of the trailer.
Hardox has impressive strength and weighs less and lasts longer than traditional mild steel plate. The Hardox body doesn't require the same number of reinforcing beams on the outside, giving a smooth clean line to the trailers, which looks smart.
Stewart Trailers have been licenced to use the Hardox product since 2013. A sticker on these trailers indicates it has been used in the construction. When it comes to personalising your trailer design, once your basic requirements are done, you can go through the long list of options.
Depending on your budget and intended use, you could be ticking boxes all day. If I was choosing my preferences, features such as top-notch paint and mudguards help protect the trailer.
An auto greaser and toolbox, along with work lights add to efficiency around getting jobs done. If your job is ag related, odds are every possible practical and aesthetic detail has already been thought of by the team behind Stewart Trailers. 
Brakes
With such large trailers, stopping them once fully loaded is vital for safe operation. This is another area where Stewart Trailers road industry knowledge comes to the fore, offering braking to all four wheels.
Options include hydraulic, air braking, and ABS with load sensing valve. Not many tractors in New Zealand are equipped with ABS brakes, but it is not a problem as the trailer can take power from the lights connection to run the system. For parking, there's a standard multi-stroke parking brake under the left side of the trailer.
Tyres/suspension
To handle the rough life bouncing around farmer's paddocks and up and down narrow country roads, this trailer was fitted with mechanical four-leaf suspension to take care of the bumps.
Pretty basic with not too much to go wrong, but if you require better suspension, full airbag systems like trucks use are available. This does add considerable cost but for the large tri-axle units is probably worth the expense. The drawbar is sprung to cut down on extra load/stress on the drawbar, tractor, and bin. Quality, high-speed Granning axles are used throughout the Stewart Trailer range.
Granning work closely with the brand (being one of their largest clients) and can provide different axle options from narrow (to fit down tram lines minimising extra compaction across the paddock) or extra wide (like 3.1 metres to give a wider base to the trailer for added stability).
When it comes to tyre choices, there are plenty of options. Recommended and fitted to our test trailer were 560/60R x 22.5 BKT tyres, which seemed more than adequate. If you opt for the tyre inflation system, it may change your tyre selection to maximise that feature.
Verdict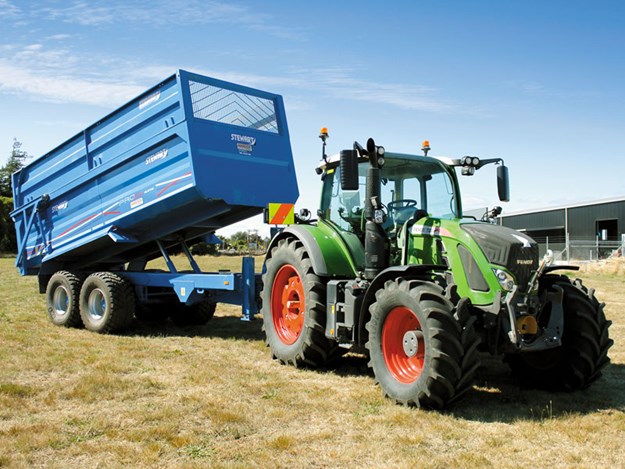 I was impressed by the Stewart Trailer range. Although not the cheapest on the market, with a hard-working piece of gear like this, it's worth paying for quality and the ability to have your trailer set up exactly how you want it.
In my opinion, the Stewart trailer will still be going strong when the cheaper alternative is ready for replacing. One of the newer models available, which I look forward to seeing in action next, is a 20-tonne dumper trailer ideal for spring silage.
Custom made with 3.1-metre axles for stability and steering axle for manoeuvrability, this is also kitted up with silage sides and hydraulic flip front to rear cover. With so many options available, there's no denying these trailers are very much built for task and are an excellent example of getting what you pay for.
Stewart Trailer specifications
| | |
| --- | --- |
| Carrying capacity | 16,000kg |
| Unladen weight | 5400kg |
| Cubic capacity | Grain 21m3, silage 35m3 |
| Tipped height | 6650mm |
| Body dimensions | 6100mm x 2450mm x 1500mm |
| Chassis | 250mm x 150mm box section |
| Axles | 10 Stud 420x180 brakes |
| Suspension | Mechanical suspension with four-leaf springs |
| Tipping mechanism | Twin 3 Stage 4.25" chrome plated tipping rams |
Pros
Top-quality build and finish
Colour-coding of hydraulic remotes
Options to suit all requirements
Innovative tyre inflation system for ag trailers
Hardox steel bodies – strength without excessive weight
Cons
Not the cheapest trailers on the market but you get what you pay for 
Stewart Trailers
Founded in 1988 in Scotland, Stewart Trailers is a family-owned and run business. Managed by hands-on owners James and Mandy Stewart, who originally started altering and customising trailers for the heavy haulage transport industry, the first agricultural trailer was designed for a customer with a JCB Fastrac.
Timing was right for growth and demand, with regulations coming in and tractor sizes increasing as well as speeds, warranting the need for some of their expertise from the road haulage sector to cross over into important design elements for the agricultural sector.
Customisation of trailers is a speciality, with James and Mandy prepared to go the extra mile to produce the exact trailer to meet a customer's needs. Today, Stewart Trailers produces a range of agricultural trailers from small four-tonne models up to 24-tonne tri-axle machines in a variety of configurations: tipper, silage, construction, flatdeck, low loader, and livestock crates.
Find farm machinery for sale in NZ
Keep up to date in the industry by signing up to Farm Trader's free newsletter or liking us on Facebook