Review: Land Rover Defender P400 First Edition
---
The Land Rover Defender serves up an intriguing combination of the familiar and the new
There's 'highly anticipated' and then there's the new Land Rover Defender. With a clean-sheet approach to its design and engineering, the Defender dispenses with the past in favour of a brave new digital world. With so much prestige and pedigree imbued in the nameplate, is this familiar-yet-completely-different Land Rover still the best 4x4 by far?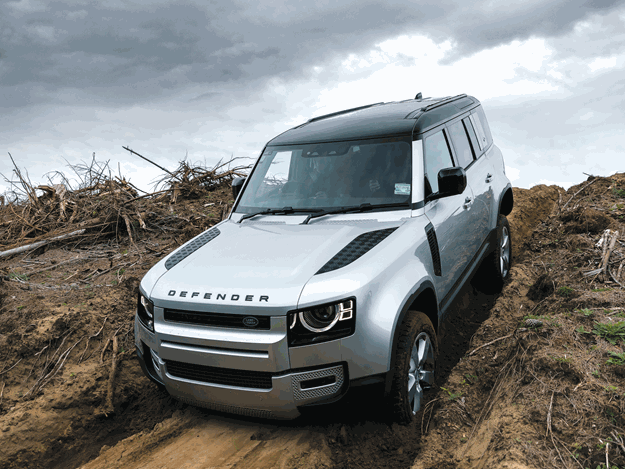 This year's must-have accessory? That'll be the Adventure Pack. Or maybe the Explorer Pack… I can't quite decide which.
Oh, I should probably have pointed out that both these accessory packs can be bolted to the all-new Land Rover Defender. As can something called a Country Pack and, not surprisingly, an Urban Pack.
Even without the benefit of added gadgetry, the Land Rover Defender remains something of a talking point.
Unlike the old, boxy rugged-looking one, even people with no apparent interest in the model want to know what this wholly redeveloped version is like. I know this because I have driven several hundred kilometres in a couple of 2020/21 Defender 110's now and – the respectable diesel fuel efficiency of the D240 notwithstanding – I've spent time standing on petrol station forecourts filling them up and turning heads at the same time.
Out with the old
Land Rover is as quick to champion its storied heritage as the next car brand. But with the Defender (arguably the one model that retained the most direct link back to the original post-war Series I Land Rover), everything had to change.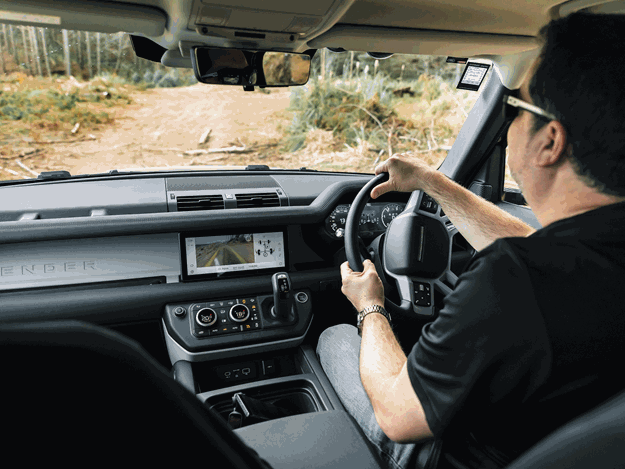 The old Defender 90 and 110, in their various SUV and cut-down truck guises, were increasingly out of step with modern safety and emissions regulations. Fandom on a global scale wasn't enough to keep the legislation at bay, leaving Land Rover with a massive conundrum: how do you replace an icon?
By throwing everything out and starting all over again.
There are design elements here and there that immediately recall the previous-generation vehicle, but for the most part, the 2020/21 Defender is utterly unrecognisable when compared with what went before. Especially when you hop inside.
Your own personal sense of nostalgia when confronted with the idea of the Land Rover Defender will no doubt dictate how much of a positive or a negative you consider this everything-must-go approach.
On the positive side, even the most ardent old school Defender, er… defender would find it hard to argue against the fact the previous generation vehicle was basic, uncomfortable, and ergonomically compromised. This new one, with its comfortable seats wrapped in wear-resistant materials, premium rubberised touchpoints on the dashboard, ample head, leg and shoulder room, and impressive digital instrumentation is like a smartphone compared with a fax machine.
But then, yes, part of you does pine for the old-fashioned no-nonsense Defender, with its slab-sided body panels, upright windscreen, and tall, lurchy-in-the-corners on-road demeanour. And there's so much tech on-board this new one. What if something unseen behind the dashboard glitches out in the backblocks, leaving you without the ability to raise the ride height to get back over those obstacles you cleared to get here in the first place?
Digital dirt
Forget levers and switches, almost every aspect of the Defender's toolbox of abilities is accessed via touchscreen.
It's an impressive touchscreen (the best that Jaguar Land Rover has engineered and one that'll be rolled out across the entire combined portfolio of models over time). But there's also something disconnected about selecting low range from an onscreen menu, like you might call up the weather app on your phone.
You do have to get your head around the fact that Land Rover's most basic model is not basic anymore. There's nothing 'entry level' about the Defender. Even in its $89,900 (for the 110) standard state-of-dress, this is a premium-feeling vehicle.
But if there is any part of your brain doubting the new Defender will have the off-road abilities of its grandfather, you just need to take it off-road.
Land Rover had no choice in this aspect; the Defender had to perform off the tarmac. It had to outdo everything else, without compromise.
Thus, the carmaker put Defender development mules through 62,000 tests before engineering signed off on it, including something ominously titled the Land Rover Extreme Event Test Procedure, designed to repeatedly torture test both chassis and body architecture in order to withstand repeated and sustained impacts over and above the normal standard for SUVs and passenger cars.
The Defender has been built on Land Rover's purpose-engineered lightweight aluminium D7x monocoque architecture. It's three times stiffer than traditional body-on-frame designs, which means it supports fully independent air or coil-sprung suspension and is set-up to take a load of batteries too. That's right; there will eventually be a plug-in battery electric Defender on offer.
Mud bath
But back to the rough stuff. It quickly dawns on you when you're halfway up a muddy incline that, despite all the clever electronics that do a lot of the heavy lifting off-road, the Defender still retains a base level of pure mechanical off-road competence that's actually above and beyond most other 4x4s. This thing is still an absolute mountain goat.
It tackles every off-road obstacle with a remarkable lack of drama, helped immeasurably by its class-leading 291mm ground clearance when in low range (that's more than both the Toyota Land Cruiser Prado and its Land Rover Discovery stablemate). Again, it's the simple press of a virtual button that allows you to select your off-road modes through the Terrain Response 2 system, giving you best possible traction for mud, sand, snow, whatever.
Terrain Response 2 also has a 'Wade' setting to make the most of the Defender's 900mm wading depth (again, class-leading), ensuring drivers can ford deep water with confidence. That new body architecture also provides impressive approach, breakover, and departure angles of 38, 28, and 40 degrees (at off-road height) respectively.
May I remind you now that this is a five-door family SUV we're talking about. With its shorter wheelbase, the three-door Defender 90 (due to arrive in New Zealand early next year) should be even more chuckable.
Range of Rovers
There are four engines on offer at launch: the four-cylinder turbodiesel D200 and D240 as well as the six-cylinder turbo diesel D300. A sole turbo petrol option, the six-cylinder P400, tops the power offering.
Those numbers, incidentally, refer to the metric horsepower (PS) outputs of the engines, so the two models I have driven – the D240 and the P400 – actually boast 147kW and 294kW respectively.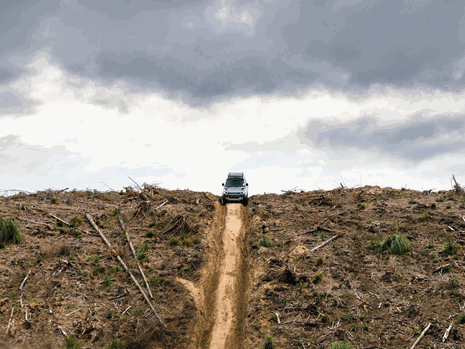 The Defender 110 can be specified in five, six, or 5+2 seating configurations, with a loadspace behind the second-row seats of up to 1075 litres and as much as 2380 litres when the second row is folded. There will eventually be a Defender 130 joining the range, too, with an extended wheelbase and seating for up to eight.
Despite being more compact, the Defender 90 will still be able to accommodate six occupants if desired, thanks to the standard dash-mounted gear shifter and the option of a central 'jump' seat providing three-abreast seating across the front, just like in early Land Rovers.
Pricing starts sub-six figure, but you could spend as much as $165,000 on a Defender 110 if you really wanted to (the all-boxes-ticked Defender X). The D240 SE I drove retails for $114,900 plus onroads, while the P400 First Edition I also spent some time in costs $137,900 plus onroads.
Not cheap, but then Defenders never have been despite their bare-bones' aesthetic. And at least now with the levels of refinement and technology in these vehicles, you're getting a whole heap of truck for your money.
It's also worth mentioning that the Defender is quite possibly the first new vehicle to come with steel wheels as an optional extra. They're the ones I'd go for. And speaking of options…
Pack mentality
Land Rover certainly knows how to create opportunities for brand fans to spend loads of extra dosh, and that's where those accessory packs I mentioned earlier come into play.
There are some cool components to the Explorer and Adventure packs (the Urban Pack gives you a lot of pointless bling, so we'll ignore that one). Wheel arch protectors, roof racks, mud flaps, ruggedised spare wheel covers, a snorkel, and scuff plates are among the more basic additions you can sign up for.
But other items such as an integrated air compressor or an on-board portable rinse system for hosing off gear out in the paddock offer clever points-of-difference. The side-mounted gear carrier for your hiking boots (which looks like a metal briefcase strapped to the bodywork) and the integrated backpack that comes secured to the rear seat and can be lifted out, are perhaps more superfluous additions. But again, they make for great talking points.
Verdict
I'll stand up and say it right now: I'm a sentimentalist. And something of a luddite too probably. Despite being privileged enough to drive and write about new cars for a 'job' (well, a close approximation of one anyway), I really like older vehicles. And I definitely had a soft spot for the outgoing Defender, not to say anything of the Series I, II, and III Landies.
No, it wasn't very good at a lot of modern tasks. You needed to wind the driver's door window down to lean your right arm out because there was so little elbow room. It felt needlessly sluggish on the open road. The rear vision mirror vibrated so badly you'd have a hard time figuring out if the wildly shaking blob following you was a Suzuki Swift or a Scania S Series. But it was still cool.
The new one? It's a deeply impressive bit of kit. It really is better in every way (and not just on paper) than its predecessor. It will go further, faster, in a more environmentally-friendly fashion, and it'll get you there feeling fresher too. It features clever technology and supreme off-road capability.
Annoyed that it's not the old Defender though? That's fine. Go out and buy a second-hand one of those instead. But don't drive this new one before you do that because it will quickly cure you of any sentimentality for the old one.
The old one is there to be appreciated, but the new one is here to be enjoyed.  
Land Rover Defender P400 First Edition Specifications
| | |
| --- | --- |
| Engine | 2996cc in-line six-cylinder petrol  |
| Transmission | 8-speed automatic  |
| Power | 294kW  |
| Torque | 550Nm |
| Approach angle (off-road) | 38 degrees |
| Ramp over angle (off-road) | 28 degrees |
| Departure angle (off-road) | 40 degrees |
| Wade depth | 900mm |
| Loadspace capacity height | 904mm |
| Loadspace capacity width (between wheel arches)   | 1160mm |
| Payload | 850kg |
| Tow rating | 3500kg (braked) |
Find new and used farming machinery on Farm Trader NZ 
Keep up to date in the industry by signing up to Farm Trader's free newsletter or liking us on Facebook