Review: Nissan Navara N-Trek Warrior
---
Farm Trader checks out the Nissan Nivara N-Trek Warrior
Dressed-up tough guy utes are a dime a dozen these days. But in the Navara N-Trek Warrior, Nissan doubled down on the engineering, making sure that through careful validation processes, all the beefy mods that make this a uniquely antipodean top-tier ute is fit for purpose.
The phrase 'halo ute' didn't exist a decade ago. Now, however, no vehicle manufacturer with a light commercial channel to its model range would dare be without one.
We've seen the Volkswagen Amarok V6 Aventura, Mazda BT-50 Arashi, the now-departed Holden Colorado Z71 Storm, and Toyota Hiluxes festooned with Toyota Racing Development finery. And, of course, the Ford Ranger Raptor.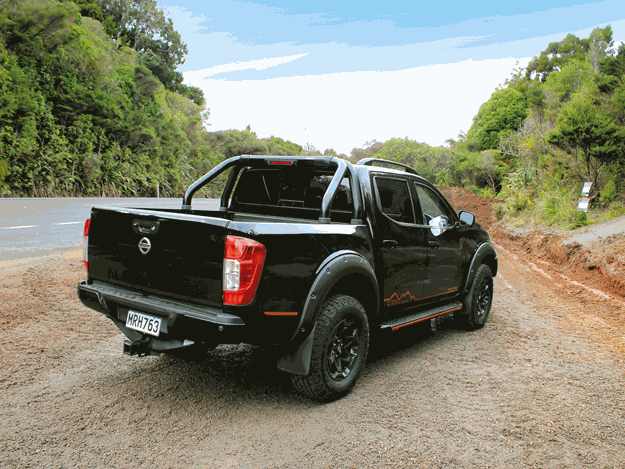 That last model aside (which offers up some big engineering changes), the common thread that unites these top-of-the-tree utilities is, perhaps, subtle increases in power or torque. Usually, though, the manufacturer lets bolt-on chrome bits and sticker packs do the heavy lifting. Maybe throw on a set of all-terrain tyres and you're done. Halo ute: tick.
However, Nissan has gone down quite a different road with the new Navara N-Trek Warrior. Yes, this definitely is one of those halo utes, sitting above even the Nissan Navara 450 Special Edition. But it comes with an interesting engineering backstory.
Aussie toolbox
The Navara N-Trek Warrior is actually a bit of an Aussie affair, which sees Melbourne engineering concern, Premcar, taking a Nissan Navara 450 Dual Cab 4WD, pulling it apart and putting it back together again with a whole lot of mods in place. Proper mods that actually enhance the capabilities of the truck.
Nissan gave Premcar freedom to enhance the suspension with off-road capable springs and dampers, resulting in a 15mm lift to the Navara. Adding 32.2-inch Cooper All-Terrain tyres increased the ride height by a further 25mm, for a total 40mm lift.
Premcar, which hired 40 new staff dedicated to building the Navara N-Trek Warrior, also sourced a range of parts from top tier OEM level suppliers, including a hoop-less body colour steel bull bar with an integrated 470mm LED light bar. Other new components include a 3mm stainless steel front underbody protection panel, black fender flares, a black alloy sports bar, and side steps. Even the tow bar cross member had to be re-engineered to fit the full-size spare wheel and accommodate the increase in ride height.
Keep us in the suspense
The big story is the changes Premcar has made underneath the Nissan Navara N-Trek Warrior to the suspension via the springs and dampers – changes that make this model absolutely unique to the Aussie and Kiwi markets.
The initial focus for the engineers was on lifting the front and rear suspension to comfortably fit larger diameter 32.2-inch all-terrain tyres for negotiating rough terrain.
To maintain the ute's new vehicle warranty, the suspension changes were designed, implemented, and tested to ensure that no excessive additional loads were passed into the vehicle's chassis, and all ball joint, tie rod, and drive shaft angles didn't exceed the ute's out-of-the-factory design limits.
For the N-Trek Warrior, Nissan opted for a softer primary spring for ride comfort and off-road articulation, with a higher but more progressive secondary rate to maintain composure and performance in cornering, during heavy-duty off-roading, or when laden with gear or towing a trailer.
The dampers were upgraded from the Nissan original equipment part to provide added compression damping on top of the piston for quicker response. The outer tube diameter is larger on this ute, boasting greater oil volume to improve cooling and rough road capability. Both front and rear dampers now have a unique internal valve code tuned by Premcar to match the springs and tyres.
Nissan says new front jounce bumpers unique to this truck are larger, taller, and engage the chassis rail earlier in the suspension travel but at a more progressive rate. This controls wheel movement at maximum suspension travel and achieves a more compliant and softer transfer of energy into the chassis, significantly improving the harshness and noise transfer into the chassis and cabin over rough road conditions.
The end result is a comfortable ride in the cabin without that lurchy sitting-on-top-of-the-ute feeling (especially on twisty back roads) that often comes with beefier suspension.
Testing times
To ensure this ute was actually going to perform on Aussie and Kiwi roads (and maintain those all-important warranty requirements), Nissan and Premcar locally tested the Navara N-Trek Warrior.
All sorts of science – both in the workshop and out in Australia's rugged interior – was conducted, including durability testing of both the whole vehicle and specific components, thermal performance validation, Noise Vibration Harshness (NVH) testing, homologation, towing, laden condition testing, and braking/ESC safety testing.
Nissan says Premcar conducted testing over several months on varied road surfaces at the Australian Automotive Research Centre (AARC) for handling, on and off-road, and rough road development. Outback testing at Big Desert was conducted on sandy desert tracks while gravel and rough terrain courses near the Victorian/South Australian border were also utilised to make sure the new suspension and tyre combo would perform as expected. So, that's good to know.
Feeling tyred
The tyres on the N-Trek Warrior are 275 /70 (32.2-inch) Coopers AT3 all-terrains. Nissan says Premcar chose this size tyre because it fits within the upper limit of what can be positioned within the wheel opening without interfering with the surrounding chassis components. The alloy wheels have actually been reduced to suit: from 18-inch discs on the standard Navara to 17 inches here.
To accommodate the upsized N-Trek Warrior tyre package, Premcar modified the inner front fenders in combination with the steel bullbar to provide the appropriate tyre clearance.
The tyres account for 25mm of the total 40mm lift in the N-Trek Warrior and contribute to that all-important wider, tougher halo ute stance. Following up the looks, though, Premcar even made sure the ute's speedometer was recalibrated to ensure the 56.3mm increased overall tyre diameter reflected an accurate speed reading.
All that attention to detail means that even though the N-Trek Warrior is a 'local build', the extensive validation programme Premcar undertook lets Nissan maintain the standard Navara three-year/100,000km factory warranty despite the mods. The Navara N-Trek Warrior also maintains the standard Navara's 3.5-tonne braked towing capacity.
Stitched up
Okay, it's great to know all these enhancements are actually meaningful in terms of improving the abilities of the ute off-road. But we still need stickers on our halo ute, thank you very much.
Nissan comes to the party with a variety of N-Trek-related bits that remind you what you're driving when you're at the wheel. These include a decal package, special dark orange accented floor mats, blacked-out LED headlamp bezels, and rear vision mirror caps with orange accents, partial leather seats with orange inserts and embroidered front headrests, and orange accented stitching through the seats, centre console, armrests, and steering wheel.
The N-Trek Warrior also benefits from the latest tech updates to the wider Navara range, including Nissan's new eight-inch infotainment touchscreen system featuring Apple CarPlay and Android Auto, as well as Nissan's clever surround-view camera system.
Verdict
This is one alpha ute that can actually do what its tough-guy additions suggest it can. The Nissan Navara N-Trek Warrior has essentially been built for New Zealand conditions (minus a bit of red sand I suppose) and offers up a truck for the back blocks but one that brings with it all the ride comfort – and head-turning looks – of a ute that might never even leave the tarmac. It's not cheap, but then nothing is on the top shelf. And it seems like the N-Trek Warrior will certainly last the distance.  
Nissan Navara N-Trek Warrior specifications
Engine

2.3L 4-cylinder turbo diesel

Transmission

7-speed automatic

Power

140kW

Torque

450Nm

Ground clearance

268mm

Cargo bed length

1503mm

Cargo bed width
(between wheel arches)

1130mm

Payload

724kg

Tow rating

3500kg (braked)

Fuel economy

7.0L/100km
Find new and used farming machinery on Farm Trader NZ 
Keep up to date in the industry by signing up to Farm Trader's free newsletter or liking us on Facebook