Test: Joskin Trans-Cap 5500/15 BC125
---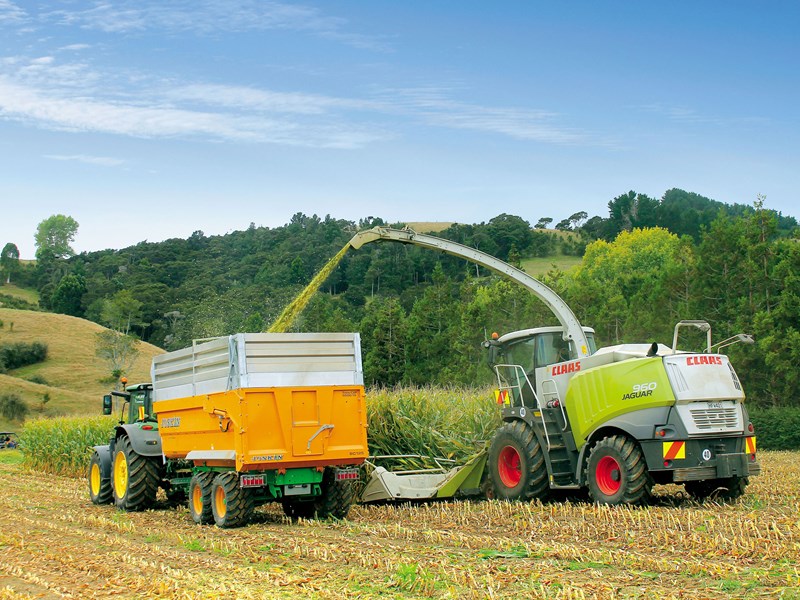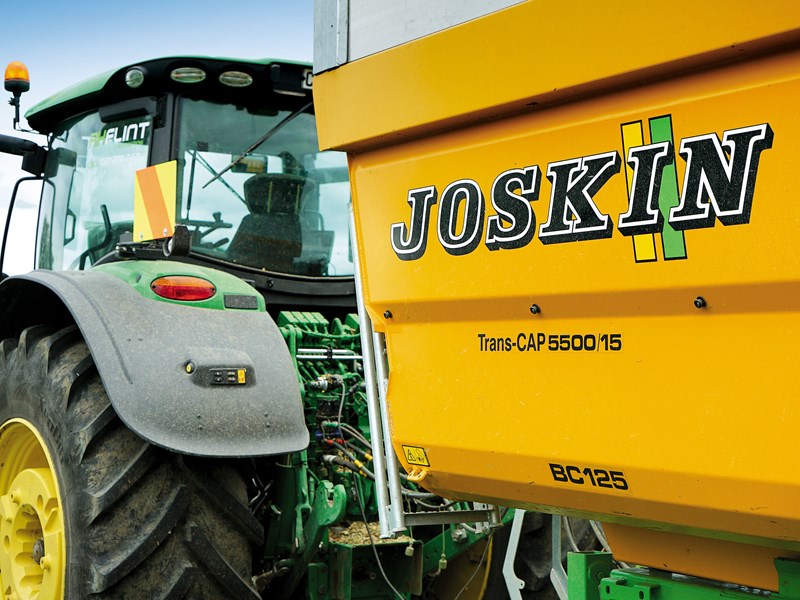 The bathtub design works well for silage work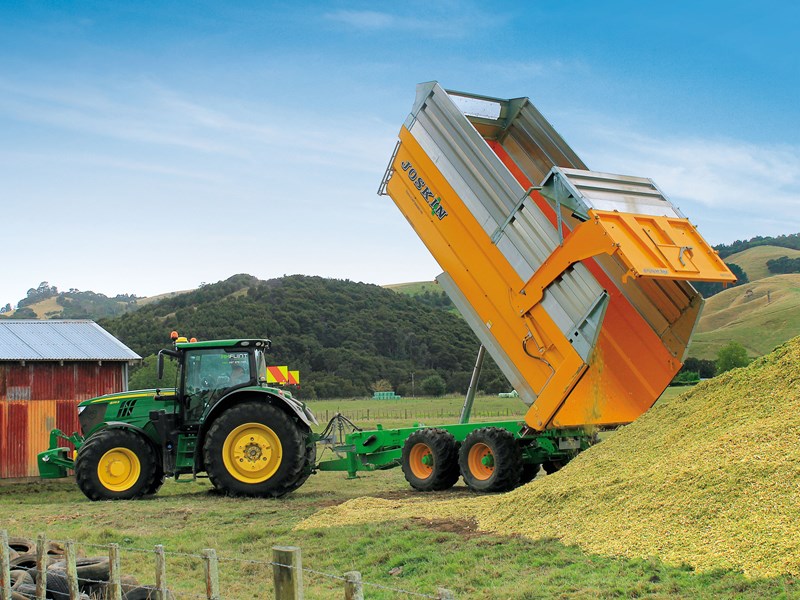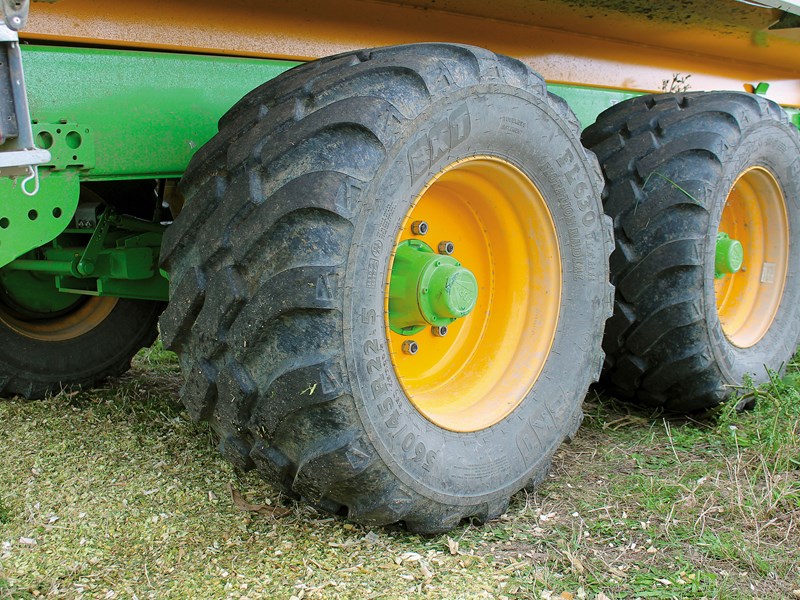 Large BKT tyres come as standard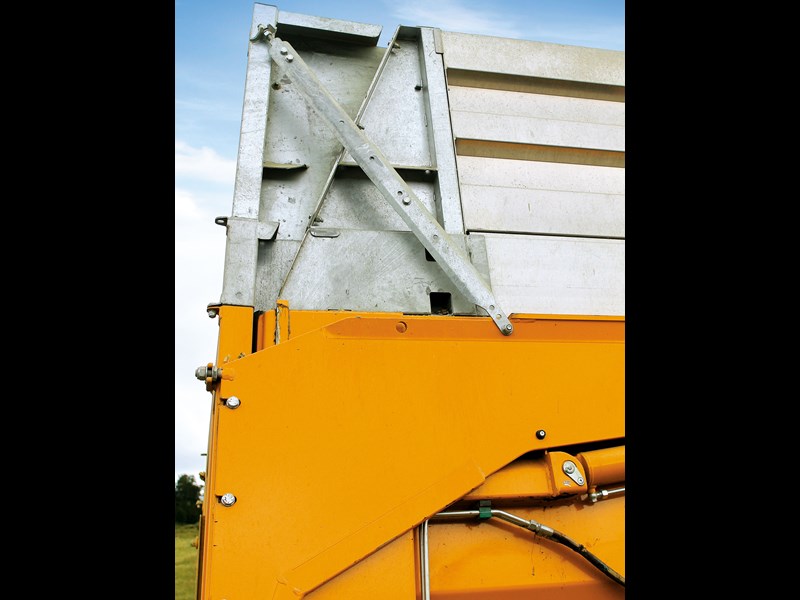 Hydraulic tail door with rubber seal locks snugly shut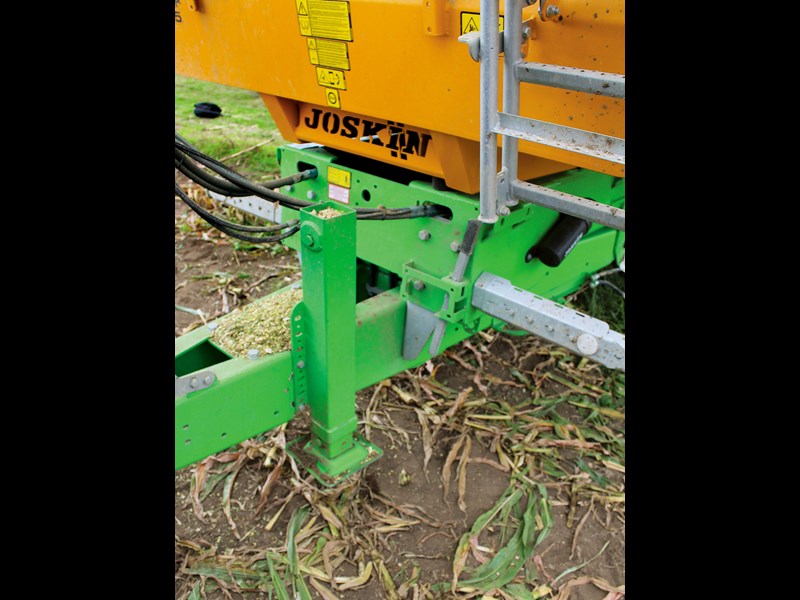 The hydraulic jack set-up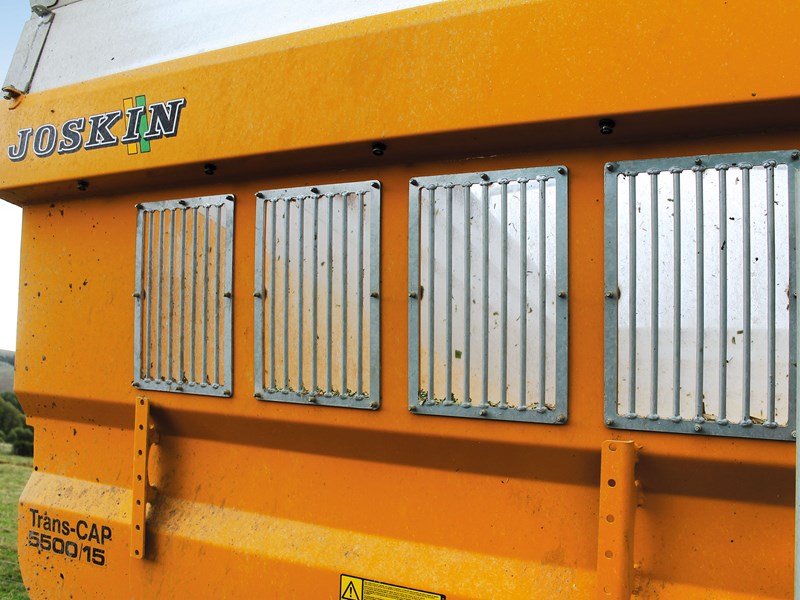 Perspex front grill to help monitor loading progress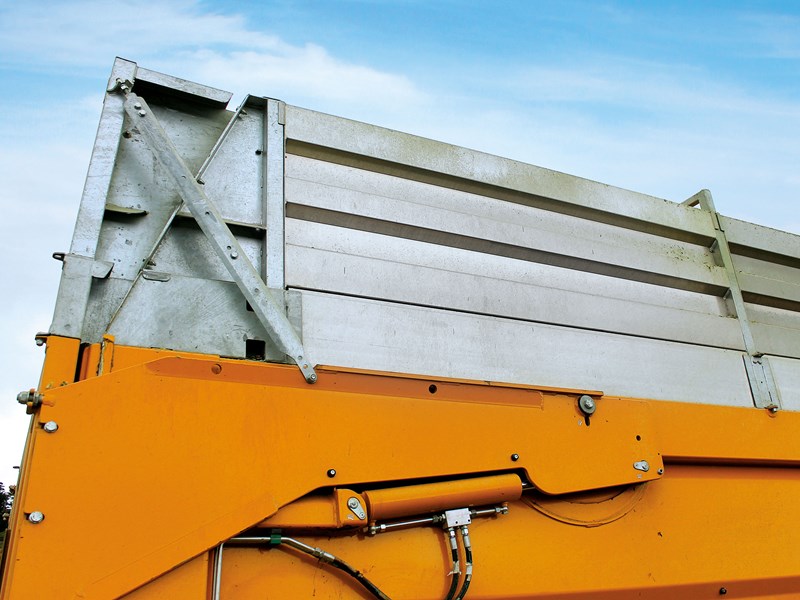 Hydraulic tail door with rubber seal locks snugly shut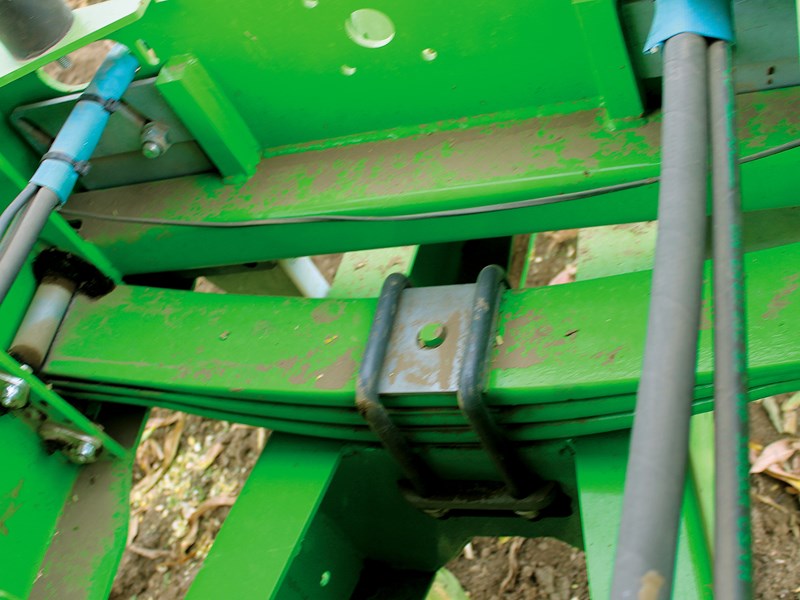 The leaf spring drawbar suspension works well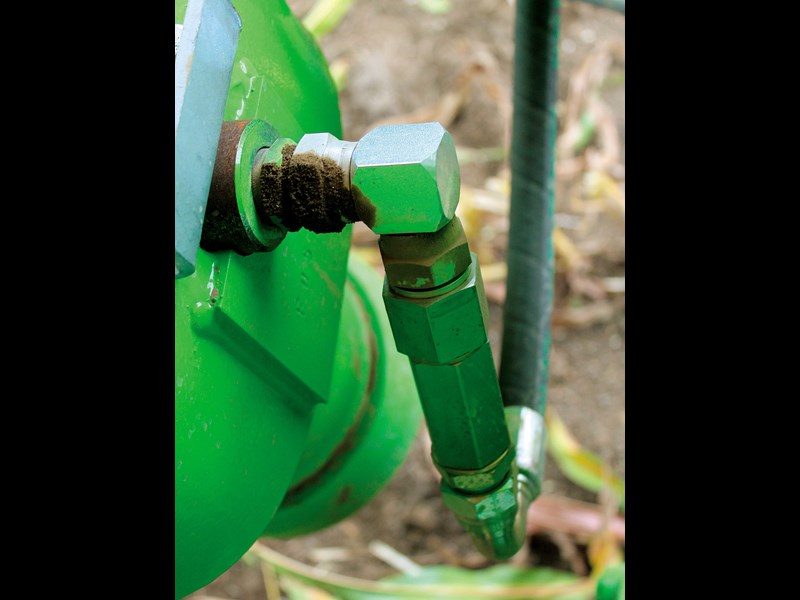 The parachute safety valve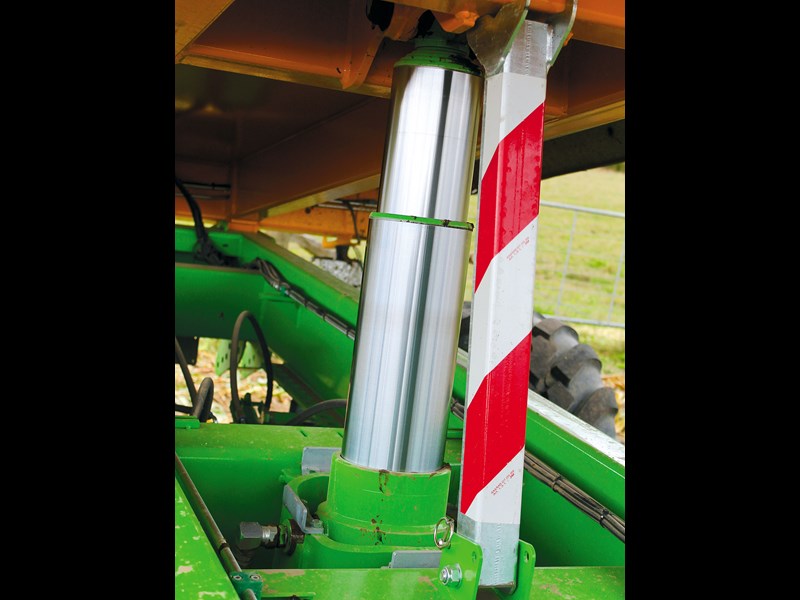 Single ram with four way movement

Farm Trader takes a closer look at the Joskin Trans-Cap 5500/15 BC125
In farming and contracting, as a generalisation, bigger is better; more land, more animals, bigger tractors with bigger implements. This all makes sense in terms of productivity and efficiency when operating on small margins. However, with this month's machinery test, a Joskin Trans-Cap dumper silage trailer from OriginAg, I'm reminded of Goldilocks, who while breaking and entering, learns a lot about getting things 'just right', which is what the OriginAg team has aimed to do with this latest addition – a New Zealand spec'd dumper silage trailer.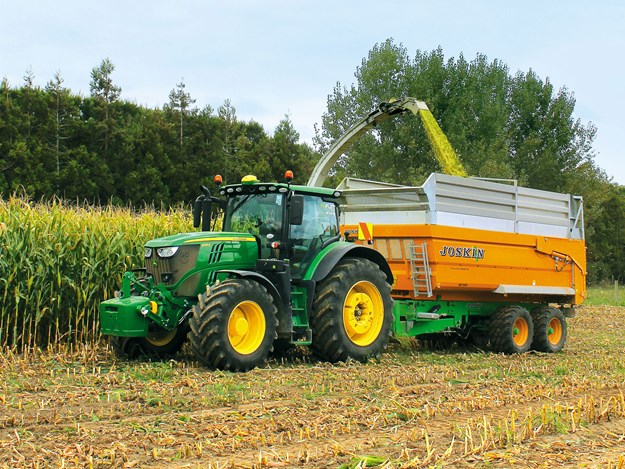 Arriving north of Paeroa to catch up with the team from RK Flint Contracting, we found one of their larger loader wagons wedged between two gateways, with the other trailers arriving and slowing down the flow of maize to the stack. Our Joskin test machine, however, quickly found an alternative way to the pit: backed up, dumped, and was away again for the next load.
As a standard bathtub design, the Trans-Cap has a capacity of 15.5 cubic metres and is rated to a total of 14 tonne. With side extensions, an extra 13.2 cube can fit per load to give a total capacity of 28.7 cubic metres (or around 29.1 cubic metres heaped).
Being one of the first of these new trailers in work this season, OriginAg is using the experience gained from the RK Flint Contracting team to tweak any minor details that may make these machines even more suitable for large farmers and contractors.
One such thing identified is the hydraulic stand to park the trailer. On the test machine it works vertically, however, the bottom sits a little lower than the drawbar and it can get caught, so demonstrating that desire to get things exactly right, OriginAg has come up with another option that does the same job (but better): pivoting down form the drawbar and folding out of the way when not in use.
Small stuff aside, the big question is: how do these trailers tow? Both the main contracting driver and I were in complete agreement – it tows bloody fantastic! Anyone who has done any tractor and trailer silage hauling will no doubt have had their share of horrible trailers, ones that bounce when unloaded or loaded and rattle and shake so you can hear them coming across the county.
There was absolutely none of this carry-on from the Joskin Trans-Cap trailer. Some of this is down to the simple leaf spring on the drawbar. This runs across the trailer – a proven design I've seen used on the Joskin slurry tankers in the past. The tandem axle is running a basic (heavy-duty 18 tonnes) ADR rocker beam boggie. The Joskin boggie is a bolt-on unit, which allows adjustment to balance the weight between the trailer, hitch point, and tractor for added traction. Joskin assembles its own boggies so each is personalised to suit that specific machine.
Standard on quality BKT 560/45R22.5 rubber, this was one area Flint Contracting would spend some extra dollars – investing in wider tyres to compensate for the fact that they frequently operate on peat country. However, in many cases, changing to wider tyres also means they are slightly taller, too.
At its present set-up, the Joskin Trans-Cap is narrower than the John Deere 6215 pulling it, making it straightforward going through gates with the 2.548-metre-wide trailer fitting easily. No stuck trailers with this model. With a bin length of 5.5 metres and an overall length of 7.204 metres, it's fairly compact with minimal tail swing when turning off narrow roads or laneways into small gateways (which are still relatively common).
Tipping at the pit was a quick affair. With a single-stage ram, the trailer is tipped to a maximum 50.1 degrees and back down in no time. A parachute safety valve is fitted that requires counter pressure and prevents it just slamming back down, should the hydraulic hose ever blow off.
An oscillating cradle allows movement of the ram forward and rear as well as left to right. This reduces stress to the chassis. There are pluses and minus of single or twin lift rams. The single ram gives quick operation with low hydraulic oil flow requirement and a smooth, even drop. It also keeps the chassis of the trailer narrower, allowing options for wider tyres, while staying within road requirements for width.
Standard equipment for these trailers is four-wheel hydraulic brakes, with air brakes an optional extra. Road lights are also standard. Mounted on rubber, they are designed to flex and move out of the way rather than breaking. Also, the rear flashing light is wired into the main lights of the tractor, so it automatically turns on with the tractor lights.
For loading, there's a perspex front window, protected by metal bars to help with improved vision for seeing what's going on around you. If you should need to climb into the tub, there's a ladder to get in and steps to get out.
The hydraulic locking rear tail door has a rubber seal so grain won't escape, and it should also hold water so might make a good pool on hot summer days. The side extensions are two pieces: 250mm and 750mm. Being alloy, it isn't a big job to remove these when you want to change jobs.
Construction
Joskin has been producing agricultural equipment since 1968, with OriginAg importing the brand for use by New Zealand farmers and contractors. With more than 30 sales and service dealers spread throughout the country, the Joskin range of slurry tankers has long proven its popularity with Kiwi farmers and contractors, and the trailers look set to continue this tradition.
Until now, the range here has consisted of the heavier bathtub dumper trailers suited to construction or development work (which there has been plenty of in the last few years). So it's great to see the addition of the Joskin Trans-Cap added to the range available – a truly multi-purpose machine aimed at the farmer/contractor. The fact this trailer is still in bathtub form means you get the added strength of the bathtub design.
The Joskin factory is advanced, with robotic welding of the tubs to ensure the quality of the job is 100% right every time. The steel used is 4mm, whereas some other brands are using 3.5mm for a similar capacity trailer. With a rolled bottom, there are no corners for partial load to get stuck. Although hard to tell just by looking, the bin has a small taper. Again, this is to help release the load for quick, efficient, and safe dumping.
Finish of the Joskin trailer is A1. The two-pack paint system used is done to the same standard as a tractor or lorry to keep machines looking good for years. Painting is completed before final assembly of the different components.
Options
The ability to offer such a variety of options means each trailer can be customised for specific requirements. Our test machine for the day was the basic standard issue, and there's no denying it gets the job done. Options such as larger tyres, remote greasing or full auto greasing, and load covers can easily be added (albeit with extra cost as with all brands).
At this stage, the Joskin Trans-Cap 5500 is the main model New Zealand will be seeing, as it works well for our conditions and suits the 180–220hp size tractors operated by most contractors. If you were after something larger or smaller, it would need to be ordered, and then you can add whatever extras you liked direct from the factory.
Summary
It's great to see this multi-purpose addition to the Joskin line-up. The fact that it's not limited to being a one-trick pony and can be used for a range of tasks makes it a worthy contender when considering purchasing a new trailer. Although grass and maize silage almost done for the season, the ability to keep the trailer busy during the off-season hauling metal and soil would help justify the expense, or at least that's what you could tell the accountant. Efficiency in having the right machine for the job helps drive productivity. The Joskin Trans-Cap is not the cheapest option on the market, but as anyone who has bought gear and relies on it for productivity knows, it's worth paying more for top quality, which is built to both perform and last.
Joskin Trans-Cap 5500/15 BC125 specifications
Body Length

5500mm (avg)

Height of the body
1250mm
Capacity 

15.5m cm3 to water level
+ 3.3m3 with 250mm extension
+9.9m3 with 750mm extension

Axle

18T ADR Rocker-Beam

Tonnage

14T

Length

+/- 7204mm

Width

2548mm

Height 

2628mm
2878mm (with 250mm extension)
3628mm (with 250mm+750mm extensions)

Tyres

BKT 560/45R22.5 (Options available)

Brakes

4-wheel hydraulic
Pros
Good capacity, without being too big
Well suited, designed for NZ conditions and use
Good to tow full or empty
Multi use: silage, grain, or dump trailer jobs
Easily removable side extensions in 250mm and 750mm sections
Bathtub design for clean dumping
Well-designed and built: should equate to years of trouble-free use
Cons
Hydraulic jack can get caught on the ground. OriginAg has already sorted a new jack to be fitted to new trailers.   
Find new and used farm machinery for sale in NZ  
Keep up to date in the industry by signing up to Farm Trader's free newsletter or liking us on Facebook