Review: John Deere 750A direct drill
---
Farm Trader catches up with Regrass Contracting for a closer look at the John Deere 750A drill in action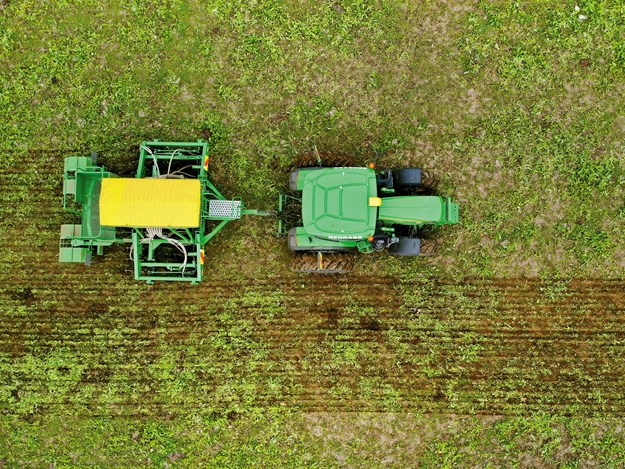 The team at Regrass Contracting takes enormous pride in delivering quality results to their Waikato clients, and having the right machinery for the job is an important key to their success. So, when it came time to decide on a replacement drill for their well-used three-metre John Deere 750A drill, it speaks volumes for their faith in the brand that they chose to upgrade to the same brand and model – this time opting for a new four-metre John Deere 750A. 
Father and son team Wally and Jordan Sinton operate Regrass Contracting on the outskirts of Cambridge, specialising in cultivation and baling. The duo are long-time fans of the John Deere brand, with an impressive collection of green tractors in their sheds, including a couple of revamped models used for their passion for Tractor Pull events.
Both Wally and Jordan hold a number of records in Tractor Pull, and Wally has even run more than a couple of his own events. These days, he drives a 650hp modified drag tractor called Turf Cutter, while son Jordan remains loyal to his preferred race tractor, with a couple in the shed that he drags out for sled pulls when it's race time.
However, on a day-to-day basis, the bulk of Sinton's John Deere fleet are hard at work in front of the fleet of power harrows, balers, and drills.
Pride of the fleet these days is the new four-metre John Deere 750A direct drill. Having run a three-metre version of the same drill for seven seasons with great results, Wally and Jordan had a clear picture of what they wanted when it came time to order a replacement drill.
With their new drill supplied by AGrowQuip Cambridge, the decision to upsize to a four-metre drill was largely driven by working out the sums on being able to deliver customers a better efficiency of area covered per hour, as well as still being able to run the drill with a relatively low horsepower tractor such as their John Deere 130R (which can boost to 150hp when working at over 12km per hour and using around 10 litres of diesel per hour).
Being able to keep running costs as low as possible can have a significant impact on the success of an agricultural contracting business, which often operates on tight margins. The ability to run a four-metre drill behind such a low horsepower tractor is an attractive drawcard and Wally's team of experienced operators are well up to the challenge despite the ribbing they sometimes get when they turn up with such a large drill behind a four-cylinder tractor.
The test
On the day we caught up with Jordan to see the new John Deere drill in action, he was working in a paddock of sprayed-out chicory, direct drilling annual ryegrass (with no cultivation). Previously, the paddock had been in permanent pasture, and the earlier three-metre John Deere drill had sown this into chicory – again, with no cultivation.
The John Deere 750A is widely regarded for its versatility, with the ability to plant small seed, chicory, or turnips all at the change of a cog setting. This can be done without tools and is part of the metering system.
The drill is also equipped to deal with perennial ryegrass and annuals, right through to large seed oats at 100kg per hectare. The brand says the machine is capable of a sowing rate of up to 400kg per hectare, but the Sintons have yet to require this higher rate.  
With a single disc opener, the drill can operate easily in a high trash environment, making it extremely versatile for a range of conditions, such as working into maize stubble to reduce soil compaction or sowing into fully cultivated ground as well.
The robust built is a definite asset with this kind of demanding workload. The heavy-duty frame features large structural cross members to anchor the front and rear coulter gangs. The opener rocker shaft, rotating bearings, and hydraulic system anchors are over-engineered to provide a long working life.
The drill is attached via two-point linkage to the plough arms of the tractor, not the drawbar. This makes easy on/off attachment and also means the height can be easily adjusted to keep the drill level in all conditions.
With this model drill designed for straight line operation, operators square off the headlands to avoid subjecting the openers to side loading and undue wear.
Getting around
The three-metre version of the John Deere drill features a single rigid frame. The new four-metre features folding hydraulic wings to enable the three-metre transport width. Folding is easily done from within the cab with the Select Control Valves (SCV). A mechanical locking link can be applied for additional safety when in transport mode.
When the drill arrives in New Zealand, it's without a steering system or mudguards. With the tyres located six meters behind the towing point, it would be significantly more challenging for an operator trying to navigate such a lengthy machine through New Zealand's notoriously narrow lanes, farm races and gates. 
To combat this, AGrowQuip offers a hydraulic steering system, designed, built, and fitted by a local Waikato engineer, which allows the drill to better follow the tractor in tight situations.
Seed hopper
The John Deere 750A is a seed-only drill, with no separate fertiliser hopper. The 1800-litre seed hopper is mounted lengthwise on the centre frame. A ladder and platform provide access for opening the hopper lid, but there's no provision for seed carrying. However, this can be spec'd in as an additional option (at the rear of the drill). Options cater for a variety of placement designs, depending on personal preference.
Wally and Jordan opted for an additional high platform for carrying and loading seed (with safety rails), as well as mudguards that double as steps.
With John Deere 750A drill hoppers mounted so high, getting 25kg bags of seed up the hopper takes a bit of physical effort, but using a tractor bucket or trailer makes this more easily done.
Metering system
The well-proven Accord metering system is ground driven on Sinton's drill as opposed to being electrically driven through the ISOBUS system. This allows the 750A to be operated behind their older tractors that aren't equipped with ISOBUS.
The Accord system is easily and accurately calibrated by the turn of a lever. A steel ground wheel provides drive for this metering system. If operating through ISOBUS with electrically-driven seed delivery, the ground wheel is still used to provide a signal that the machine is planting.
The fan delivering the seed from the metering system is hydraulically driven and runs at around 4000rpm on the four-metre drill and 3000rpm on the three-metre drill.
Planting time
The Pro Series Opener has a single disc, which is 18 inches in diameter with a seven-degree offset, creating a small slot for seed to drop into. The coulter assembly is spring-loaded to this disc and air delivers seed from the hose via a simple flap into the slot opened by the disc.
The seed is then pushed down by a simple press wheel, fitting perfectly into the slot and creating even contact of seed into the soil. This is then closed by a serrated wheel, which is a new improved feature on this drill.
Drilling depth is controlled by a large rubber wheel. Located on the opposite side of the disc to the coulter, this can be set at a depth ranging from 13 to 90mm.
As standard, the 750A comes with a solid rubber wheel. Regrass Contracting have spec'd their drill with a spoked wheel option – their preference for running the drill in wetter spring conditions when chicory or turnips are sown. This eliminates soil build-up behind the depth wheel.
Each planting assembly is independently sprung and independently adjustable, separate to tractor-delivered ground pressure, which is set at around 40kg. This can easily be increased to a maximum of 250kg of down pressure – ideal when working in tougher or uncultivated ground. 
Equipped with 24 coulter assemblies, this gives 165mm spacing between planting rows, particularly ideal for fodder crops.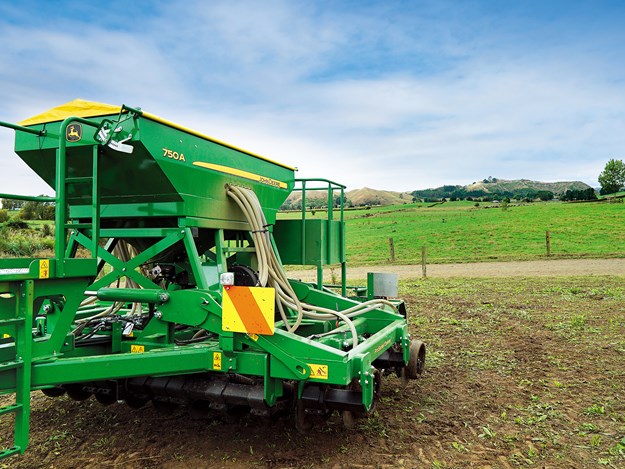 Marker discs
As standard, the four-metre John Deere 750A does not include marker discs. However, these are an option often chosen for those drilling in full tillage ground or hard to see trash environments. Most of the Regrass Contracting fleet run Green Star GPS, so marker discs aren't required anyway.
The monitor
The drill monitor is straightforward, offering information on hectares sown, fan speed, a no-seeding alarm. It also records total hectares sown for each job as well as a season and drill total.  If spec'd to run with an Isobus system, additional information is recorded, and adjustments can be made from in-cab. Seed rate can be adjusted without having to get out – a time-saver for those with Isobus.
Summary
Versatility is the main drawcard of this John Deere 750A drill, plus, it's also user-friendly. With the ability to change between direct drilling into pasture and arable drilling in all soil types, it also achieves minimal ground disturbance and compaction.
A big plus for me is the fact a lower horsepower tractor can pull this machine through the ground. Regrass Contracting run at the lower end of the 150 to 200hp recommended, but what they lack in horsepower, they make up for in less ground compaction and the ability to get into tight corners.
Another definite plus is the low ground disturbance when renovating pasture. Along with a skilled operator, this all combines to make for a productive and consistent planting machine.
John Deere 750A Direct Drill Specefications
| | |
| --- | --- |
| Length | 6m |
| Height | 2.55m |
| Brake system | Hydraulic or pneumatic |
| Transport wheels and tyres | Four wheels – 31x13.5x15 8PR or 31x15.5x15 8PR |
| Seed hopper volume | 1800L |
| Filling height | 2.55m |
| Row spacing | 166mm |
| Opener disc | 460mm diameter single disc with 7-degree bevelled edge |
| Gauge wheels | 115 x 410mm (4.5 x 16.1in) with semi-pneumatic tyre |
| Depth adjustment | 13 to 89mm (0.5 to 3.5in) in 6.35mm (0.25in) increments |
| Press wheels | 25 x 254mm (1 x 10in) with rubber tyre |
| Closing wheels | 25 x 305mm (1 x 12in) cast-iron wheel at 15-degree angle to the furrow |
| Ground clearance (transport) | 203mm |
| Marker arms | Hydraulically actuated |
| Transport width | 3m |
Pros
Low horsepower tractor requirement
Minimal ground disturbance
Easy seed depth adjustment
Consistent seed depth delivery
Reliable seed to soil contact for consistent germination
Ability to sow all types of seed
Cons
Long drill to manoeuvre (unless optional steering fitted)
High seed hopper
Not set up to deliver fertiliser
Find new and used farm machinery for sale in NZ 
Keep up to date in the industry by signing up to Farm Trader's free newsletter or liking us on Facebook