Review: SAM Orchard Spreader
---
The latest release from Sam Machinery is a purpose-designed and built orchard spreader, offering users impressive versatility and time-saving measures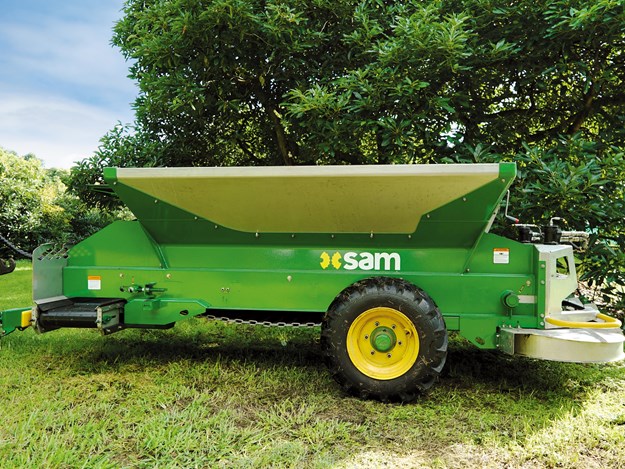 There are plenty of reasons for celebration when a New Zealand family-owned and operated business achieves the milestone of 75 years supplying equipment and machinery to Kiwi farmers. SAM Machinery deserves all the accolades that come its way – particularly after the global events of 2020 somewhat took the shine off what should have been a time to recognise its 75-year history and growth.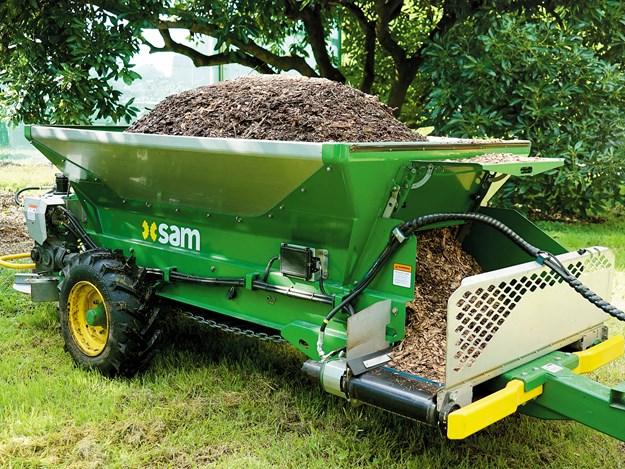 After taking a look at some of the line-up of SAM machinery and recent innovations, we opted to take a closer look at the SAM orchard spreader. This is the first horticultural machine produced by the company, although, they do, of course, have decades of experience building ag spreaders.  
Designed to meet the needs of modern orchards, this machine boasts a lower profile and narrower width, for maximum versatility around a variety of orchard set-ups.
Test
To check out the capabilities of these new SAM spreaders, we headed to kiwifruit country, to John Galloway's property in KatiKati. John has around six hectares in avocados with the balance of his 25-hectare property in kiwifruit.
Having initially seen some marketing through SAM, John got in touch with Toby Stone– the design engineer with SAM, who we met on-site for the test – to discuss the possibility of making a few tweaks to the machine to suit his orchard requirements.
Until purchasing the SAM orchard spreader, John has used contractors for spreading mulch under his trees and for fertiliser application. However, given that he already owned a tractor and loader, he figured it would be useful to be able to just hook up the spreader and get the job done when he wanted, rather than waiting until a contractor could fit him in.
Owner/operator orchardists like John are exactly the market SAM is aiming for with its new orchard spreader as well as contractors who will appreciate the ability to change from rear spreading to side discharge/banding of mulch at the press of a button on the e-Rate controller (developed especially by SAM for this specific machine).
The ability to switch between different options is a great time-saver for anybody in the orchard industry. Contractors can turn up and regardless of what the job entails, the machine is ready to go with no time lost changing over between different spreading attachments. If the intended product to spread won't spread via spinners, it's simple to change to side application to apply to the base of trees.
Toby and the team at SAM worked extensively with New Zealand orchard owners and horticultural contractors around the niche design and development of this new spreader, enabling them to produce a machine to best suit the needs of those in the industry.
In the past, I have played around with trying to spread shavings and bark chip with a standard spreader, so fully understand the importance of getting the bin design right. If it's not (as many aren't), the bottom 10–15% in contact with the floor will spread and the rest will bridge, which is frustrating, to say the least.
A straight wall drop in the bottom of the bin and having the floor chains covered seem to avoid that issue. There is also an auto-reverse function for clearing particularly stringy material. It's always tricky trying to find the best machine for the job, while not having too much capital tied up in different machines not getting used. The SAM orchard spreader certainly ticks the boxes when looking for a multi-purpose orchard spreader.
Operation
The day we visited Galloway Orchard, John had compost and mulch ready to be loaded. Thanks to the Avant loader, we had 2.5 cubic meters loaded onto the spreader in a matter of minutes. Toby and the SAM team have sorted removable hungry board sides for John's machine, so he can do larger loads of four cubic meters for his avocado orchard and then remove to fit back under the canopy of the kiwifruit.
Operated through the e-Rate controller, a double set of remotes is all that's required, along with a tractor with hydraulic flow rate of 55 litres per minute to operate the spreader. Given there are three settings for the front mulch conveyor – closed, half-open, and fully open – I'd hazard a guess that mulch application is not an exact science but is done more of the eye and from experience.
The computer programme is designed to keep the belt loaded, which saves time if you're doing mounds for each tree (more efficient mulch and time-wise). For me, the key design aspect of note is having the conveyor at the front, where the operator can best see what's going on. This makes a lot of sense given that ideally, you want disc spinners to be at the back, away from the operator if possible.
Front and rear, there's sturdy steel protection in place to prevent damage to machine components. For rear spreading (which is likely to be higher analysis fertiliser, or lime, like we had for our test day), the accuracy of dual spinners is a definite asset.
Like farming, horticulturists are looking for versatility and efficiency when it comes to investing in machinery, as well as wanting to make the most of their inputs. John has had SAM make up a shroud for the left-hand spinner, with quick-release couplings. This changes the direction of the oil flow (and spinner), so that both spinners throw to the right (anti-clockwise), meaning the valuable inputs go to the trees, which need them, rather than growing more grass between rows (which ultimately needs mowing). A manual winder adjustment alters the flow of product to the spinners. Products and rates are shown in the control box, which tells you where you need to set the door to achieve the desired application rate.
Control box
The e-Rate controller has been developed by SAM specifically for these new orchard spreaders, although, it's working so well that I dare say a similar unit is finding its way into the agricultural line-up of spreaders.
With an IP67 rating, it can handle the rain with no problems. Ram mounts make it simple for mounting on any ROPs tractor, which is probably a high proportion of tractors used in orchards, or in a cab tractor. Intuitive touch screen makes it easy to switch between functions or calibrate for different products. Once you have activated the hydraulics, the electric on/off switch simply turns the machine on or off, with either the floor running backwards and the spinners operating or forwards to the side conveyor – nice and simple.   
Construction
SAM's many years of building agricultural equipment is evident in this latest addition to its line-up. Making use of all the latest design processes, machines are designed with the Solidworks 3D programme, fine tuning the design before heading to the workshop, and speeding up the manufacturing process.
Once at the manufacturing stage, state-of-the-art machining, folding, laser profiling and 3D cutting help the SAM team consistently turn out machines of the highest quality. I was a little surprised they didn't go with the plastic yellow bin to match their agricultural spreader range, but after discussing with Toby, he explained they opted to go with the stainless steel option, as it gives the ability to custom build bin sizes to suit individual requirements.
The rest of the chassis goes through a rigorous paint process, developed over time with the ag range of spreaders. Initially steel grit blasted, it's then coated with thermal-arc pure zinc spray, followed by a primer and finally a two-pot epoxy topcoat to keep the machine looking good for years. Cleaning down after each use will also help minimise corrosion from fertilisers.
When not looking at new machines with Farm Trader, I'm working on a farm where we have a SAM trailer in its original SAM red colour (which is an indication of its age). This still gets used at least weekly, has shifted countless loads and tonnes in its lifetime, and is still going strong. It's a testament to the build quality of machines produced at the SAM factory in Hamilton.
Options
When it comes to individualising the orchard spreader, pretty much anything you want (spreader related) seems to be possible with the SAM team. As well as the shroud John ordered for his rear spinners to throw fert under the trees, he's also getting a top hat/bin extension for extra carrying capacity.
Other options include tyres, lights, covers, and hitch options depending on what you plan to use your machine for. I'm not 100% certain these machines are designed to take scales (knowing SAM's experience with load cells, it may be a possibility, although, it may would add a little additional height), but you can have hydraulic rear door adjustment, rather than a manual winder. As new uses for these orchard spreaders continue being discovered, different versions continue being produced and customisation can also cater for different row widths if necessary. This is a distinct advantage in dealing with a New Zealand-owned, operated and based company.
Summary
What a great little spreader. SAM has developed on basic ideas to create a straightforward and well-thought-out machine that will help those in the horticultural industry get their jobs done easier and more efficiently. A machine that's capable of more than one task is always worthy of closer inspection in my book. Adding these horticultural machines to the SAM range is a natural fit, with its strong history of producing spreaders. The horticultural machinery is a great string to add to their bow in terms of diversification and a clever way of building on the solid structure of what they have already achieved. From what I can understand, pretty much daily new uses are being discovered for the SAM orchard spreader.
Sam Orchard Spreader specifications
| | |
| --- | --- |
| Axle type | Single axle 70mm |
| Axle capacity | 6000kg |
| Jack type | 70mm screw jack |
| Length | 4.75m |
| Width | 1.59m |
| Height | 1.42m |
| Bin width | 1.6m |
| Bin length | 2.6m |
| Capacity | 2m3 waterline |
| Superphosphate | 2.2T |
| Lime | 3.2T |
| Urea | 1.5T |
Pros
Multi-use machine
Easily changes between functions; no tools required
Easy to understand, waterproof (IP67) control unit
NZ-made, so no problem customising machine and great spare parts back-up should you need it
Loads of options to suit different horticultural applications
Cons
Hard to find anything to criticise with this machine. The best I can come up with is that the front door that is removable doesn't really have anywhere to go.
Find new and used farm machinery for sale in NZ 
Keep up to date in the industry by signing up to Farm Trader's free newsletter or liking us on Facebook